It's no secret that the spring is held under the motto of comfort and coziness. Therefore, the appearance of rows of shoes, shoes without a heel, or heel, but comfortable and stable, especially one not surprised. Although well-known designers not without experiments: for example, the strange curved heels and straps that are attached below the knee decorated shoes from Raf Simons; Chanel offered to wear socks in combination with the shoes, and Maison Martin Margiela presented for all to see high boots as if cast in gold. We invite you to be surprised ingenuity famous brands, adopt fashion ideas and choose for themselves the perfect pair of shoes spring-summer 2014.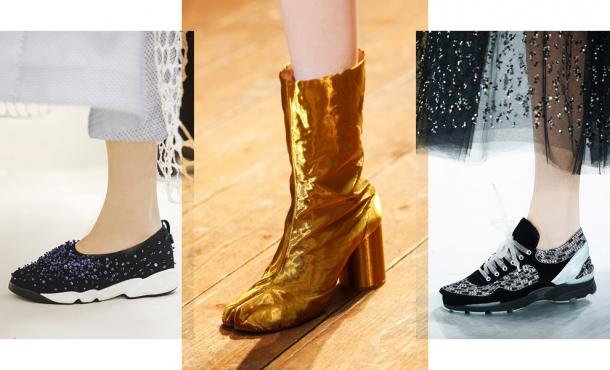 1. From one extreme to another: Chanel SS14
Original shoes for every taste
This brand has become the legislator of at least two distinctive trends. The first concerns the shoes. Designers fashion house decided that the shoes - a universal thing, and like it or not - everything fit. Adoption of the controversial, but apparently none of them dared to say.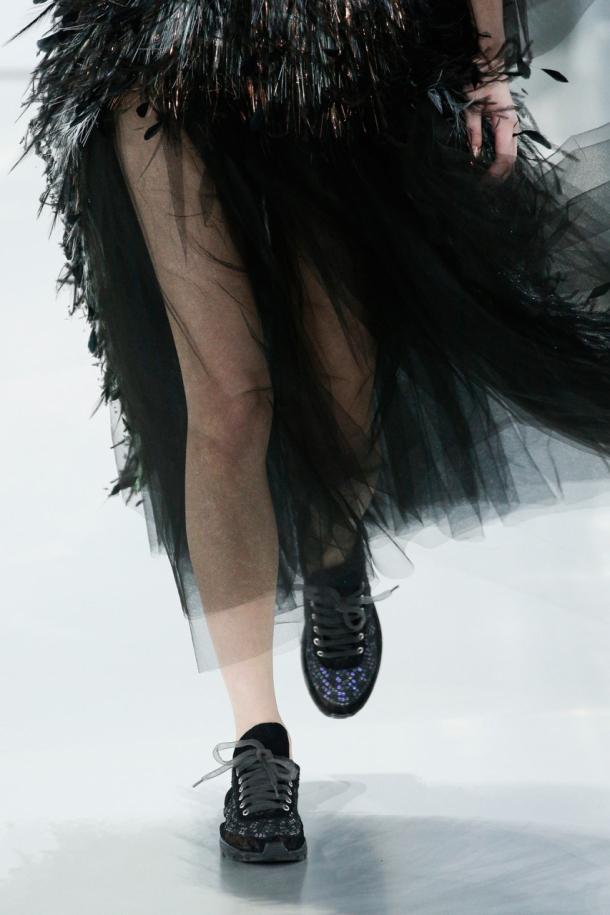 The set of images with a light hand osportivilis Chanel in 2014 thanks to a massive knee pads: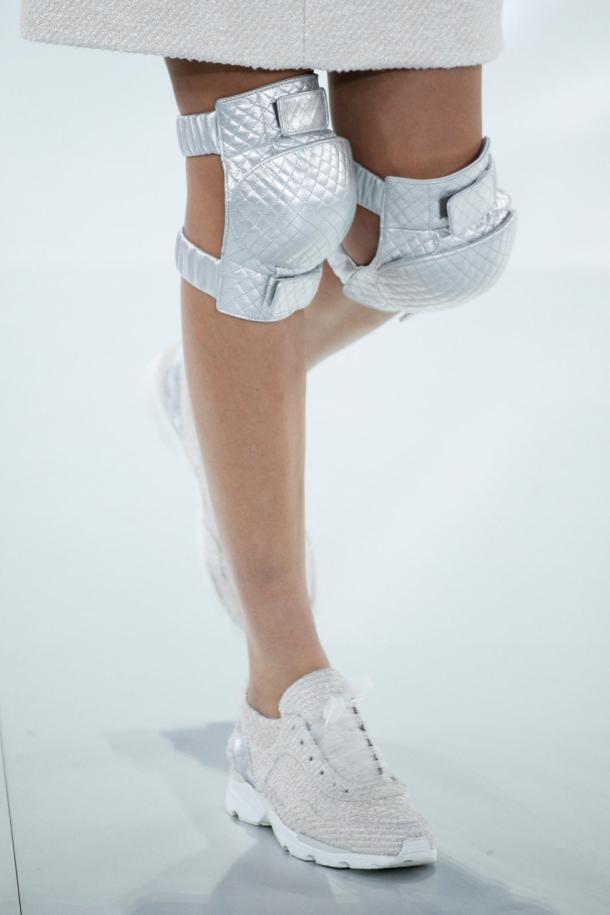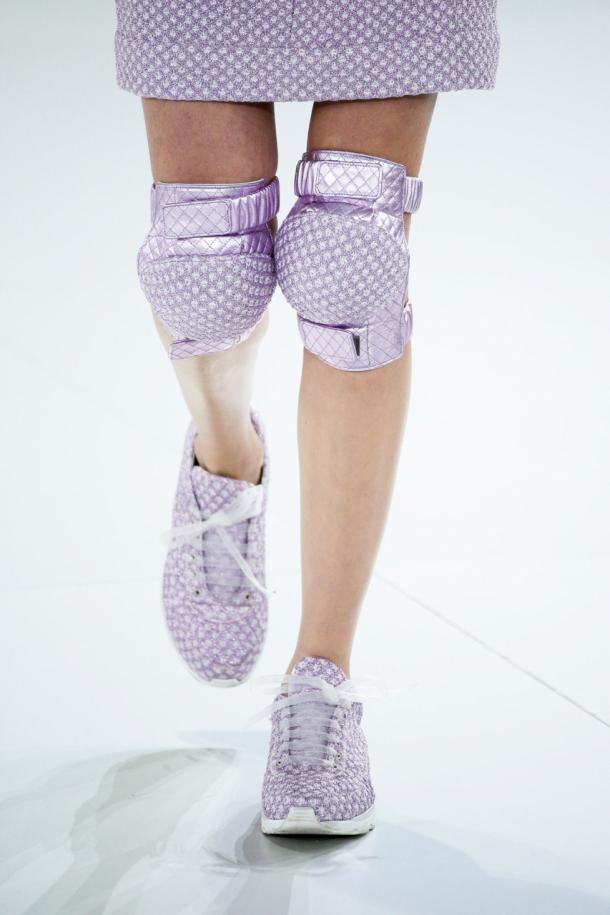 An interesting idea seems transparent, weightless lace. I do not know a practical point of view, but from an aesthetic that decision looks very interesting.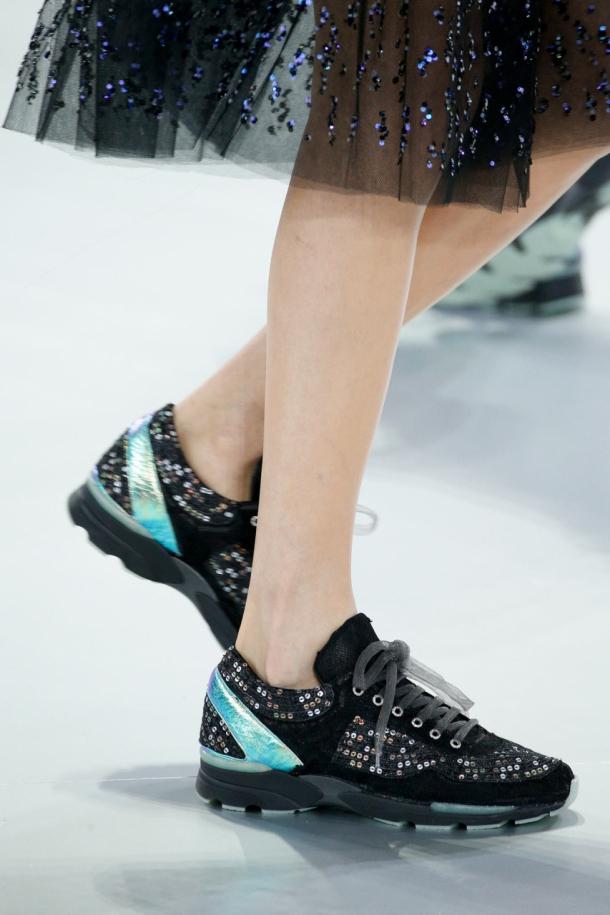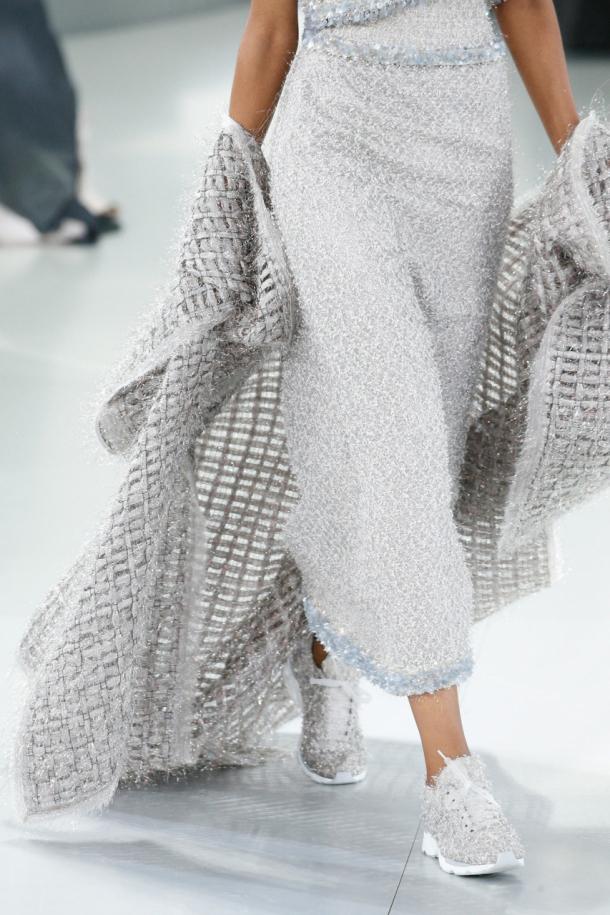 And even almost transparent, sometimes laced sneakers. I wonder how many months it would have lasted these shoes with our roads?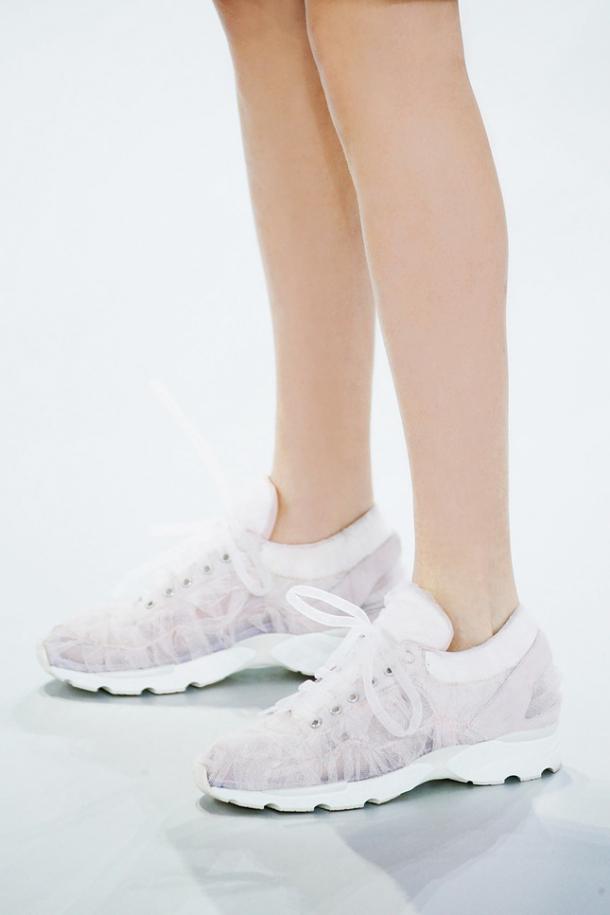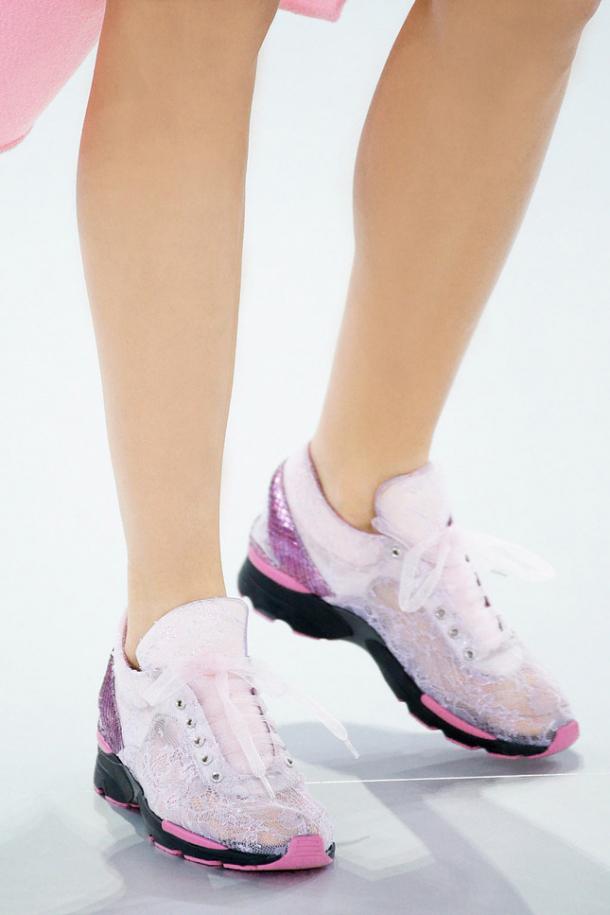 Shoes by Chanel parade marked a good success, because many of the ideas have appeared original and worthy of the inheritance. Once the fashion house of classical sports shoes are not bullied. As a result, their shoes can be gentle and light and romantic, no yielding elegant high heel shoes. A full success if their experiment and take root if it outside the podium - is up to us, the viewers.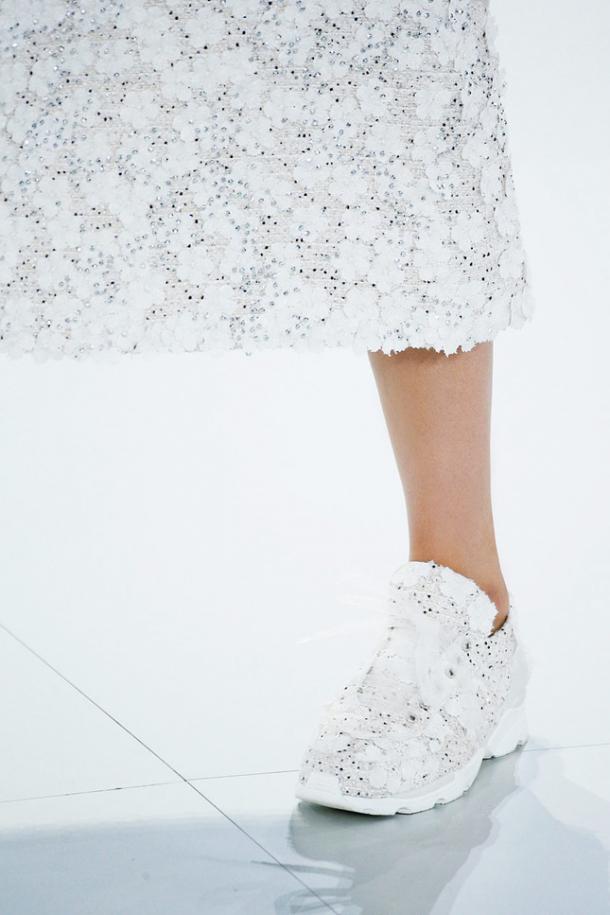 The same trends can be seen racing in the spring-summer 2014 by Christian Dior: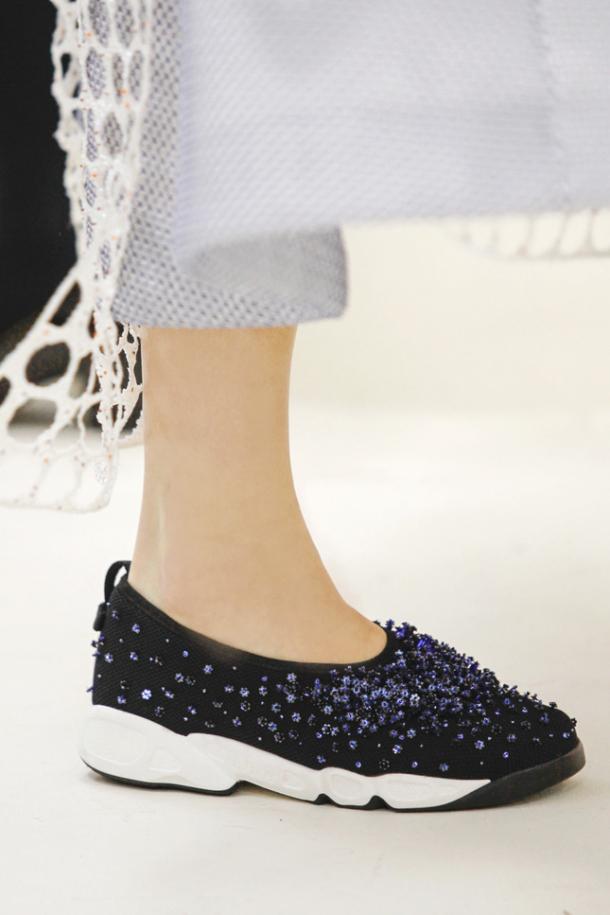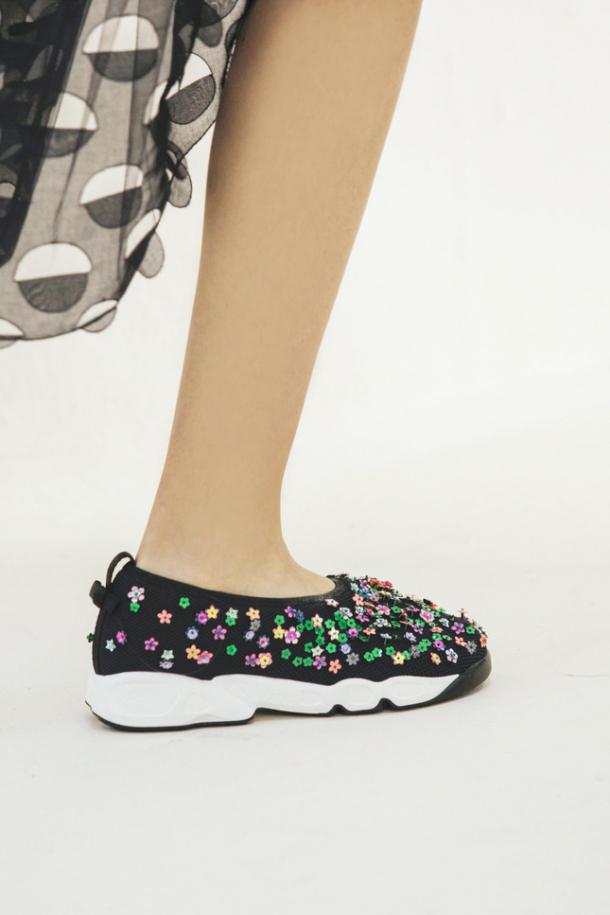 Shoes + socks =?
The next trend from Chanel collection Spring-Summer 2014 has undergone a severe criticism. The bold combination of classic leather shoes and thick knitted socks golf reacted positively not all.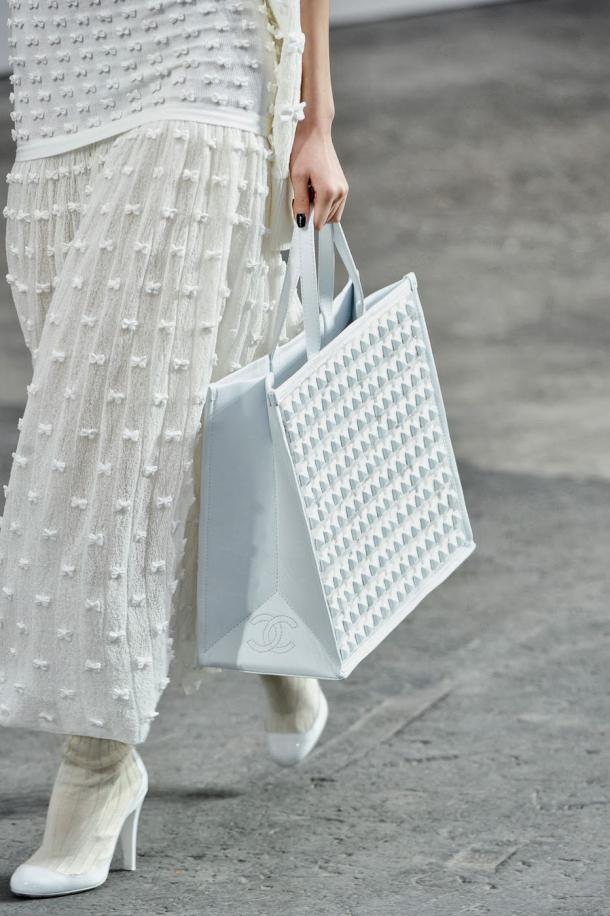 The solution turned out very ambiguous. It is the combination of an open shoes and socks in many countries and is now considered bad form, being a cause for ridicule. And then implement a fashion trend in life? Obuesh classic shoes with homemade knit socks for a walk on the beloved city, and then try to prove that you are fine just Chanel thinks this latest fashion trends.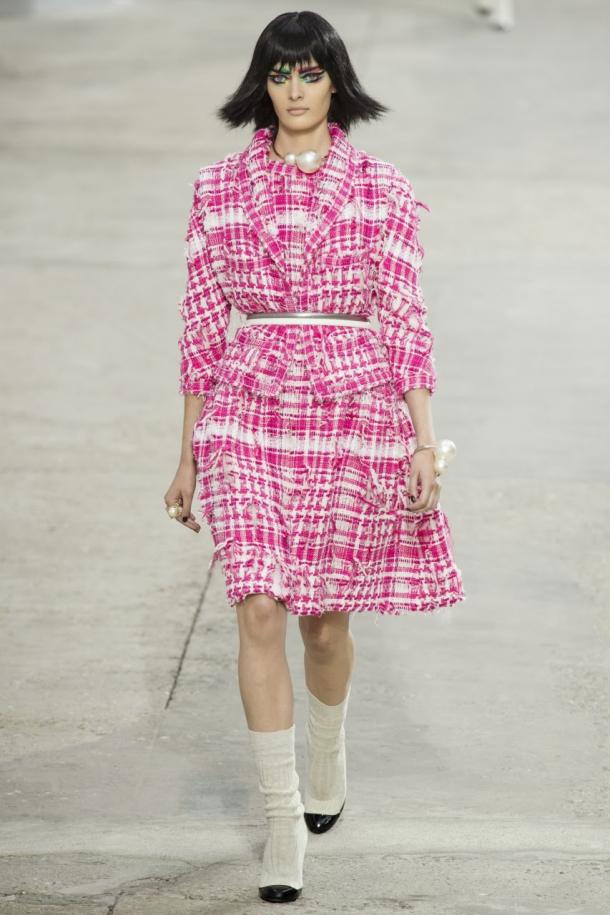 And by the way, not only Chanel.
Saint Laurent ss 2014 shoes + socks
2. Luxury and variety of colors from Sergio Rossi
This spring-summer collection is striking for its diversity: there are classic boats and colorful sandals with stones, applications, straps, various prints from floral to the tiger.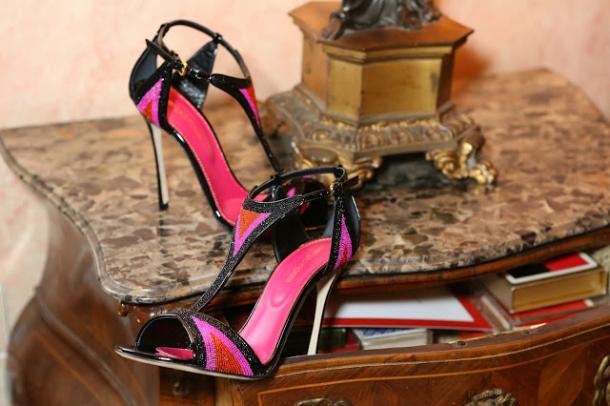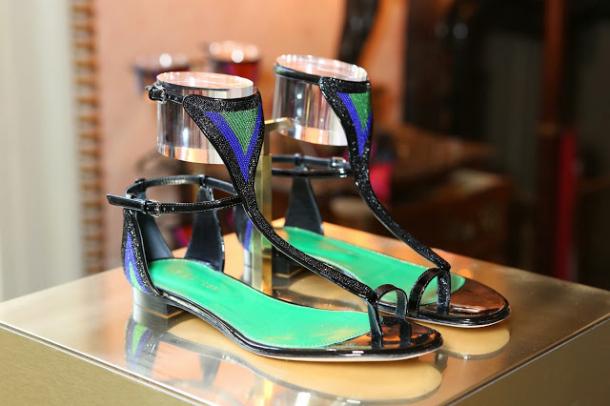 Interestingly, the creation of a new model of shoe designer furniture inspired by Gabriella Crespi, especially the model table Ying Yang. With this in this pair of shoes appeared striking element of yin-yang of plastic in red and yellow tones.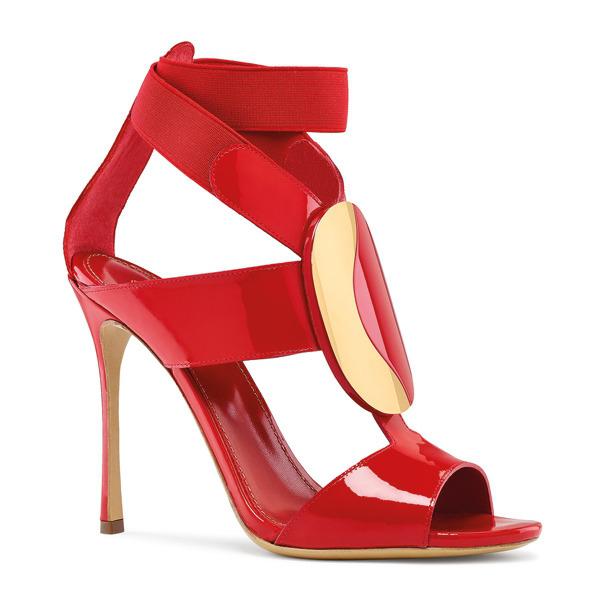 The rest of the boats are no less interesting - they are made mostly of calf leather and other natural materials, so comfortable and practical to wear.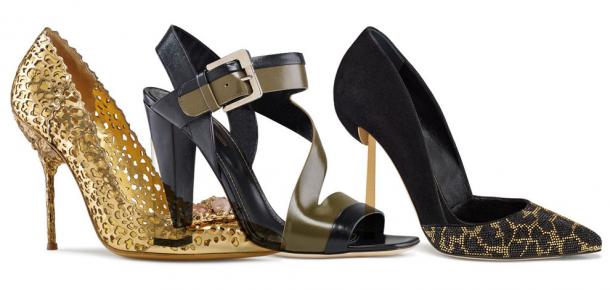 Some shoes - jewelry work is a tribute to all of the same Gabriella, designer furniture. Elegant shoes metallic colors decorated with filigree brass brooches treated in an old technique that is used to make jewelry.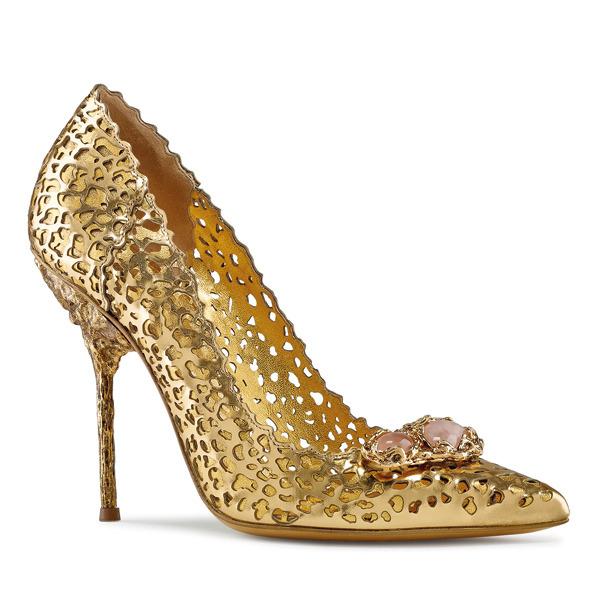 The design of the light ankle boots for the upcoming Spring 2014 trend towards open-toed, and colors reminiscent of the paintings of contemporary artists.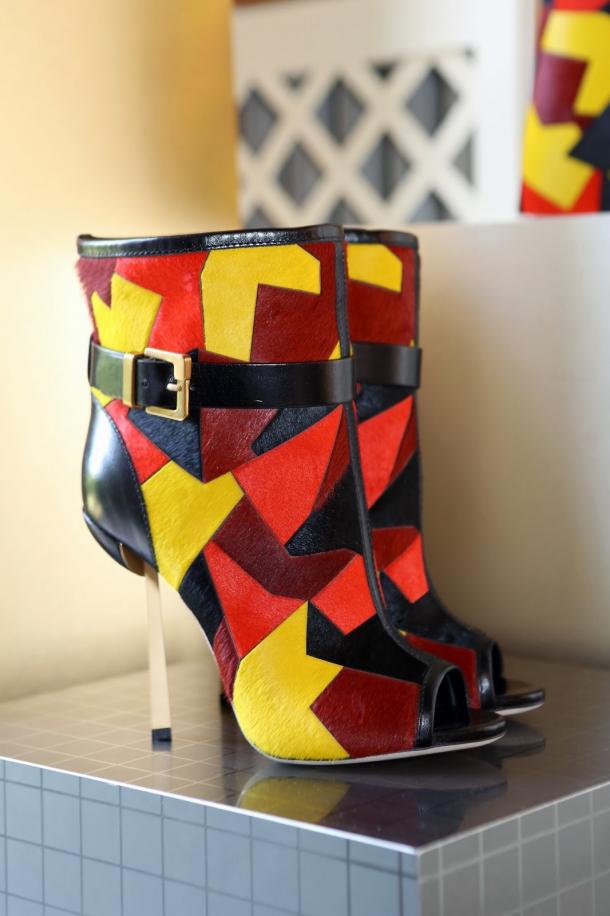 3. Experiments by Raf Simons
This asymmetric shoe collection in 2014 pleases not only for its unusual decision, but also a pleasant color scheme. Gentle shoe models mint, milk and beige shades looks quite different because of the unusual design of the heel and a long leather straps to the knee. By the way, boots and open-toed here c: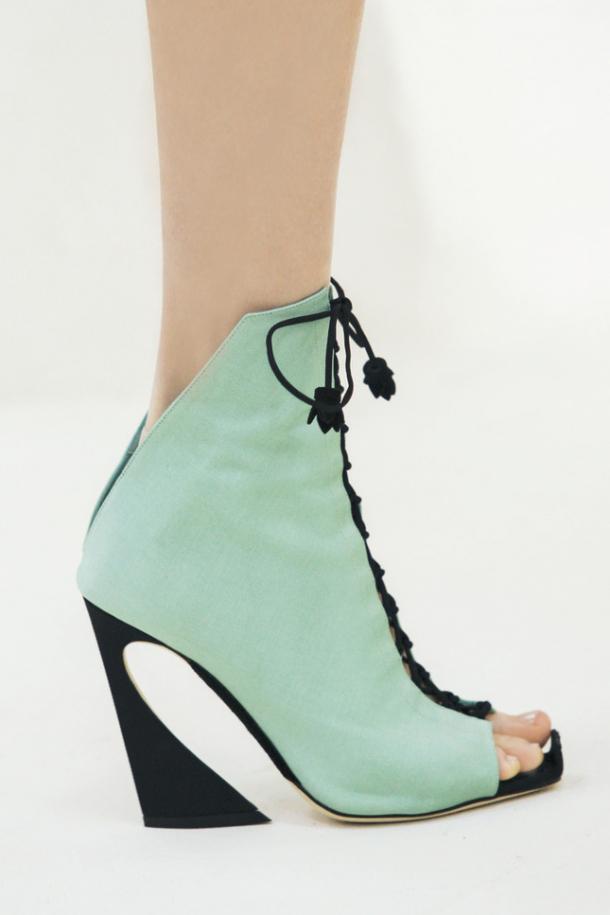 I think that this idea of ​​design of shoes with straps that are attached below the knee, will not disappear without a trace and will be realized, or other designer collections, or other brands.
Also in the coming season 2014 is necessary to pay attention to wear shoes instead of fashion this spring long socks - dull and almost rectangular.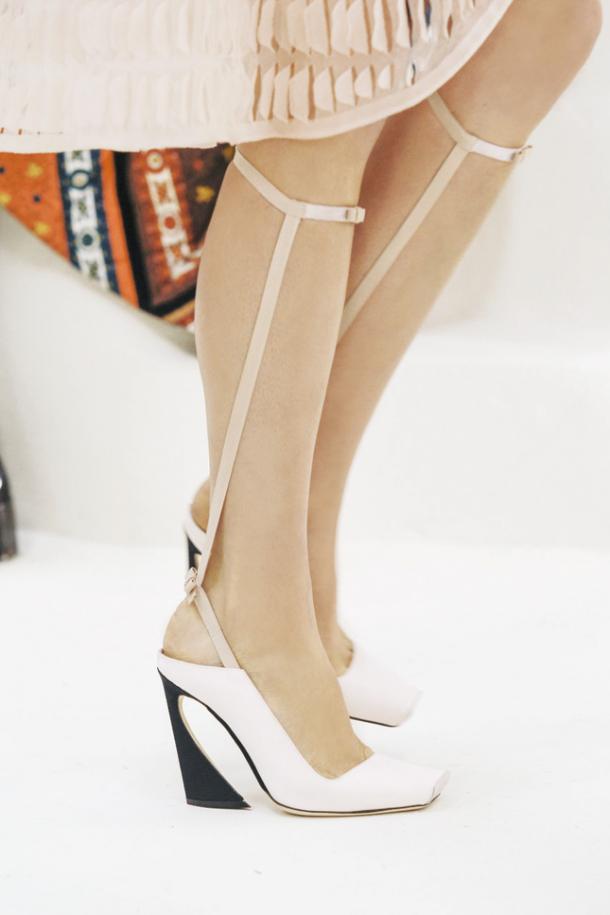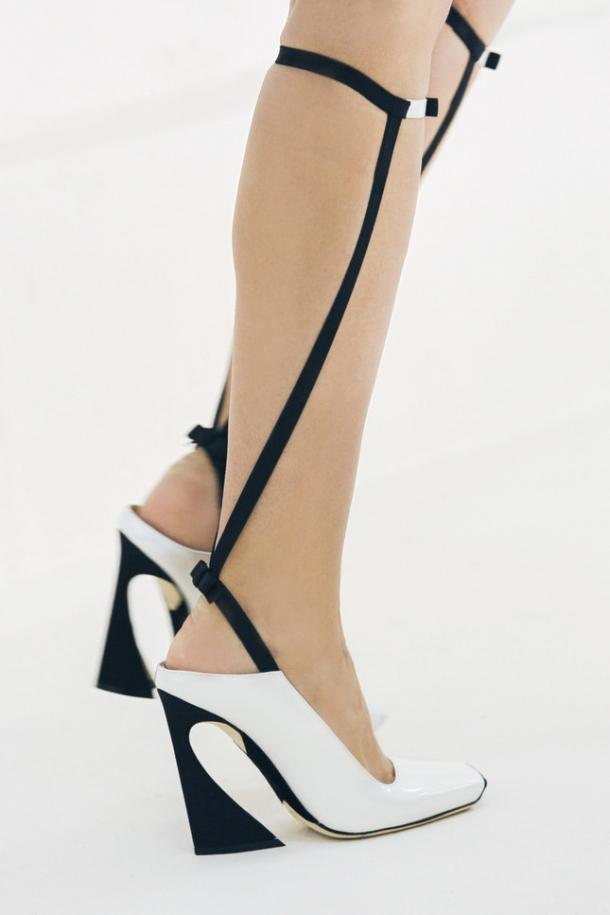 Here pale, ate noticeable animal prints:
4. Oriental patterns by Valentino
I think many people remember the spring-summer collection 2014 Valentino, which was sustained in the oriental style and is decorated with rich ethnic patterns, stones and elegant decorations.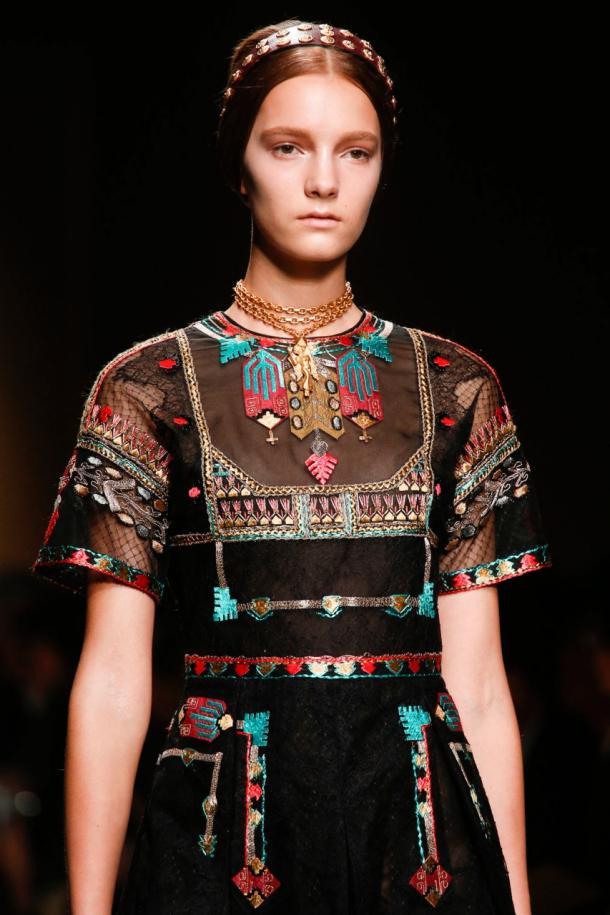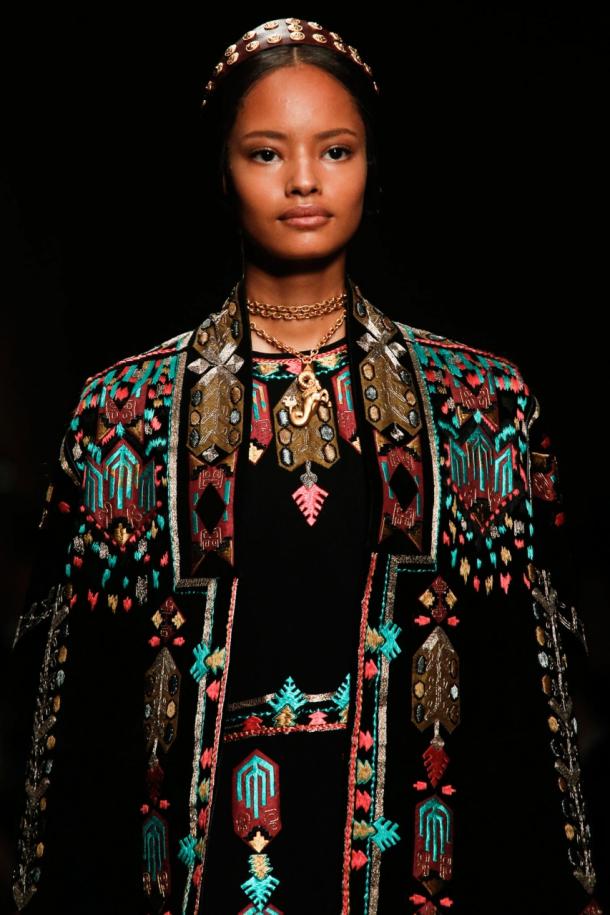 The color and fabric is the result of a variety of clothes that shoes in this collection are the most simple: a flat sole and a few straps. Bright accent - a large gold decorative buckle, which stands out against the background of a black matte black leather.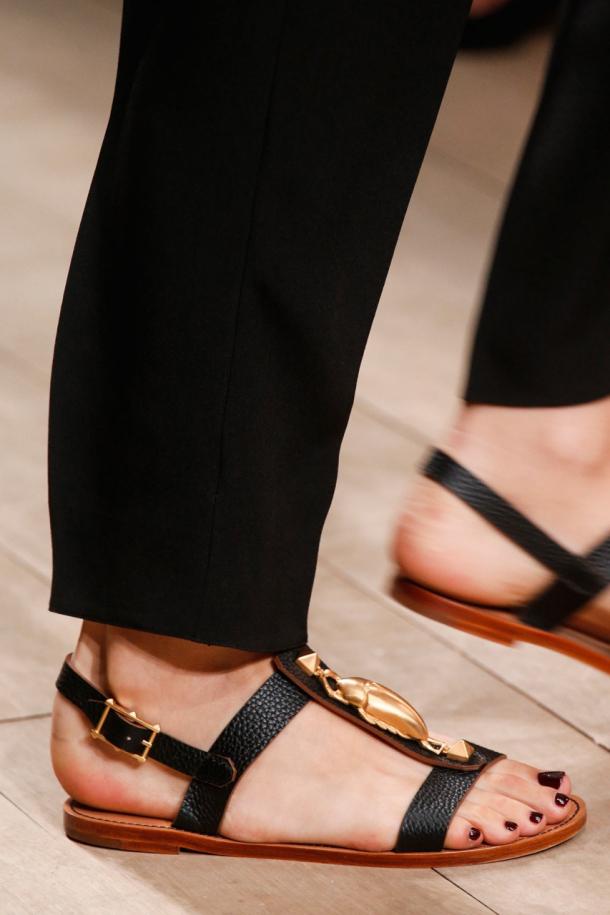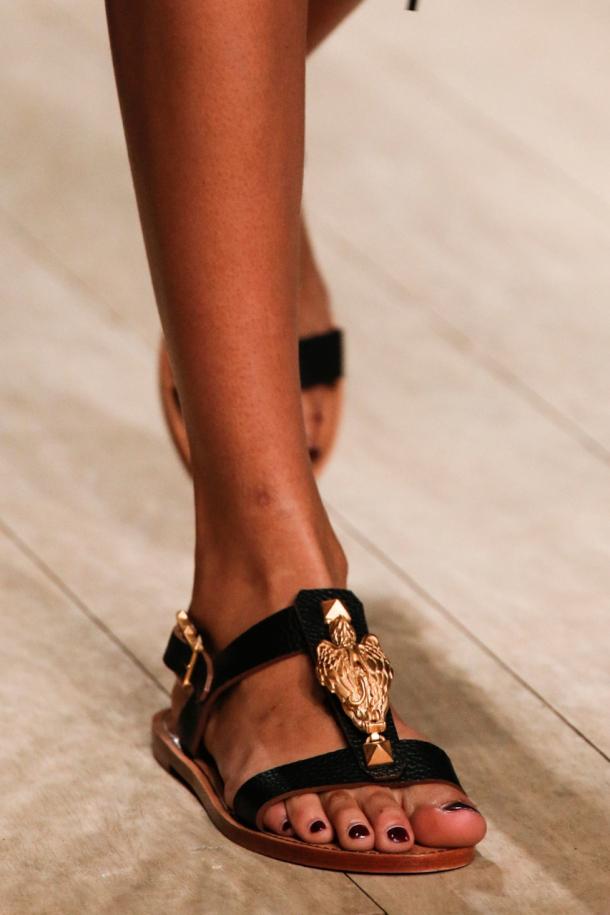 Shoes Spring-Summer 2014: other interesting patterns: