A few days ago ended in a rapid fashion marathon season autumn-winter 2014-2015 and Week Ready-to-wear in Paris. Fashion show dazzled young and experienced models, vivid colors, as well as experiments with unconventional styles and fabrics. The most authoritative fashion week in Paris - it is sort of summarizing fashion race in Milan, London, New York. It is here that are emerging fashion trends, trends, trends of future seasons. So, 10 memorable accents of bright and unforgettable fashion event in Paris.
1. All shades of green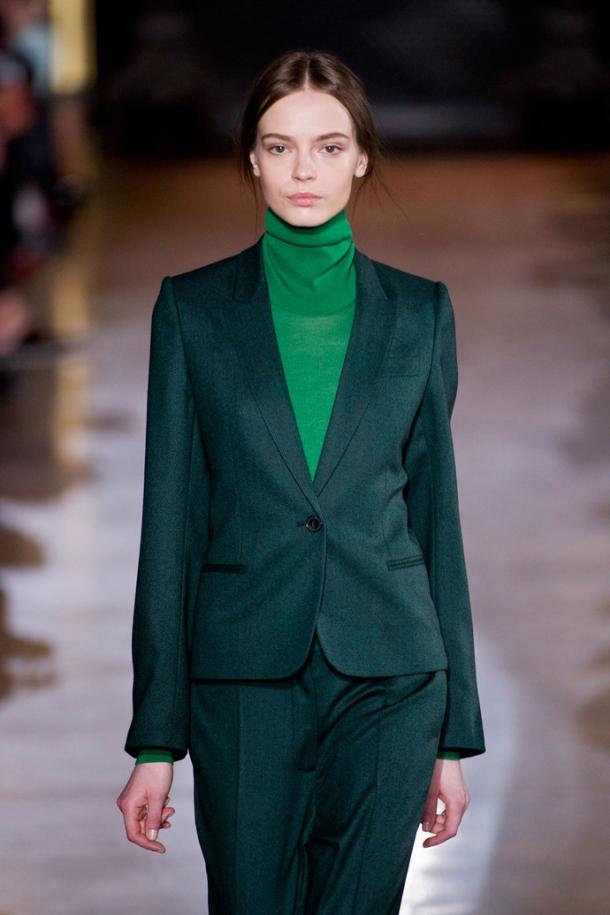 Various shades of green were a real eye-opener fashion shows in Paris. Light and dark, pale and rich, bright and muted tones of green left a memorable mark on the Fashion Week 2014. Under the influence of this spring trend shades were Valentino, Jean-Charles de Castelbajac, Christian Dior, Stella McCartney, Vionnet, Jean Paul Gaultier and many others .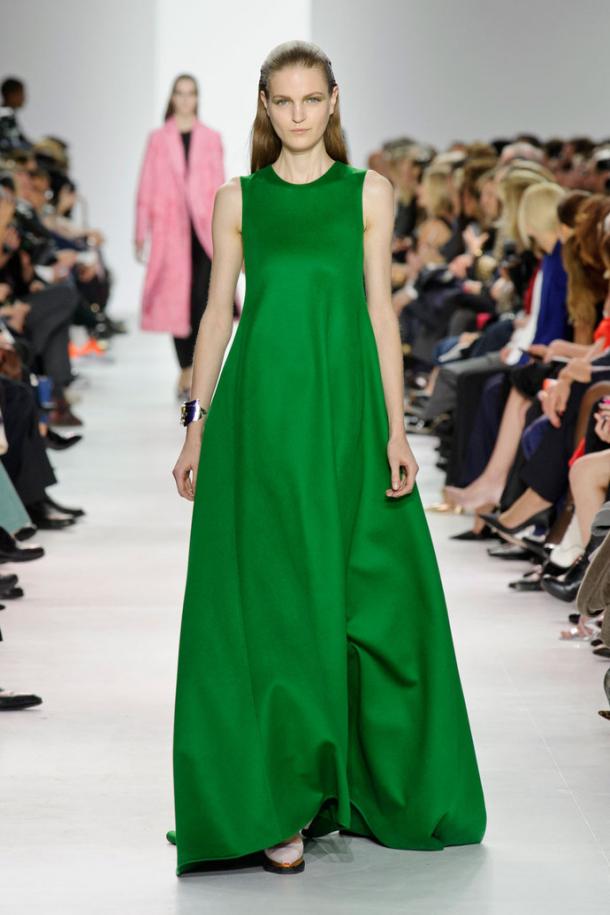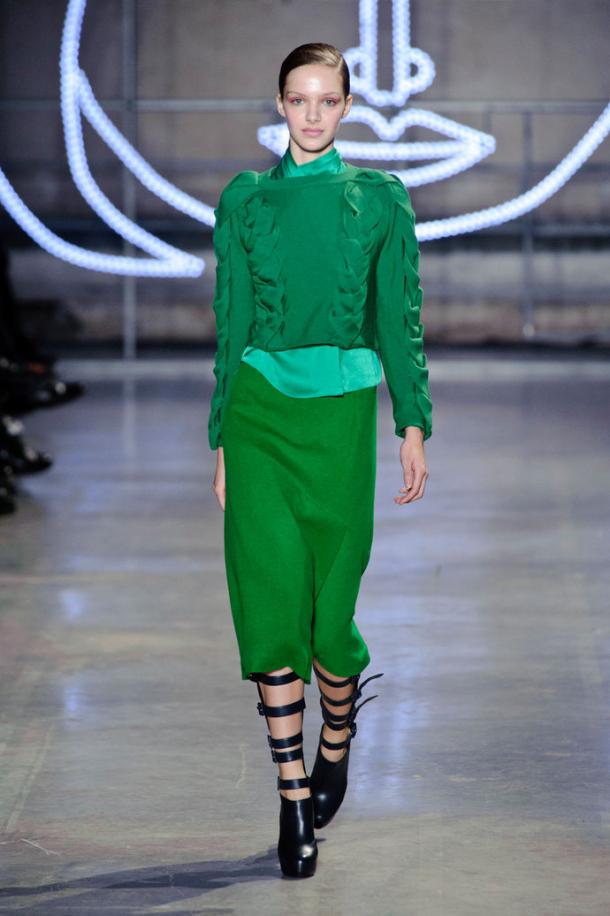 Special furor slightly faded, faded retro shade that traveled all the elements of a wardrobe in many collections.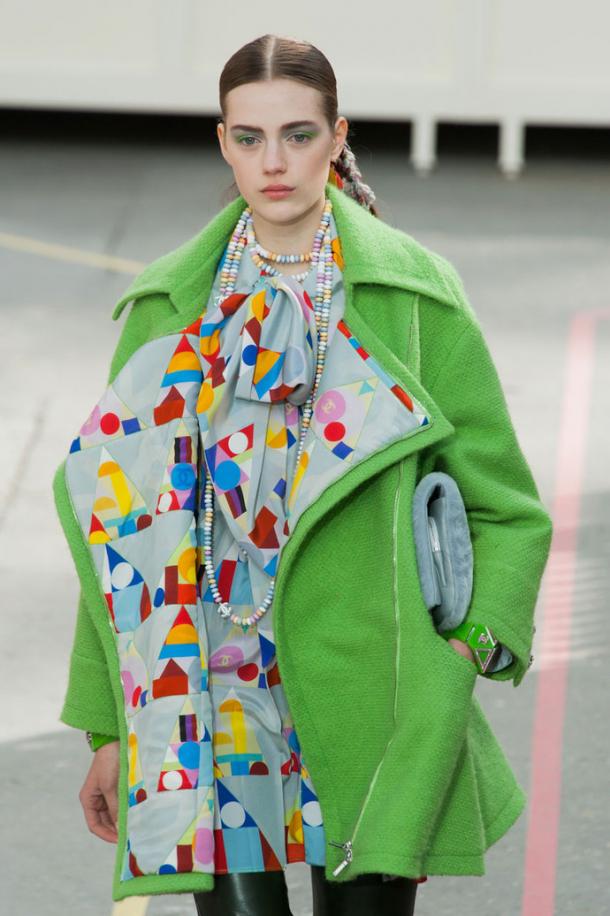 2. A new variation of the classic jacket
Showing from Dior gave another vivid surprise to all fans of fashion. Experiments with a classic jacket for fashion catwalks is not uncommon here, and this time we had the pleasure to watch a new variation of the bar jacket. This year it is low on offices and business negotiations. New bar jacket - a bold experiment confident girl needed parts daring and bright street image.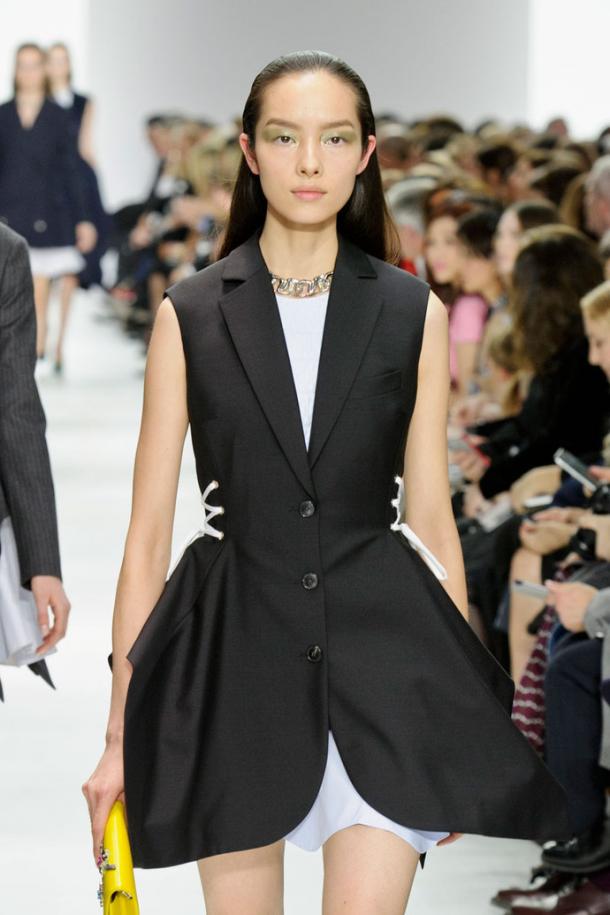 3. Loud return to the world of fashion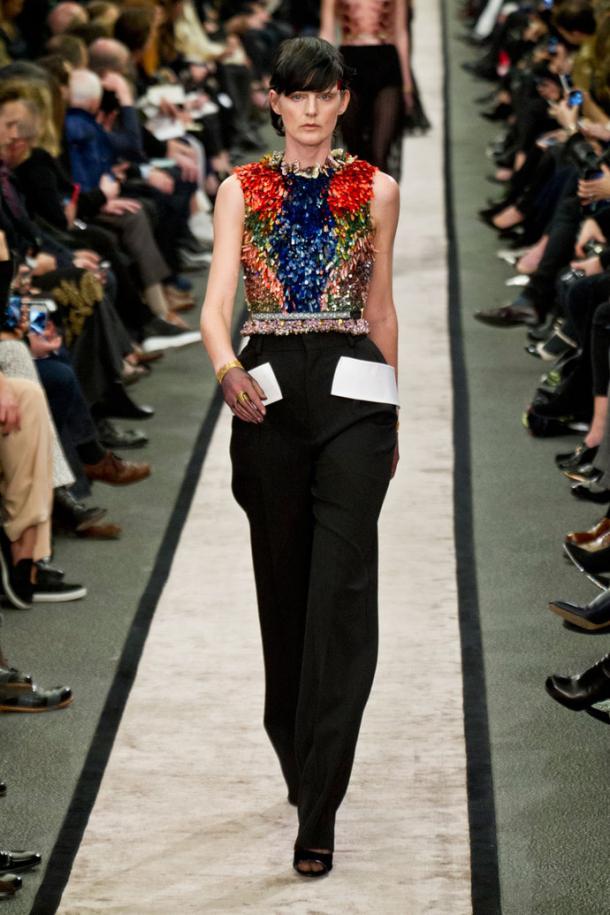 Stella Tennant on the show GIVENCHY
The sudden appearance of Gisele Bundchen for Balenciaga fashion house show was the beginning of a new trend: a resounding return to the podium. Experienced and internationally recognized model turned many shows in a real master class for young and inexperienced.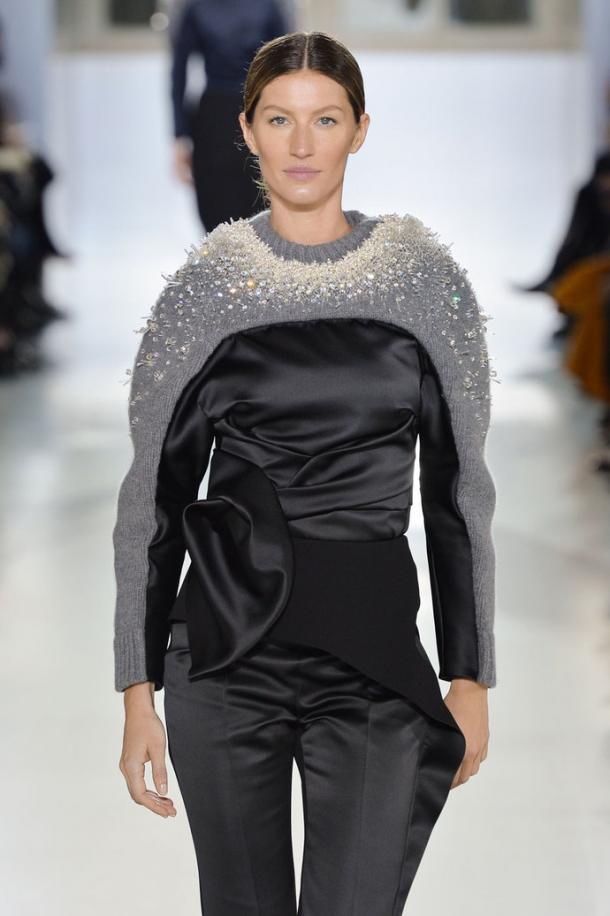 Gisele Bundchen on the show BALENCIAGA
4. Leopard print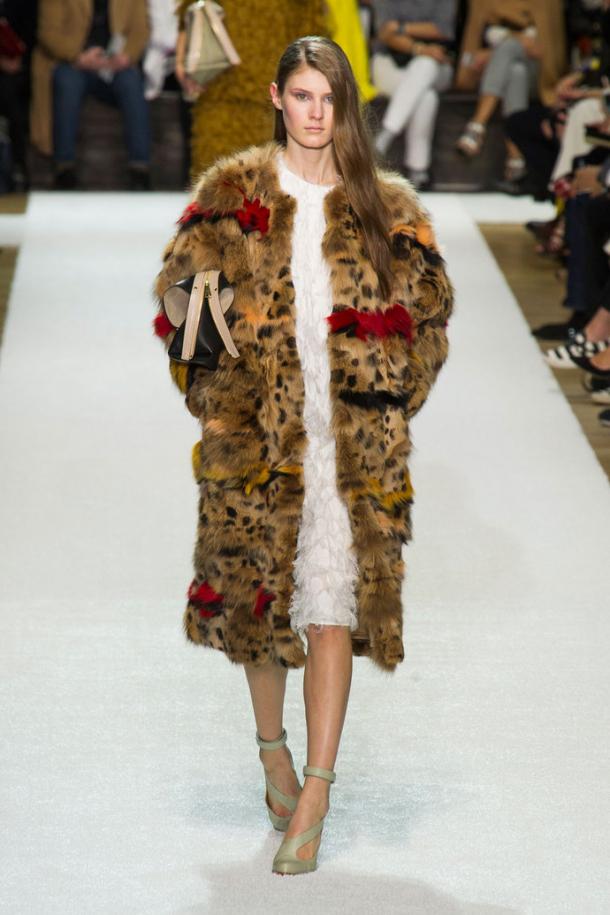 Leopard motifs year already confirmed their timeless relevance. So this year, fashion shows decorated colorful leopard coat from Chloé, feminine models from Celine, light chiffon dress by Saint Laurent. Catchy bright print adds a retro image of moods and spectacular luxury in the spirit of yesteryear. Particularly impressive colorful leopard will look in festive attire. The collection of these years, leopard as well accompany feathers, chiffon and other details of bright red and white colors.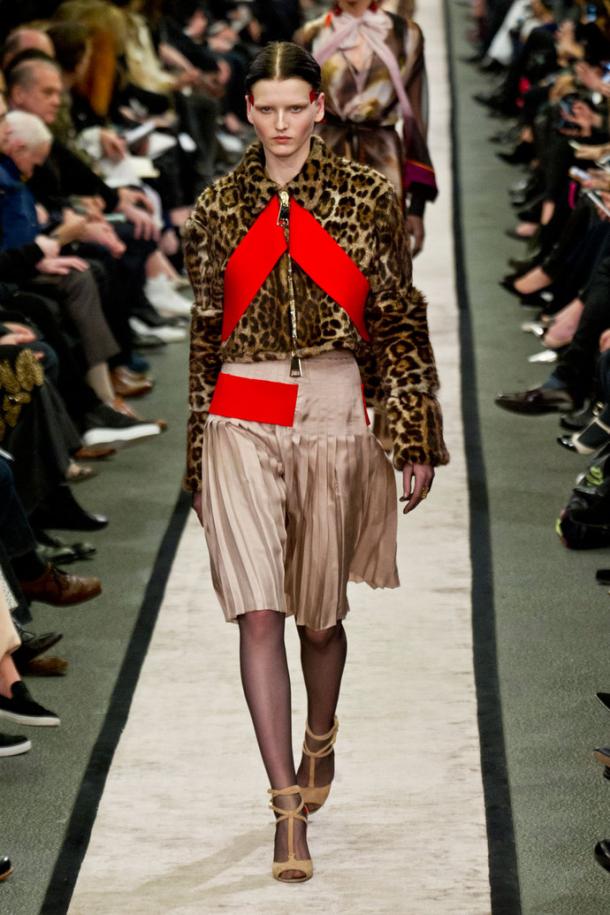 5. Fashion for flared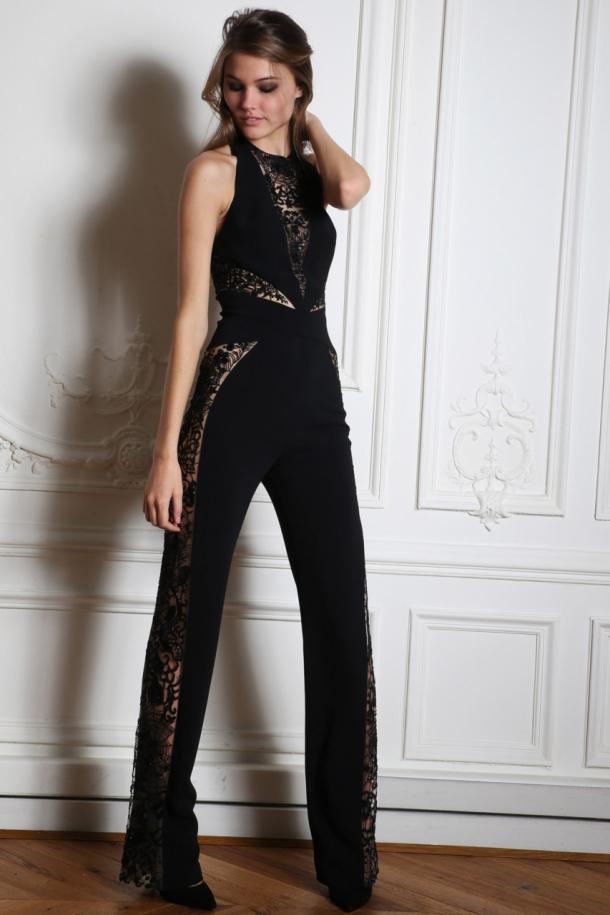 Another seemed forgotten by all silhouette of the distant past, again triumphantly returned to the podium. And from there, and plans to move into the streets. Such a favorite in the 20th century cut trouser bottoms with us again - rejoice all those who have always been partial to such a style of trousers. In the wake of the desire to create a comfortable and comfortable clothing designers offer trendy trousers of thin elastic material and simply knitted models like Celine. Also interesting models trouser-bottoms were seen in the collections of Balenciaga, Alexis Mabille and Hussein Chalayan.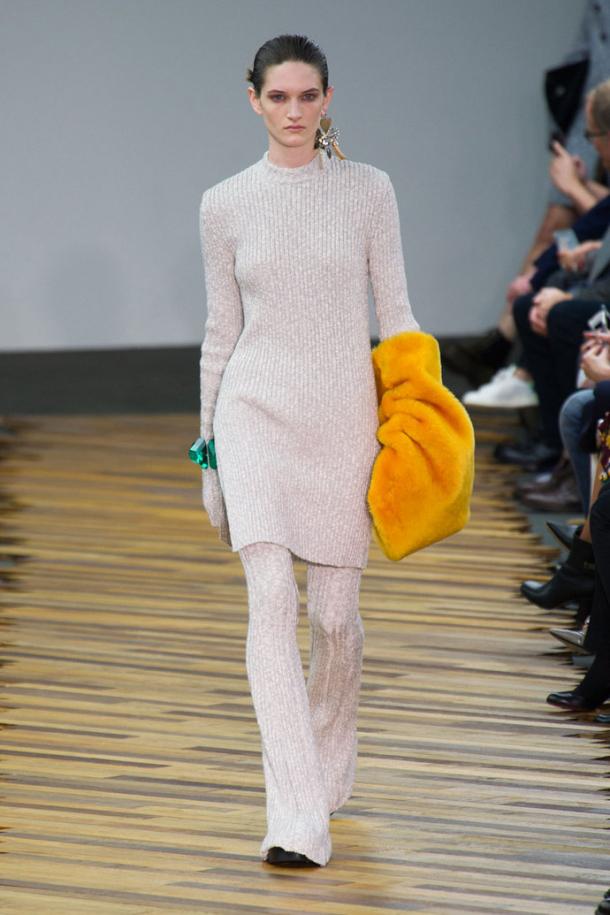 6. Like the supermarket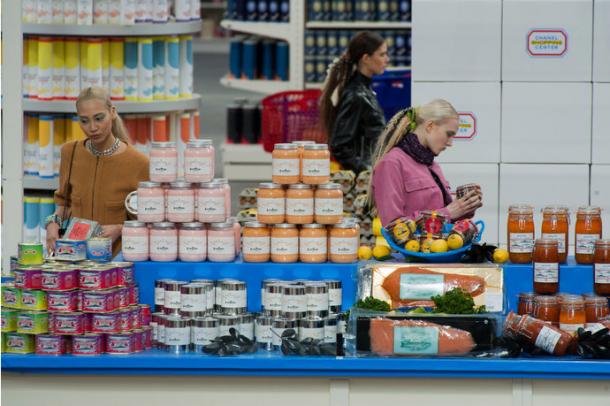 Bright and unusual concept proposed in this year's legendary creative director of the fashion house Chanel, Karl Lagerfeld. His concept of a small supermarket with the trademarks of the brand is located right in the well-known Grand Palais in Paris. Many guests enthusiastically welcomed this idea and gladly traveled between the rows of plastic carts. Among these were enthusiastic singer Rihanna and actress Keira Knightley.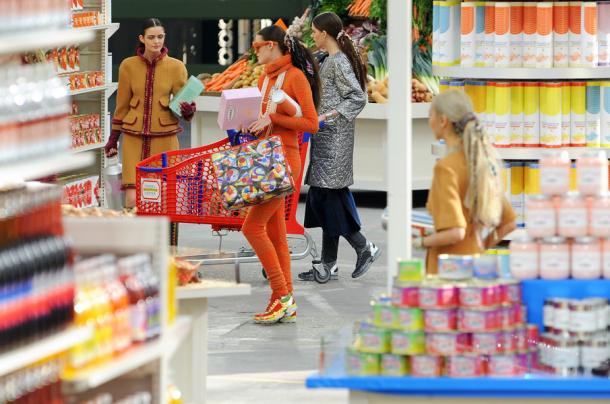 7. Hail tights!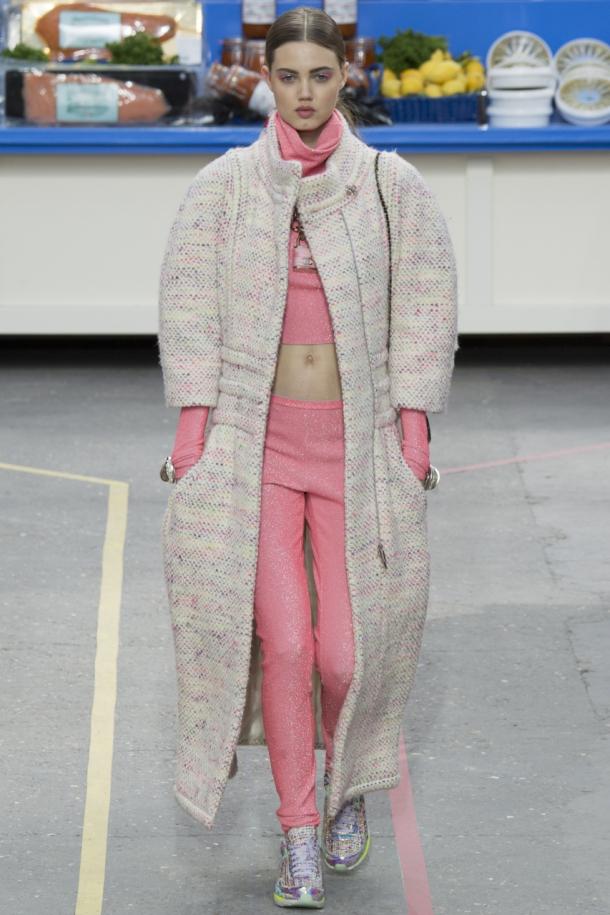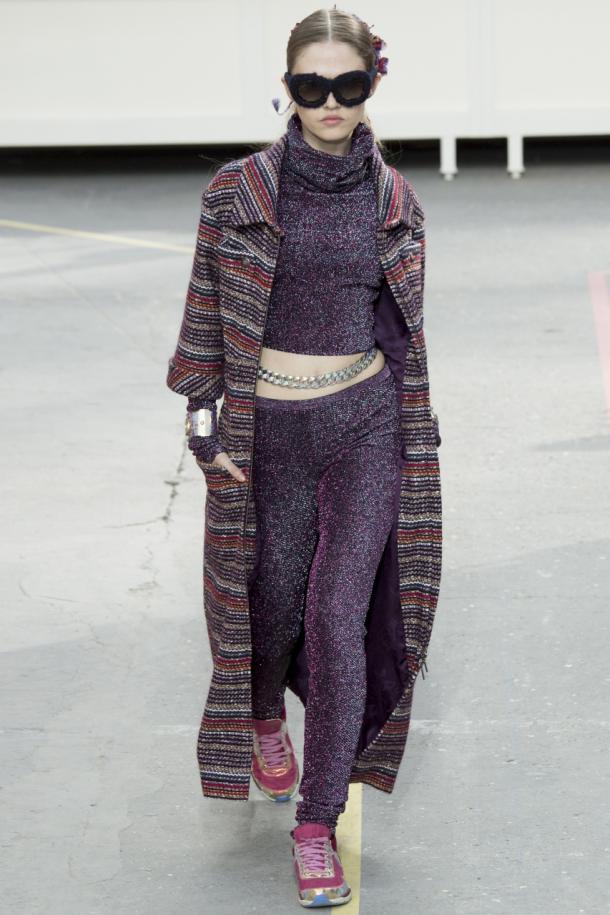 Listen to the same Karl Lagerfeld, so tights - it's all that we need this season. In his peculiar collection of these vintage wardrobe item to pay attention to more than the classic black dress or jacket. So that all those who have not thrown breeches of the last century, I cheered up - throw them not worth it, better start wearing a sweater, coat and jacket. Supported the idea of ​​vintage Dior and Stella McCartney, offering more stylish, but not less comfortable urban options elongated pants breeches with straps.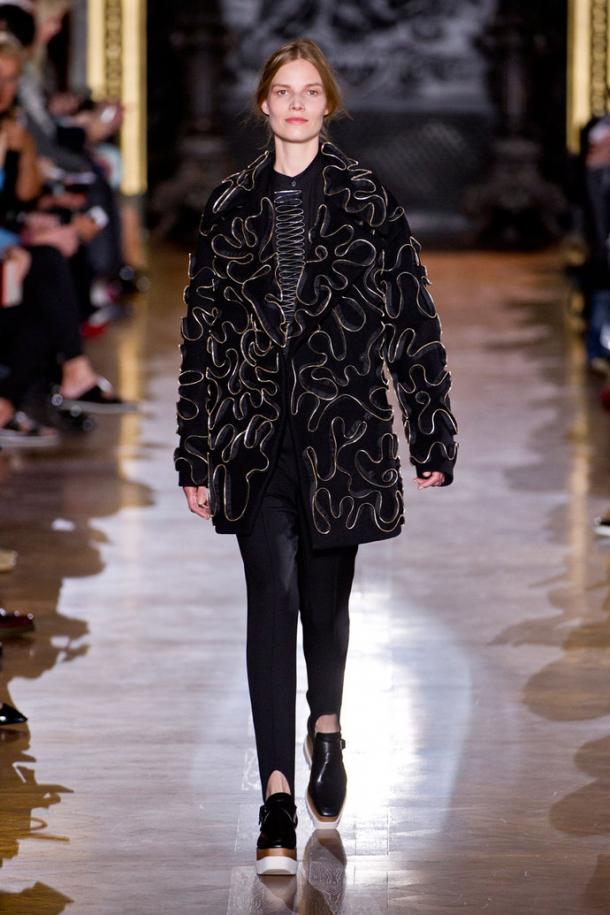 8. Very large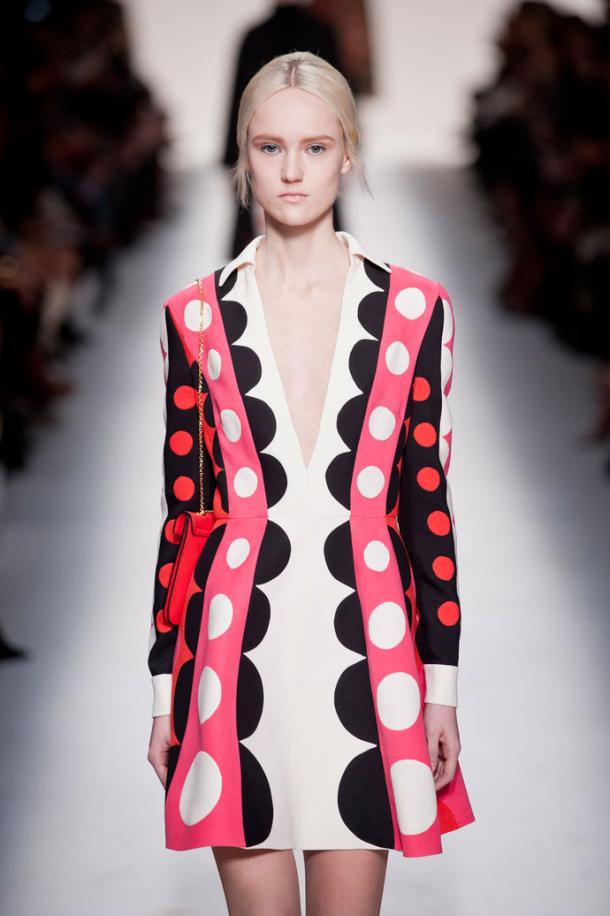 The tendency to overly large prints red thread can be traced through many collection autumn-winter 2014-2015. One of the most talked about accents Fashion Week in Paris has become a major peas pattern that can turn any outfit into a work of modern art. Large bright circles decorated flying cape from Valentino, stylish jackets with sequins and light short coat from Saint Laurent.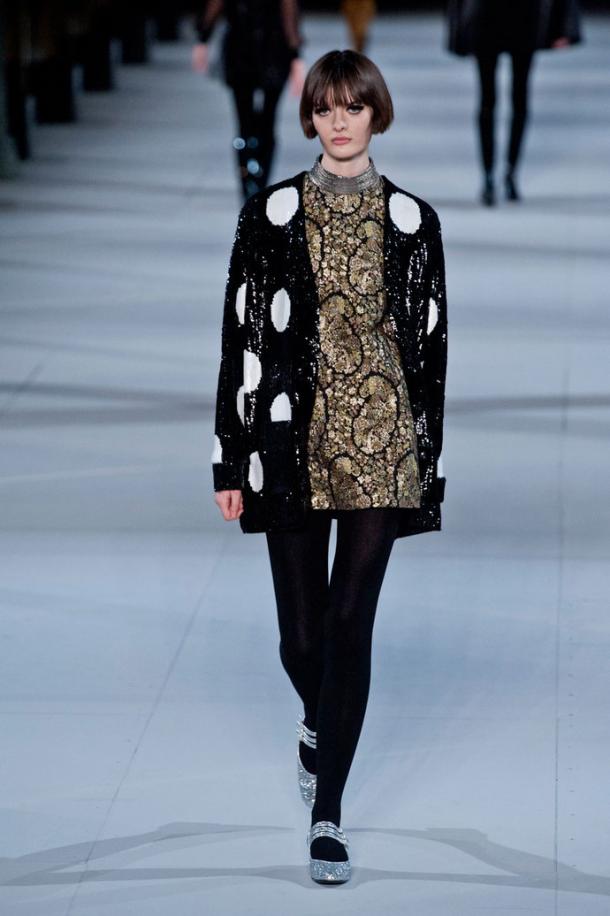 9. The shortened version of the poncho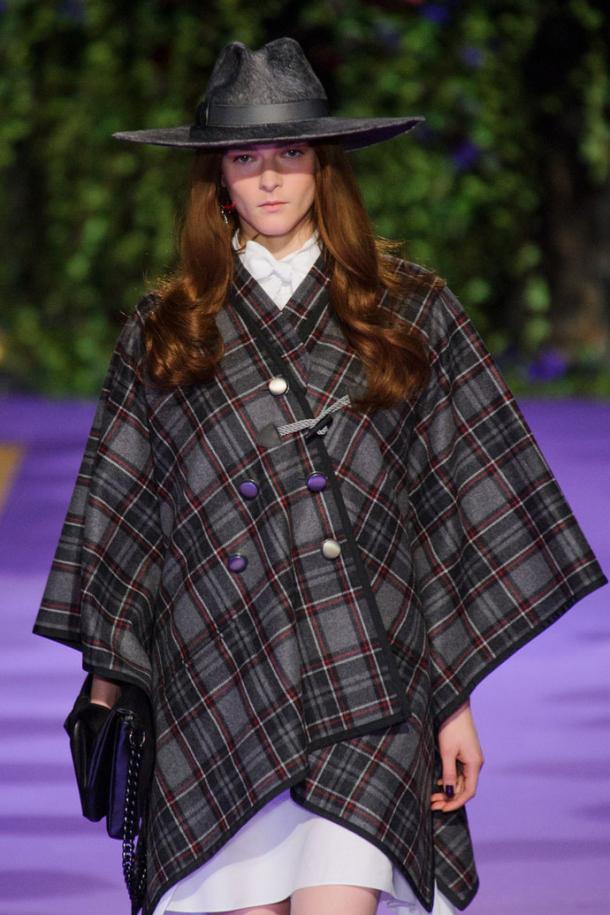 When it became trendy poncho too suspiciously often appear in the new collections. Has reached the point that for several consecutive seasons renowned Parisian designers introduced into their collections this article of clothing. New poncho became shorter and has got stylish cutouts, inserts, designs, embroideries and appliqués.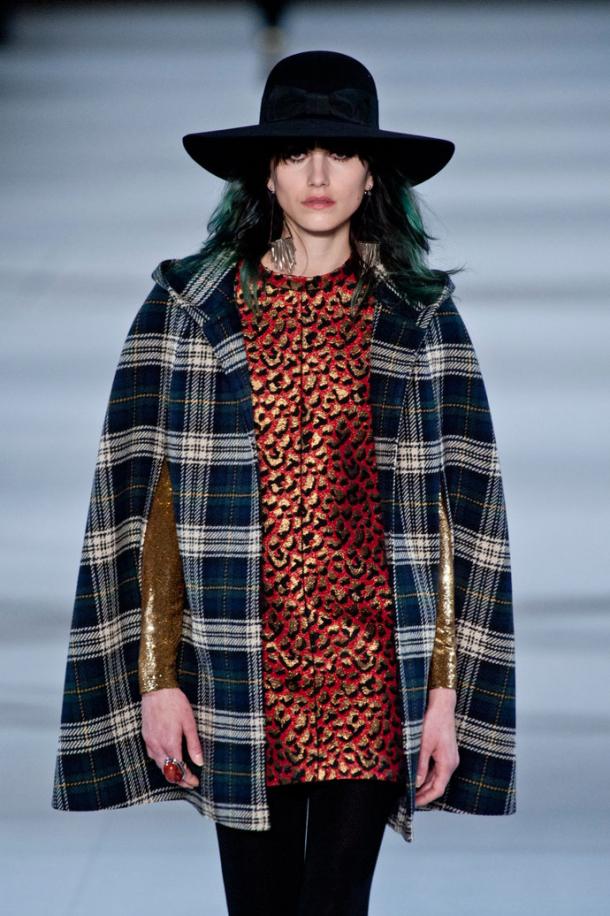 10. Skirts-Preppy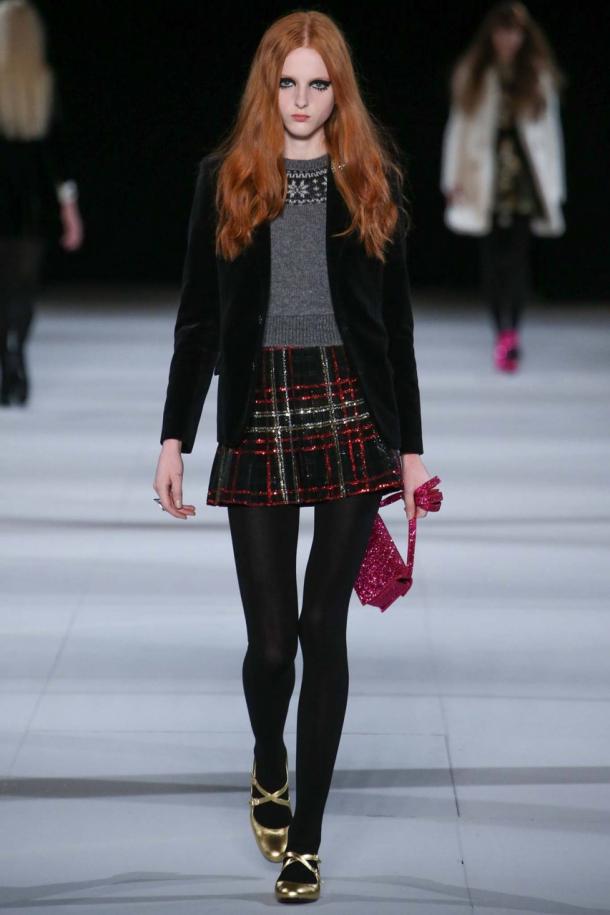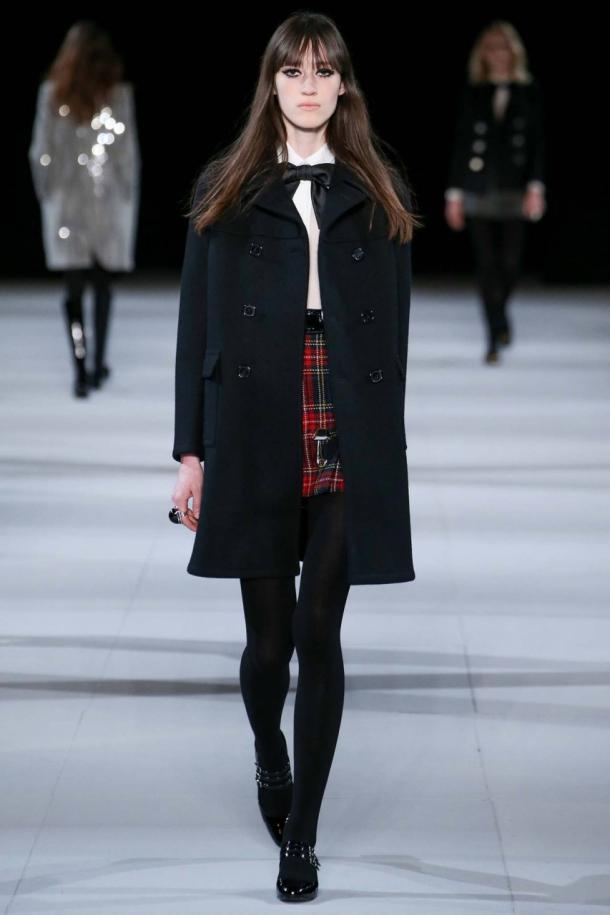 Short skirts obedient schoolgirls have become the main dish in the collection autumn-winter 2014-2015 Saint Laurent. About half of the collection - it is such a little bold and flirty skirts models in different colors: gray, black, checkered.