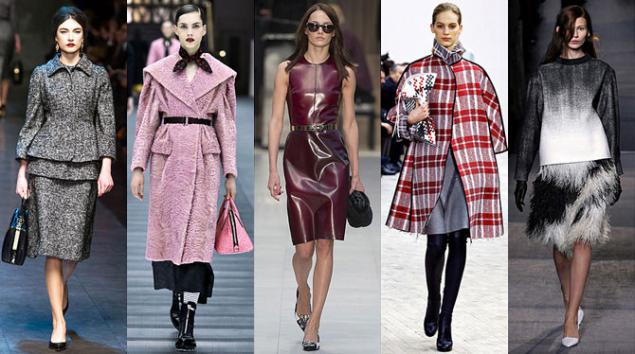 Pale cell and crazy fur, classic stripes and transparent latex, camouflage and feathers, mohair, perforation, and other trends of the next season.
At the shows Fall Winter 2013/14 designers cited in varying degrees in all the important fashion decade of the last century, nevertheless they managed to work out a certain fashion handwriting next season: clean minimalistic in general, but with artful decorative techniques.
Checkered coat
Cells in the new season will be as much as strips in the current, but really bold and fresh look plaid, bags as Chinese or rustic cloth coat.
Stella McCartney, Prada, Céline
In nines
"Why waste time on trifles" - unanimously decided designers Jack McCollough and Lazaro Hernandez of Proenza Schouler, Erdem Moralıoğlu and Dries van Noten, joined by Frida Giannini of Gucci, Oscar de la Renta, Vivienne Westwood and Marc Jacobs for Louis Vuitton, which offer us dress up in feathers.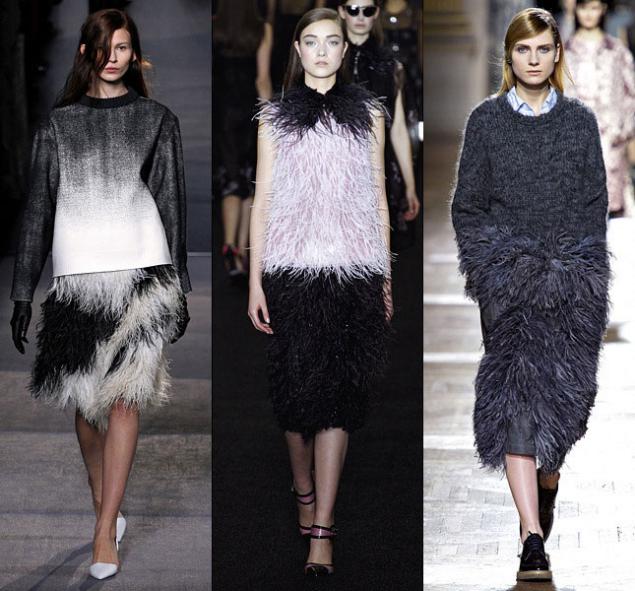 Proenza Schouler, Erdem, Dries Van Noten
White paper
On some shows created a feeling as if the clothes were not tailored textiles, and from sheets of paper: a little milky white color, with perfectly smooth edges, without a hint of embellishment.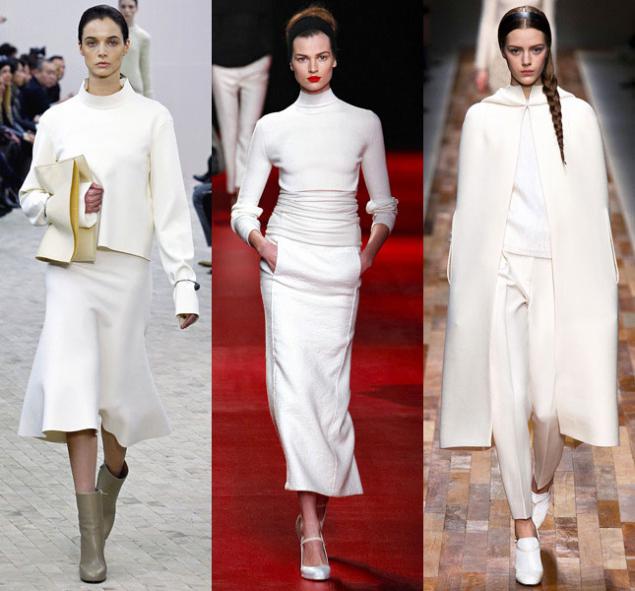 Céline, Nina Ricci, Valentino
Broadtail
Certainly the main fur next winter - skoromny, noble and pliable - of his life really translate virtually any shape than designers and engaged.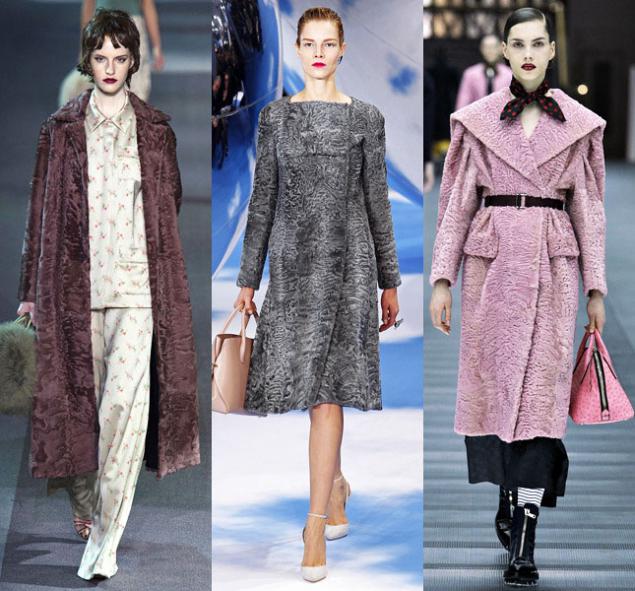 Louis Vuitton, Dior, Miu Miu
Aquamarine
After Pantone, Inc. has named Emerald main color of 2013, designers began with a vengeance to exploit the dark shades of green. In the autumn-winter season we most liked celadon.
Marc Jacobs, Antonio Berardi, 3.1 Phillip Lim
Tweed
In the coming season traditionally male material will perform exclusively female function - to emphasize the dignity of all shapes. Designers headed by Miuccia Prada, Karl Lagerfeld, Haider Ackermann, Alber Elbaz, Domenico Dolce and Stefano Gabbana offer provocative beautiful tweed Total-bows.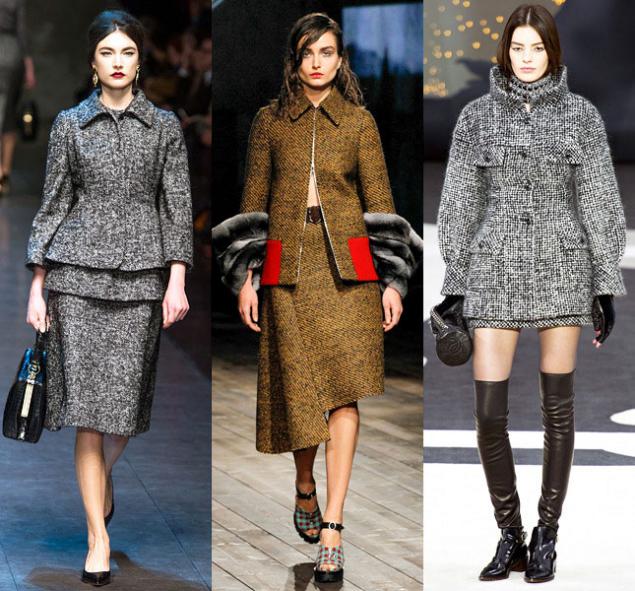 Dolce & Gabbana, Prada, Chanel
Marshmallow
Textured fabric pastel colors reminded us like a sponge candy zefiropodobnye - avoid children delight at the sight of these dresses is impossible.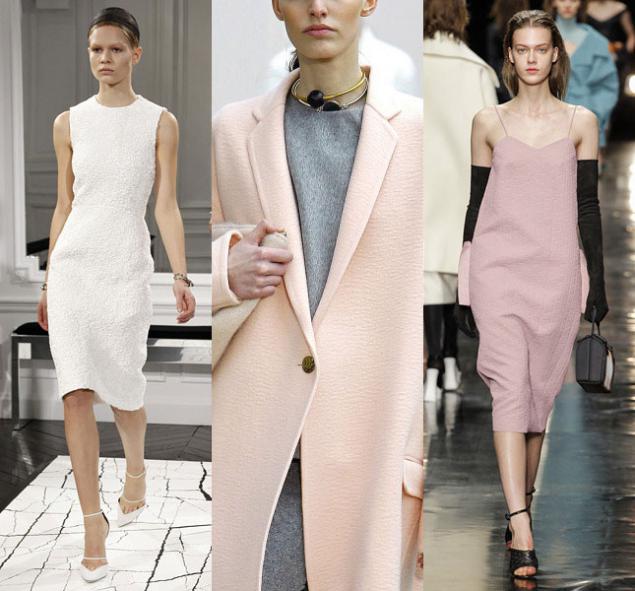 Balenciaga, Céline, Carven
How to attention
Thin, wide needle bar, a sign of "boring" business suit, has never looked so modern thanks to fashion designers.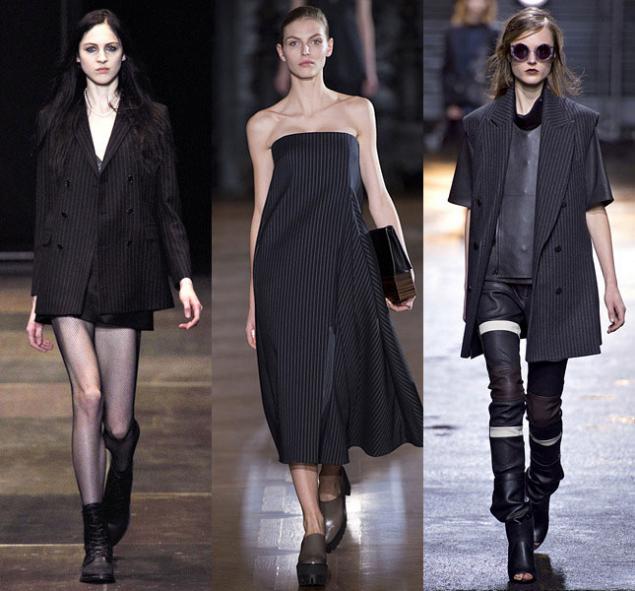 Saint Laurent, Stella McCartney, 3.1 Phillip Lim
Dog canine
In the next half of the fashionable "goose foot" has left its mark in the collections of many designers, but in its pure form - never. Classic ornament in one product is mixed with cells and other textures Tommy Hilfiger, Michael Kors used in products from print sequins and fur, and Raf Simons top dress bust of "feet" suggests to wear lace pencil skirts.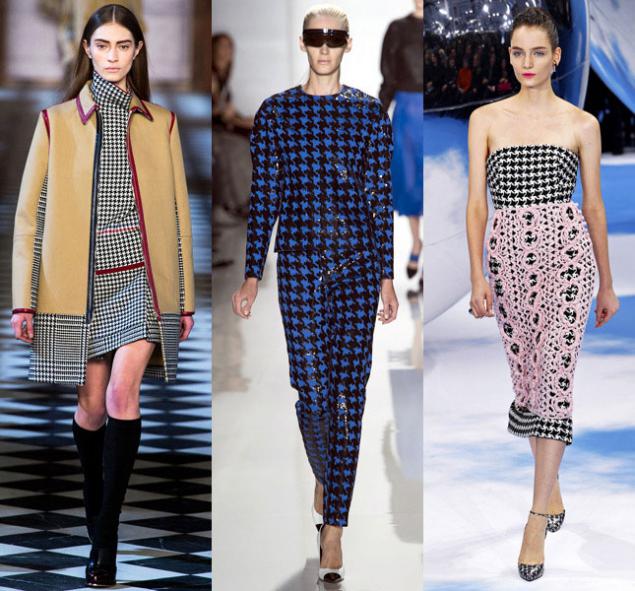 Tommy Hilfiger, Michael Kors, Dior
Exaggerated shoulders
If any part of the body in the coming season, and there is a flash volume, so it is in the shoulder girdle. Arched shoulders and sleeves puffed up like found in many shows independently.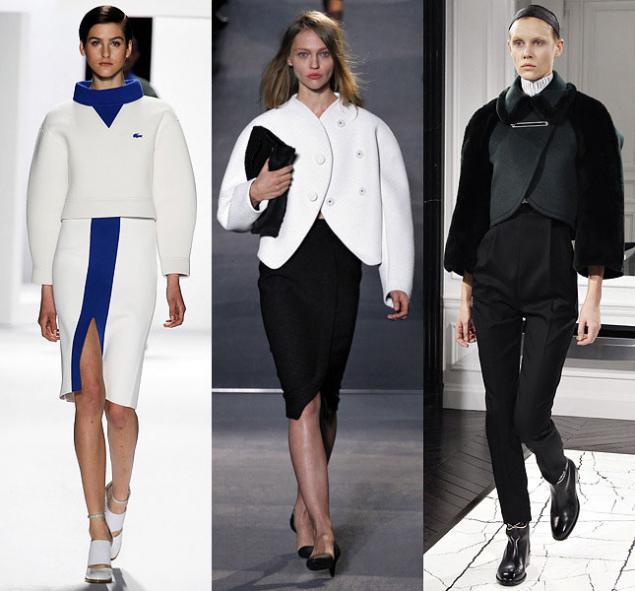 Lacoste, Proenza Schouler, Balenciaga
Quilt
In the new collection of designer gave indulge in experiments with quilted fabrics - classic "shanelevsky" rhombus, vertical, horizontal, curly stitches come across at every turn.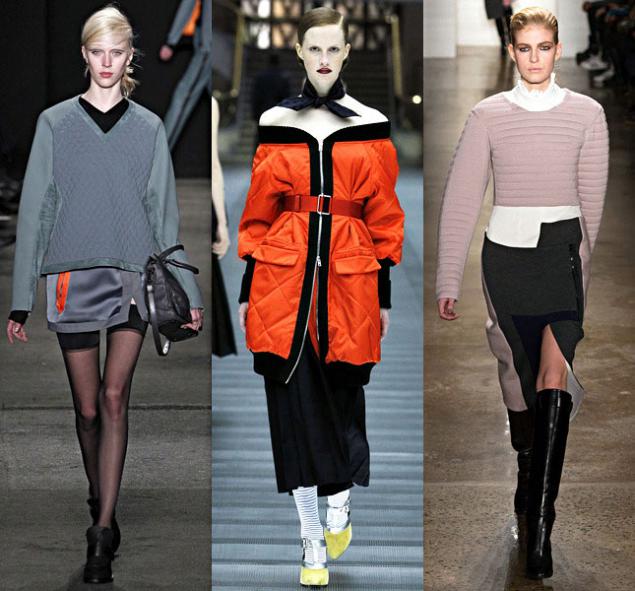 Rag & Bone, Miu Miu, Louise Goldin
Clutches with shoulder strap
Sometimes designers think not only about beauty, but also about comfort. The proof steel appeared in several collections clutches with comfortable straps that will not allow bags to drop out of hand.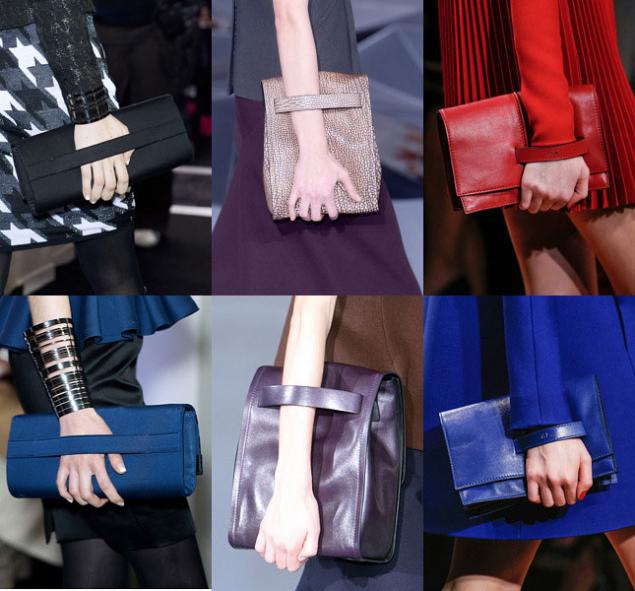 Maxime Simoens, Jil Sander, Valentino
Camouflage
"Defensive" military print in the new season looks amazing in luxurious fur, silk fringe. After six months of fashionable camouflage will wear anything except things of coarse cotton, which originally appeared figure.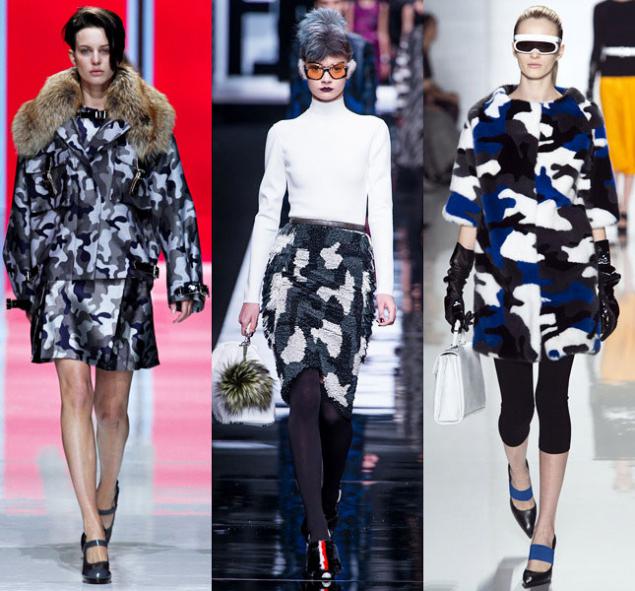 Christopher Kane, Fendi, Michael Kors
Transparent latex
Raincoat designers offer to wear next fall instead of dresses and gowns to sew transparent latex - the most provocative trend of the season!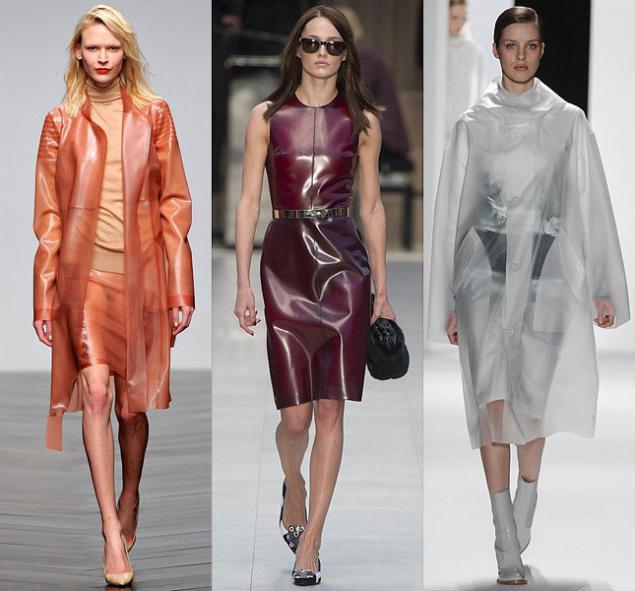 Felder Felder, Burberry Prorsum, Lacoste
Mad fur
Tom Ford, Goga Ashkenazi, Karl Lagerfeld, Roberto Cavalli and Donatella Versace with dignity fought for the title of the most daring experimenter with furs. Who won - decide to buyers.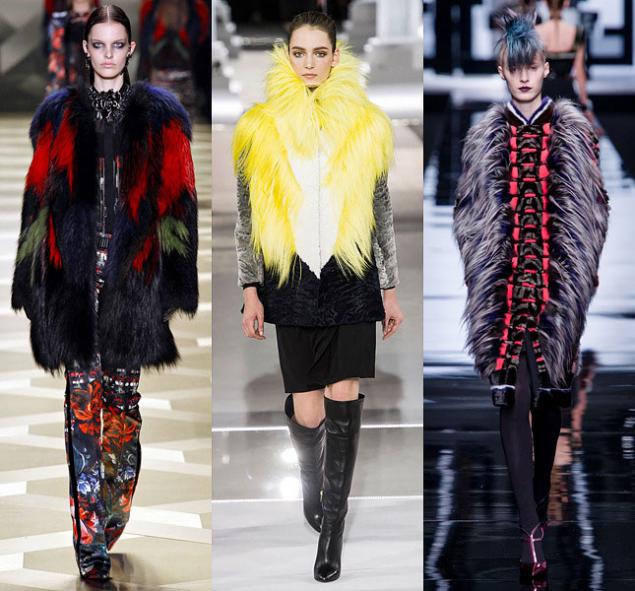 Roberto Cavalli, Vionnet, Fendi
Deep cleavage
Tightly belted coats and dresses in the spirit of the 40's would have looked in the teachers' chaste, if not deep cuts, opening the shoulders and chest.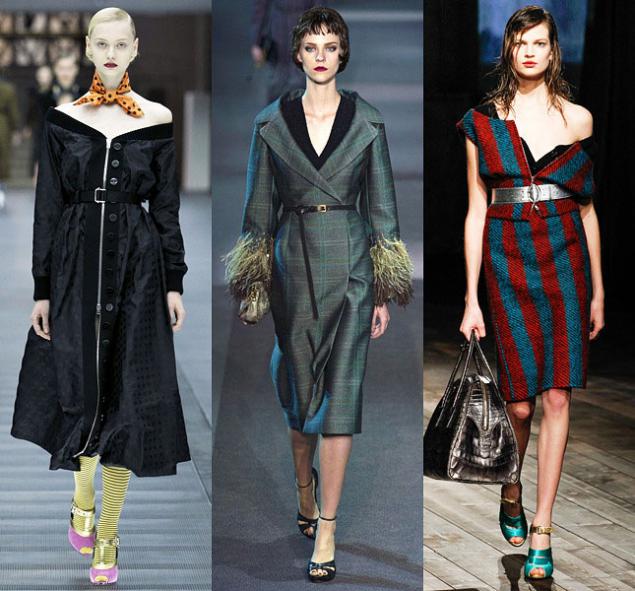 Miu Miu, Louis Vuitton, Prada
Treads
Daring boots above the knee length once again become favorites of fashionistas. The best options for sustainable heels turned out at Ralph Lauren, Chanel and Reed Krakoff.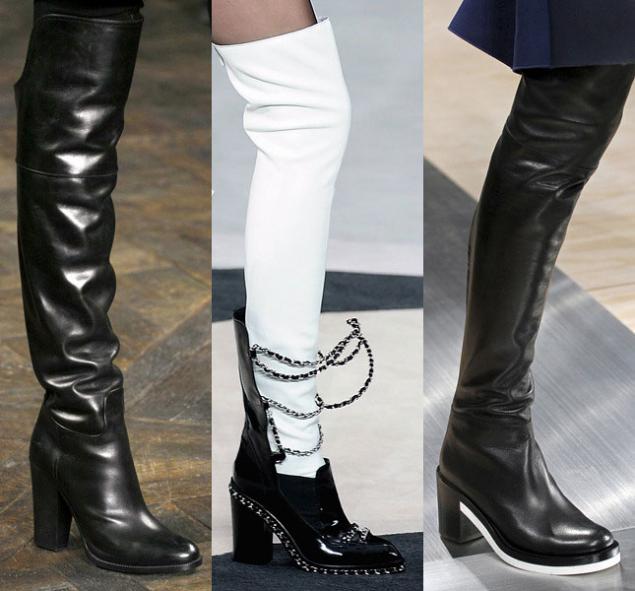 Ralph Lauren, Chanel, Reed Krakoff
Lavender
Pale purple lavender bushes inspired designers to work with the form. The results we enjoyed the shows Marc Jacobs, Emporio Armani and Proenza Schouler.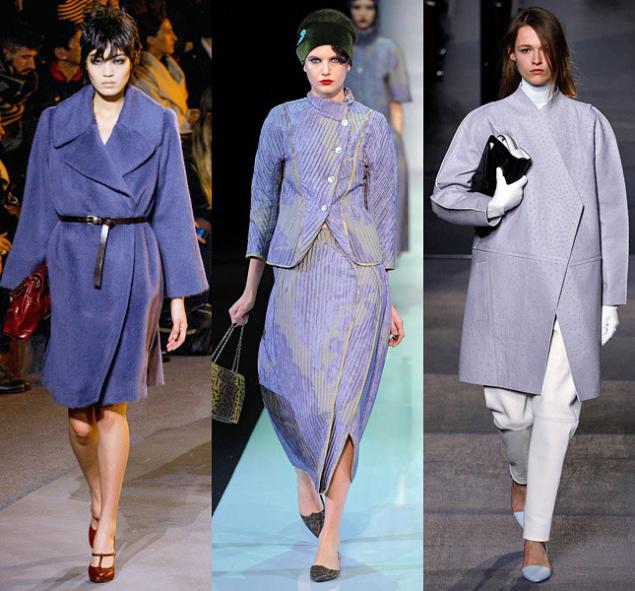 Marc Jacobs, Emporio Armani, Proenza Schouler
Monochrome fur
Most popular in the spring and summer season graphically combination of black and white in the future will find its reflection even in furs.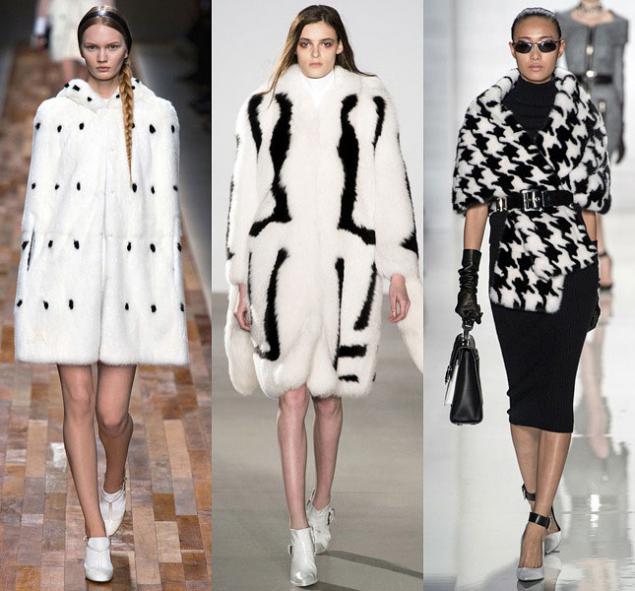 Valentino, Altuzarra, Michael Kors
To elbow
Long gloves made of silk, patent leather, mesh and other unusual materials to help priverzhenka classical style look elegant and not to be considered boring.
Mohair
Forget angora sweater - in the next season become more daring - buy a fluffy coat of bright coat, dress, skirt or even pants. Recent abundant there in the collection of Emporio Armani.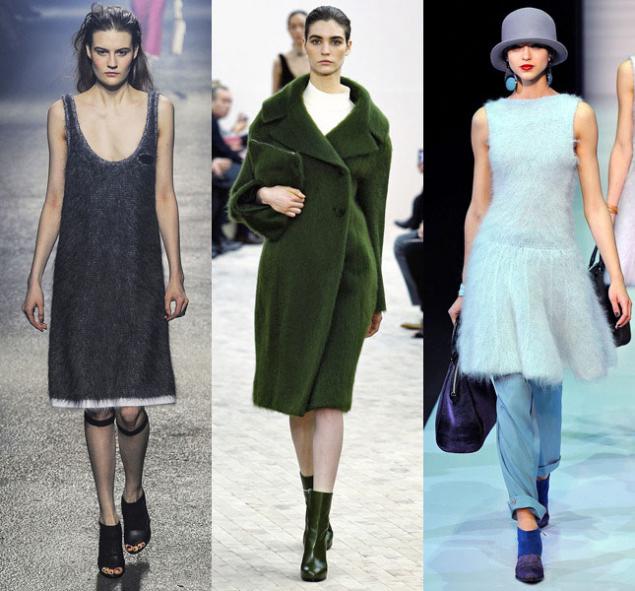 Sonia Rykiel, Céline, Emporio Armani
Cut-out
Modern technology allows a laser cut holes in any material of different shapes and sizes, and fashion designers take advantage of this vengeance.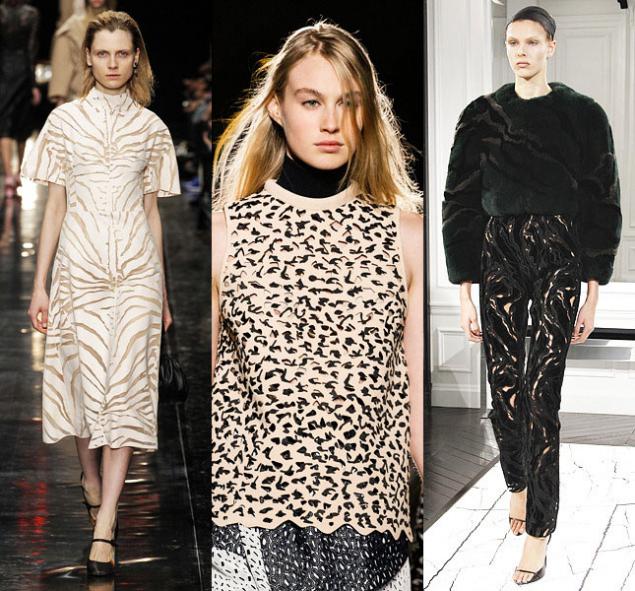 Carven, Proenza Schouler, Balenciaga
Nile Valley
Crocodile leather, leather or imitation, looks very luxurious large products. Do not skimp - allow yourself the whole coat, jacket or skirt.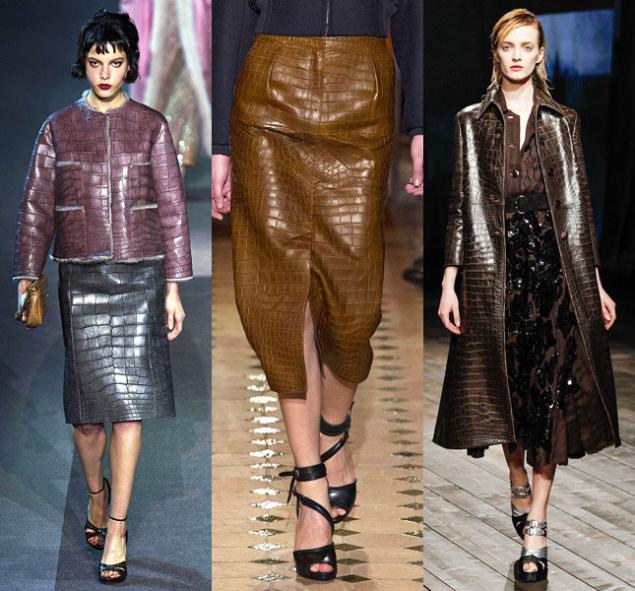 Louis Vuitton, Hermès, Prada
Checkmate
Another alternative to lovers of classic with a twist - add black shoes white accent, and vice versa.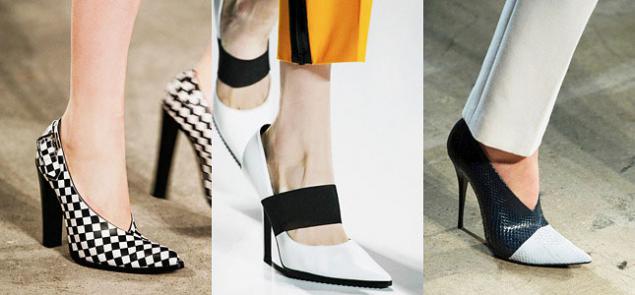 Altuzarra, Michael Kors, Narciso Rodriguez
Bag-trunk
Once a popular form of the formless bag back in fashion. For the second consecutive season the designers can not enough of experimenting with the size, fittings and textures.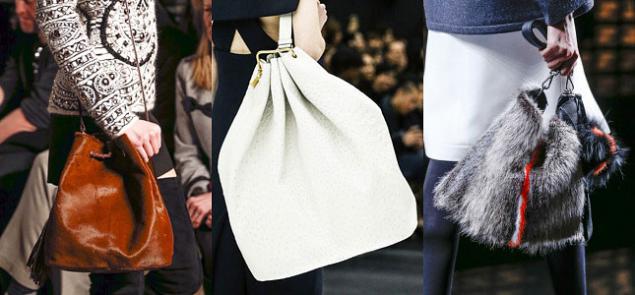 Emilio Pucci, Miu Miu, Fendi