Ankle boots - the most important shoes in spring and autumn. And not only in the femininity and elegance of such insulated shoes. The boots are very comfortable and the rain and the mud, and the other, bad weather, typical for autumn. In addition, they are wonderfully combined with a light spring wardrobe - dresses, shorts, skirts.
Recall that last season in the first rows were impractical suede model, an abundance of jewelry, boots on a thin heel ... This is the autumn will be held for the favorite footwear under the sign of comfort and convenience. Ankle boots in autumn 2014 - is primarily a low steady heels, patent leather and a wide variety of design and colors.
1. Ankle Boots Fall 2014: the ideal choice in casual style of Louis Vuitton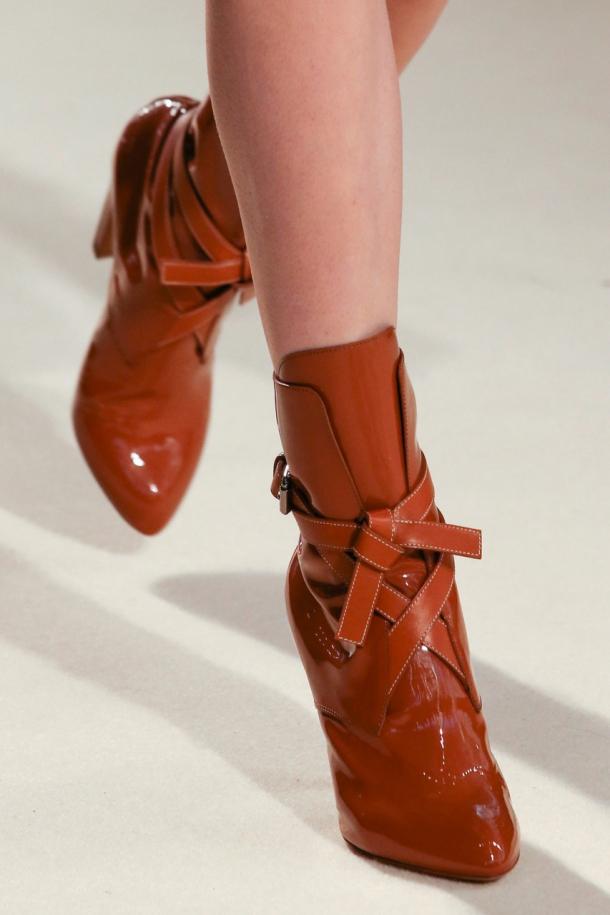 Ankle boots from the collection of Louis Vuitton Fall-Winter 2014-2015, perhaps, become a model for many more budget brands. Famous brand once again proved to the world that the beauty in simplicity, not a large number of unnecessary details. A striking example is the most laconic and comfortable boots for next fall.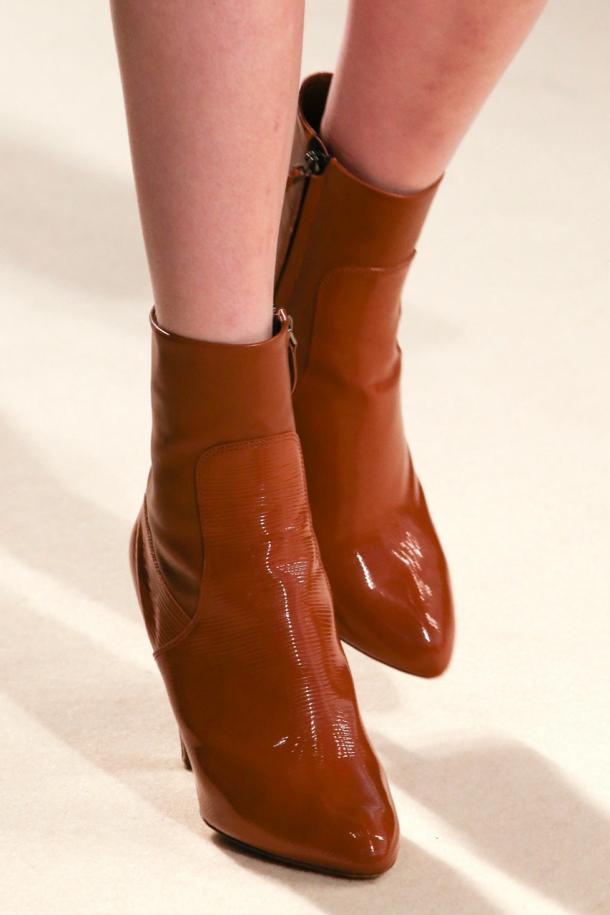 The distinctive features can be called lacquer, shiny surface (which is typical for most of the autumn range of 2014), a small, delicately concave heel and minimalist decoration. Not amazing variety and color: black and brown lead color, with rare animal prints.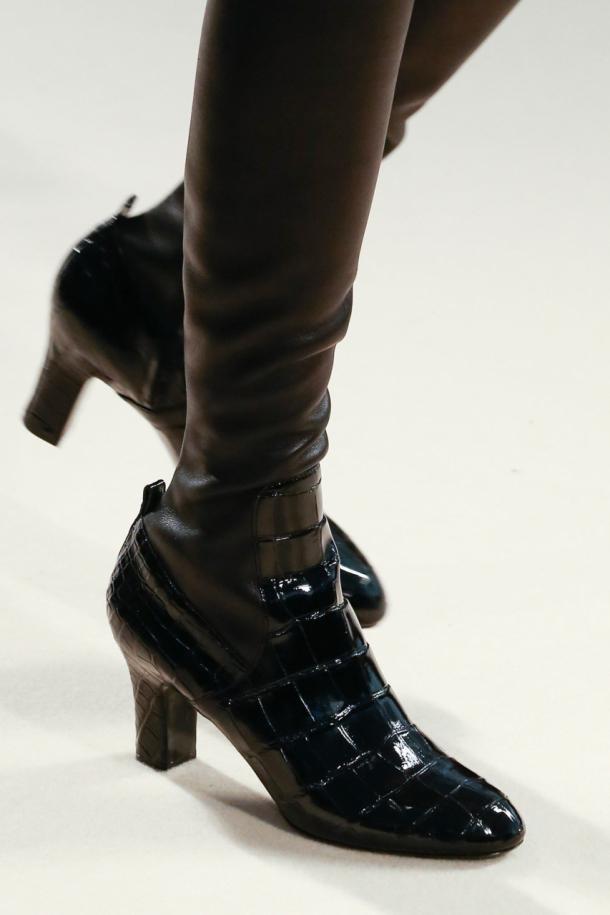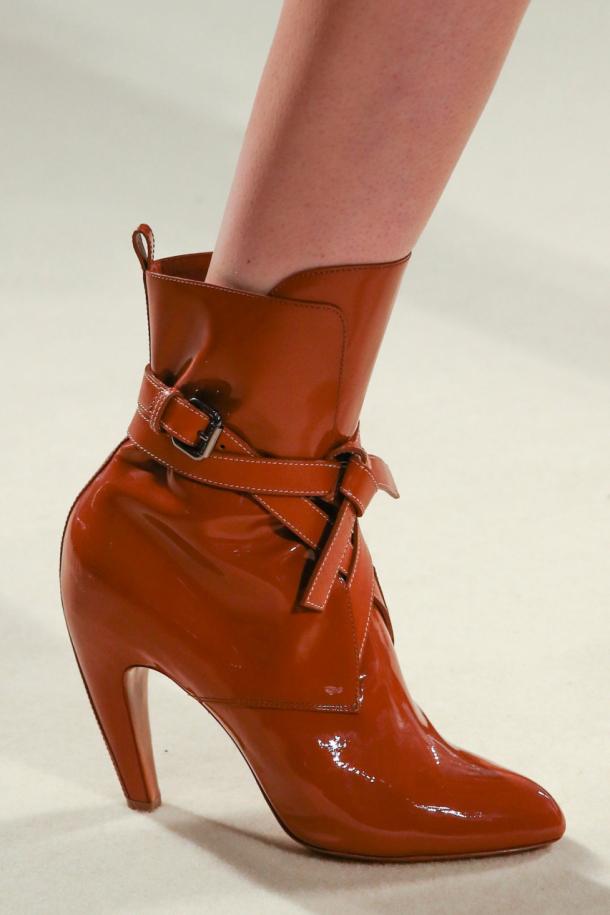 Brightness adds another new trend next autumn: a combination of lacquer and matte leather, sometimes one color, but more often different. Such models are immediately attracted public attention. Slightly overexposed laces and ribbons collection replaced the wide belts with buckles or at simple nodes.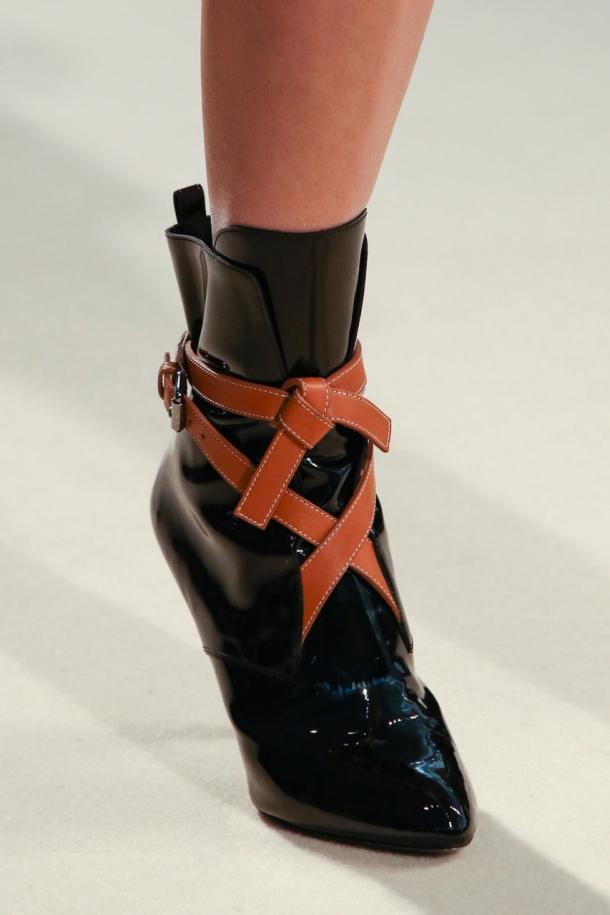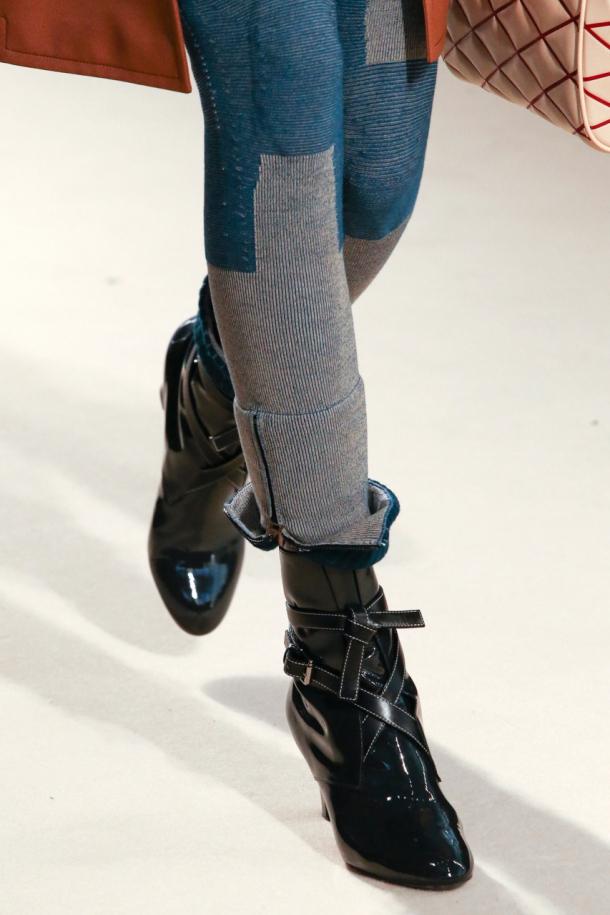 Combine trendy lacquered skin designers decided not only with a matte skin, but also, for example, with suede. This option has less versatile and easy to wear, but look, you see, effectively.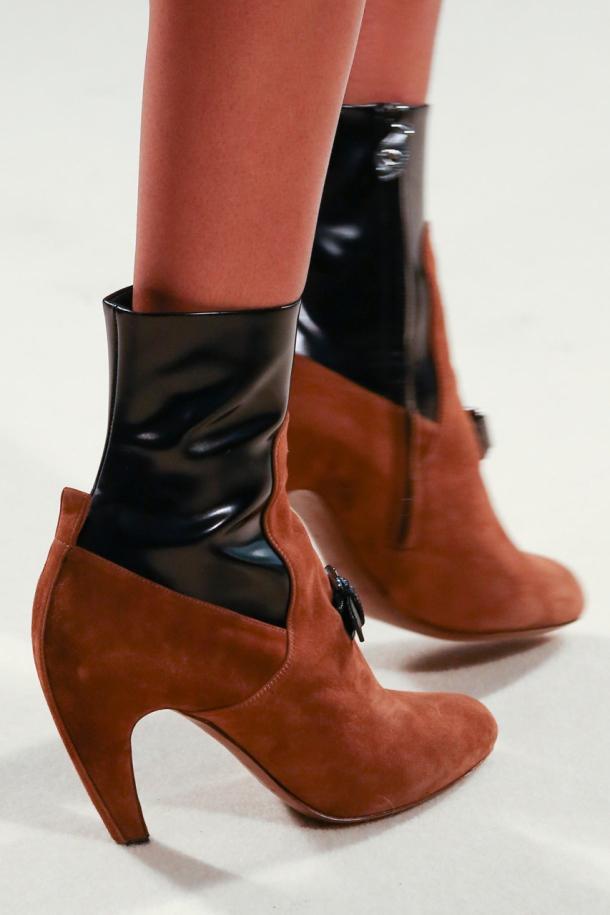 For those who do not like monotony - symmetrical geometric print in the same colors. It will truly be a vibrant part of any image.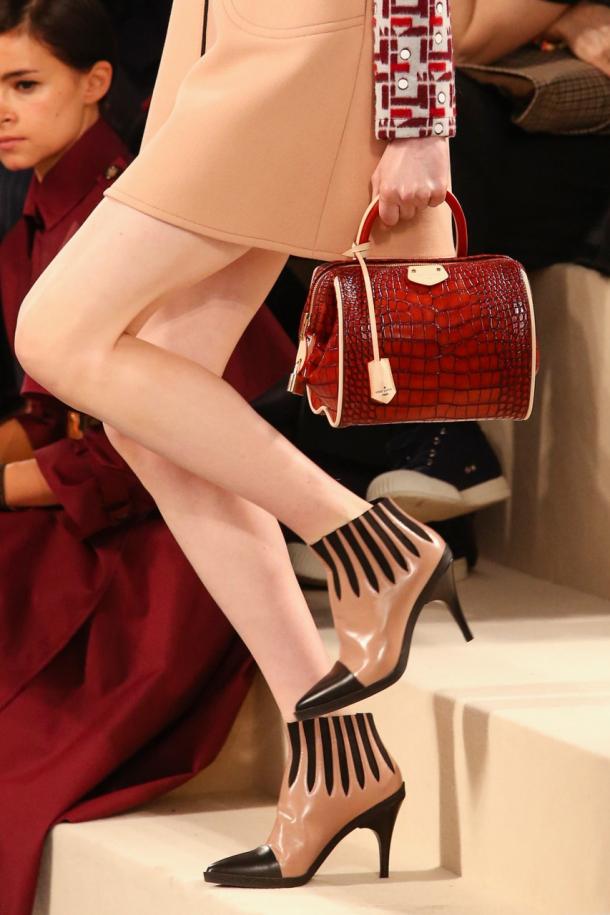 2. Ankle autumn 2014: a riot of colors in the shoes of Valentino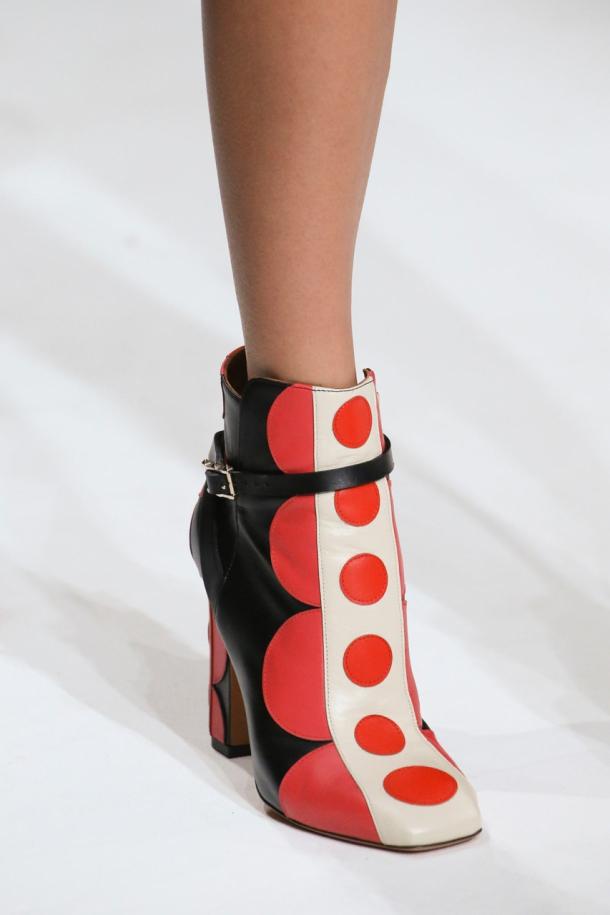 Contrary to usual for next fall monochromatic colors and subdued tones went Valentino. Their collection - a contrasting geometric patterns, bright colors, spectacular details.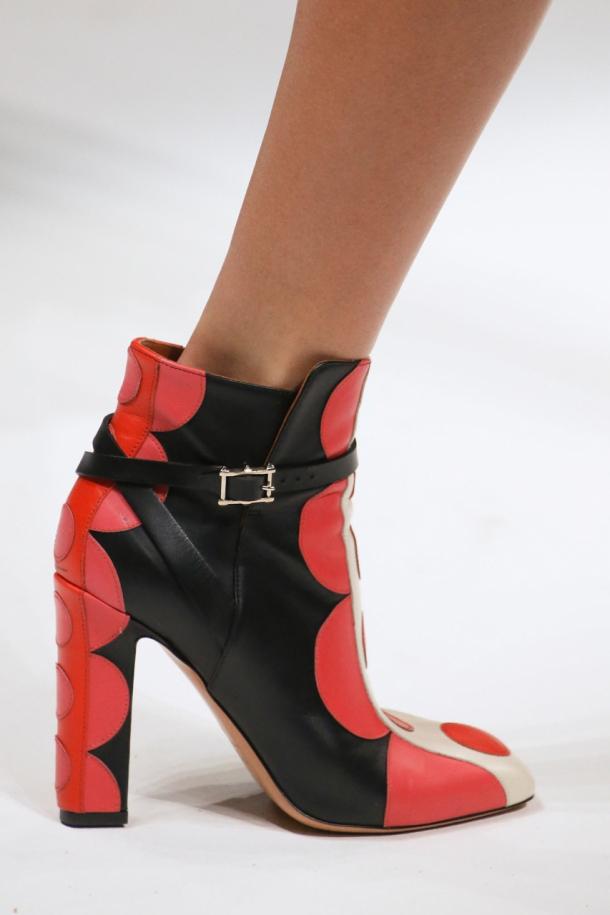 Most others appeared before us and heel in this collection: instead of flowing lines Louis Vuitton - strict straight lines and the average length. The result is perfect harmony between the lines and patterns. Such vivid model is a good choice for those who like to stand out from the crowd and look spectacular starting and ending with hat shoes. Characteristically, the bright model of this brand more often deprived of any lacquer coating that eliminates boots 2014 from vulgarity and cheap appearance.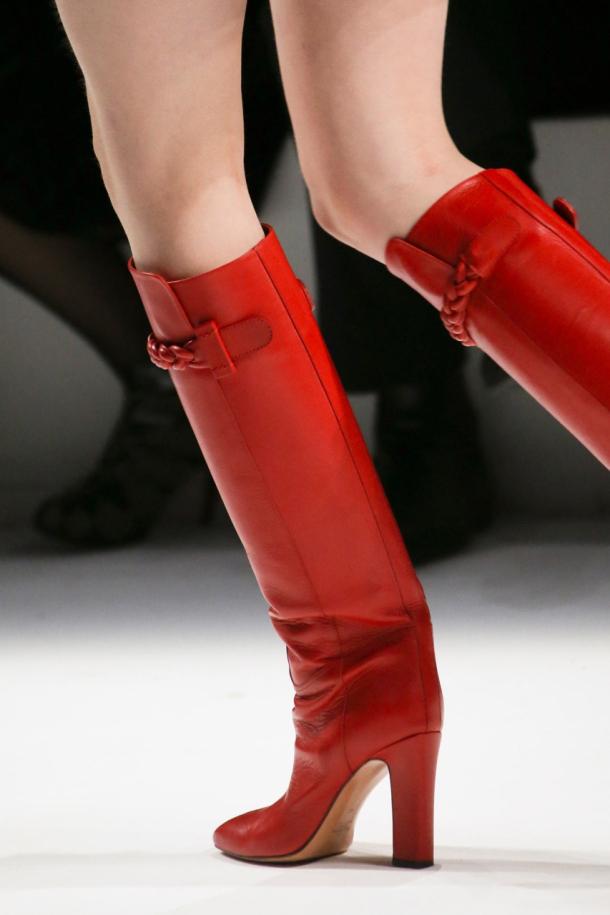 Withstand a lot of shoes collection in tone with the primary colors of dresses. This black, white, red and several shades of pink (primarily salmon and coral). It would seem a very simple color palette combined with the shapes and patterns gives amazing results! And increasingly, instead of laces, locks and keys - leather straps with small metal buckles. The direct tone heel - a strict rectangular sock.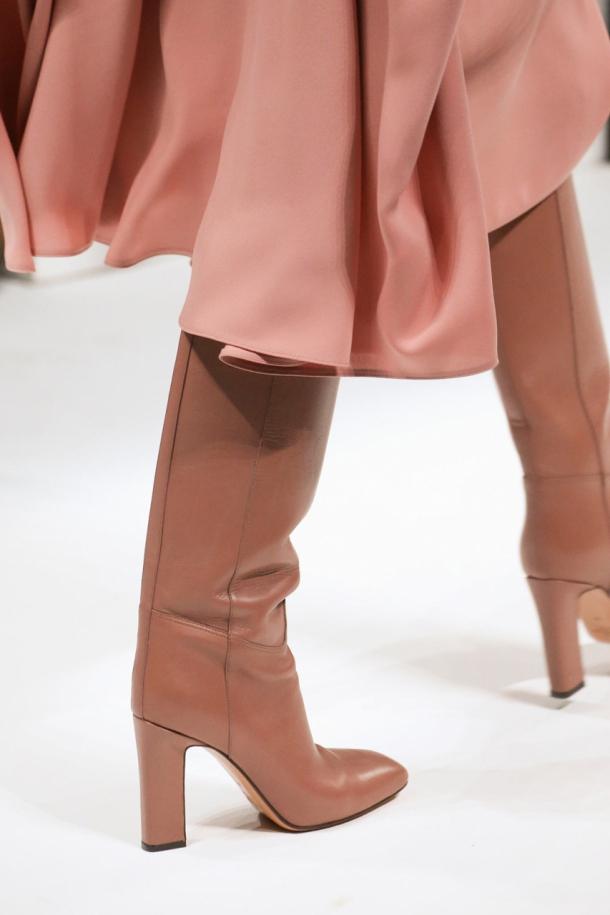 As a bonus, and other trendy colors - moss-green and light gray. The truth is in the design of high boots.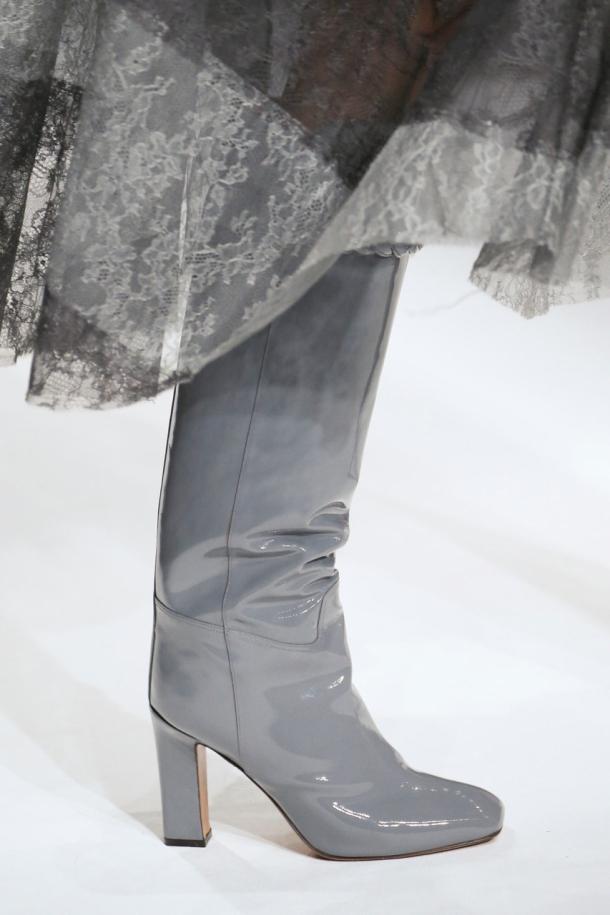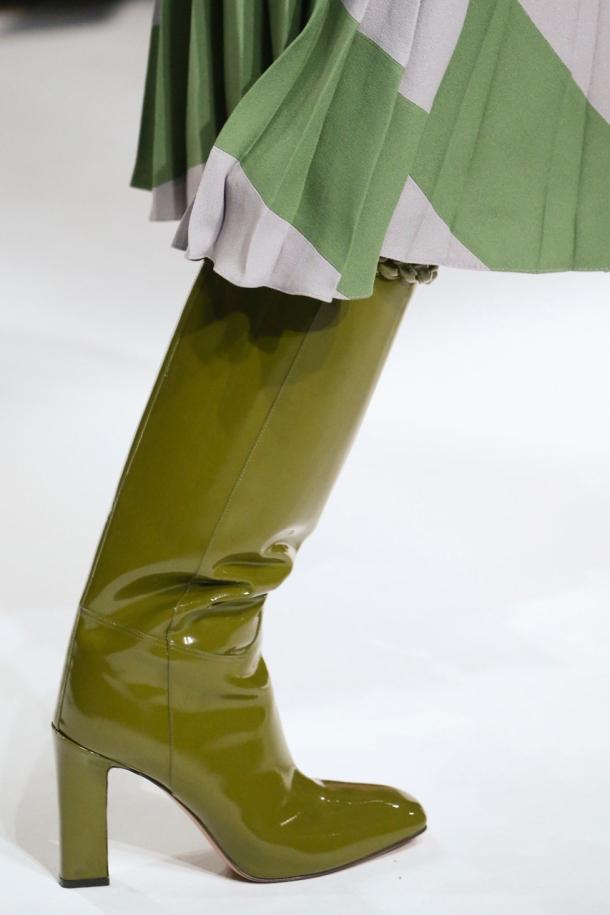 3. Ankle Boots Fall 2014: Giambattista Valli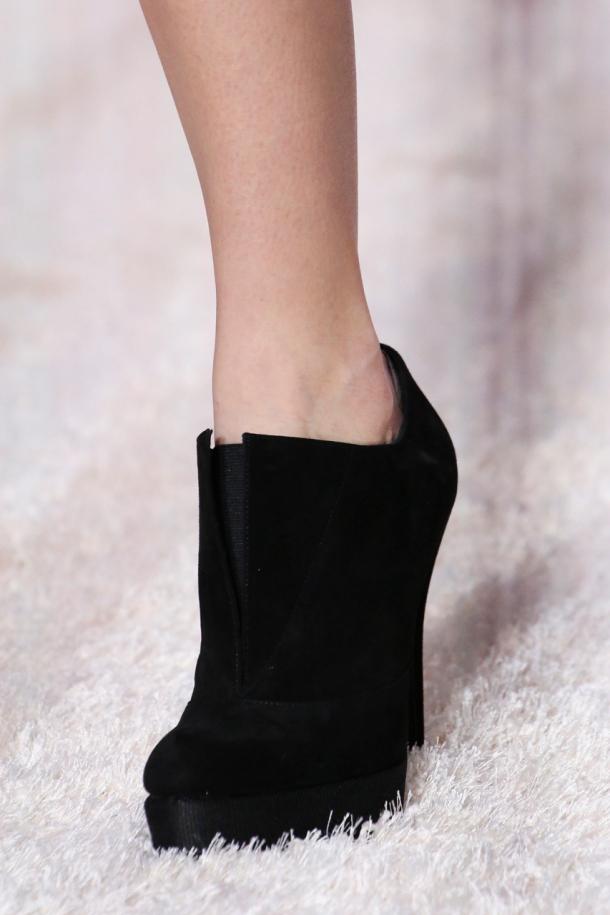 This is also not patent shoes attracted the attention of its interesting silhouette. The main decoration of the collection are the elegant semi-circular cut-outs and a shorter style ankle boots. Shoelaces next fall is clearly not in favor, and in 2014 fall collection Giambattista Valli absent any laces. Exactly how and patent models are always replaced by the current suede.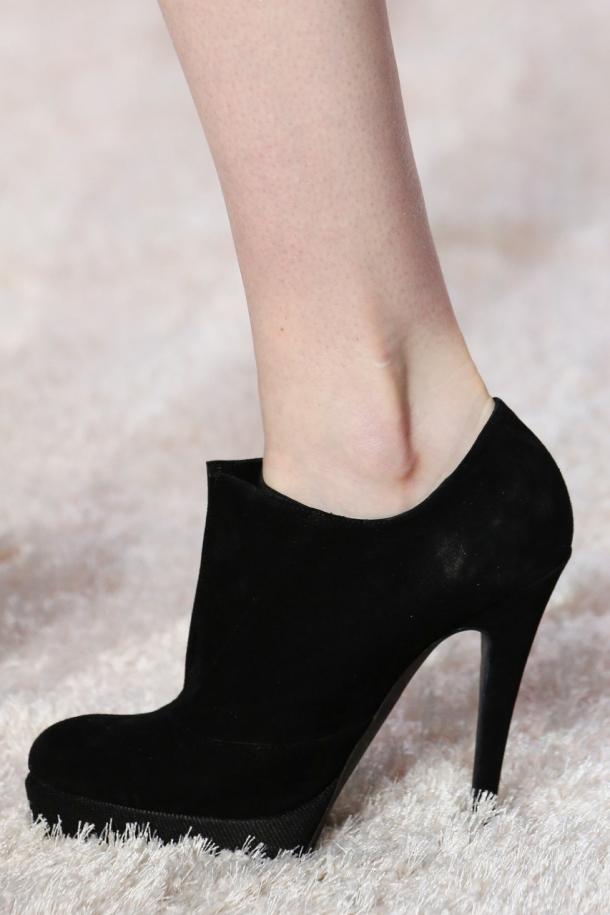 Interestingly, the boots in 2014 are mostly not adopted the current trend of high sole and do not tolerate very thin and very high heels. Everything is designed for the fact that this shoe can not only walk on the catwalk, but also daily activities. Almost all ankle boots - in classic black. Surprisingly comfortable and versatile model for every day!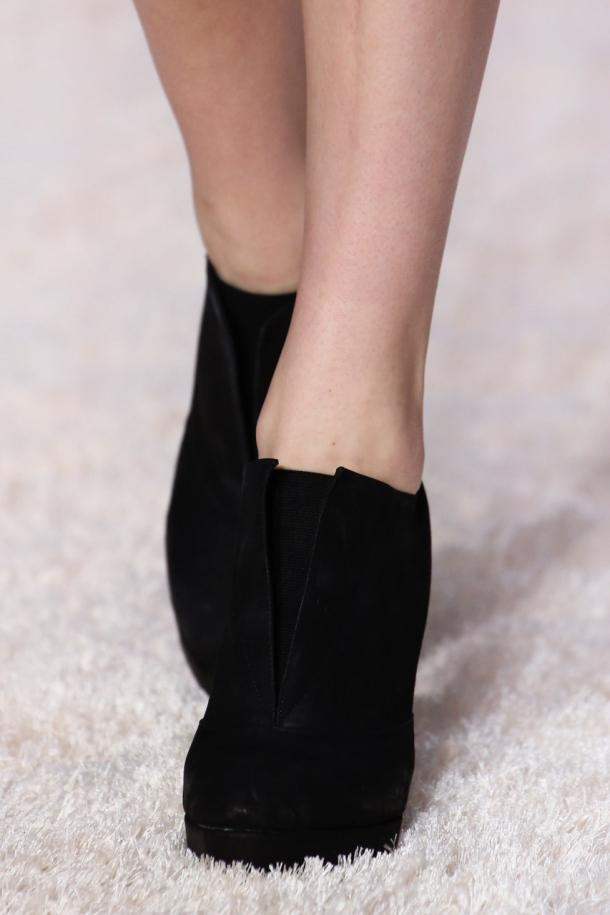 4. Ankle Boots Fall 2014: the original model by Chloé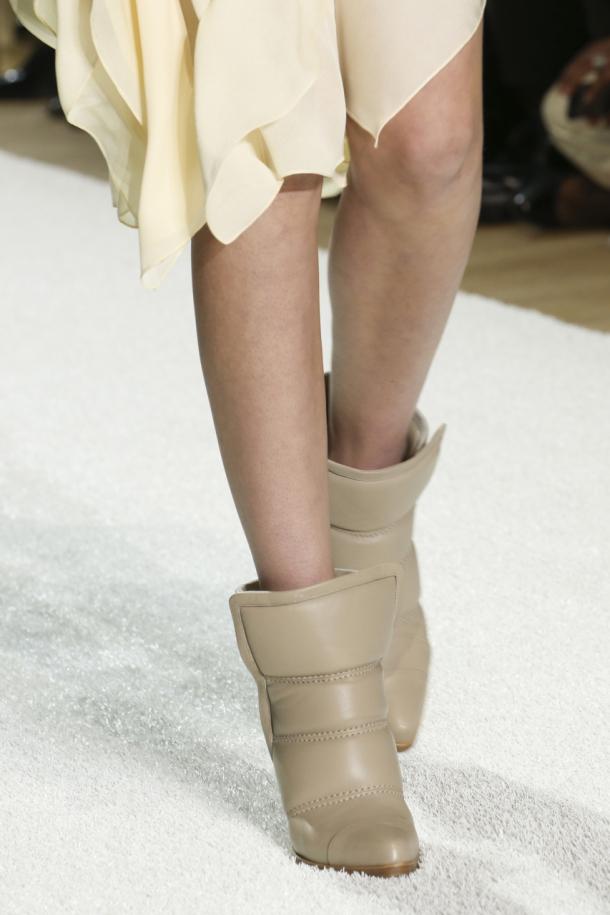 It is this well-known brand was the author polusportivny, bright ankle next fall. Completed in two characteristic colors for next season - a black and light brown - these models are surprisingly well suited as a dress or a skirt and a sports jacket and a backpack. An interesting solution. The new, and I think with a good future.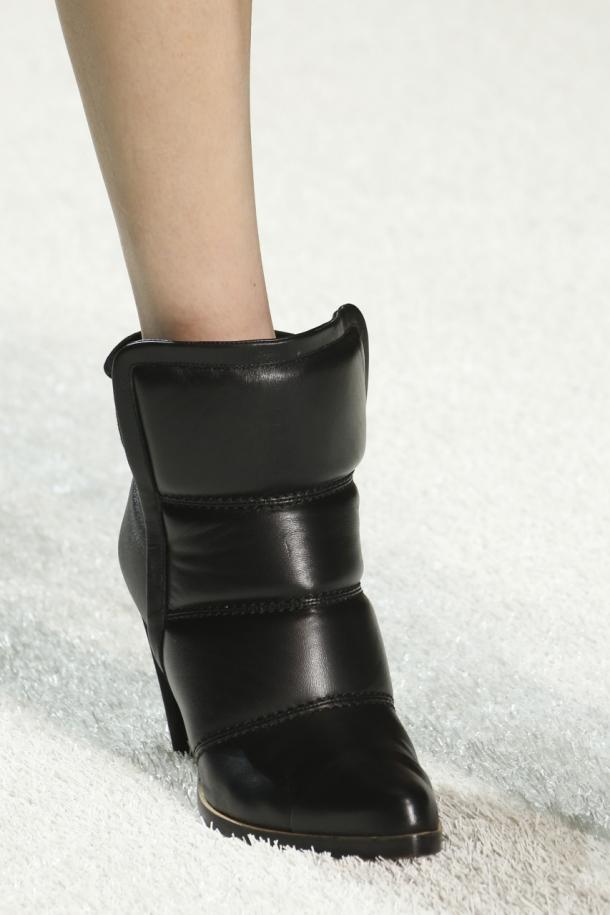 Chloé designers bold experiments with fur. Whether insulated shoes, whether open boots ...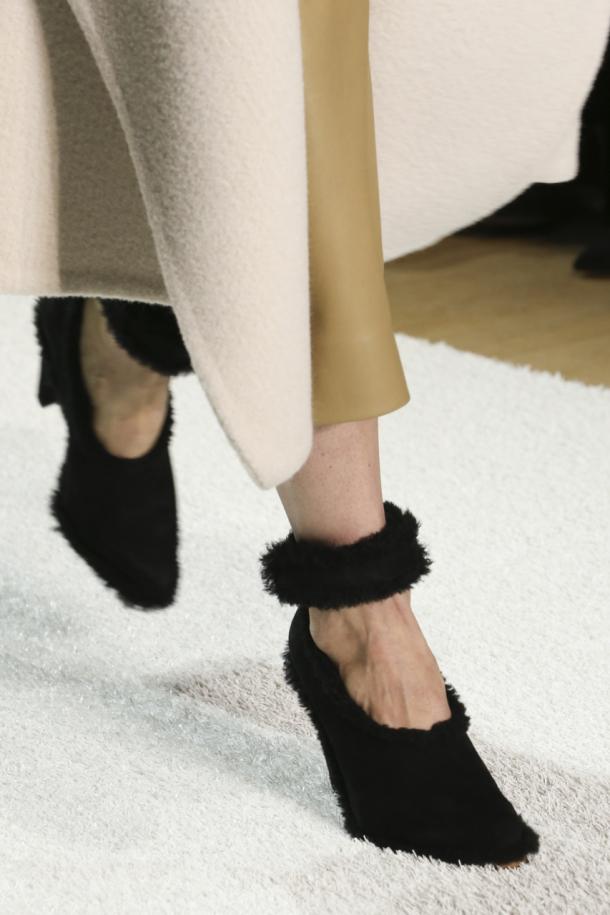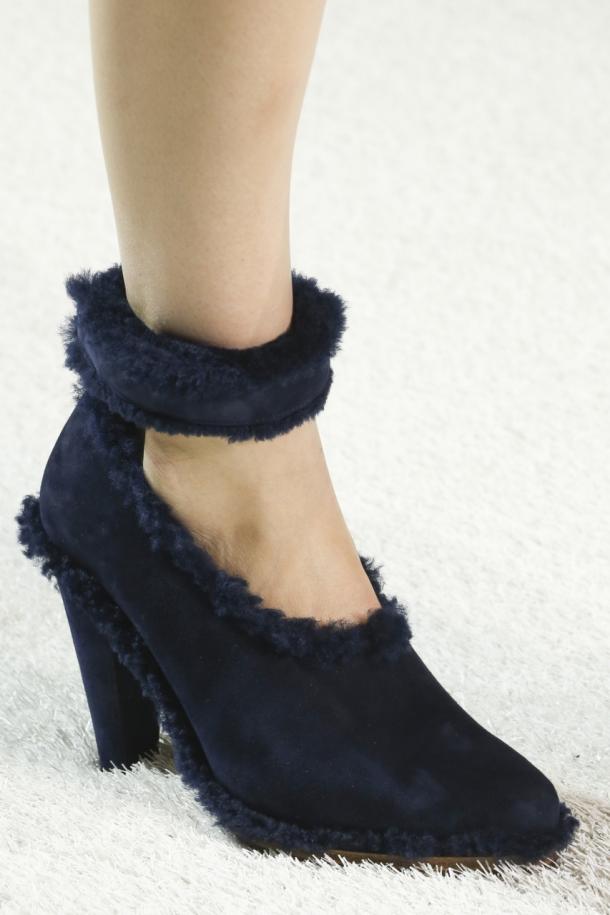 Classic, sustained in the best traditions of minimalism next autumn models ankle. High-end color - rich dark blue.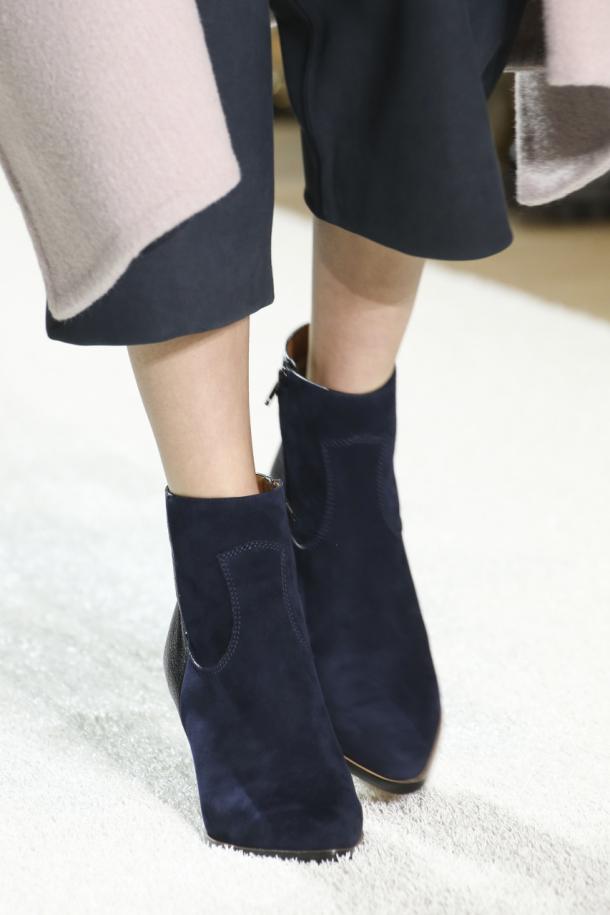 Trendy boots Fall 2014:
1. High-end stuff is still patent leather. Second place is shared suede and animal prints and then matte models.
2. Best possible to name two styles: a curved heel + a rounded nose or straight heel + rectangular nose.
3. Very little thin and tall heels, most of them in 2014 got boots stable heel of medium length.
4. Choosing between tall and short model with graceful cutouts still worth it to stop its attention to the past.
5. Do not be afraid to combine suede and matte leather, lacquer and matte skin, all this and animal prints ... Next fall it is fashionable!
6. Less laces - more thick straps and buckles. It looks good and very concise model without all.
7. Colors: black, brown, cream, moss green, dark blue, red, pink.