The past year was marked by several high-profile events in the world of fashion: H & M to create a successful collaboration with Marc Marni, Versace, and Maison Martin Margiela, Nicolas Ghesquière left the fashion house Balenciaga, Karl Lagerfeld has released a collection of fiscal Karl. The fashion house Jil Sander again met his creator Hedi Slimane returned to YSL, which is now called Saint Laurent, and Raf Simosn showed debut collection for Dior. All these upheavals somehow influenced what will be fashionable in the spring and summer of 2013.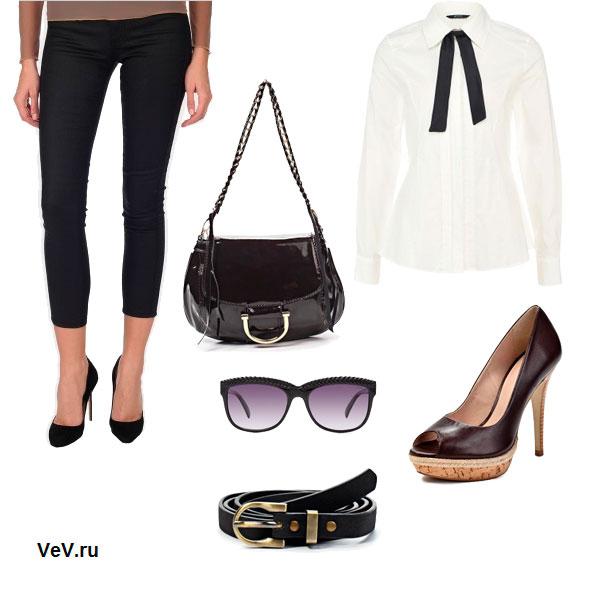 Spring has not come yet, and you still have time to choose from a variety of trends are those that best reflect our unique style. What to prefer? Pastel colors or neon colors? Do you have the courage to try bright plaid images from Louis Vuitton?
9 Here the most important trends in the spring and summer of 2013. Here there really is plenty to choose from!

1. The shorter length

In the summer of 2013 is necessary to shorten it! Balenciaga and Chanel were among those who showed us cropped jackets, and in the collection of Alexander McQueen pants almost all reached only to mid-calf. Incidentally, this is a great way to show off a new pair of summer shoes.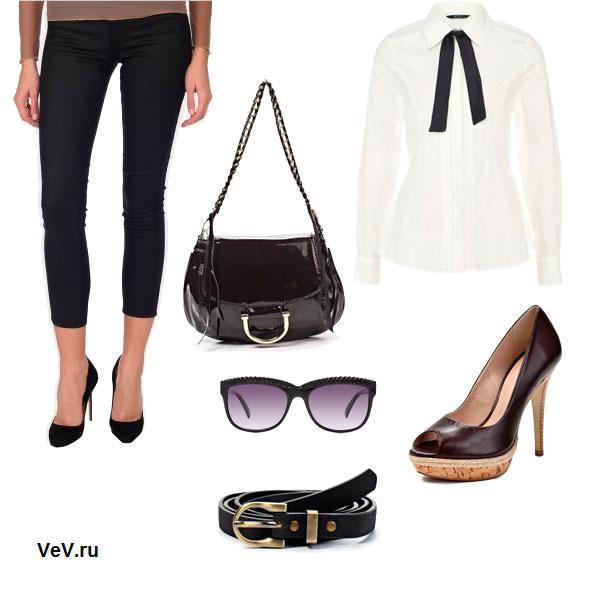 BUY PRODUCTS FROM SETH

Trousers IKKS
3 520 rubles.

Shoes Capriccio
5 500 rubles.

Blouse Guess by Marciano
5 500 rubles.

Sabellino Clutch
1660 rubles.

Belt INCITY
259 rubles.

Sunglasses Polaroid
1942 rubles.

2. Flowers

This spring should pay tribute to the hippie culture and art of flower arranging. Floral prints are delighted with its colors all the fashion capital of the world: London, Milan and Paris. The collections were seen Holly Fulton huge application with the image of rosebuds. Cacharel, on the other hand, stood at less catchy watercolor prints in pastel shades. Whatever you choose, floral pattern is a good choice for a sunny summer.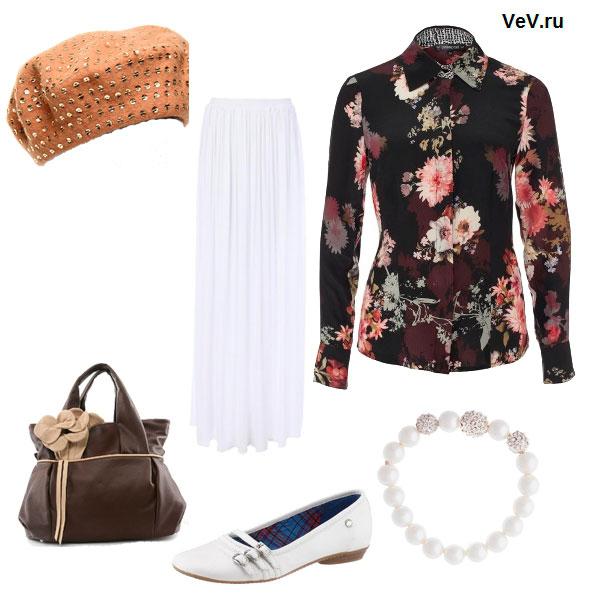 BUY PRODUCTS FROM SETH

Blouse Passport
4040 rubles.

Skirt PEPEN
2 980 rubles.

Tufli- "ballerina» Quelle
2499 rubles.

Bracelet Juvalia
990 rubles.

Bag Renato Angi
14 150 rubles.
Take Venera
750 rubles.
3. graphically

Laconic expressive lines this season prevails even over soft floral prints. Wide monochrome strip by Marc Jacobs literally blew up the fashion world. Louis Vuitton, Emporio Armani and Dries Van Noten, and appealed to the cellular network structure. It seems that most of the designers began to think more linearly, so checkered become the main trend of the spring and summer of 2013.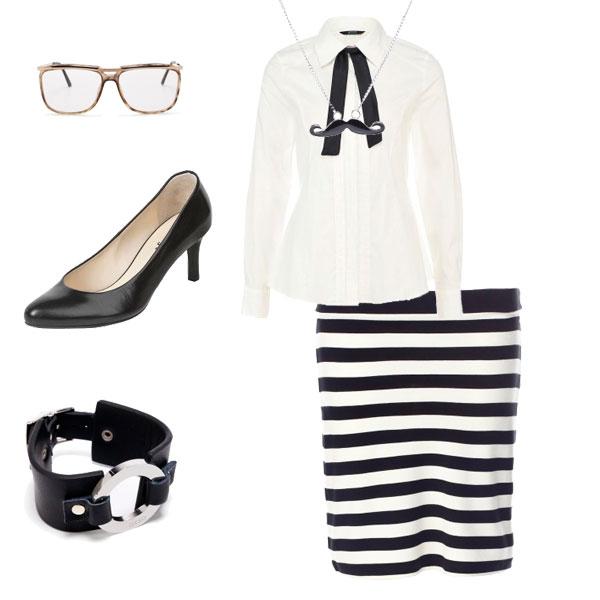 BUY PRODUCTS FROM SETH

Skirt QS by s.Oliver
1900 rubles.

Blouse Guess by Marciano
5 500 rubles.

Bracelet OXXO Design
2800 rubles.

Sunglasses Very Vintage
14 300 rubles.

Shoes Hogl
5799 rubles.

The chain with a pendant Goodqueen
700 rubles.

4. Neon

It seems that we have no choice but how to choose between two extremes: lovely pastel colors and garish bright colors. Bright pink, herbal, cobalt - these colors for the brave, but they should not be afraid. All the bright colors combine perfectly with the white that soothes them and softens their dizzying effect. David Koma London, Missoni in Milan and Proenza Schouler in New York to make a fashionable world of bright color injection.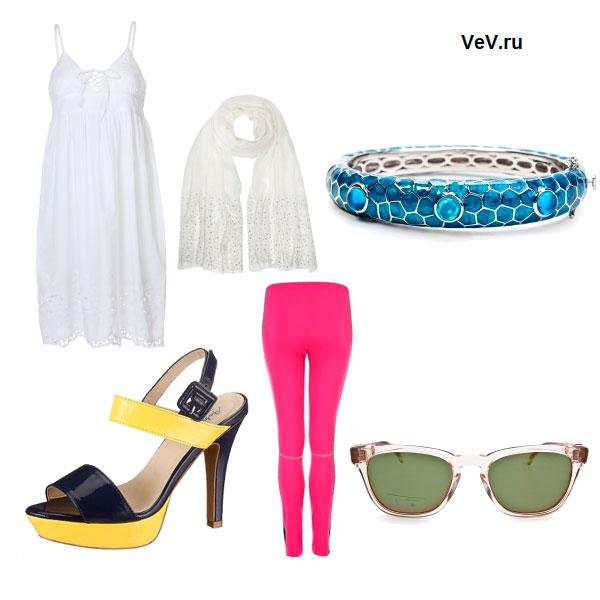 BUY PRODUCTS FROM SETH

Sandals Quelle
2999 rubles.

Leggings Icepeak
910 rubles.

Sunglasses Chrome Hearts
36 630 rubles.

Dress Klumi
1499 rubles.

Tippet Dispacci
899 rubles.

Bracelet Taya
1 690 rubles.

5. Shine

This spring, get ready to shine! All kinds of light-reflecting elements are now relevant not only on the dance floor. Viktor & Rolf drew inspiration from the reflections of mirrors and Louis Vuitton released, probably the youngest in the history of sequins fashion shows. This is another challenge of our fashion taste. It is important to take it with dignity and did not get involved in copying images from the catwalks.
BUY PRODUCTS FROM SETH

Skirt Selected Femme
2090 rubles.

Clutch Venera
1290 rubles.

Shoes Vitacci
5450 rubles.

Sunglasses Chrome Hearts
59 370 rubles.

Blouse Selected Femme
4340 rubles.

Collier Selena
1 149 rubles.

6. White

Dilute with a riot of colors, which is waiting on the spring and summer of 2013, is intended to neutral white color. He never goes out of style, perfectly suited to any image and gives elegance. White opened shows Roberto Cavalli, Emilio Pucci, Jil Sander and Missoni, and a thin line passed through the collection of almost all designers. It is the color, organically associated with summer, and that it should be used as a base in the construction of the bow.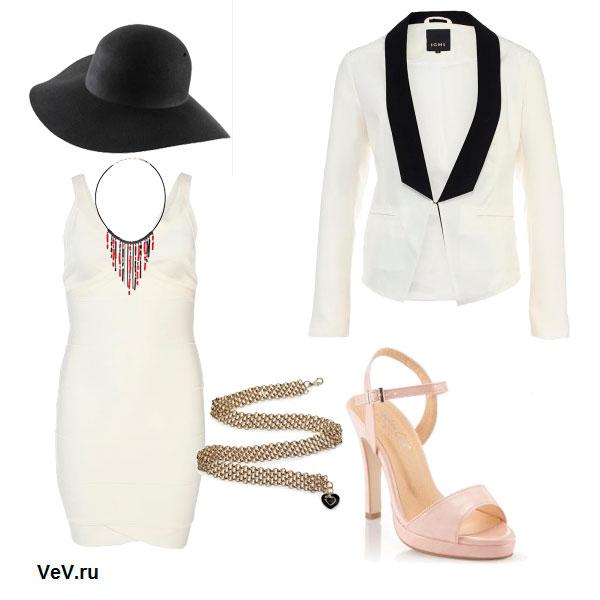 BUY PRODUCTS FROM SETH

Dress Tutto Bene
4240 rubles.

Belt Axara
2010 rubles.

Collier Nature bijoux
2700 rubles.

Sandals Quelle
2999 rubles.

Hat Quelle
2699 rubles.

Jacket ICHI
2780 rubles.

7. The Sixties

Hippie generation, love and freedom is the basis of the main trends of the season. Markus Lupfer and Teatum Jones in their works inspired by images of science fiction, Moschino, Louis Vuitton and Holly Fulton turned to bright and cheerful colors, and Tom Ford and Gucci rethink the style of Hitchcock heroines. The designers paid homage to images of icons of 60th - Twiggy and Jane Birkin, flooding the catwalks mini-skirts, dresses and straight things checkered.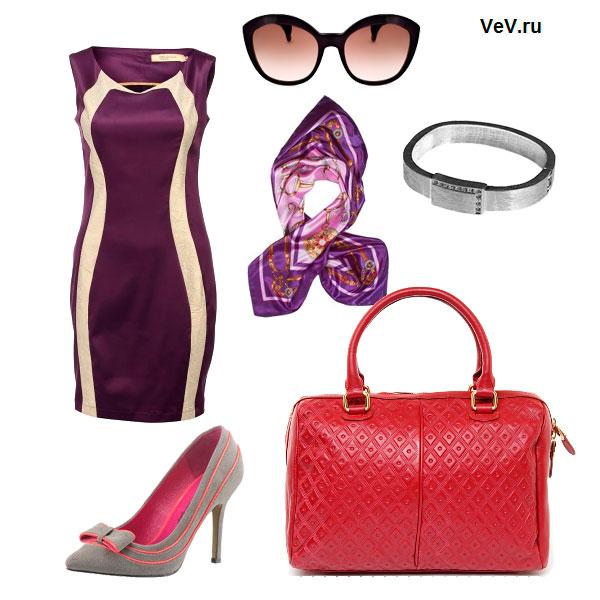 BUY PRODUCTS FROM SETH

Dress Moe Sladkoe Platie
4490 rubles.

Shoes Quelle
3499 rubles.

Shawl Dispacci
399 rubles.

Bag Leo Ventoni
5 250 rubles.

Bracelet Fashion History
790 rubles.

Sunglasses Bottega Veneta (Accessories)
17 820 rubles.

8. Oriental style

Traditional Oriental prints received a rethinking of the West. The collection of Etro, Emilio Pucci and Prada subtle sense images of Beijing, Hanoi and Tokyo. The main reasons - it is the image of dragons, lotus flowers, hibiscus and peons. The traditional form of oriental kimono was reconstructed designer brands Gareth Pugh and Haider Ackermann.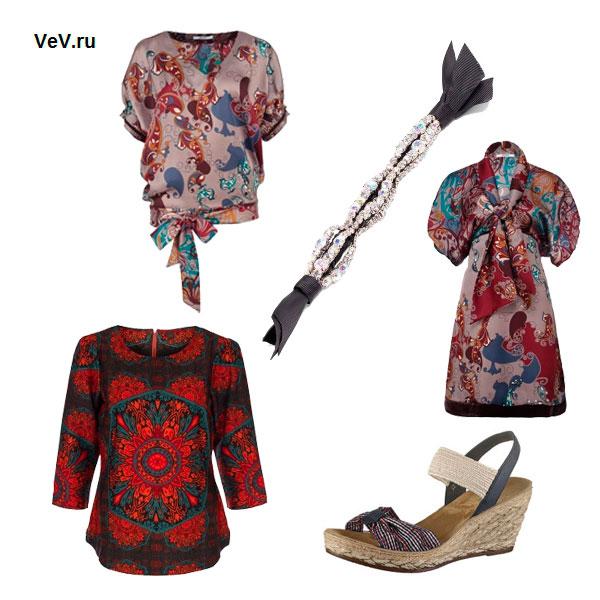 BUY PRODUCTS FROM SETH

Sandals Quelle
2999 rubles.

Dress Liu Jo Jeans
5550 rubles.

Blouse Selection by s.Oliver
2710 rubles.

Tunica Liu Jo Jeans
7730 rubles.

Bracelet Die Blonde
1220 rubles.

9. Safari

In the spring of 2013 we sent an adventure safari. In this adventure can not do without a bright beige color and prints in the style khaki. It should be noted that the style of the safari are now allowed to use in the office or evening images. The basis of this style spring and summer of 2013 was not only the color of khaki, and silhouettes. It is necessary to look for things, wider top but tapering to the waist. Also, do not be superfluous epaulettes or shoulder straps.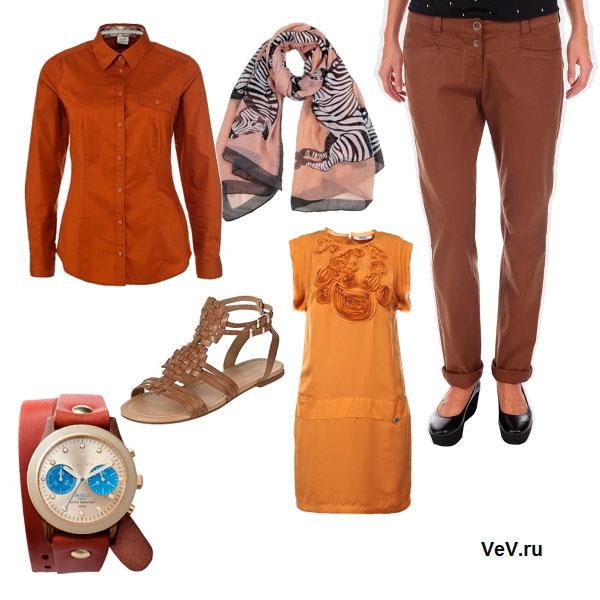 BUY PRODUCTS FROM SETH

Shirt Esprit
1970 rubles.

Sandals Via Uno
3229 rubles.

Dress Liu Jo Jeans
5050 rubles.

Trousers TOM TAILOR
3050 rubles.

Tippet
899 rubles.

Hours Triwa
9900 rubles.
Despite the huge number of bright colors and sparkles in the collections I urge the main trend of the spring and summer 2013 to make restraint. Give up the blind copying of bows from the podium, it is necessary to leave the so-called fashion victims. Remember that the trend can be supported by only one thing: a jacket, a skirt or accessory. Keep your sense of style.