One of the turning points, which finally asserts its rights in the spring, it's goodbye to coats, bulky coats and windbreakers. And finally the moment has come! Now replace the uncomfortable outerwear come stylish and lightweight models of jackets, windbreakers, parkas, coats ... and of course raincoats! Women's coats 2014 in all variations and color combinations already stalked by international catwalks, and now it was the turn and fashionable streets in the world. But here's what to choose?
1. Women's fashion coats 2014: Mixing trends from Atelier Galetsky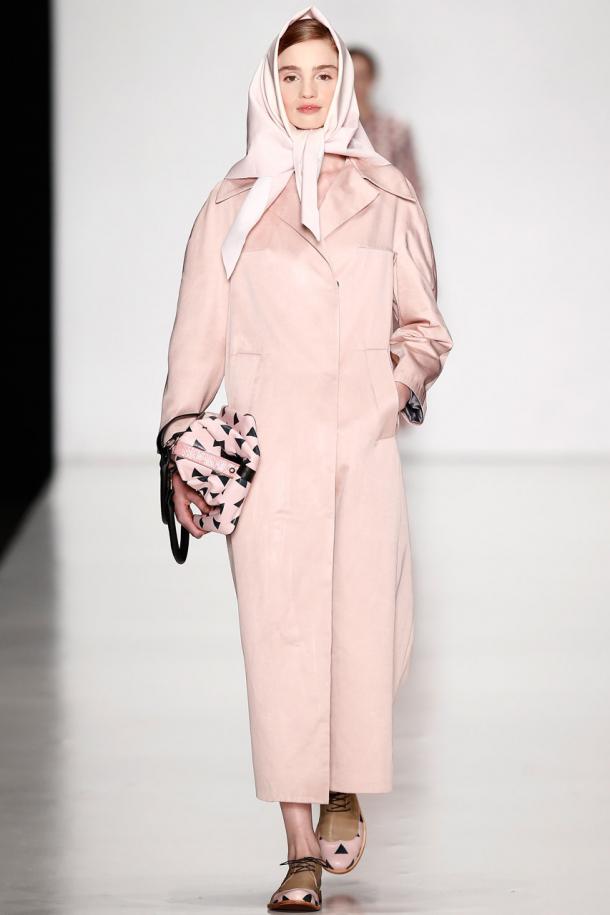 Fitted long cloaks model of Russian designer - a mixture of the main trends for spring-summer 2014. And in street clothes, still dominates the maximum simplicity, convenience and minimum details. In all colors as predictable - gentle pastel shades or monochrome combinations that complement the colorful accessories and shoes. Fashion trends this season are and mixing different textures and prints. Such as silk, leather and cotton are found in different models, just in different proportions.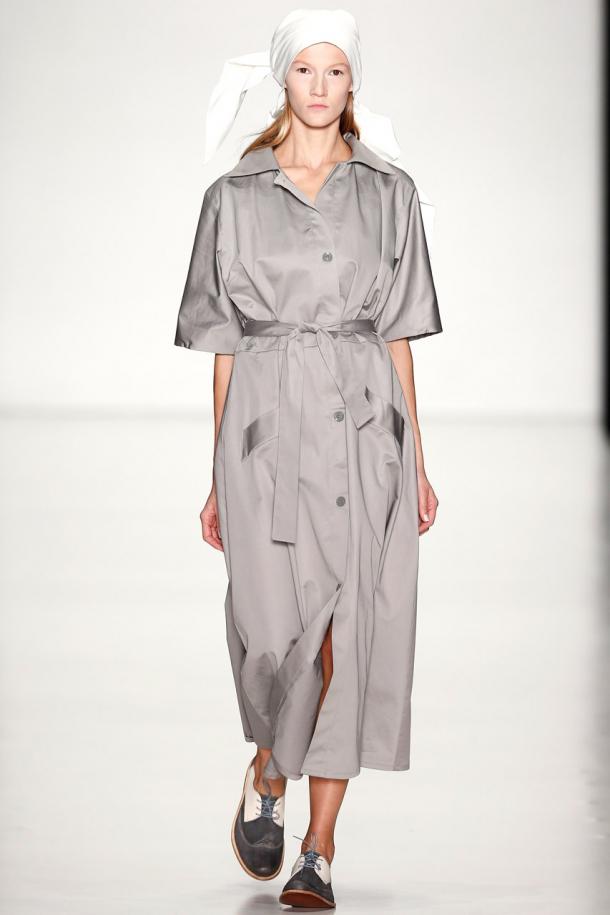 And similar patterns: small and large vertical stripes or pale pink triangle on striped background.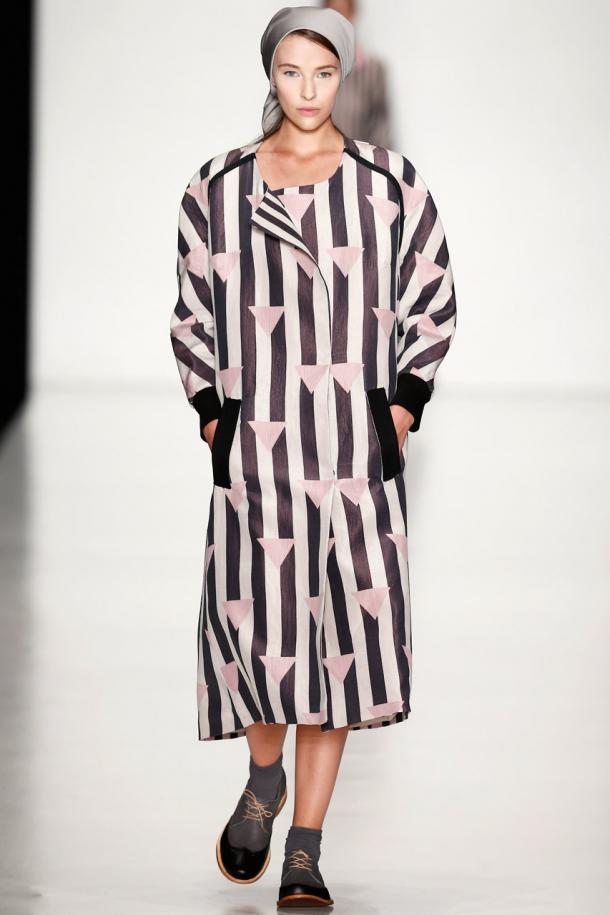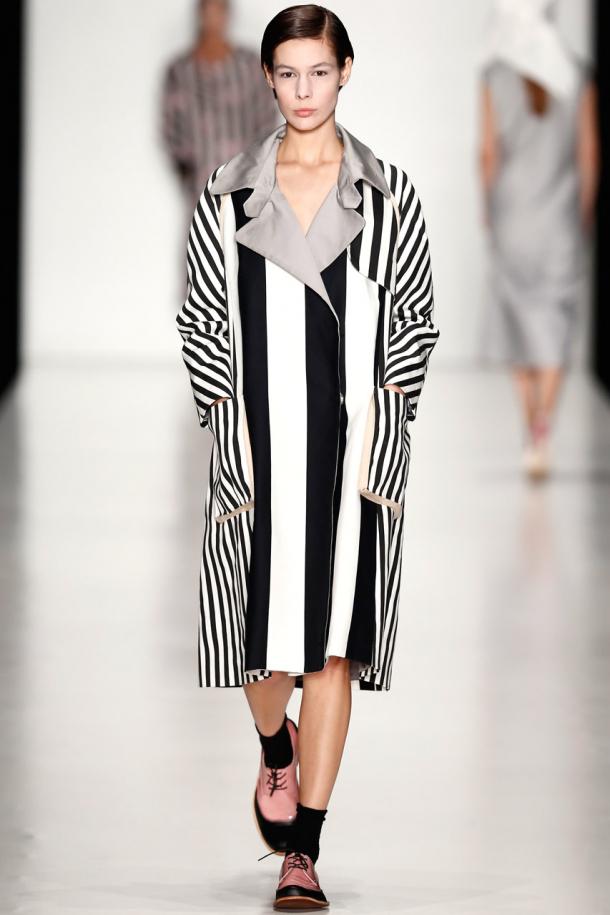 2. Women's fashion coats 2014: Victoria Andreyanova - from one extreme to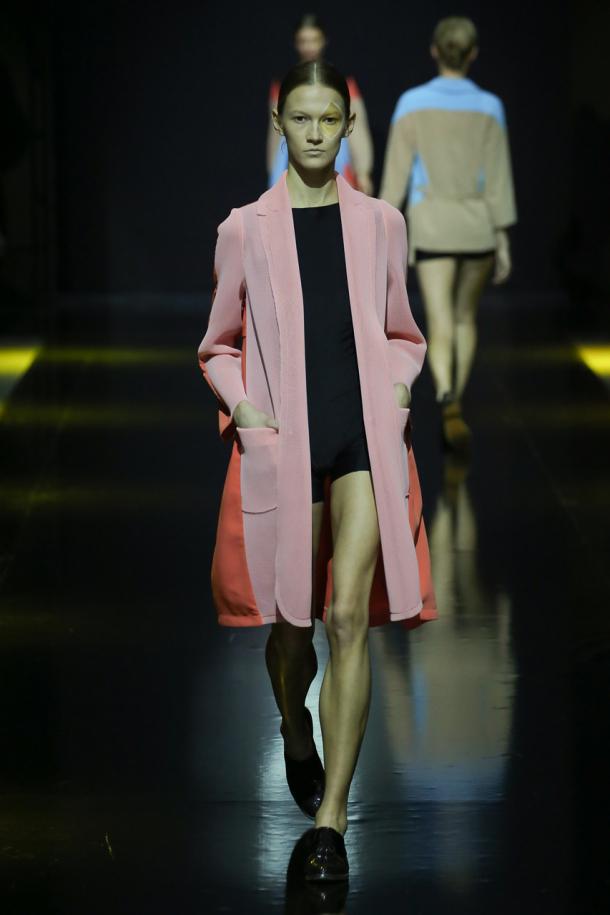 Variety of outerwear such as coats for women in 2014 is simply amazing. On par with the universal, practical and straightforward monophonic models without any frills, appeared on the catwalks and trends of opposites.
This so-called patchwork coats, which consist of many parts, and which are so interesting to consider. The main rule is to remember about a motley pattern - this is the maximum monotone related accessories, or close to, and bad taste. Something similar colors reminiscent of children's Blankets, bed linen and fun clothes for babies. Well, from our fashion can expect any.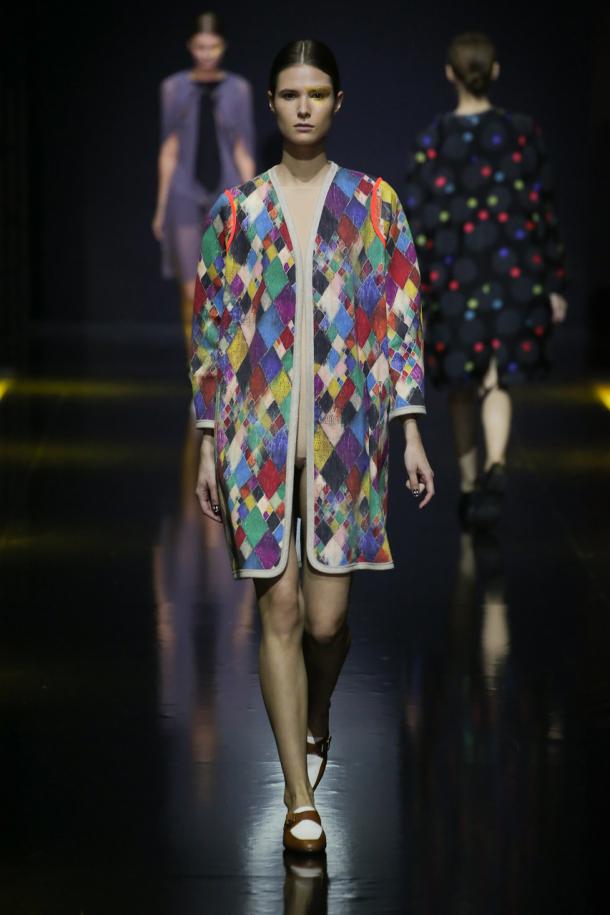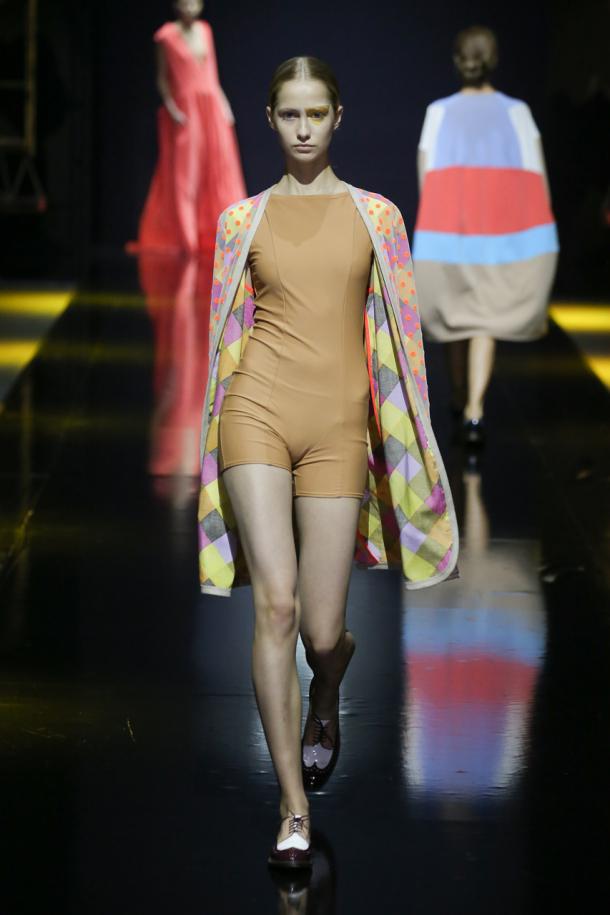 Not without a translucent trend, which travels all the elements wardrobe. Lightweight, translucent raincoats neutral shades - must have spring-summer 2014. It is particularly advantageous, they look combined with silk dresses.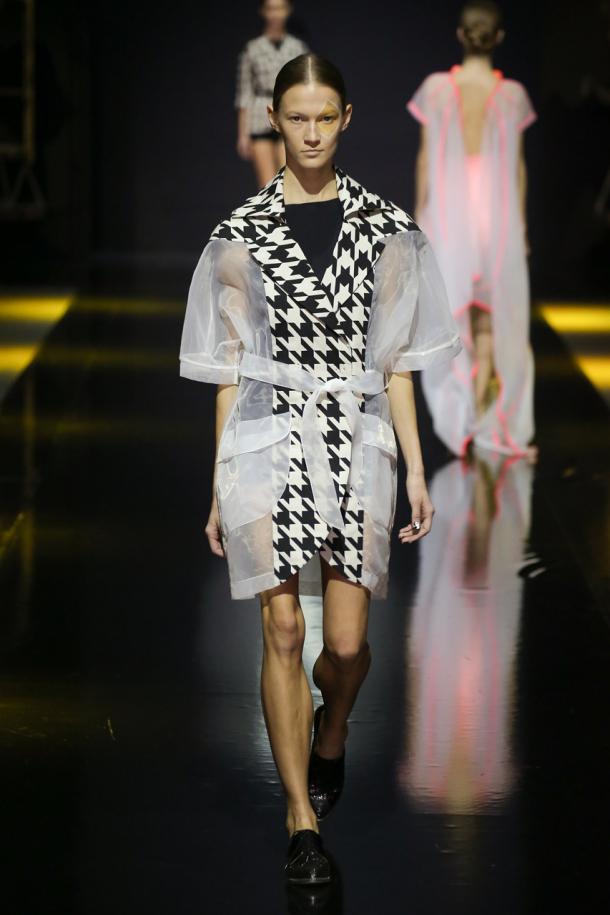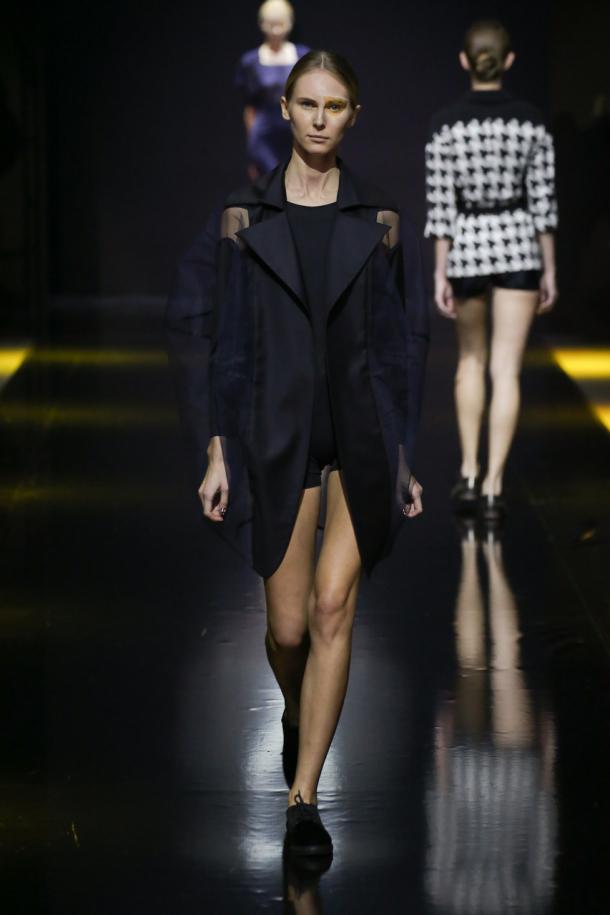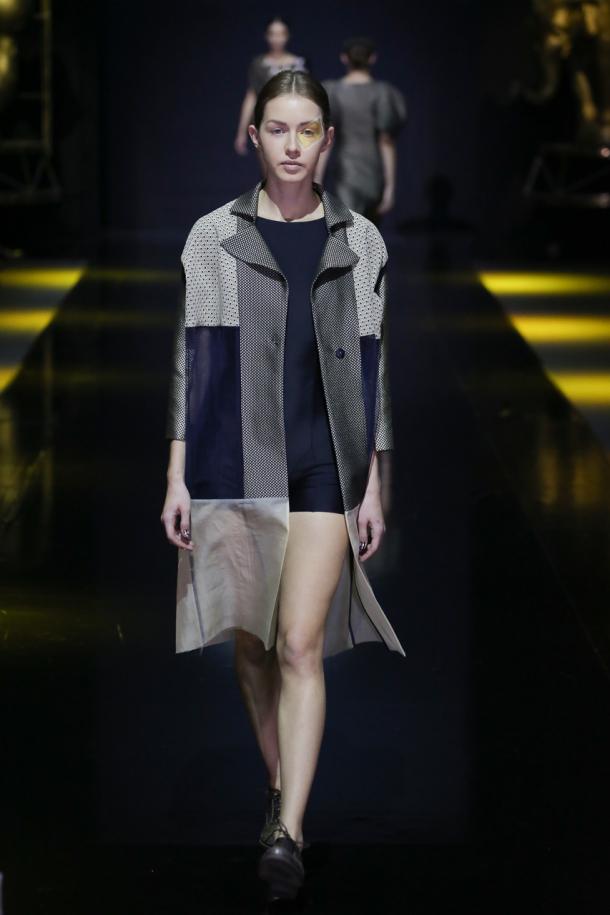 And so that's an interesting style on the ropes from the same designer's spring collection 2014: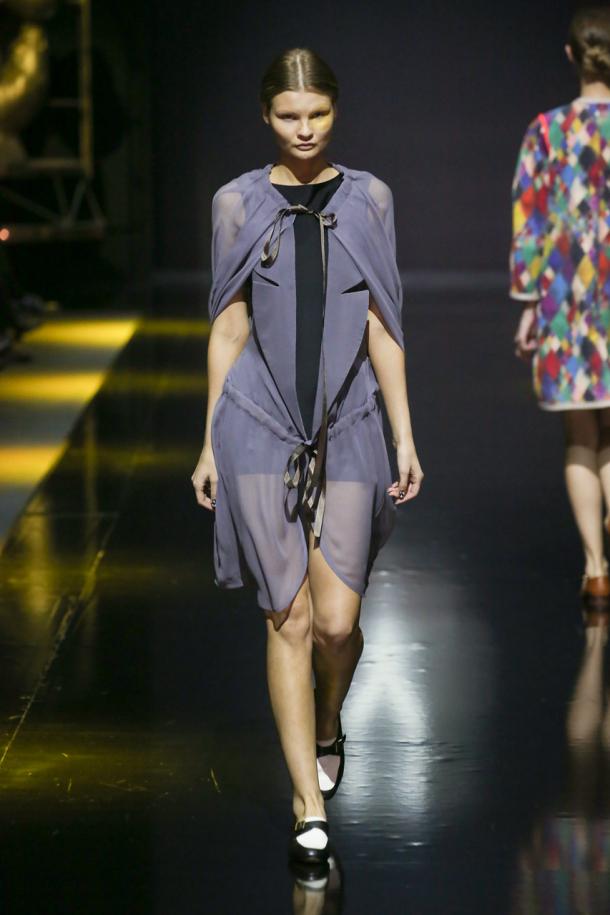 3. Women's fashion coats 2014: Tenderness of Ruban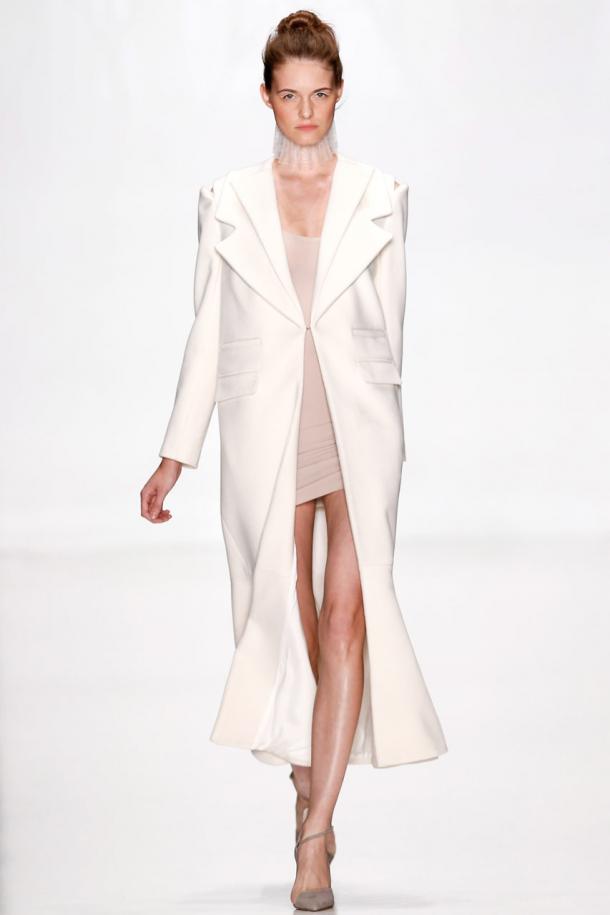 Extremely delicate, literally weightless Ruban SS14 collection consists entirely of silk, chiffon, lace and other true spring fabrics. No exception model outerwear. Several models shown in this collection, I am sure, will be the dream of all girls who prefer light dresses, blouses flying and truly feminine colors.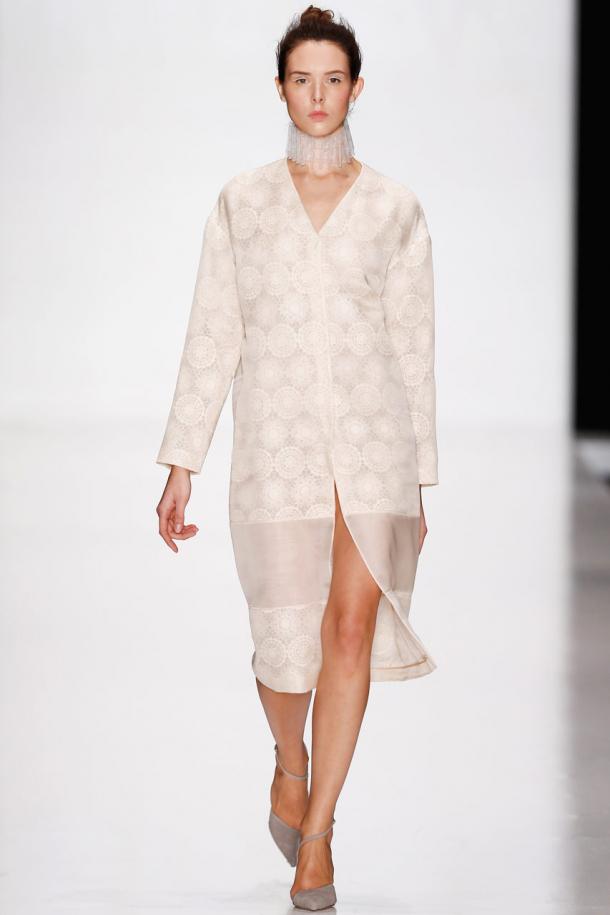 4. Women's fashion coats 2014: Fur collection Katie Ermilio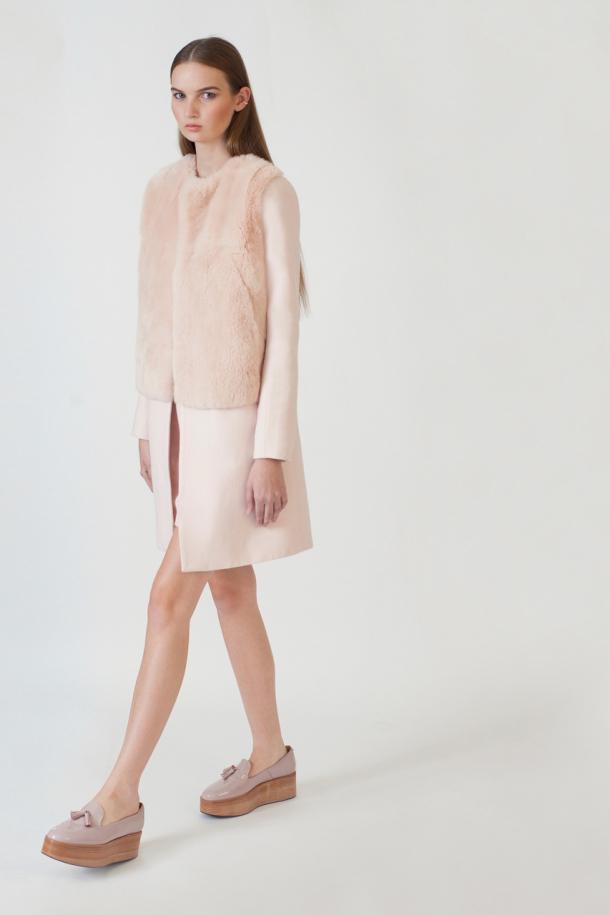 Those tender spring mood can be seen in a cloak of spring-summer collection 2014 from American designer Katie Ermilio. Here you can meet another common for this spring: the use of fur in light clothing. Some designers fur occurs even in summer only things. I do not know how to position the convenience, but looks like an experiment effectively. For example, in this collection of delicate pink raincoat medium-length classic cut drastically changes due to fur items in the same colors.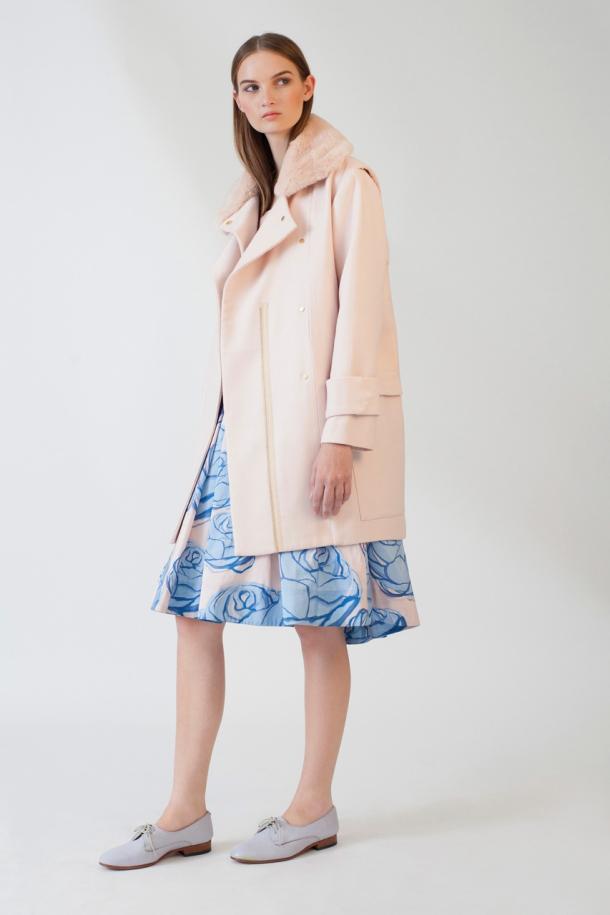 5. Women's fashion coats 2014: Timeless classics from Orla Kiely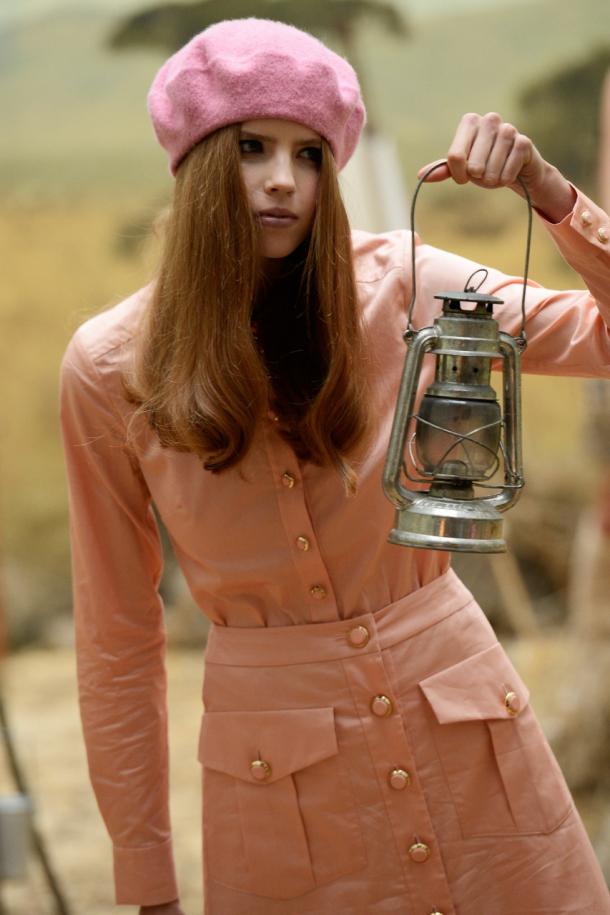 Unconventional collection from London - another attempt to rethink the classic non-standard. It would seem that now-classic models gain a new life thanks to experiment with shapes and stylish details that perfectly complement such a feminine image. Sustained collection spring-summer 2014 in trendy pink and all its variations and pale, neutral shades of brown, gray and blue.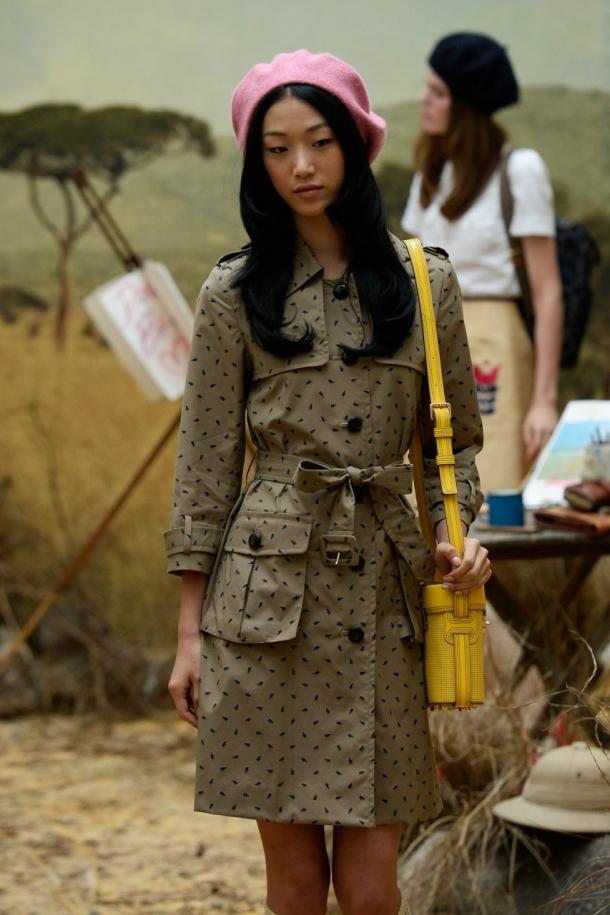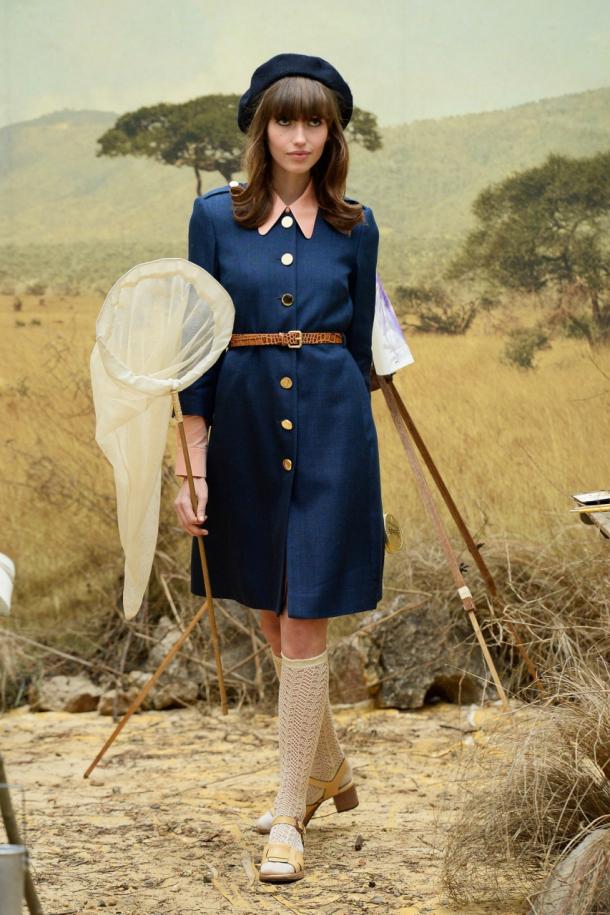 6. Women's fashion coats 2014: Enjoying color - spring collection from Miu Miu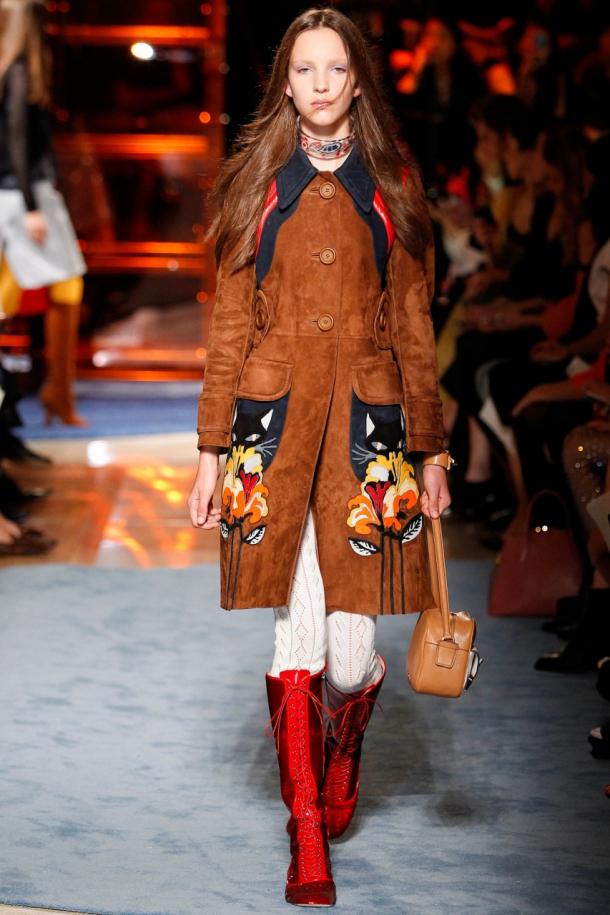 The first thing that catches the eye in a rich cloak on spring collection - an extremely successful color combinations. As a result - a game with colors and shades failed on a solid top five.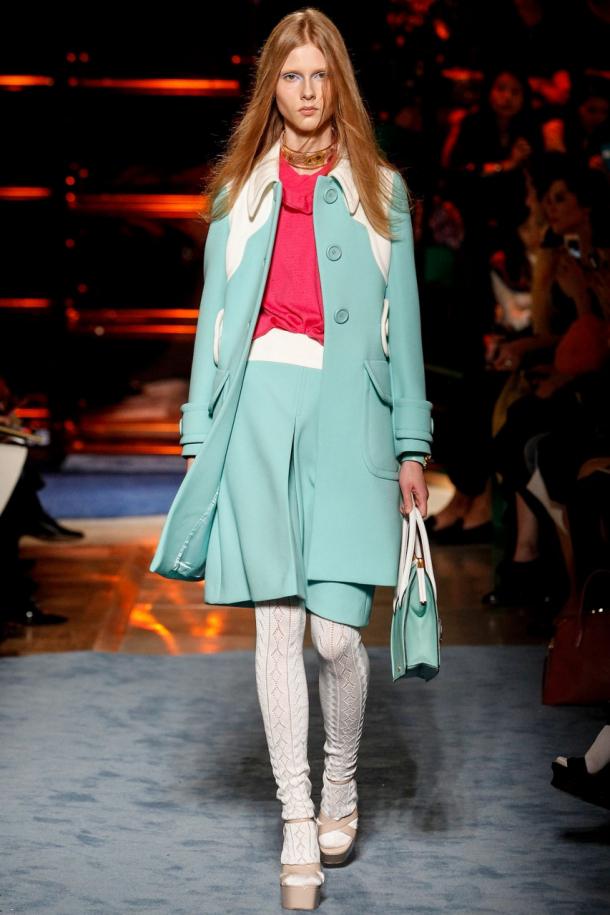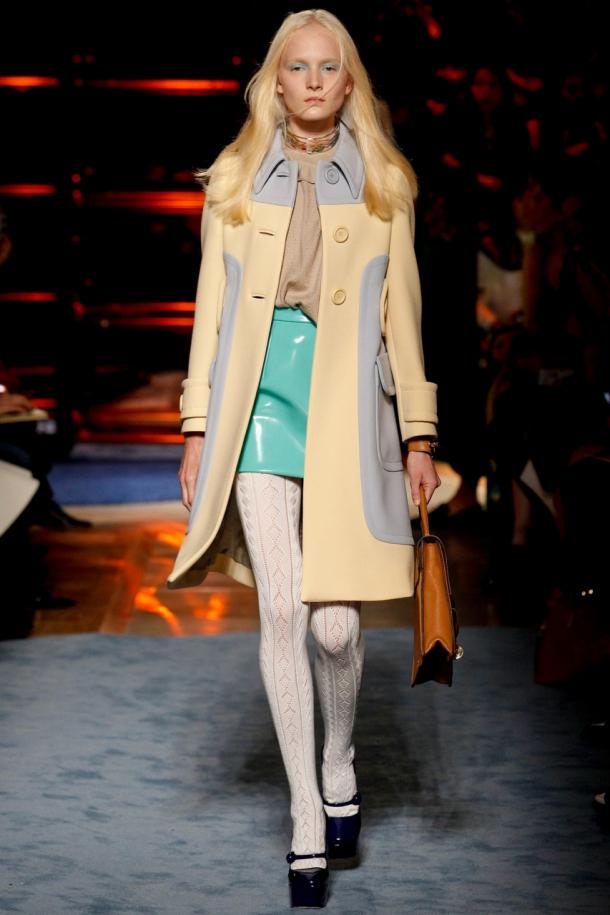 Of the details, you can see and adopt ideas with patch pockets and contrasting inserts. In general, a variety of outerwear from Miu Miu for every taste: here everyone can find a cloak or coat for the soul. Perfectly complement almost all models of outerwear trendy lace tights beige tones.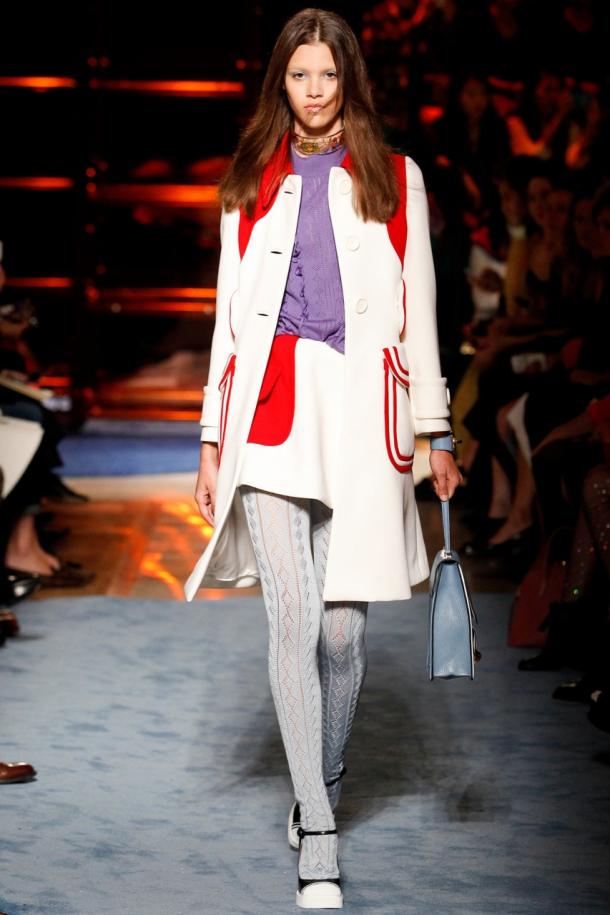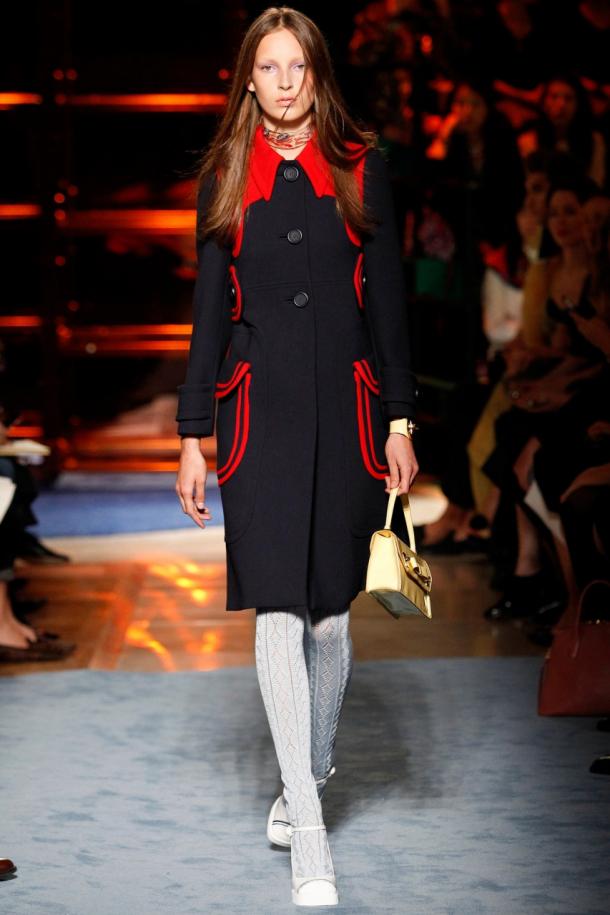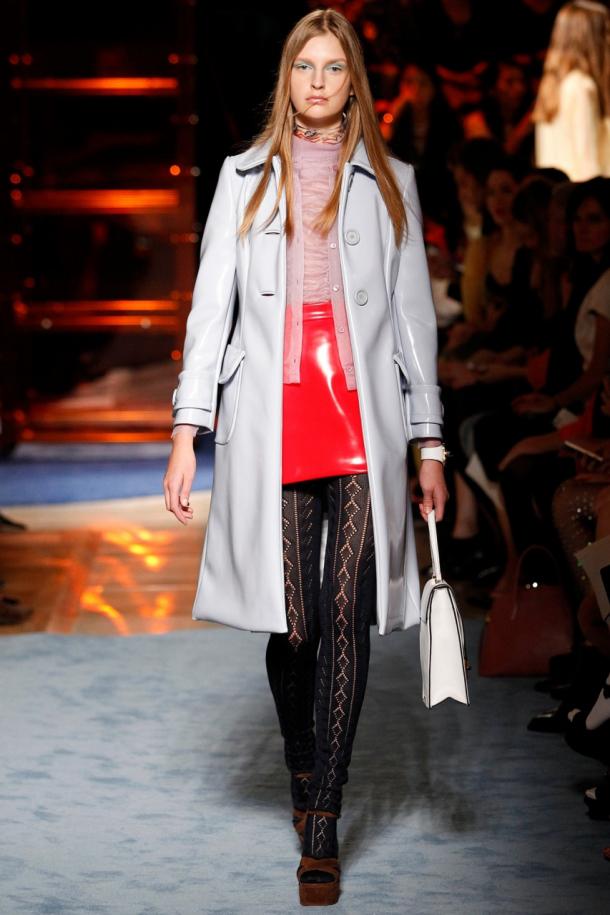 Of the trends in the leaders had escaped fur patterns and artistic elements. Prints also are divided into two categories: painting-flowers and small, constantly repeating a bright print. The latter include this spectacular model with red fish over the entire area of ​​his cloak.