By purchasing clothes for this fall, it is very useful to look into the report shows fashion week for the coming spring-summer 2013 to buy a piece of clothing that will be relevant in the next season, thus saving money. Some details of new collections continue to exist for several seasons, which can not fail to please owners of such fashionable things. Something was a new revolution, such as large gold sequins on the costumes, skirts and dresses, geometric patterns, mini-skirts and dresses, trapeze. All talk about it now ...
In spite of the variety of design ideas and uniqueness of each collection, there were combining their elements that we take into service to be on top of fashion trends.

Trendy set for spring-summer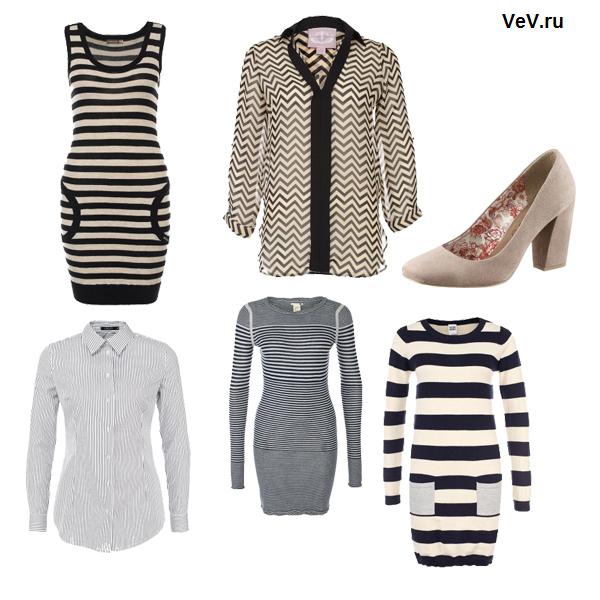 BUY PRODUCTS FROM SETH

Shoes Quelle
3299 rubles.

Blouse ROMEO & JULIET
1580 rubles.

Dress Vero Moda
1480 rubles.

Dress LeMonada
2050 rubles.

Dress Levi's®
3150 rubles.

Shirt INCITY
1099 rubles.
Fashionable Clothing Spring-Summer 2013: the return of the 60s
Twiggy times, Francoise Hardy and Jane Birkin returned and, therefore, returned to bright, geometric, large prints, trapeze dresses, mini skirts, the cell. Minimalist styles catchy and clear drawings create an image of a small slender girl who fits easily in such an attractive case.

Louis Vuitton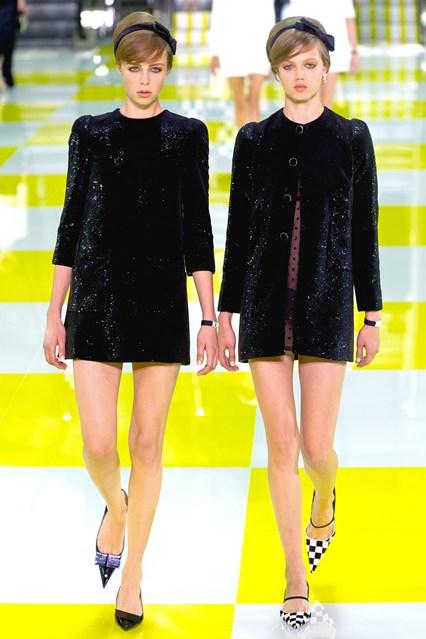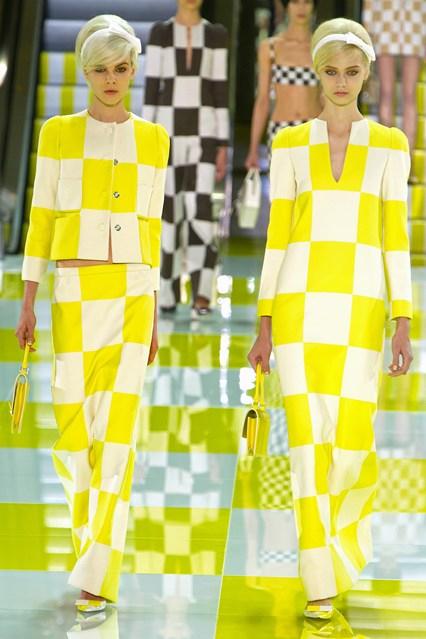 Michael Kors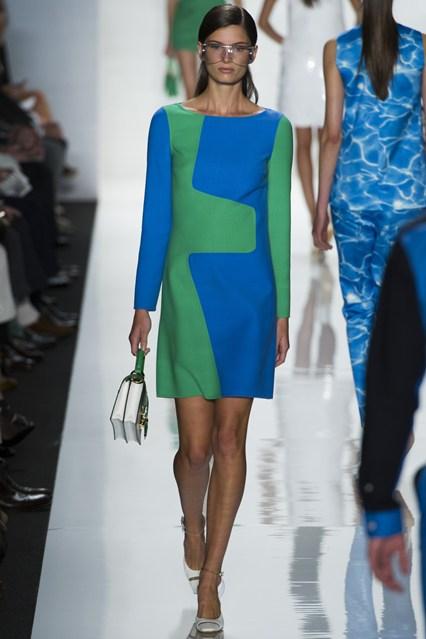 Fashionable print clothing spring-summer 2013: "striped flight»
Following the fashion week can make a clear conclusion: in summer 2013 will be the trend of the strip. This can be psychedelic, narrow or wide variations.

Balmain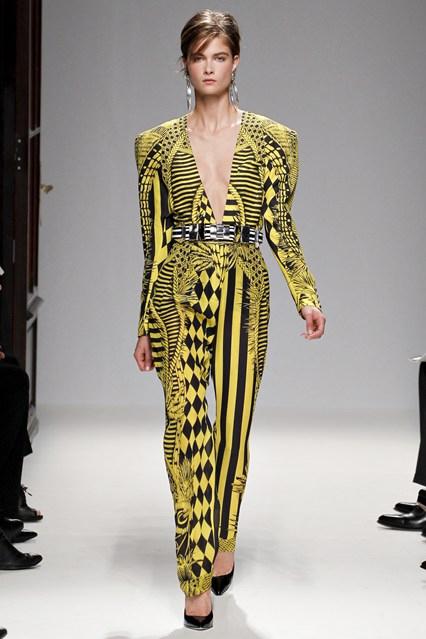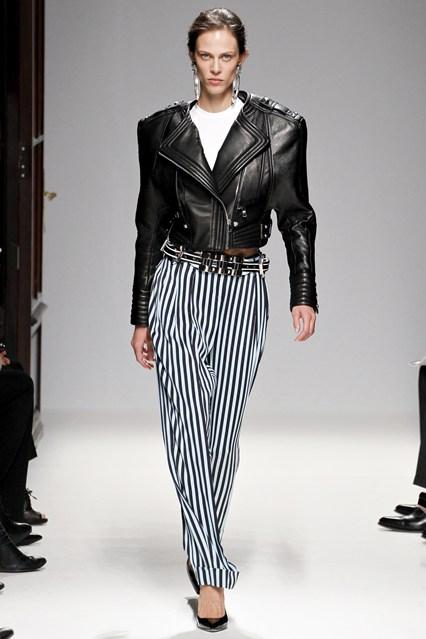 Clements Ribeiro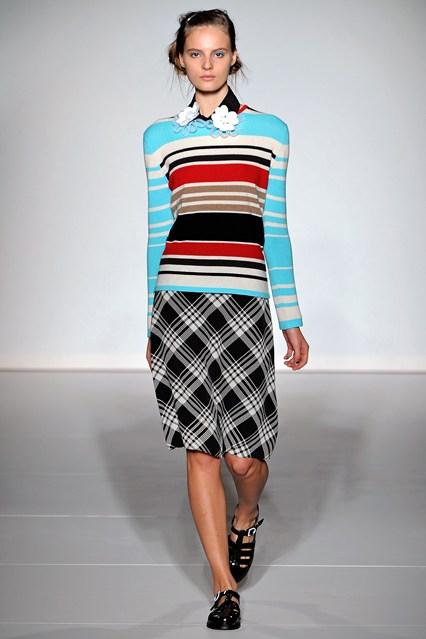 Trendy clothing print Spring-Summer 2013: the cell
Marc Jacobs for inspiration when creating a collection with the cell tower Buren were installed in the courtyard of the Palais Royal in Paris in 1986. The same print is found in many other designers in summer 2013 collections.

Marc Jacobs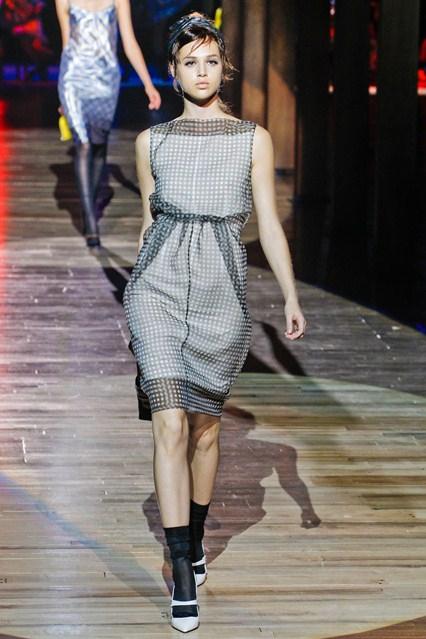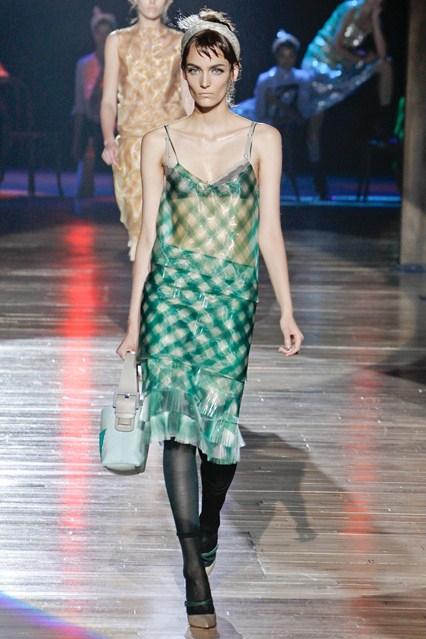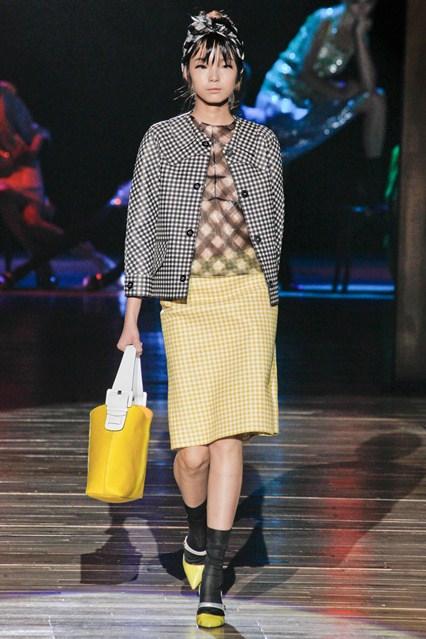 Fashion style of spring-summer 2013: "East»
Oriental prints now refer to Tokyo, Beijing, Hanoi. In the collections of designers traced motives dragon, lotus, hibiscus and peony.

Etro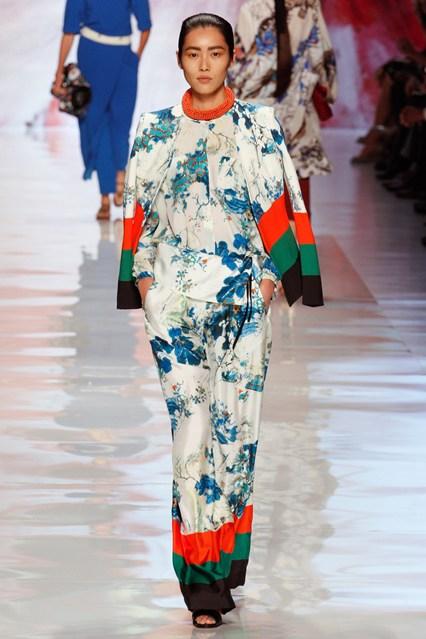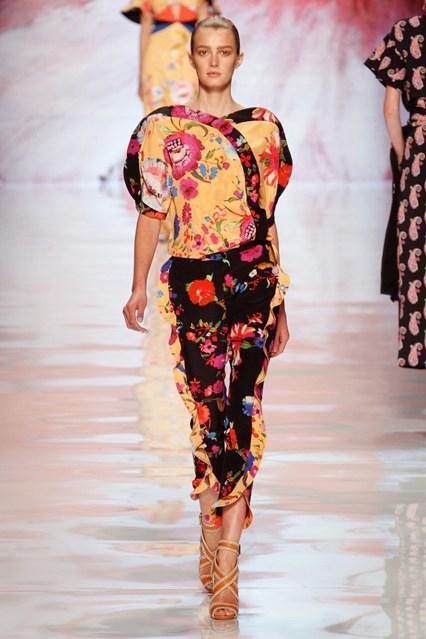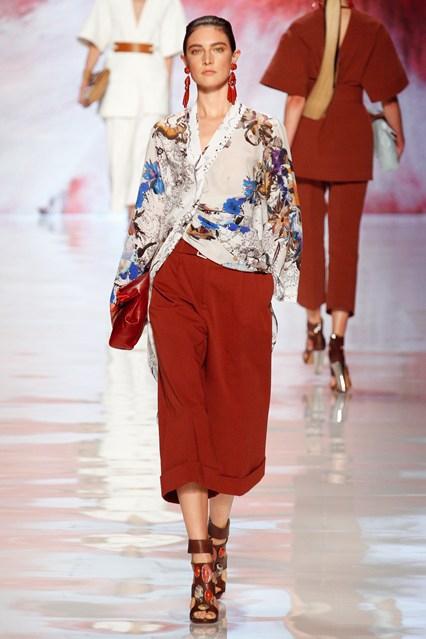 Fashionable piece wardrobe for spring-summer 2013: tuxedos
Designers continue to be inspired by the male and female androgyny and experiment in this direction with a tuxedo and a black and white color palette.

Lanvin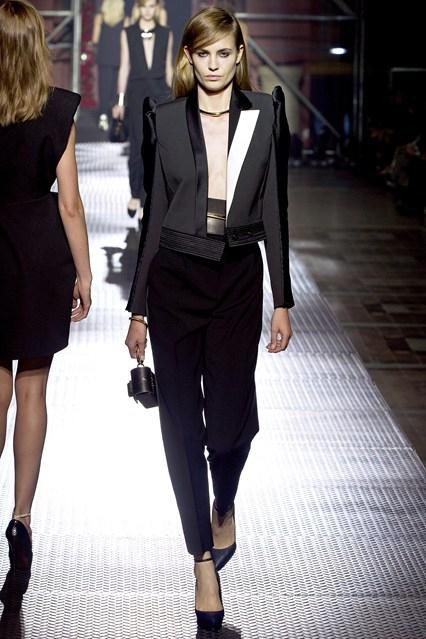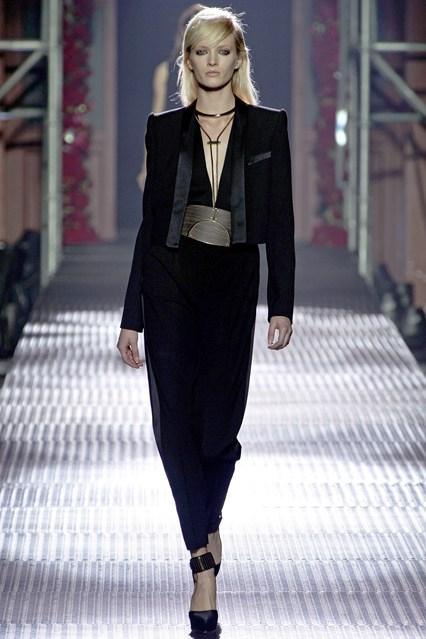 Christian Dior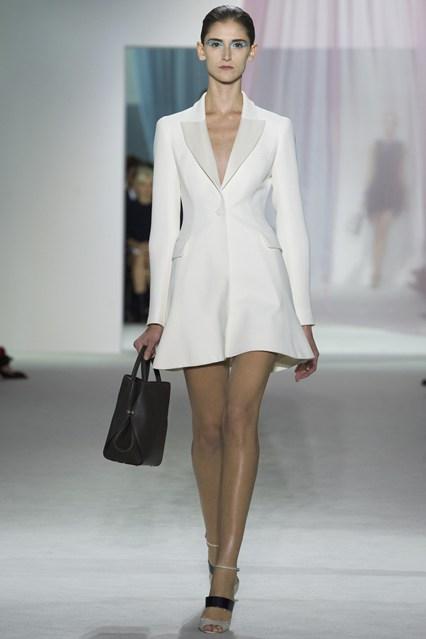 Fashionable Clothing Spring-Summer 2013: with ruffles
One of the most interesting trends spring-summer 2013 is the idea of ​​ruffles, flounces, repeats, pleating, corrugation. This technique silhouettes appear more rectangular and wide shoulders.

Gucci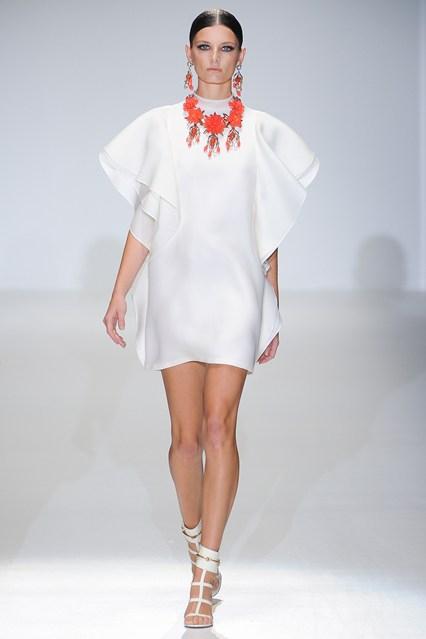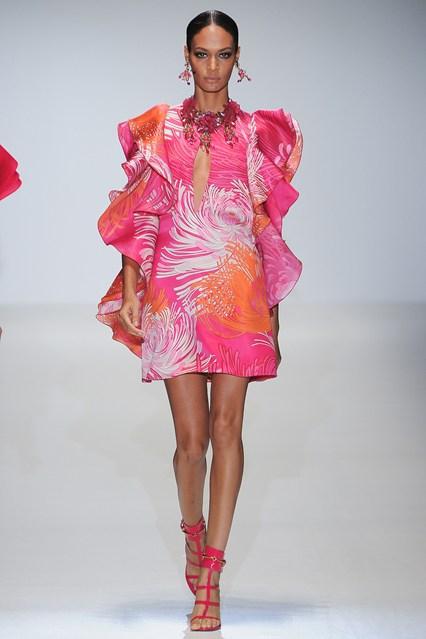 Trendy clothing print Spring-Summer 2013: Hawaiian
Hibiscus, Hawaiian birds, tropical leaves and flowers - fashion prints spring-summer season 2013. The outfits are a reflection of the landscape with colorful birds of paradise and palm trees. Such clothing looks very sunny. Saturated complex print may be present on some detail of the image, accessories, and can completely fill the dress on the floor or pantsuit.

Kenzo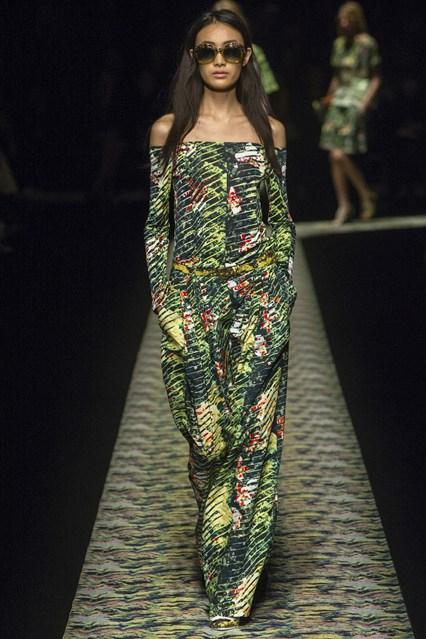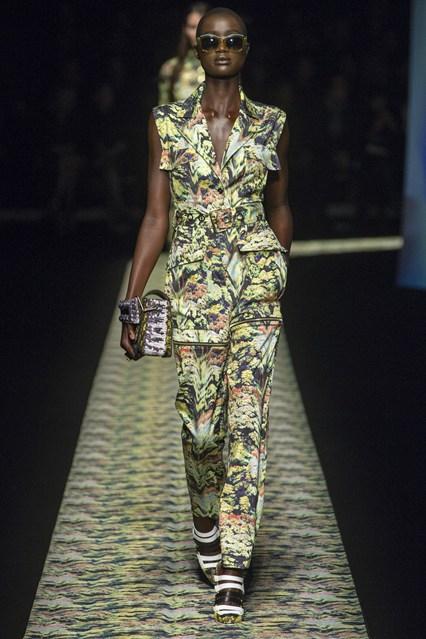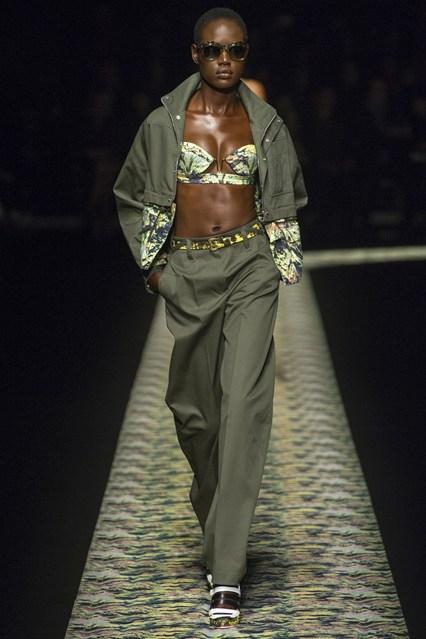 Fashion style of spring-summer 2013: safari
Do not put off far into the closet clothes khaki, so useful in the autumn-winter season. Safari style spring-summer season 2013 will be expressed beige fabrics and militarism. Also relevant are the large tiger, python prints, appeared on the show Kenzo.

Kenzo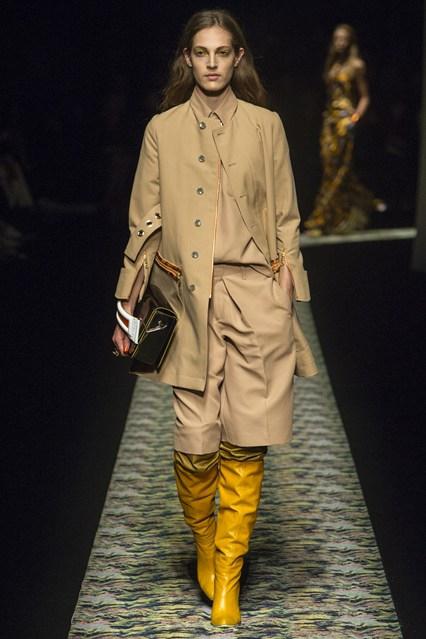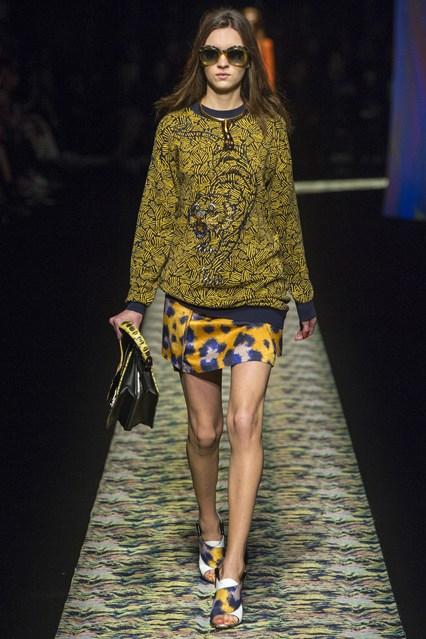 MaxMara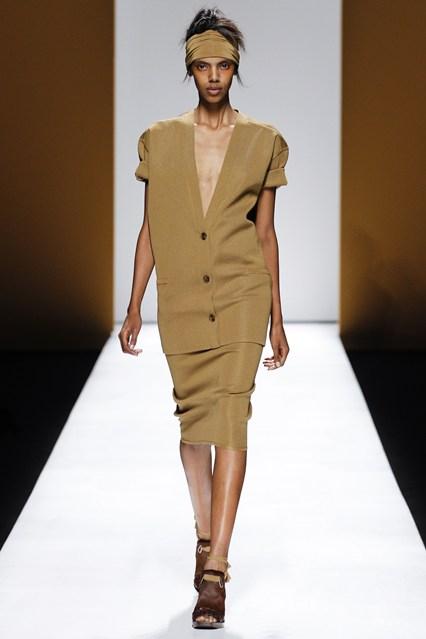 Fashionable piece wardrobe Spring-Summer 2013: kimono
Brands Gareth Pugh, Prada fixed his gaze on the culture of Japan, passing on the way to a geisha samurai, building a structured coat styles, likes kimono and holding developing Asian dresses.

Prada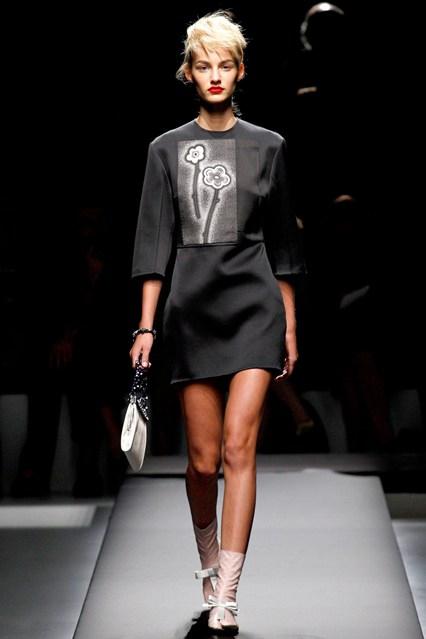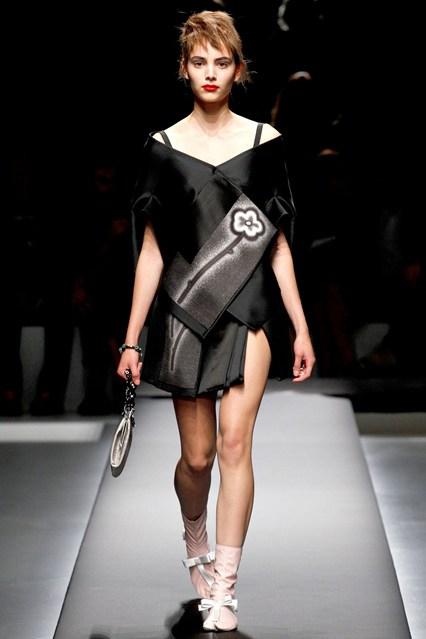 Gareth Pugh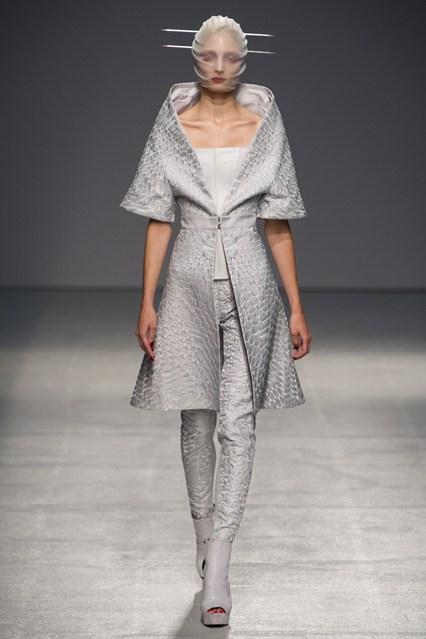 Trendy clothing color of spring-summer 2013: metallic shades
Emphasis on metallic luster is present in many designer collections. This may be part of the dress, coat, short capes in conjunction with oval gold, black glasses. Such brilliance reminiscent of some cosmic history.

Burberry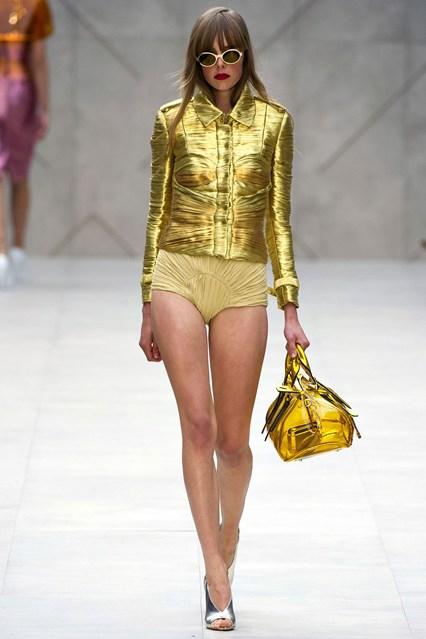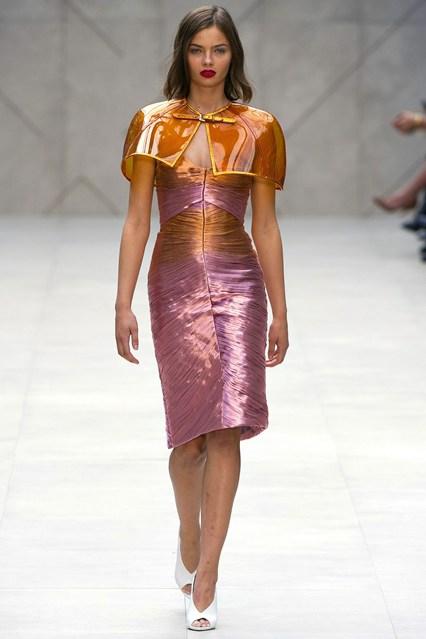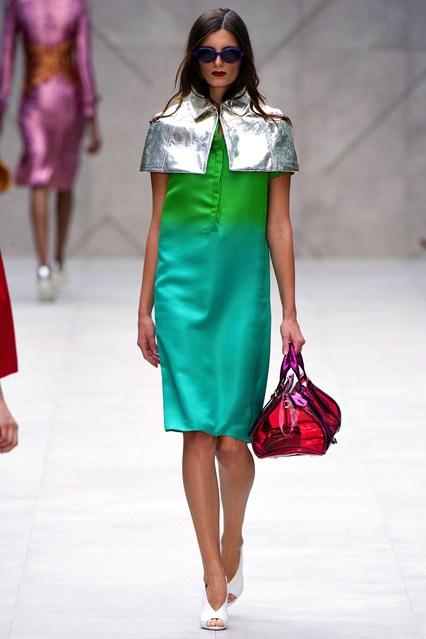 Fashionable clothing texture Spring-Summer 2013: pleating
Valentino's collection were dresses and skirts with clear folds at Chloe - pronounced corrugation of silk, McCartney showed subtle waves on the clothes - so was born the trend pleating in the spring-summer season 2013.

Valentino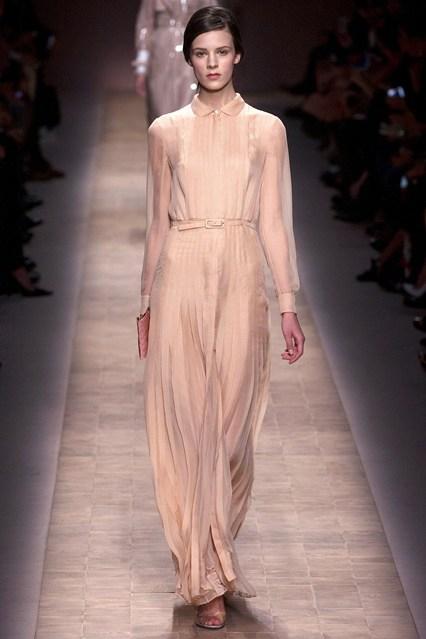 Chloe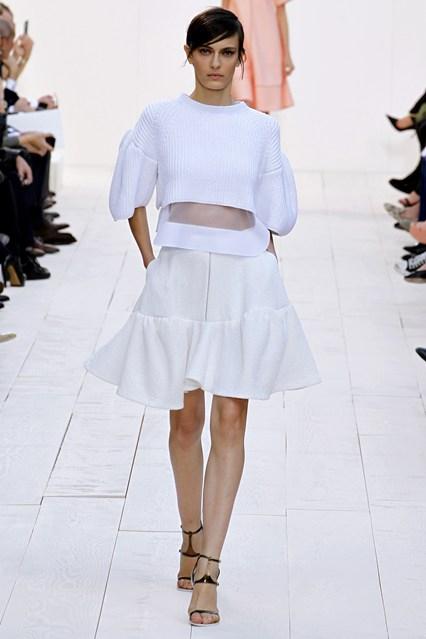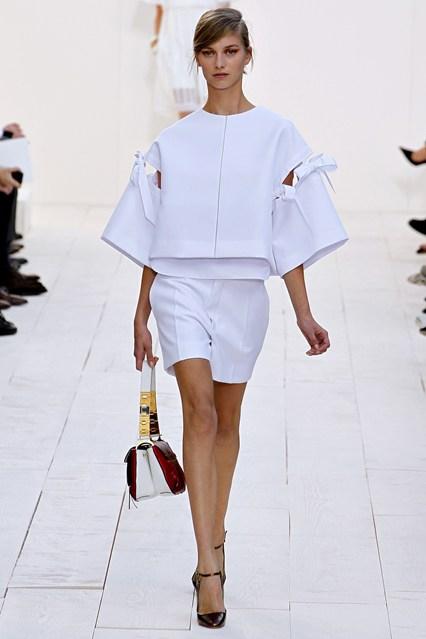 Fashionable dress Spring-Summer 2013: polka-dot dress
Audrey Hepburn in "Breakfast at Tiffany's" in 1961 returned to us in the form of a black and white polka dot prints on dresses. Already known figure became a symbol of classic elegance and minimalism. Also believe, and Giorgio Armani, and Chanel, and Haider Ackermann.

Giorgio Armani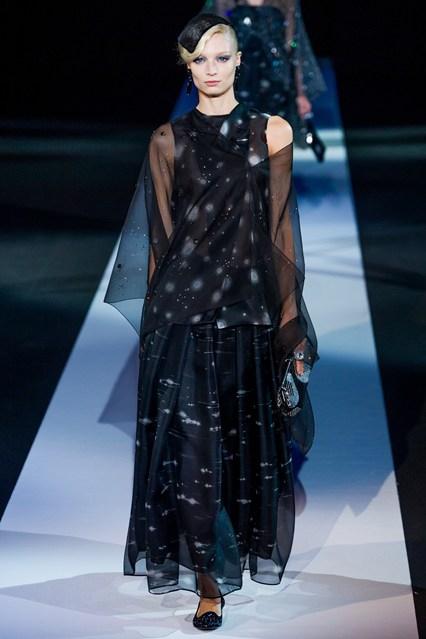 Chanel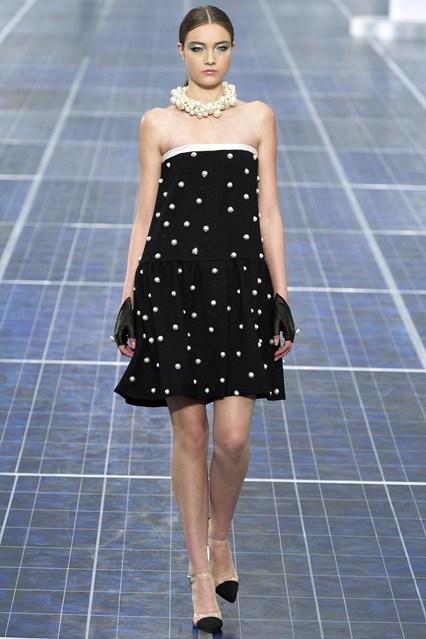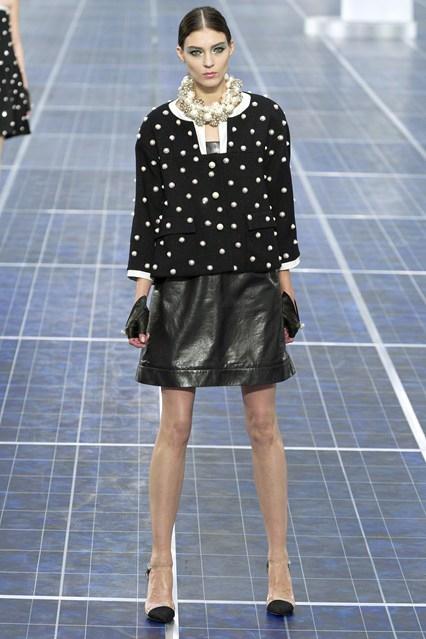 Trendy accents Spring-Summer 2013: gold tinsel
Come back to us along with gold sequins. Mirror particles attach dresses and suits some chic and puzzle. But the location is close glittering particles have become part of fashion for plating effect because resemble heavy military armor.

Fendi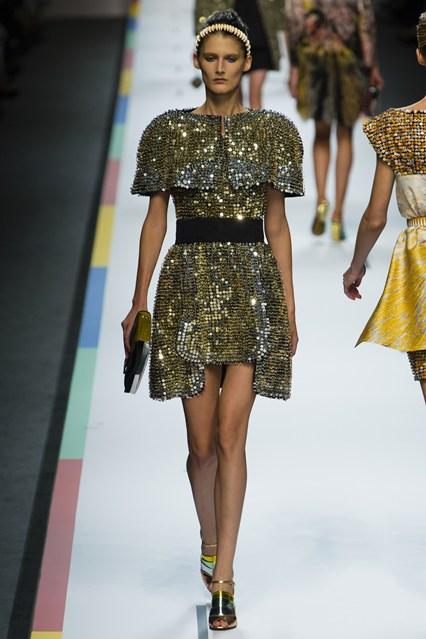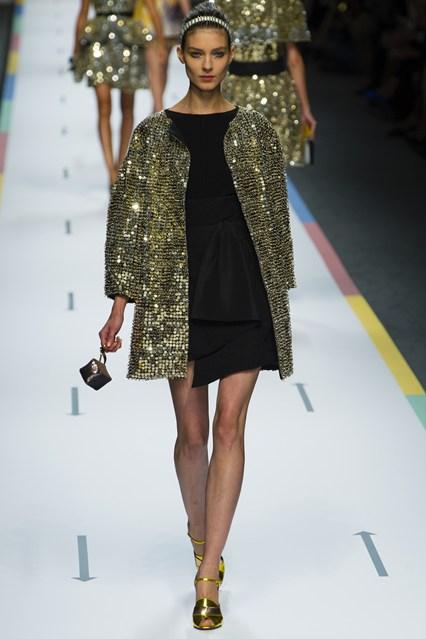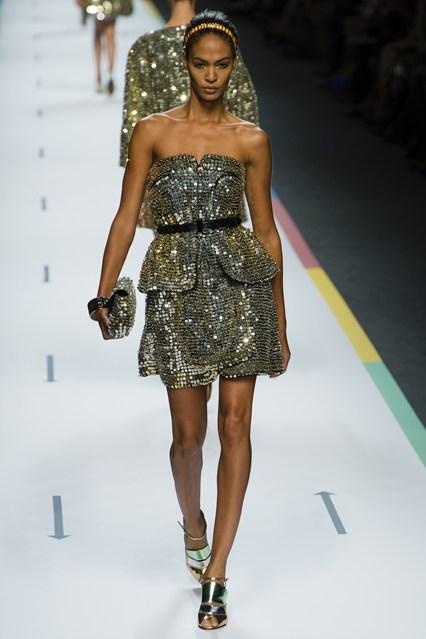 Fashionable appearance on the podium Spring-Summer 2013: the twin model
Fashion Spring-Summer 2013 often consisted of pairs of outputs of models, identically dressed, or with the same makeup. Obviously, this is a fashion trend at the twins, which was inspired by the film "The Young Girls of Rochefort" in 1967. It's amazing how many fashion houses picked up this idea and developed a whole collection of images combined in pairs for the Twins.

Topshop Unique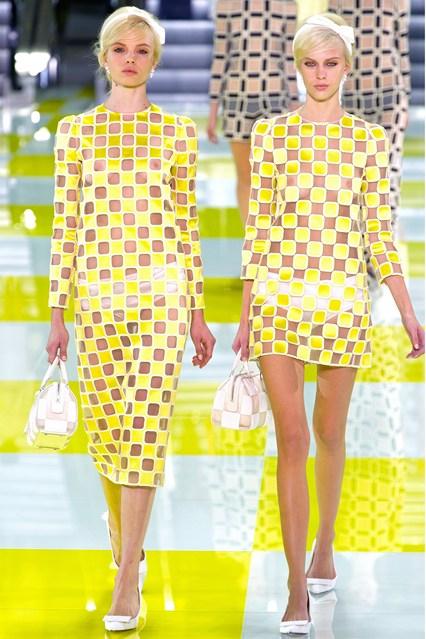 Louis Vuitton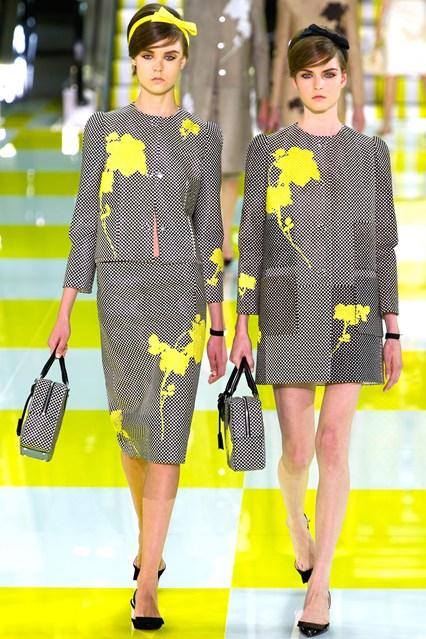 Costume jewelery clothing spring-summer 2013: the fringe
Another fashionable trends return to the podium in the spring-summer 2013 - is fringe. The same fringe, which is an integral part of the Charleston style 20s disco queens and 70s.

Versace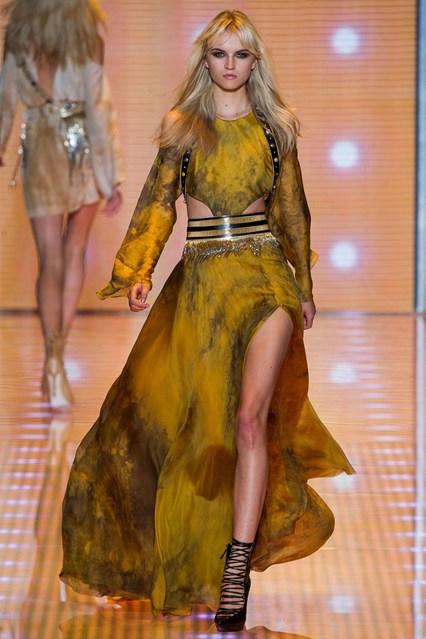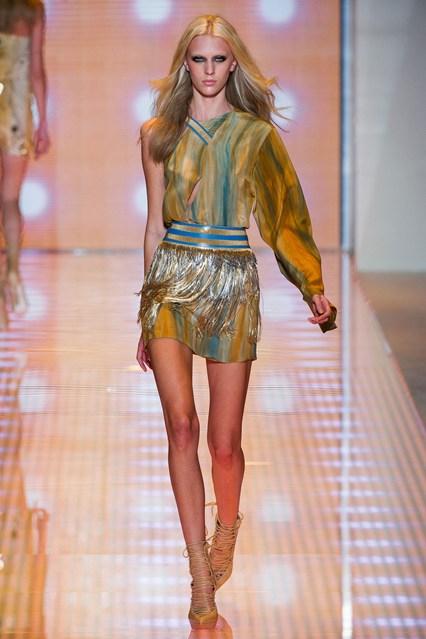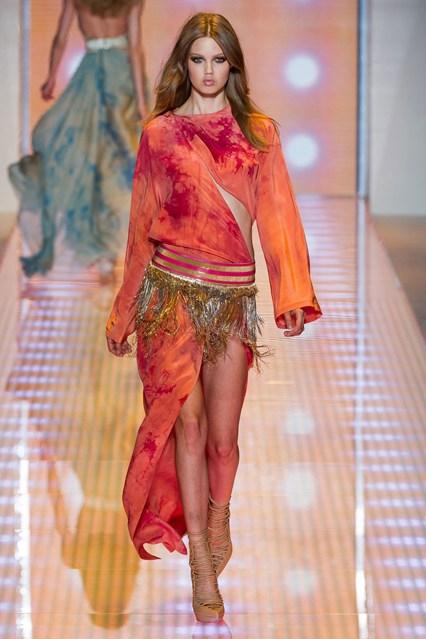 So, we met with 15 fashion trends spring-summer 2013, which appeared on the catwalks of Fashion Week. Not all of them have an unexpected discovery. Military, pleating, tuxedos, kimono style belt - all this is a continuation of trends that come from the previous season, allowing us to significantly save costs. And if my grandmother's trunk stored dress with fringe or polka dots, then a unique fashionable image is provided to you. It is worth remembering that the game designers continue "without rules" and offer to mix different prints, textures and shapes in a single image.