For Sweet Barbadian pop star Rihanna last week was extremely tense. While the majority of its stellar colleagues went to conquer Hollywood hills, Riri accompanied by a large team of luggage and fashion-assistants flew to the French capital.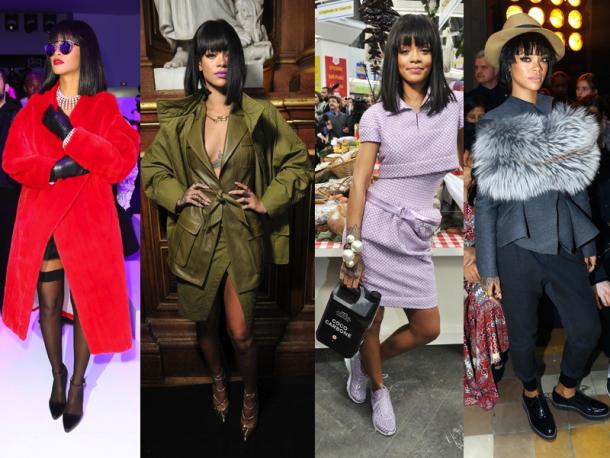 Not missing a single show, Rihanna every day to please its many fans, sometimes shocked authoritative critics for his bold experiments with style. That's how it was ...
Haute couture shopping
According to tradition, guests front-row Chanel show in solidarity with designer outfits selected from his collection. Rihanna as expected came to the choice of dress very thoroughly - given the stated advance the theme of "shopping in a grocery store," she opted couture total-look from the collection spring-summer 2014. Actual running shoes and a dress of lightweight tweed lavender incredibly refreshing chocolate skin tone singer. It seems that the choice was a success, because judging by the photo report, she had a good time with the models, participating in all sorts of amusements immediately after the show. Rihanna convenient and Lagerfeld, I hope, good to see another young admirer of his talent at such a good mood!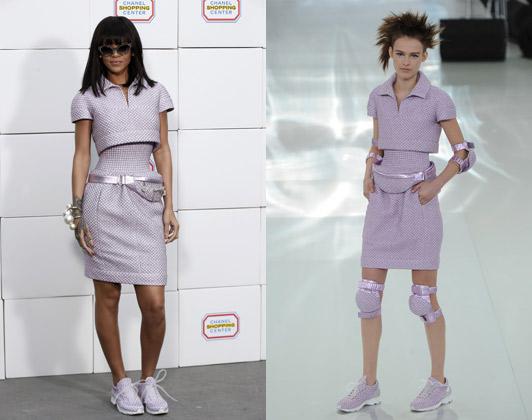 On the show Chanel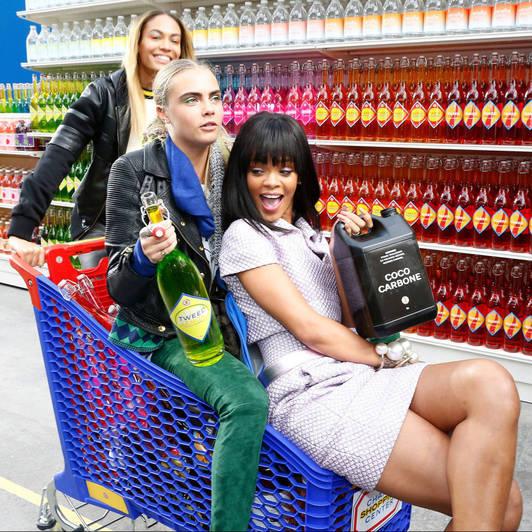 With models after the show
Fatal Beauty
Showing the old French houses, Dior, this time held at the Rodin Museum, located in the prestigious 7th district of Paris. However, the emergence of Riri in a very shocking way frankly plunged visitors into a shock! Judging by her revealing outfits - silk dress, combined with black stockings and bright red fur coat - the singer was going to conquer a completely different audience. Her image would obviously liked the residents of the 9th district, Pigalle, which is famous for loose morals.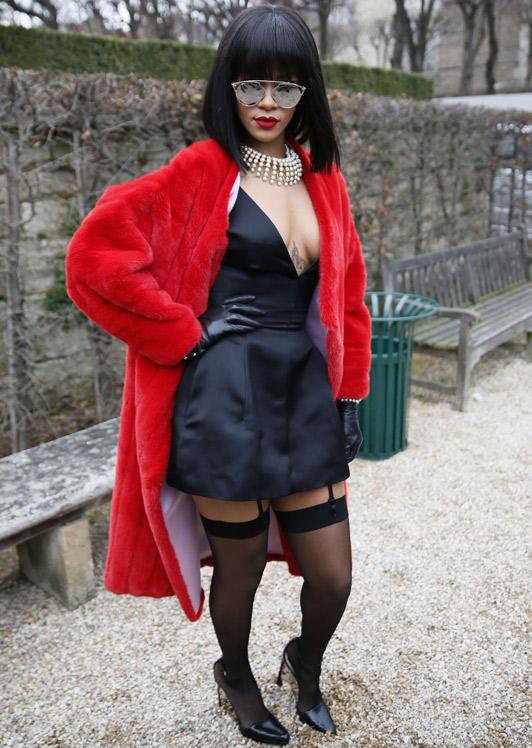 On the show Christian Dior
50 shades of green
Designer Stella McCartney was incredibly moved to see Riri in the front row of her show dressed from head to toe in a product of her latest collection. This time, the singer refused, and the use of real fur in its image as a sign of solidarity with the design of ethical position.