Not being afraid to seem commonplace to say that blouse - is the foundation of ladies' clothes. They may be modest, barely noticeable peek out from under a jacket or be the brightest, expressive part of the kit. But without a blouse, us girls, in the twenty-first century can not do.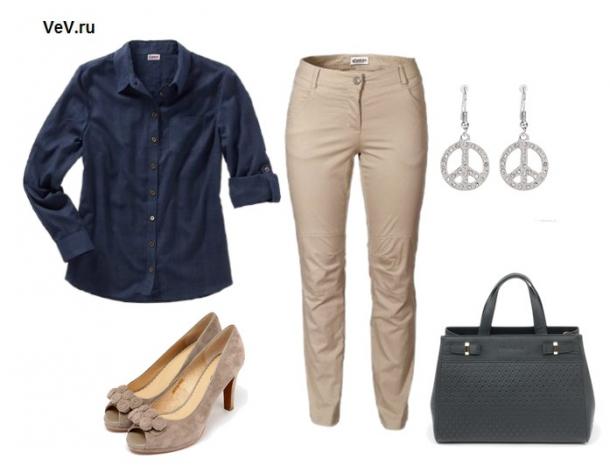 BUY PRODUCTS FROM SETH

Blouse Quelle
1499 rubles.

Trousers Quelle
1999 rubles.

Shoes Liska
3 850 rubles.

Bag Vita Pelle
4 950 rub.

Earring OXXO Design
1020 rubles.
Have you ever noticed that, coming into the store clothes for dress trousers or some other thing, we will certainly pay attention to a pretty blouse, then try on one or more - suddenly come in handy ... and they always turn out to be vital! Blouses great help to create new and unique images, show good taste, romantic mood, business spirit or desire to play around.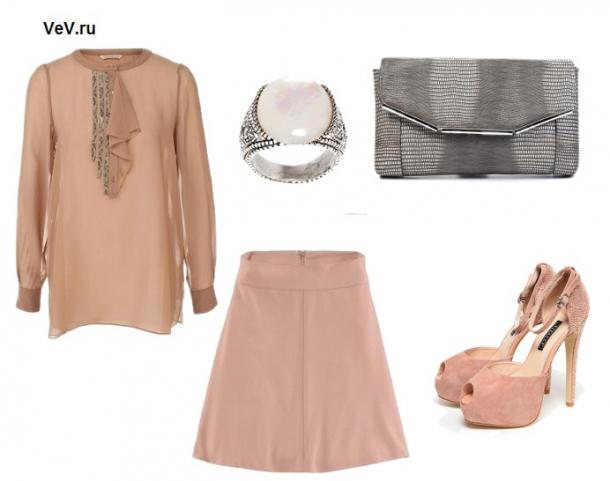 BUY PRODUCTS FROM SETH

Blouse Penny Black
5010 rubles.

Skirt Quelle
1399 rubles.

Shoes Vitacci
4190 rubles.

Clutch Eleganzza
1670 rubles.

Ring Satellite Paris
5600 rubles.

1. Fashion blouses Spring-Summer 2013: transparency again in the trend

Remember how transparent blouses were popular a few years ago? So they returned to the fashion catwalks. This trend was confirmed last clothing collection Paco Rabanne. According to lead designer of the fashion house of Lydia Maurer, in the coming spring-summer 2013 is no need to hide his body dense three-dimensional fabric. I think many of us would support Lydia, why hide what we so richly endowed nature? Since the peak of fashion this year - the maximum exposure of by Paco Rabanne.
The same trend picked up by the designers Carolina Herrera, but their collection is somewhat more modest. Models present translucent blouses insert and collar are small, resembling the classic men's shirts.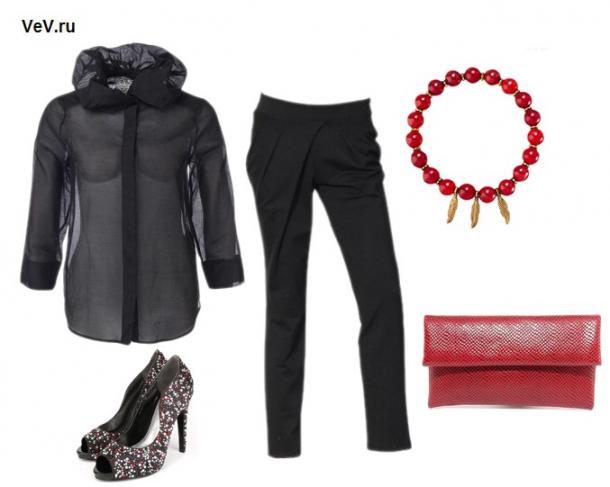 BUY PRODUCTS FROM SETH

Blouse TWENTY & TWELVE BY S.MILLER
4630 rubles.

Trousers Quelle
1999 rubles.
Shoes Vitacci
3150 rubles.

Bag ladies Valeri
3 250 rubles.

Bracelet Shams
2200 rubles.
And if you need a stylish top outfit, prefer woven blouse. These models are similar to the thin metallic mesh. Be sure - you will look trendy. And another tip from Lydia Maurer: Season 2013 fashion blouses with stand-up collar, the central part of the torso in them must remain open.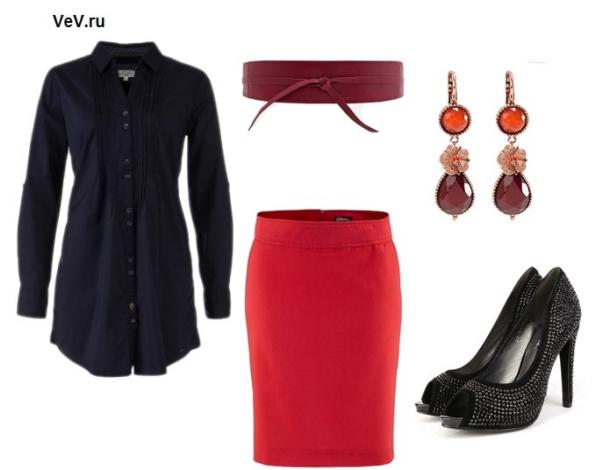 BUY PRODUCTS FROM SETH

Tunica Tom Tailor
2 490 rubles.

Skirt Quelle
899 rubles.

Belt Mango
1 699 rubles.

Shoes Vitacci
2 990 rubles.

Earrings Satellite Paris
5400 rubles.

2. Fashion blouses Spring-Summer 2013: shirt

Frankness and sexy blouses collection Paco Rabanne not cancel brevity closed models of blouses, shirts. It's the perfect ingredients for any business woman's wardrobe, but because it is difficult to give them up. But for all its restraint, these models look very aristocratic and refined. For example, the designer Stella McCartney offers fashionable women in the office shirt style white and Matthew Williamson advises modern graceful lady to wear blouses with delicate lace inserts.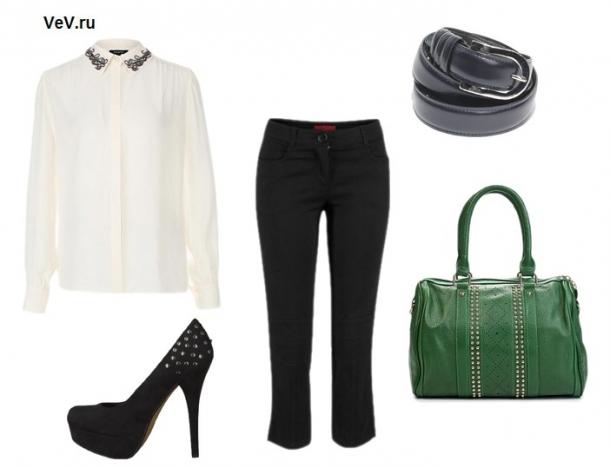 BUY PRODUCTS FROM SETH

Shirt Axara
3 950 rubles.

Pants- "pipes» Quelle
1899 rubles.

Belt Sergio Belotti
1 590 rubles.

Shoes Quelle
3699 rubles.

Bag Sabellino
5400 rubles.

3. Fashion blouses with ruffles

Remember romantic ladies of classical literature and the movies? These dresses will certainly present different frills and ruffles. Since then, when this part of the female dress came into fashion, a lot of water under the bridge, but the ruffles and experienced young ladies themselves, and the author of numerous novels and entered the third millennium, which is not going to give up their positions. Season 2013 will build on the wave of popularity thanks to the collection of ruffles fashion house Ralph Lauren. The designer has no doubt that the blouse decorated with ruffles - is the easiest way to create a natural feminine image. In addition, these models are easily combined with classic trousers and skirts, pencils, and it is very convenient.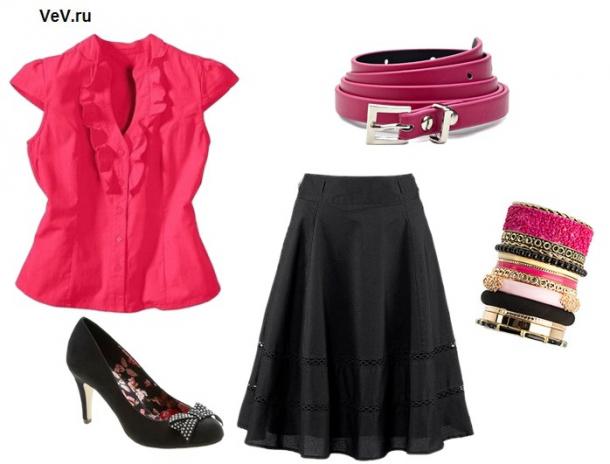 BUY PRODUCTS FROM SETH

Blouse Quelle
799 rubles.

Skirt Quelle
1 299 rubles.

Belt Incity
199 rubles.

Shoes Quelle
2 299 rubles.
Bracelet Die Blonde
1400 rubles.

4. Fashion blouses Spring-Summer 2013: retro style
It seems, according to retro style, we do not have time to get bored, because from season to season, designers are returning to this theme. However, for us it is not a reason to be upset, quite the contrary! Those who prefer this style of dress, in the 2013 season will be at the height of fashion, for the future of retro spring and summer - the main trend. A striking example of this - a model blouses hippies from Diane von Furstenberg. Designer shirts offered free cut without a collar with a neatly strapped elastic cuffs on sleeves. These models have in common with the collection of Lydia Maurer, because they have provided deep cuts. To finish the embroidery is used in the form of ornaments. Combine blouse hippie possible with skinny jeans or slacks and short skirts with loose.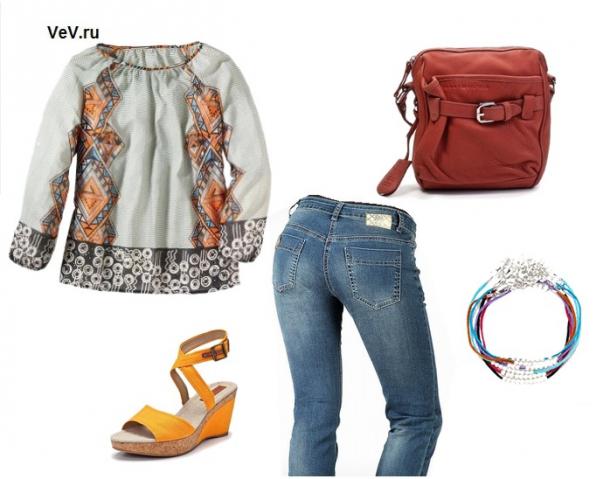 BUY PRODUCTS FROM SETH

Tunica Quelle
1499 rubles.

Jeans Betty Blue
3690 rubles.

Sandals Marc O'Polo
3143 rubles.

Bag Tommy Hilfiger
8480 rubles.

Set bracelets Die Blonde
1400 rubles.

5. The trend of the season 2013 - leather blouse

Many of the ladies is following developments in the world of fashion, familiar with the creative experiment designer Jason Wu. His new discovery - a model of blouses in black leather. So, dear lovers of the material - and they are many! - This season will bring to you a lot of interesting innovations. The collection of Jason Wu present blouse with three-quarter sleeves of the material in black with accents of shiny black leather. The highlight of these models - in a combination of white fabric and black leather. But it offers the designer to use a fashionable this season the skin to a minimum. From this it should be performed only separate elements, such as pockets or collar. Another fashionable items from Jason Wu - stylish zastezhka- "lightning." Original blouse with leather elements in the ensemble look good with skirts above the knee length or shorts.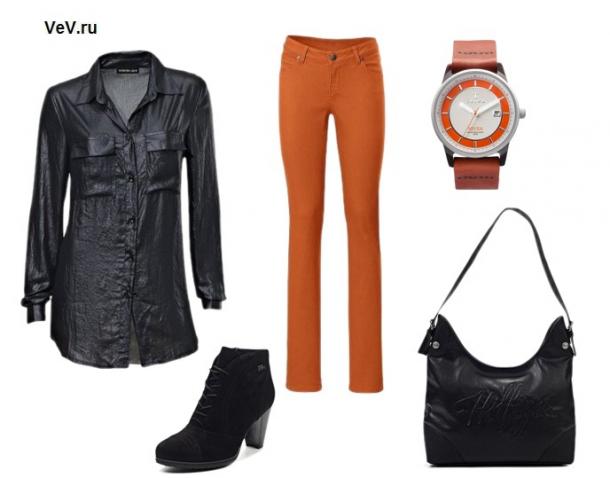 BUY PRODUCTS FROM SETH

Blouse Quelle
3499 rubles.

Trousers Quelle
2499 rubles.

Ankle ELCHE
4 670 rub.

Bag Tommy Hilfiger
5520 rubles.

Hours Triwa
8900 rubles.

6. The color palette

The trend of the coming season - all of metal: silver, gold, bronze, copper, dark gray color. But in the case of blouses indispensable accessory should be buckles, brooches, metal buttons, locks, etc. But Ralph Lauren thinks that this spring and summer is to focus on blue and turquoise shades. And, of course, can not do without the classics - black and white. This trend can also be seen in the collection of Carolina Herrera, based on a combination of black, gray, white and metallic shades of olive and gray.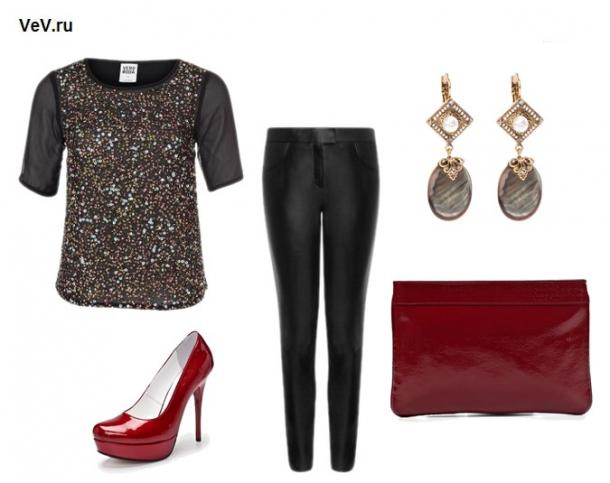 BUY PRODUCTS FROM SETH

Blouse Vero Moda
1 230 rubles.

Trousers Quelle
6999 rubles.

Shoes Alex Mazurin
5770 rubles.

Bag Richmond
14 050 rubles.

Earrings Satellite Paris
4200 rubles.
Offers us designers and more cheerful bright, variegated colors - such as red, carrot, purple, orange. So, Oscar de la Renta decided to give women a real festival of colors and introduced crimson, turquoise, sky blue and malachite bows. Their basis was, of course, blouses, elegant, bold and extremely feminine.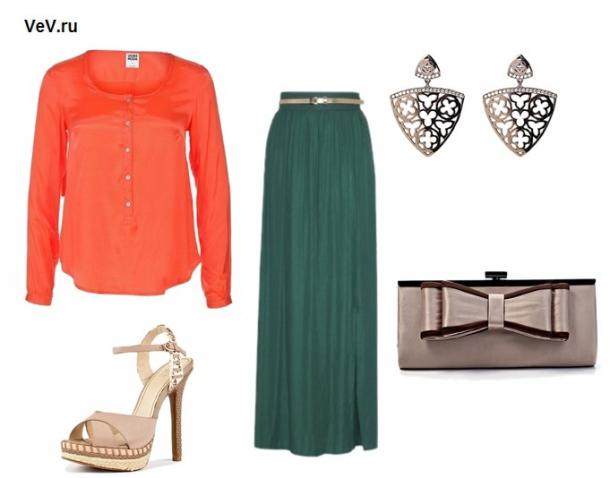 BUY PRODUCTS FROM SETH
Blouse Vero Moda
920 rubles.

Maxi skirt Quelle
2399 rubles.

Sandals Grand Style
4260 rubles.

Clutch Fabretti
1700 rubles.

Earrings AME
12 500 rubles.