As you go to a party to the girlfriend? What to wear to work, to the office? The surprise a loved one on a date? And what is the walk to the shops in the coming weekend? Dress, and once again dress! No other article of clothing does not make us women, so feminine, if need be - elegant, or romantic, or a little funny, or flighty, or on the contrary, restrained, or extremely sexy. Moreover, the cold winter will soon be replaced by warm sunny days. So you can postpone the boring pants, jackets, cardigans and sweaters and dress in the most that neither is a women's clothing.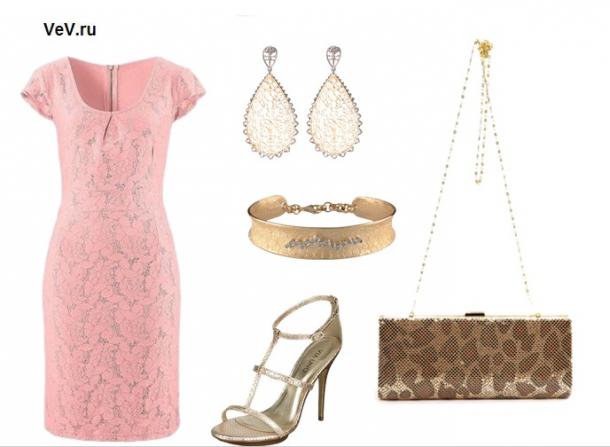 BUY PRODUCTS FROM SETH

Dress Quelle
1899 rubles.

Sandals Via Uno
3899 rubles.

Clutch Venera
1290 rubles.

Earrings AME
16 500 rubles.

Bracelet Cresber
18 000 rubles.
Choose the most fashionable and current trends of the season 2013 will help us designers. I think they will inspire even the most die-hard supporters of male or sporty clothing. Besides dresses for all ages and status, preferences and tastes. Even if your spring wardrobe will consist of nothing but dress, it will be a cause for pride rather than a subject of condemnation. Ironically, all the new spring 2013 will evoke a widespread saying that all new - it is well forgotten old. The intricate, complex shaped spring dresses of the past years will be replaced by a simple, convenient and practical. Fashion show almost did not provide multilayer boards, but clearly defined tendency to return to the style of the 50s, 60s and 70s. So if you've always wanted to feel like Marilyn Monroe, Audrey Hepburn or Brigitte Bardot, in the spring season, you can easily carry out his wish. The images of these fantastic beauties fashion designers helped develop the amazing collection of dresses.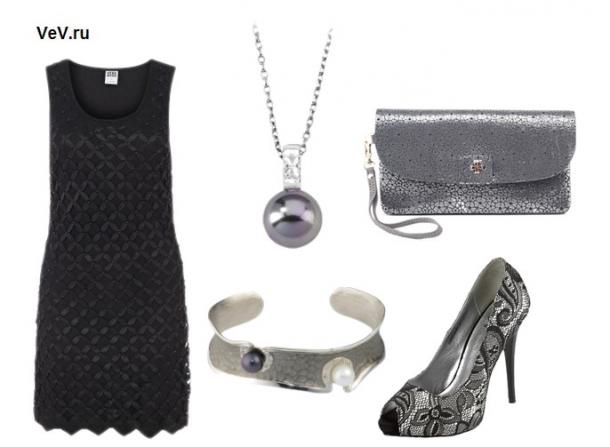 BUY PRODUCTS FROM SETH

Dress Vero Moda
1820 rubles.

Shoes Betsy
1799 rubles.

Purse-bag Vasheron
6850 rubles.

Pendant on a chain Majorica
3 900 rubles.

Bracelet Cresber
22 500 rubles.

1. Spring dresses 2013: stylistic findings
If you've been following the latest developments in the life of Haute souture, it could not fail to note for myself that many presented on the catwalks of the dresses were designed in the spirit of minimalism. These items of women's wardrobe has the characteristic length to mid-thigh or knee, not less, and their cut highlighted laconic. The designers decided to fill artlessness and simplicity of silhouettes? Of course, a favorite with many colorful, eye-catching prints and expressive texture. Thus, in the spring-summer collection of Ralph Lauren has a red dress with low waist and lace viscous, black dress with rukavami- "torches" of exquisite guipure, there are dresses, decorated with floral prints. This is the main fashion hit of the season 2013.
Flower colorings please us this spring and Bottega Venetta, and Louis Vuitton. The color combination of white with emerald-green or green with lemon-yellow look spring-fresh and elegant, it does not cancel elegance, aristocratic, elegant. Dress these fashion houses, as always, correspond to the classic notion of impeccable taste. The Louis Vuitton collection, and there are a lot of plaid dresses of various lengths and cut.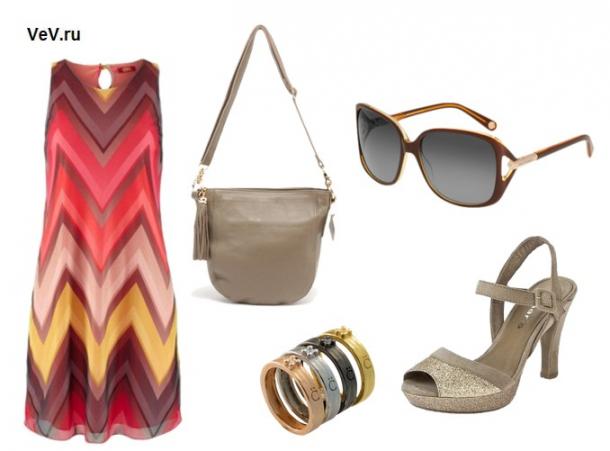 BUY PRODUCTS FROM SETH

Dress Quelle
1999 rubles.

Bag Ginger Queen
4290 rubles.

Sandals Tamaris
2699 rubles.

Points Enni Marco
4150 rubles.
Ring Cresber
17 300 rubles.

2. Casual Dresses 2013

Are you ready to argue with anyone that is dark brown and black are suitable only for winter clothes and spring look expressionless and pale? Stylists easy to convince you otherwise. This spring, they are advised to wear dresses made in black and white. So, the brand Celine offer women quite frankly dresses for everyday life. For example, a black sundress, complete with bodice and white net. If you are not ready for such a provocative way, you can wear a short dress, decorated with large stitches in the form of squares, like Chanel.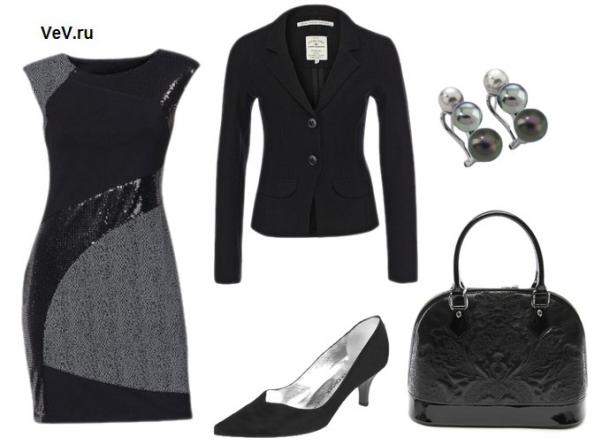 BUY PRODUCTS FROM SETH

Dress Quelle
2699 rubles.

Jacket Tom Tailor
5050 rubles.

Bag Arcadia
6750 rubles.

Shoes Peter Caiser
5599 rubles.

Earrings Majorica
5200 rubles.

3. Spring Dresses 2013 business style

Current trends for spring 2013 - X-shaped silhouette, combined with a short length and simple brim. The waistline in such models may be somewhat understated or, conversely, excessive. So any woman can choose for themselves is such a thing, and even a little bit to adjust the proportions of the figure. Designers are advised to pick up this spring dresses in a business style of black, gray, purple, emerald green muted colors and balanced shades of blue. However, if you want to bring to your way of flavor, nothing could be simpler. Bright accents and parts are welcome! For example, Kenzo proposes to add a green dress in orange collar or tiered necklace.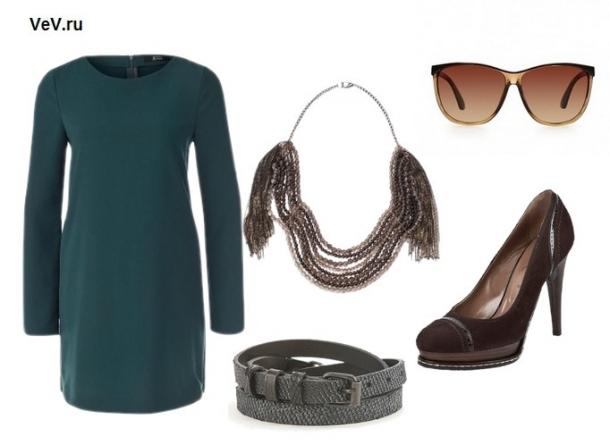 BUY PRODUCTS FROM SETH

Dress Guess by Marciano
11 650 rubles.

Belt Diesel
3 990 rubles.

Shoes Villa Reale
5199 rubles.

Sunglasses Polaroid
2 390 rubles.

Necklace Die Blonde
9000 rubles.

4. Elegant dresses for spring 2013

"The secret elegant dress?" - We asked fashion designers. And they are ready to answer. To achieve the effect of elegance, in the 2013 season should combine different styles. For example, a secret from Gean Paul Gaultier - the combination in evening dresses knitted texture and large weave. And fashion designers Kenzo not afraid to combine seemingly nesoedinyaemoe. They have created a unique mix of military style with his army belt and khaki and romantic style, adding to the military theme puffed sleeves and open shoulders strapless. A fashion house Versace offers fashionable women as jewelery ensemble put on a dress-shirt with spicy lace trim. As you are such a bold idea?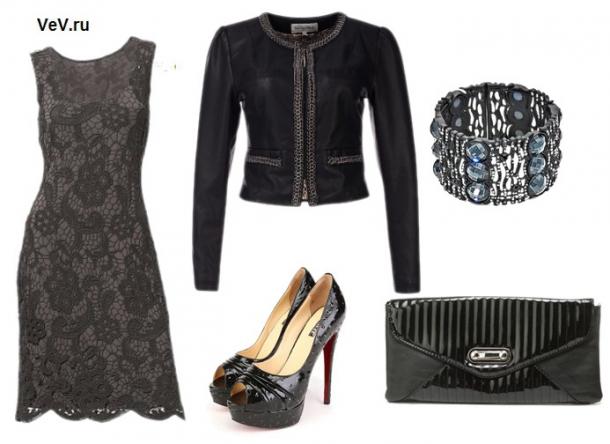 BUY PRODUCTS FROM SETH

Lace dress Quelle
3499 rubles.

Jacket Best Mountain
5060 rubles.

Shoes Vitacci
2 290 rubles.

Clutch Sabellino
1550 rubles.

Bracelet Selena
1499 rubles.

5. Fashionable evening dresses

Spring of 2013 - this time coming down from Mount Olympus goddesses. So designers have decided and suggested earthly beauties compete with the legendary Greek divines. Fashion spring evening dresses soaked it in the Greek style - with asymmetrical cuts and notches, one open and one arm sleeves, fabrics, laces, belts and soft embroidered with gold. Of course, Victor & Rolf, Versace, Givenchy interpret the Greek style in its own way. So that all the wealth of choice at our feet, it remains only to choose her dress!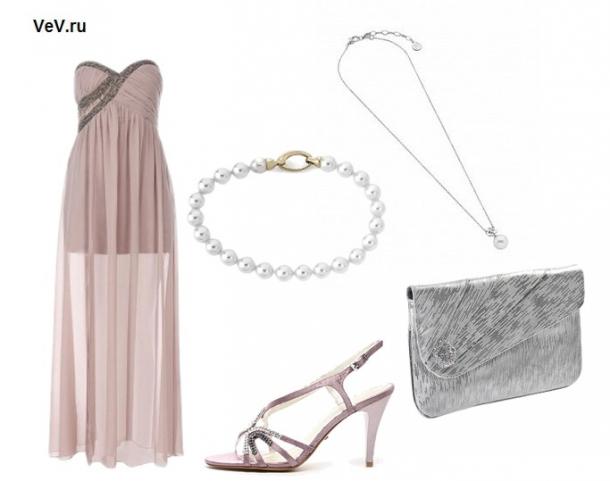 BUY PRODUCTS FROM SETH

Dress Mistress
4980 rubles.
Clutch
799 rubles.

Open shoes Calipso
850 rubles.

Necklace Majorica
3 900 rubles.

Bracelet Majorica
3300 rubles.

6. Models of cocktail dresses for spring 2013

Cocktail dress - this is a classic, and in the coming season is a classic double. In the trend model, made of silk and chiffon X-shaped and A-shaped silhouette with flared or magnificently prisborennoe bottom. Thanks to lightweight materials and a small length does not fall below the knee, these models will give the hosts their sense of airiness, weightlessness. Trendy cocktail dresses this spring made of light blue or turquoise organza, cream or pure white guipure. And if you can not do without a black dress, choose a model with a color print or inserts made of metallic brocade.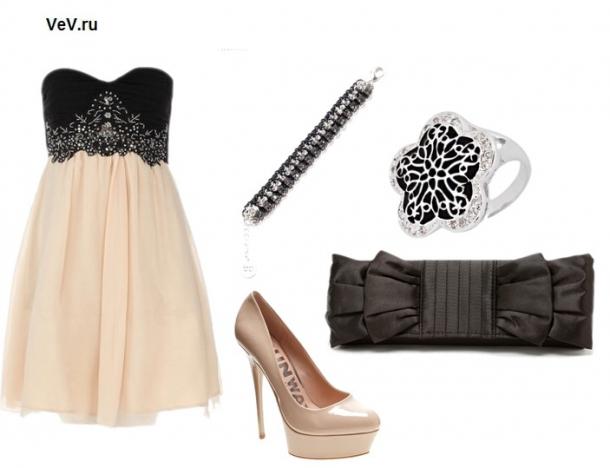 BUY PRODUCTS FROM SETH

Dress Little Mistress
3960 rubles.

Shoes Quelle
2699 rubles.

Clutch Sabellino
1250 rubles.

Bracelet OXXO Design
2400 rubles.

Ring Taya
1100 rubles.