New Year's holidays finally over! Coming theatrical and film premieres, weddings, friends, corporate events and dinner party. Accordingly, without a good cocktail dress can not do. Let's see what we offer the world's leading brands.
Moschino \ Christian Dior
So, cocktail dresses 2012 from:

Alexander McQueen

Of course, the most daring and shocking fashion house did not retreat from the selected line. Gorgeous bright dresses complemented by space hats that sometimes deprived eyes mannequins ability to see. Dress themselves - are masterpieces. Lush and original mini-fitting model to the knee can become an ornament to any event.

Calvin Klein Collection

In contrast to the previous brand, Calvin Klein Collection prefer simple lines. Nothing strange, especially bright not found. Here, perhaps, the most modest model.
Beige dresses are striking. Instead, create the illusion of nudity. If the body o-ho-ho - and then pay nothing, as they say.
Well, it's a classic - black and white. Suitable for any occasion. But still, do not shun accessories. And it may be too boring.
And these dresses wildest! Meek metallic sheen - it is always out of place. Length dresses - hand or two below the knee. To the extent strictly.

Chanel

Dress from Chanel - it's always a dream. Believe me, we have something to dream and have something to choose from. Take a look at these models only! Chic. No words!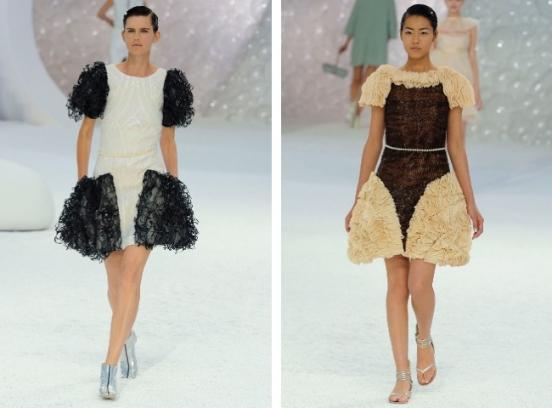 Here, the model for the brave - hourglass silhouette clearly forming, and dress with velvet inserts.
Do not ignore these elegant cocktail dresses, to cast pale blue.
Dresses with original arms or no arms ... The choice is, do not you?

Christian Dior

The most feminine, most tender, the easiest ... All this for Christian Dior. Delight. And again - a great choice. There are common features: length - to the knee, color - very different, feature - shiny or transparent inserts material - light and pleasant, the emphasis - on the waist.
And this - the original model with prints. You can accept the dress for everyday. But no! Just imagine how they will look at some not too formal reception!

D & G

Frankly, spring-summer collection 2012 from D & G inspired by my very different, unrelated thoughts. I remembered the fiesta and prints Moschino, winter collection of the brand and King Arthur. But of course become the leading association gypsy outfits. Such a variety of colors and a variety of prints can be confusing. But the original. In the crowd in a dress will not be lost.
But, of course, the best focus - it legs. In such D & G dresses important not to forget about the length. And everything else will follow.

Gucci

I remember, at the fashion week Gucci surprised everyone. Of course! Frida Giannini opted for black and white, completely ignoring the bright colors. However, the dress look great. A gold sparkles is a brand which is clearly not regretted doing expensive outfits. Nowhere more expensive.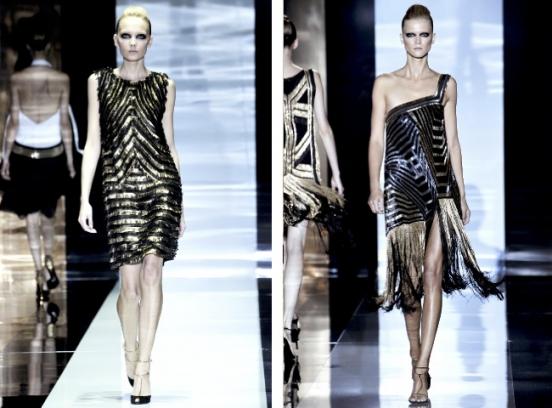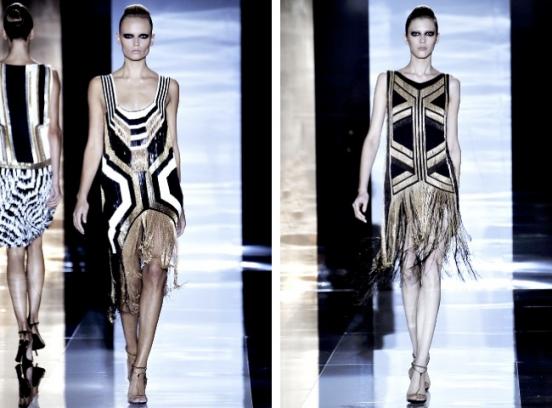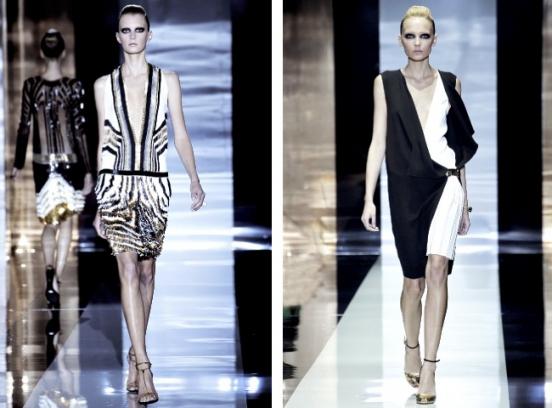 Moschino

Moschino also gave preference to gold on black. Apparently, this is a real trend of the coming season. Stunning combination.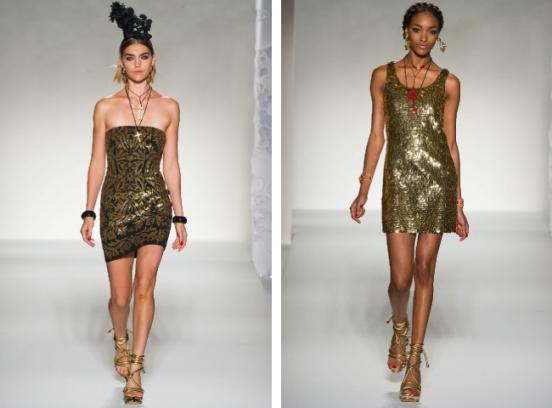 Option to the right, for those who choose simplicity. She, too, by the way, at the height of hipness.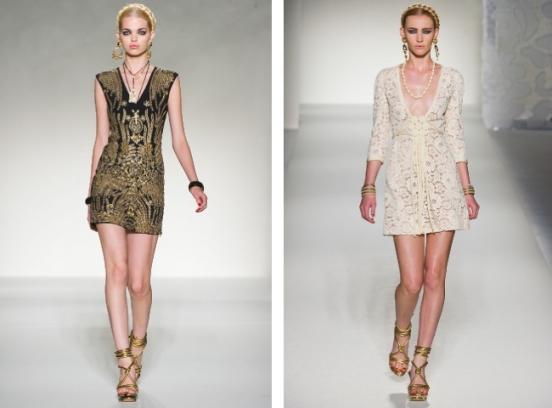 Louis Vuitton

Flowers, lace, pastel ... Brutality stayed in last autumn-winter collection. Now, as admitted brand designer Marc Jacobs, fashionistas will take something kind, gentle and strong at the same time. Go for it, girl. Trapeze dress enough free cut produce a sensation at any cocktail event.
And these models with decorative feathers will decorate any figures.
These dresses are more modest. But feminine, do not argue.
And here is the white model. Left dress reminds me of royal costumes, clear and understandable. And right (by the way, Kate Moss) really a puppet.

Prada

Miuccia Prada presented a very original collection. Fashion commentators dubbed her "flower-car." The hall was stylized car garage. A model turned into car drivers from the 50-60's.
Cocktail dresses are a blend of femininity and aggressive start. Honestly, I was a little surprised they are. Yes, retro. But not each is Retro will sit well. For free and democratic, though, Prada is an excellent option.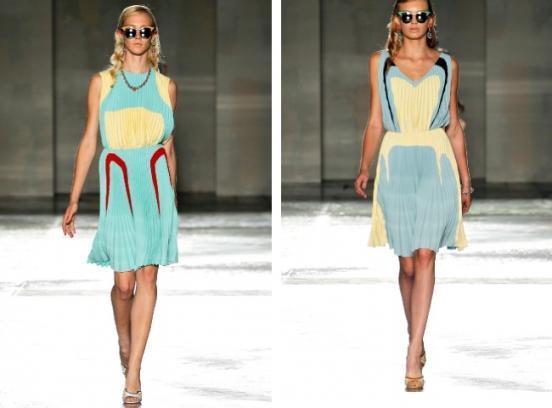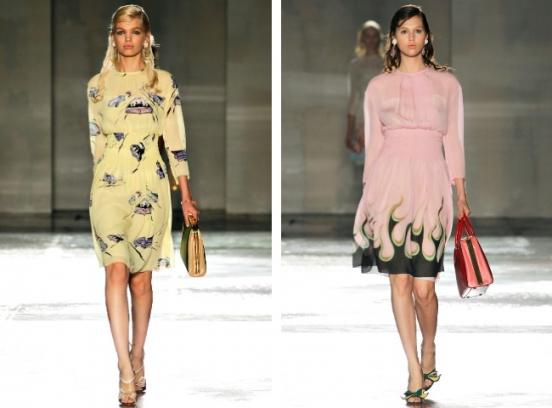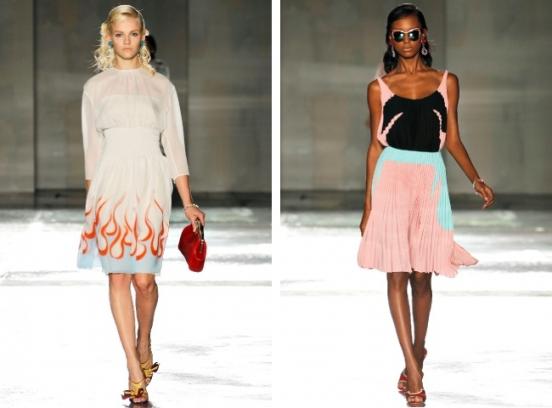 Valentino

At this time, Valentino has not presented anything super complicated. Styles known to all. But the fabric, design, decor sending shudders even the most sober. What dress! Chiffon and lace, flowers and tenderness ...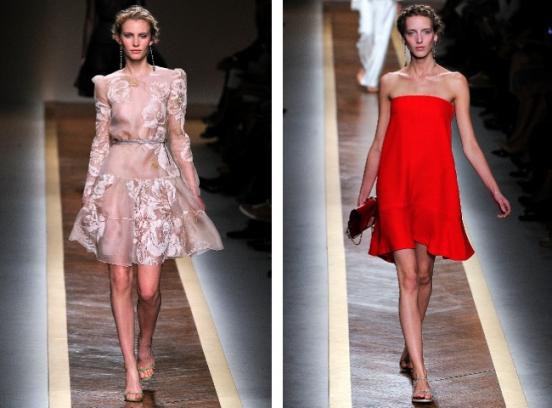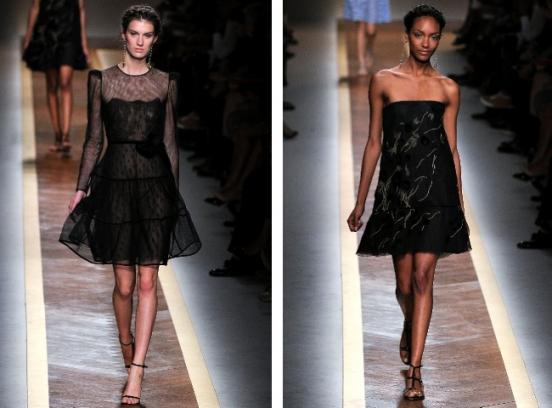 Femininity in each model. Well, again - pastel colors. The same trend, and looks great.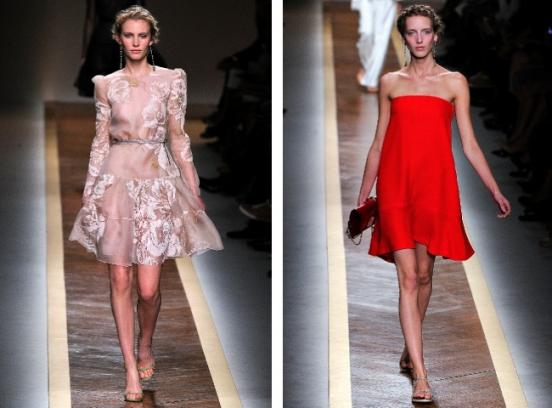 And this is - again favorite sages simplicity. Girls resemble delicate provincials. To slim - the most it!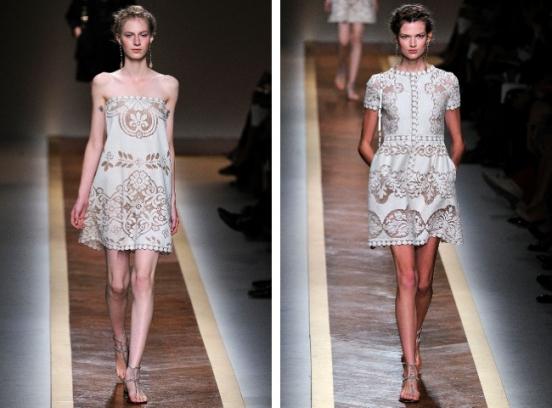 And these options, on the other hand, fit self-confident girls. Much, comrades, much!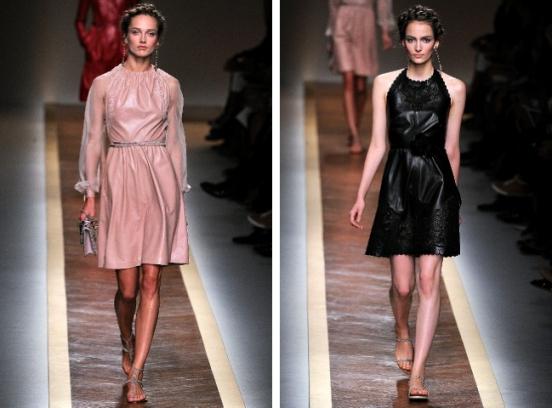 And in contrast to the previous dress - pure lace. Feel like a real woman called!

Versace

Donatella pleased admirers of her talent dresses very unique length. Mini will be a real boon for owners of beautiful legs. A color choose from experience. Anyway, without gold rivets can not do.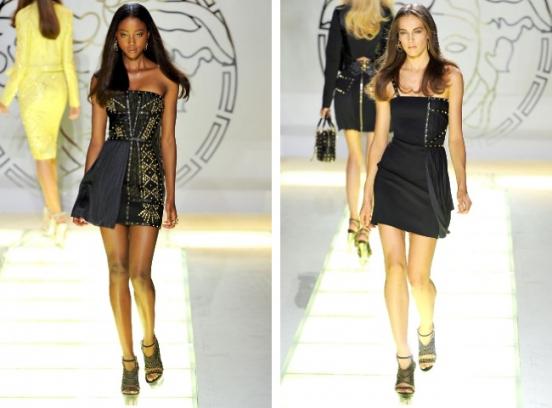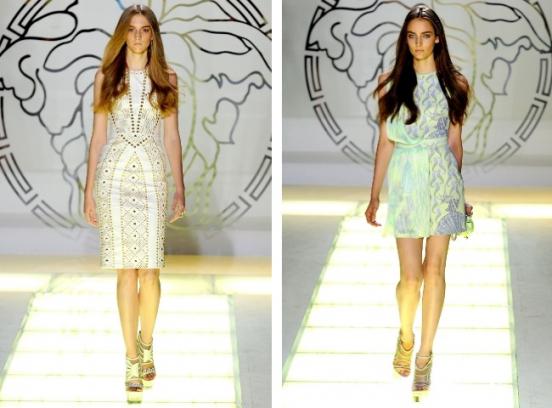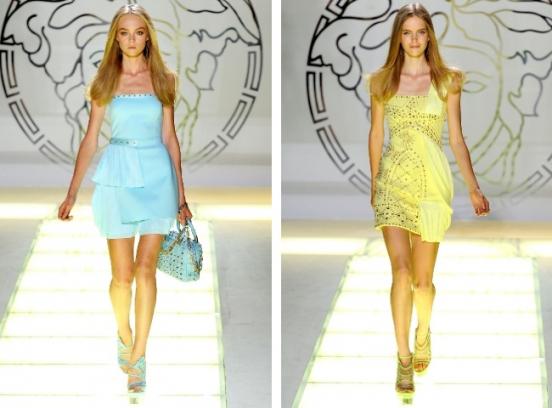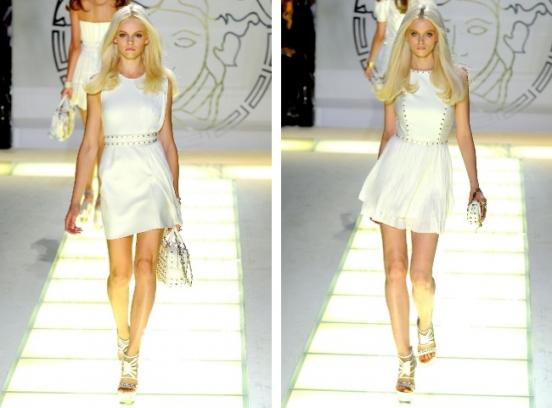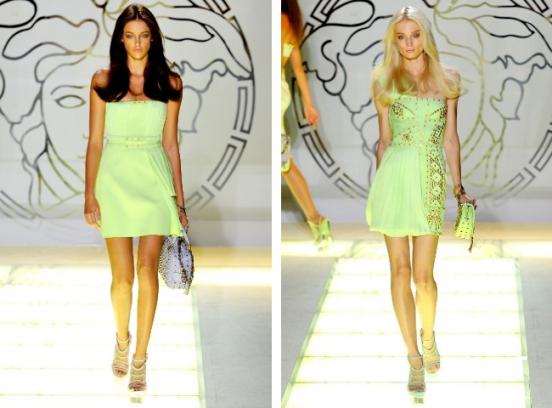 Distracting from the line monochrome dresses models with marine attributes: stars and shells, algae and fish in soft blue color will delight those who as a child loved "The Little Mermaid».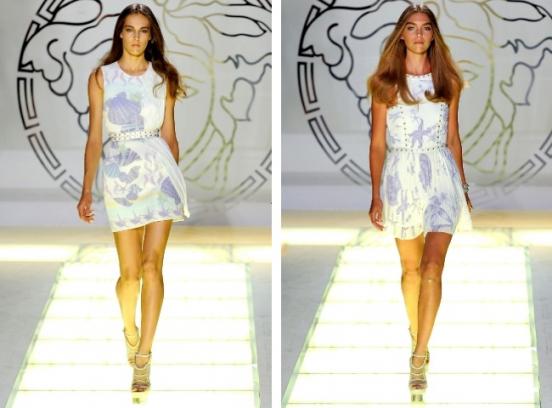 As can be seen, the choice really great. And this huge list of trends and trends - it is only part of the total. Look, my dear girl, and ye shall find perfect cocktail dress sitting.