Some people buy shoes, look at the second, third NOTE. So speak for himself, probably, any. Shoes is something that can save us from depression, surprise, do happier. Those who disagree with me, let him throw a stone at me, still do not get, I'll hide behind a huge mountain of your favorite shoes.
Already, there is a possibility that a closer look of the shoes themselves will be of 2012-2013. All the shows that have passed within weeks pret-a-porter in Milan, New York, Paris, London, presented the main trends and that's what they have in common with a completely different external forms:
* Fashion shoes fall-winter 2012-2013 is a clear imprint of the inverse images of historical
* Successfully found a symbiosis of comfort and forms
0. Set Fashion
BUY PRODUCTS FROM SETH

Boots Quelle
5399 rubles.

Ankle Betsy
2830 rubles.

Ankle Vivian Royal
2370 rubles.

Coat TOM TAILOR
4110 rubles.

Coat Yetonado
10,880 rubles.

Coats Best Mountain
6080 rubles.
Baroque and Rococo 1.
Thus, the shape and color characteristic of the art of the 17th - 18th centuries were successfully prodemonstrirovanny on the catwalks of spring. And this similarity is so obvious that we can safely say, not just shoes 2012-2013 will seem baroque, but will itself.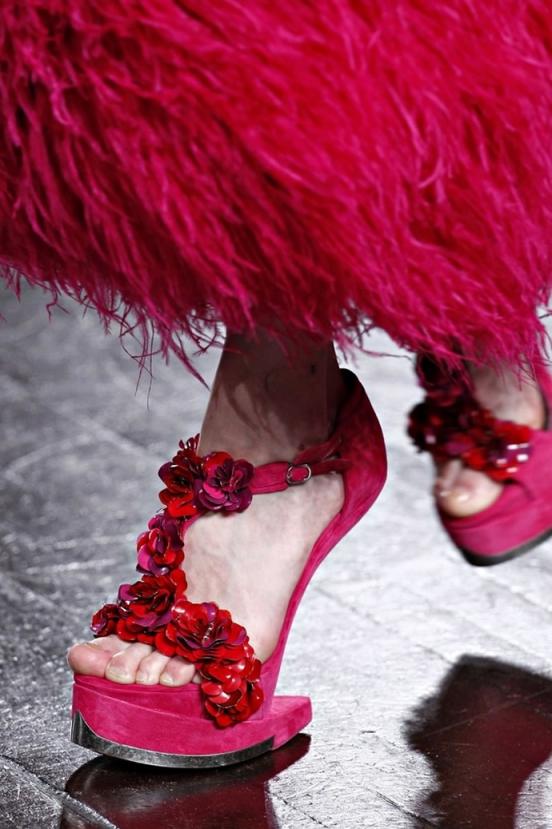 Apologist fashionable image - Alexander McQueen. His model shoe without a heel, but with a high podnosochnoy platform is more similar to an improved model of the Baroque shoes with a groove under the foot. The model goes on like socks, it, however, belongs to a different trend in 2012, the ballet. But the bright color, shape and decoration splendor, obvious features of the Baroque.
Image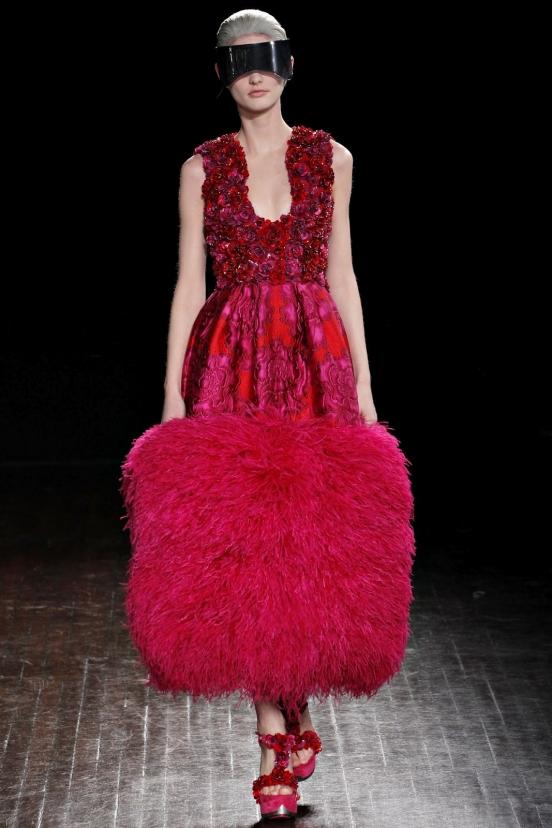 Shoes Alexander McQueen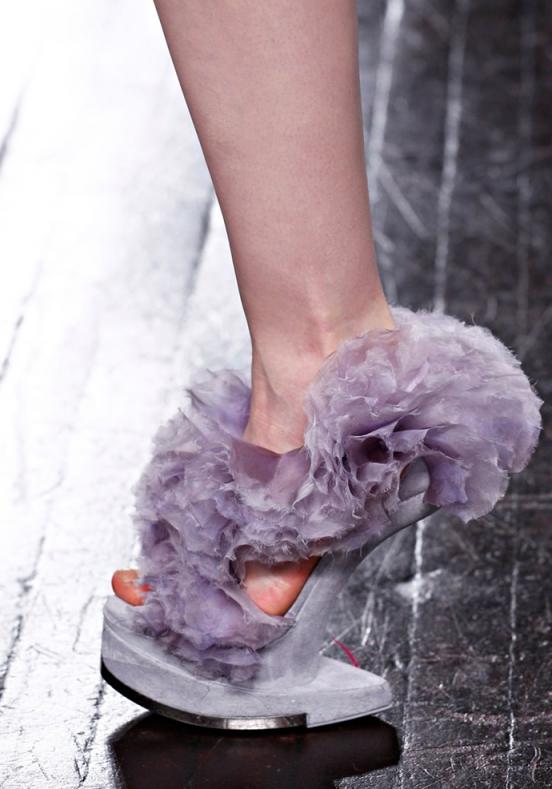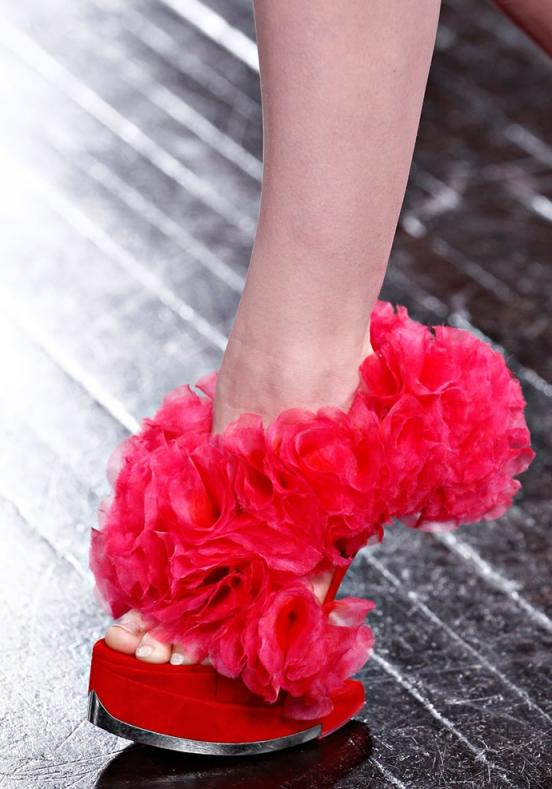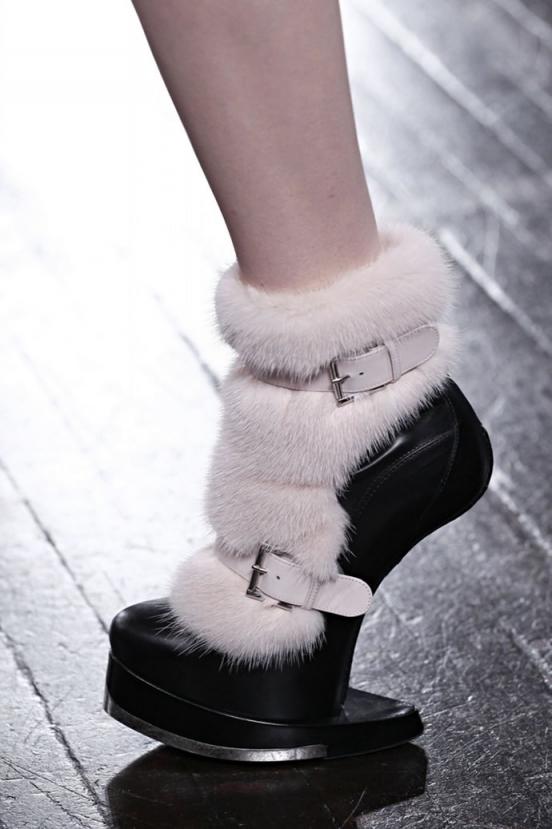 Dolce & Gabbana used quirkiness forms the heel, gilt trim, ornate patterns. Fishnet socks, worn with shoes and boots, as it continues to finish the shoe, make it richer and more colorful. This bar will be relevant nuance in autumn 2012.
Image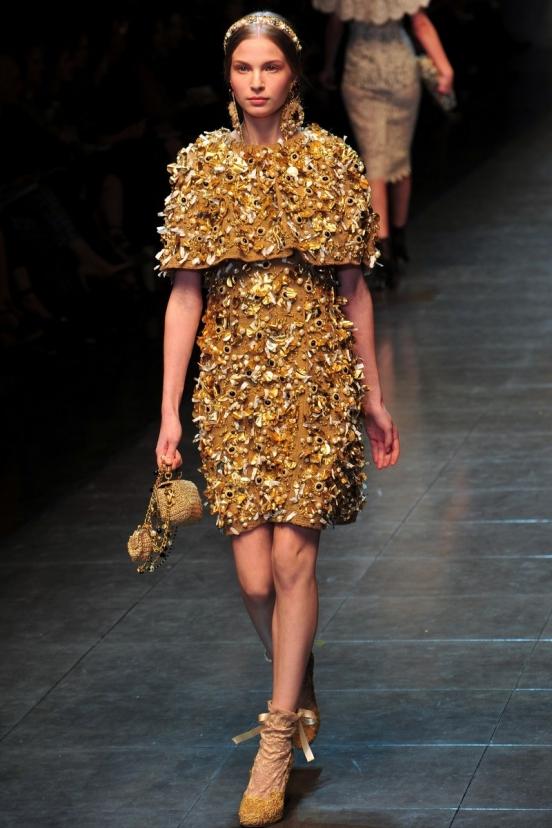 Shoes Dolce & Gabbana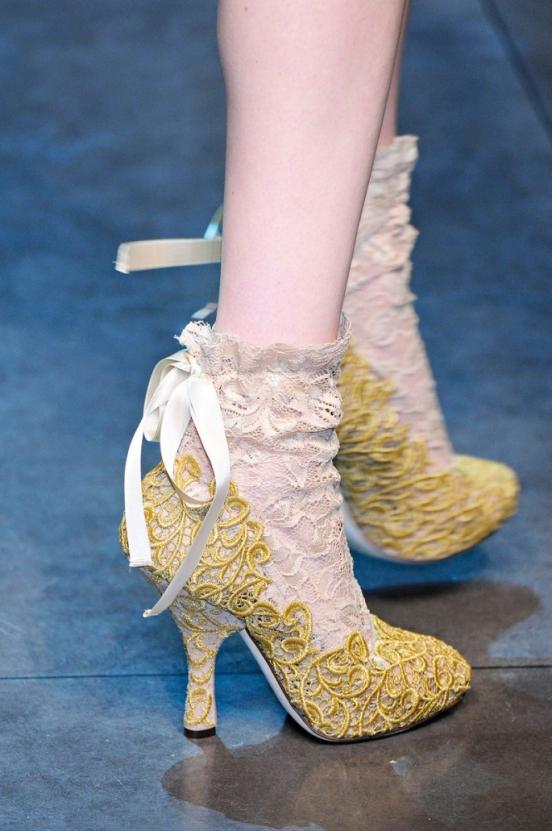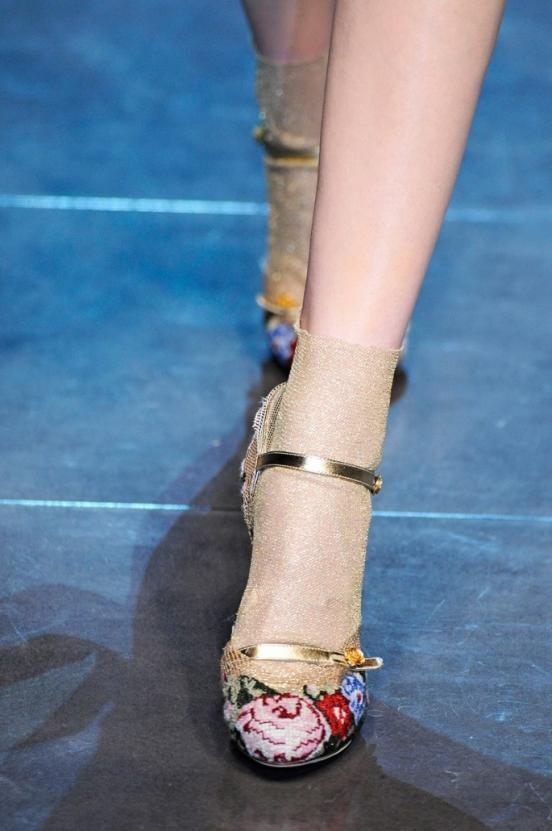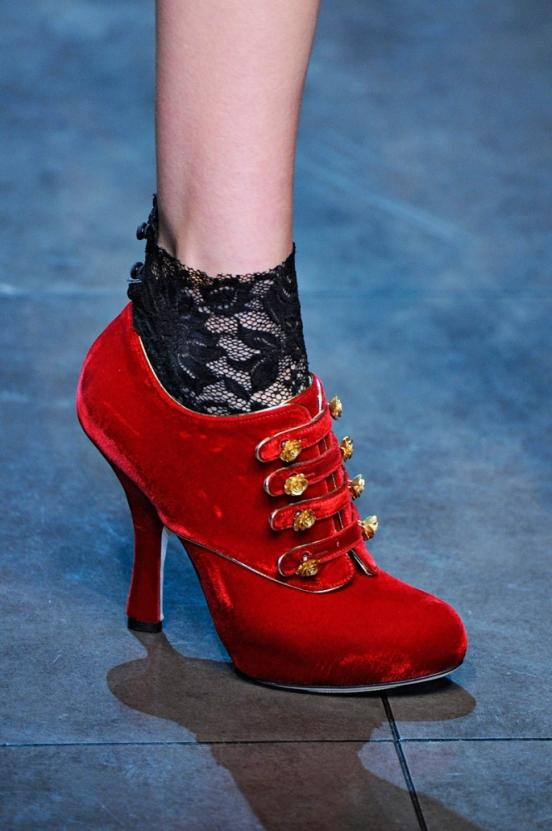 David Koma continues to develop the idea of ​​the historicity of the shoe. His version is a decorative heel, as if carved from stone. Very elegant, decorative, mythological, and most importantly - comfortable.
Image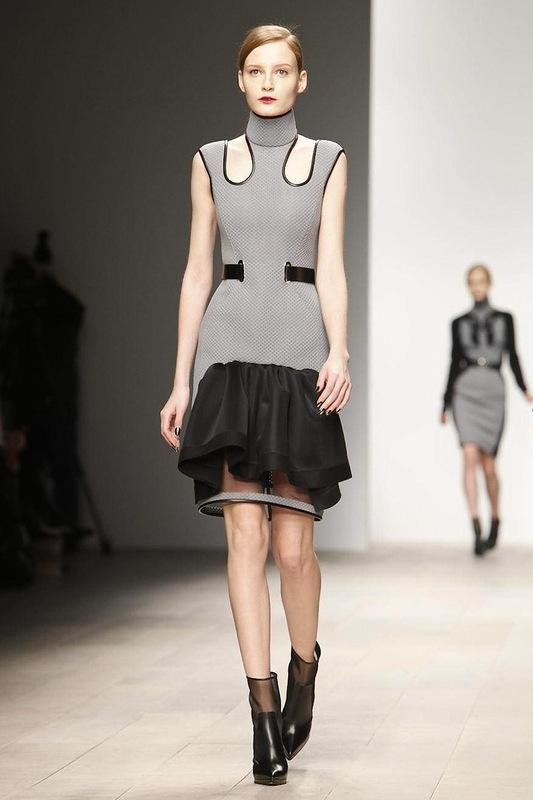 Shoes David Koma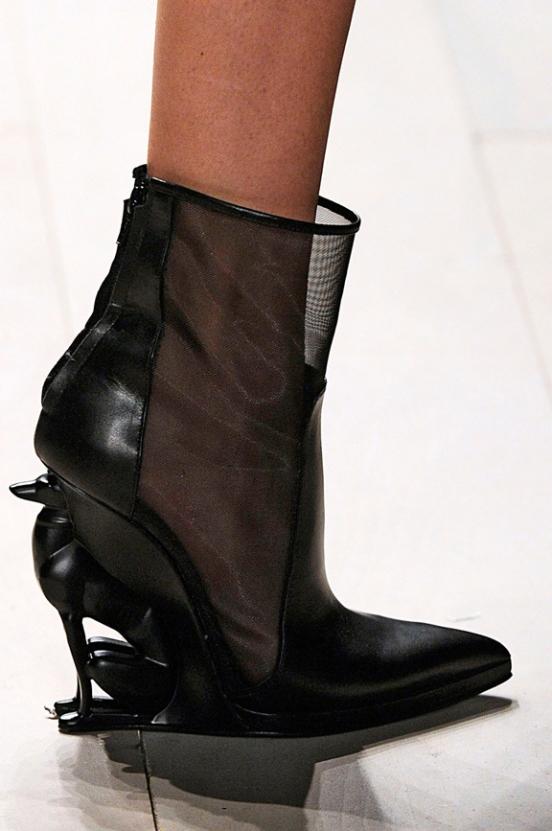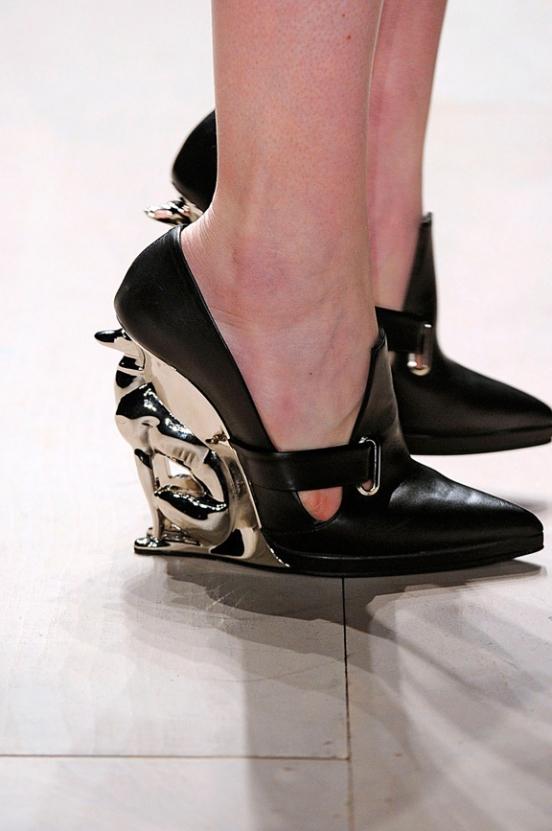 2. ballet style
In the late 19th - early 20th century reached its peak ballet, big changes priterpeval costume and dance shoes. It was then that appeared satin pointe shoes. They were designed not only to put on a ballerina toe, pull it. Assigned to them and the decorative part of the costume. Pointe shoes were decorated with richly embroidered with gold thread by hand, decorated with pearls. This historical fact has been used on the podium.
Christian Dior has put a woman on pointe stylized delicate shades. Wide ribbon around the ankle and high podnosochnaya platform, hidden from view, is clearly reminiscent of ballet shoes. Again, can not but rejoice stability and concise form.
Image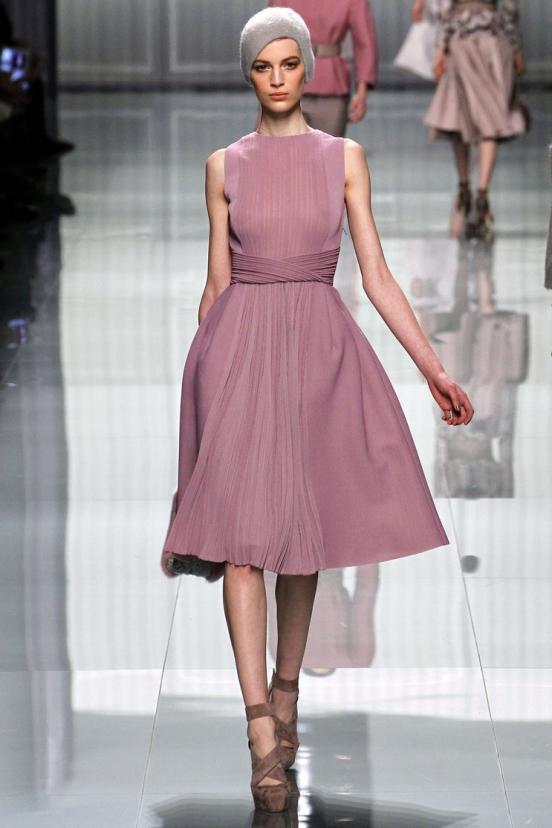 Shoes Christian Dior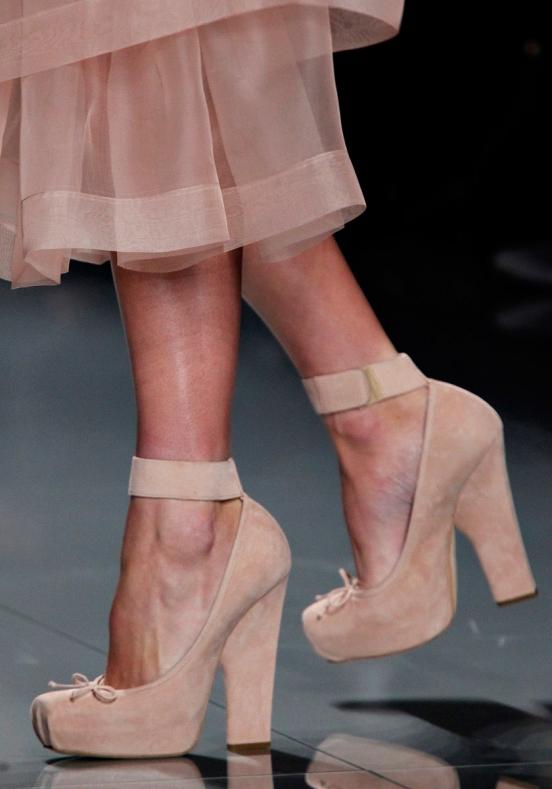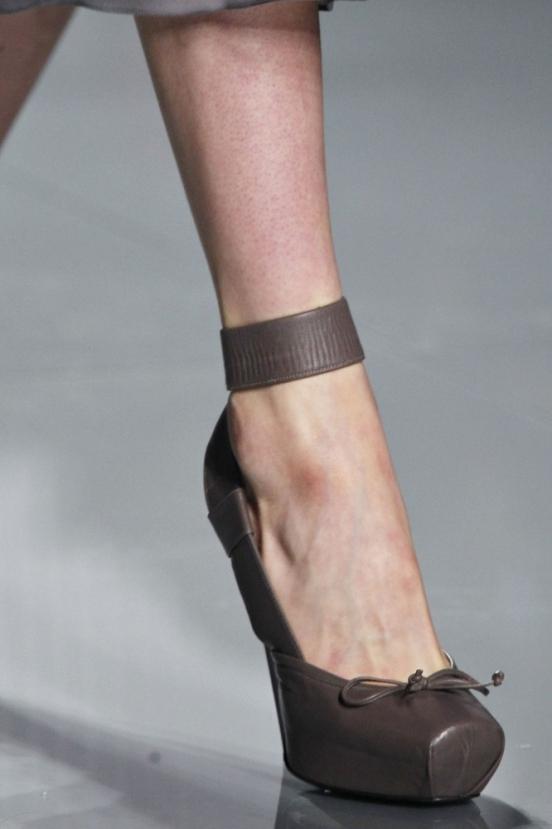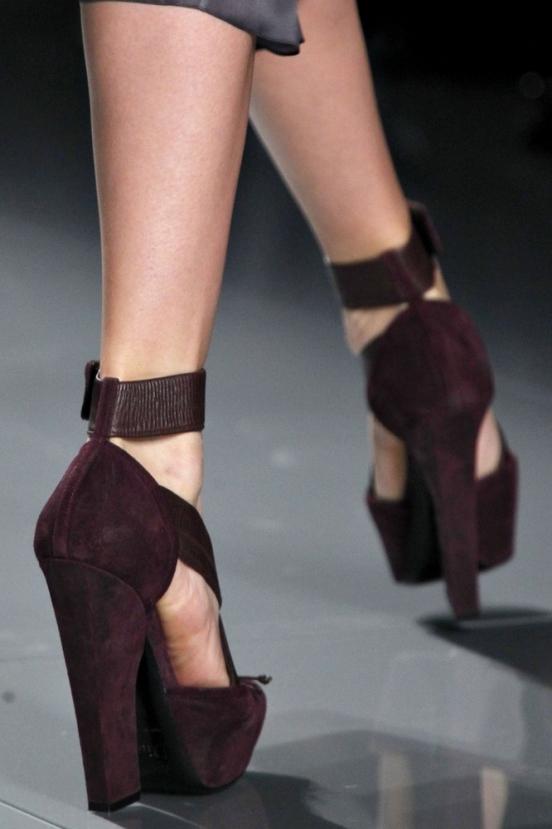 Oscar de la Renta brought even more shoes that will be relevant in the autumn of 2012, the ballet shoes. Pearl gray shades, fabric tape around the ankle, rounded toe. Evening image in his performance would be useful at the ball in the 19. century commercials Femininity and weightlessness unobtrusive, bows could be worn out, if not for the game in the "golden age».
Image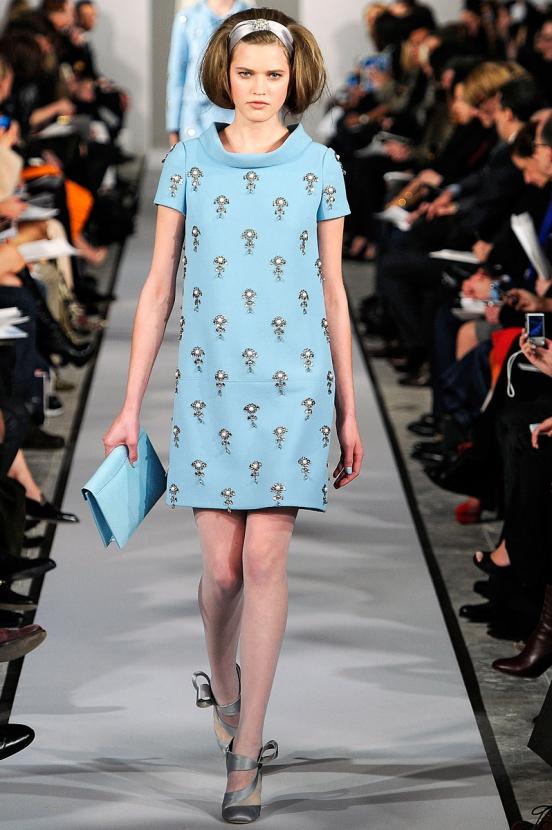 Shoes Oscar de la Renta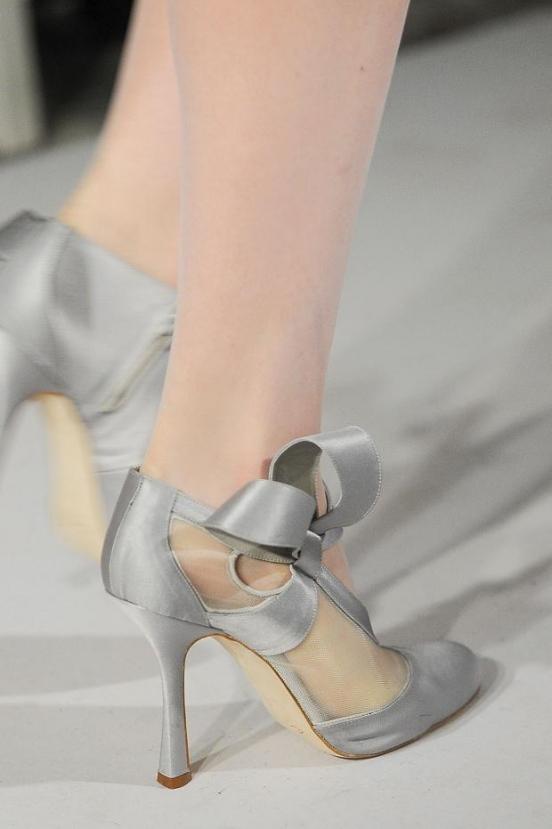 3. Boots pipe
The atmosphere is warm and comfortable. How nice osoznovat like a queen in such shoes, and so nice to walk in it. Very broad in the ankle-high boots and become the main trend of 2013. There were narrow and short model. But must always heel. Not the first time can be seen on the catwalk contrast sole. This time, she reminded me a red heel shoes noble in the past, as a distinctive sign of class. Historicity of fashion there.
Boots Dolce & Gabbana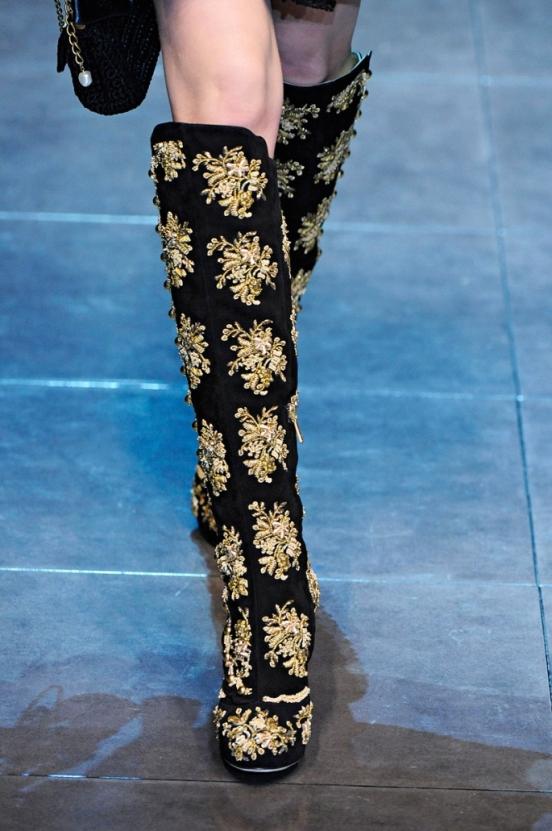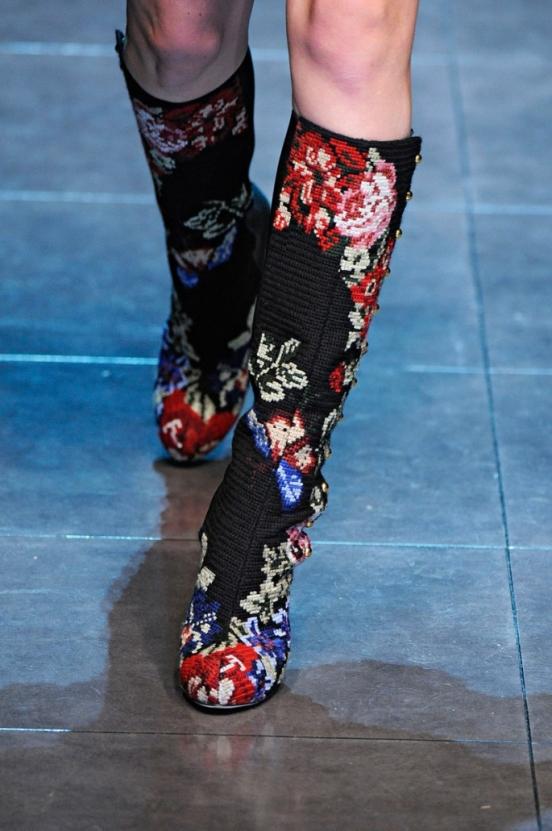 Boots Givenchy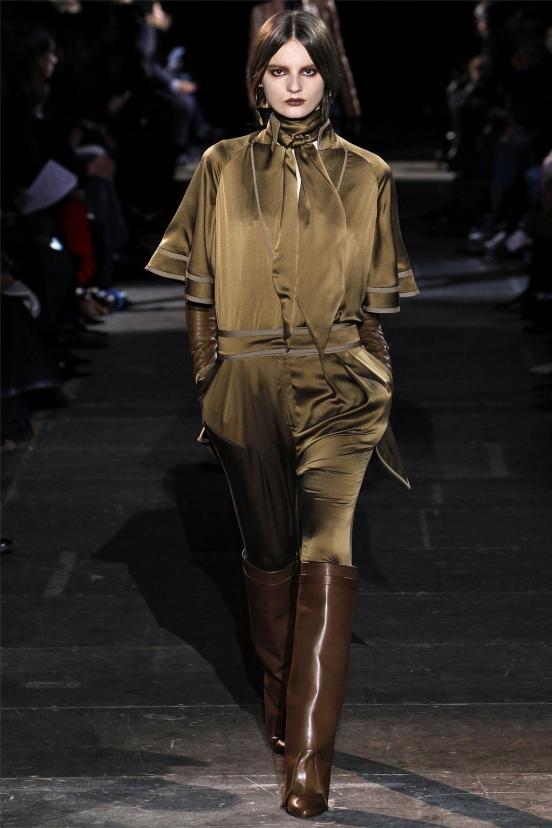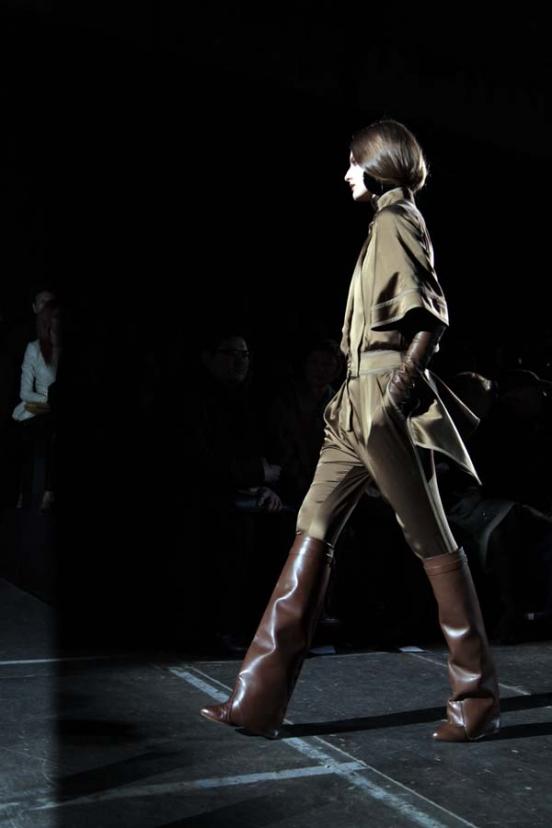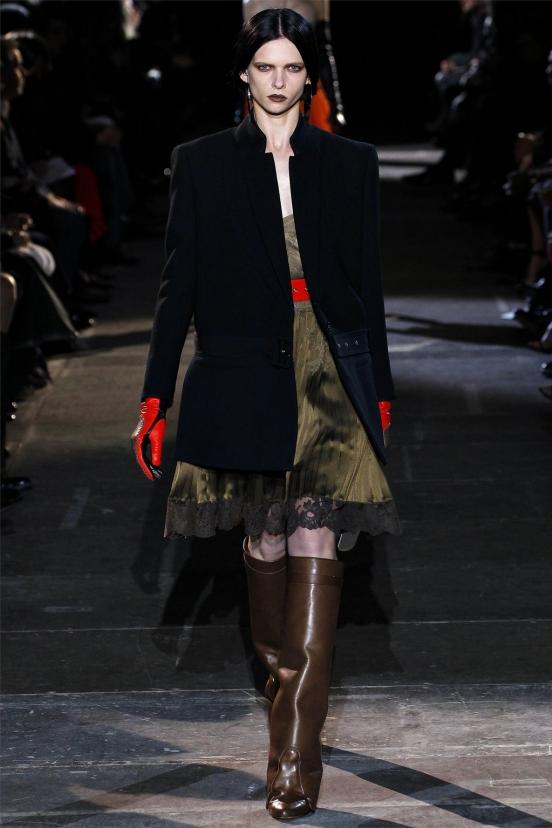 Boots Victoria Beckham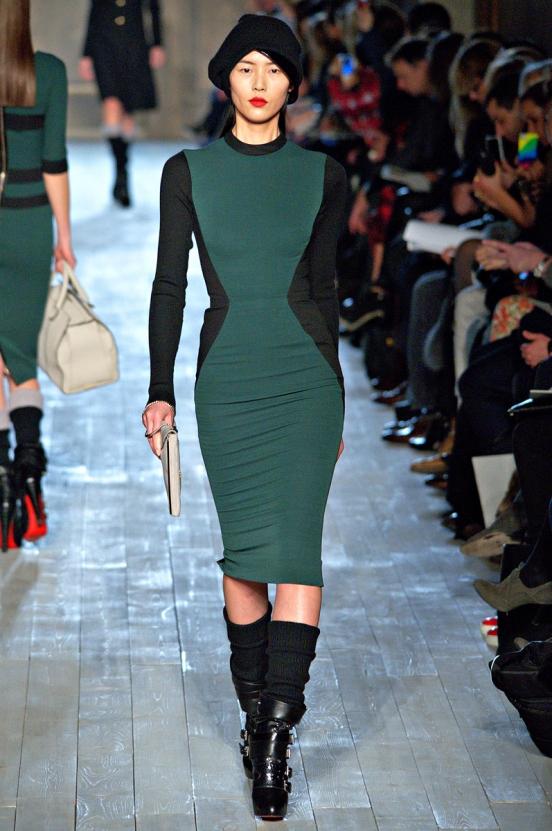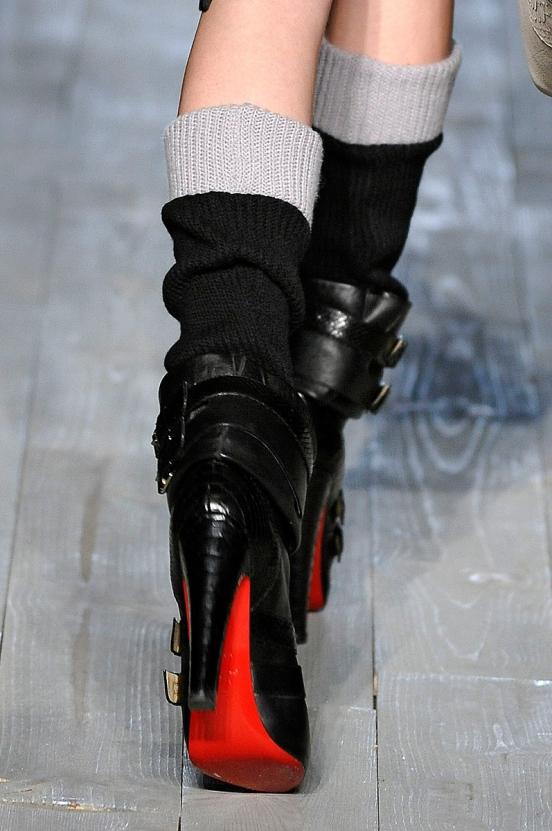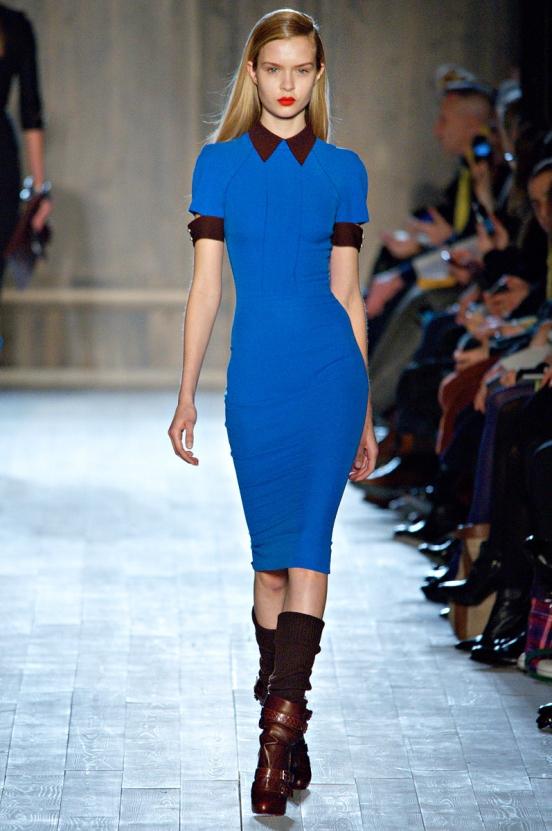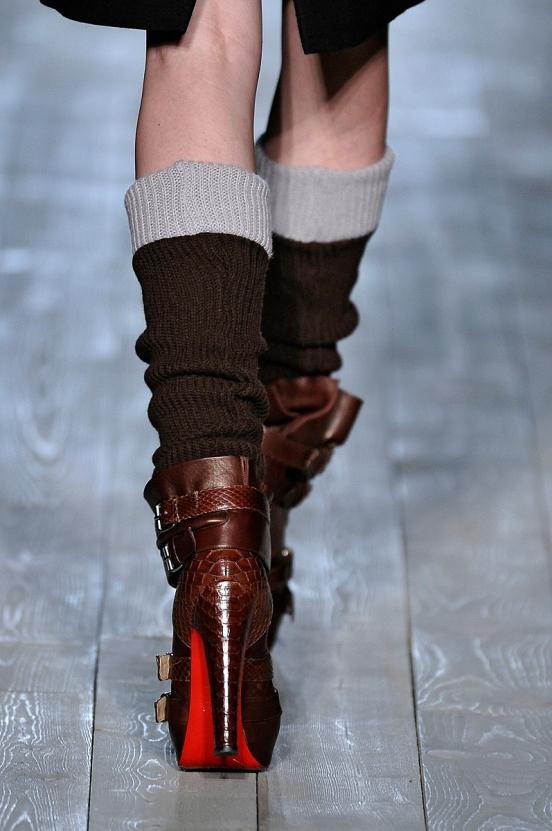 4. Shoes 2012-2013: color trend
Many designers present trend shoe autumn-winter season 2012-2013: Multicolor. Apparently not wanting to part with the bright colors of summer colors and prints, fashion houses continued bright thread in the shoe. The combination of the two, and even more colors in a single pair, apparently designed to add color to the dull greyness cold everyday.
Shoes Acne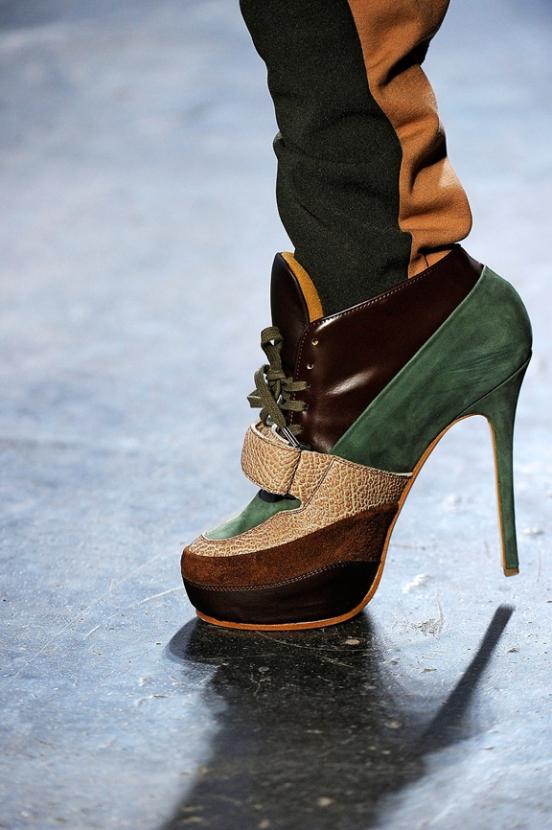 Shoes Louis Vuitton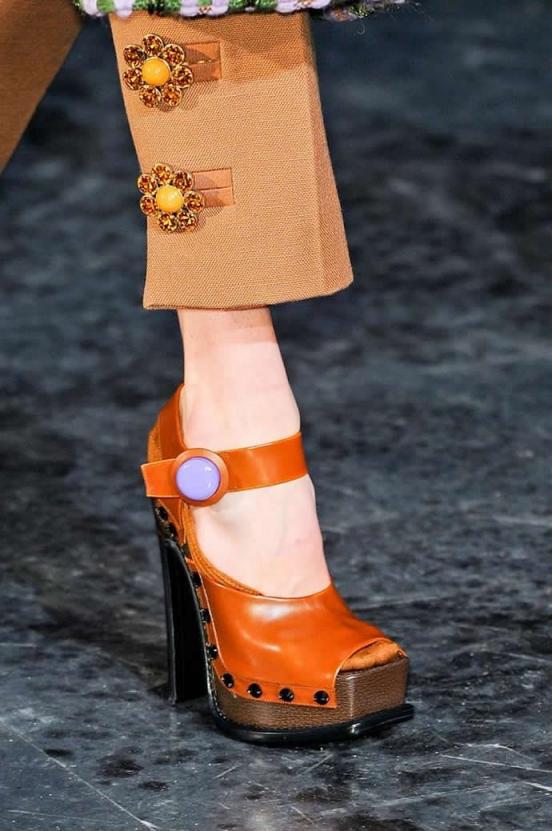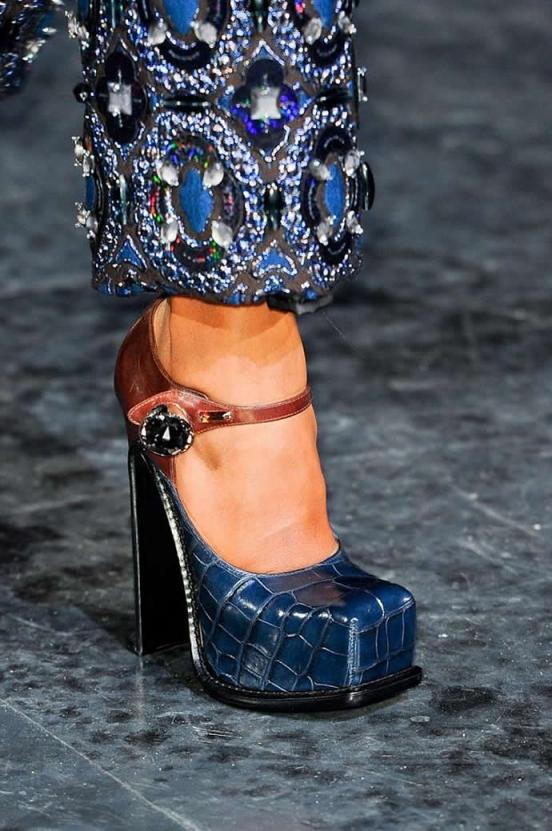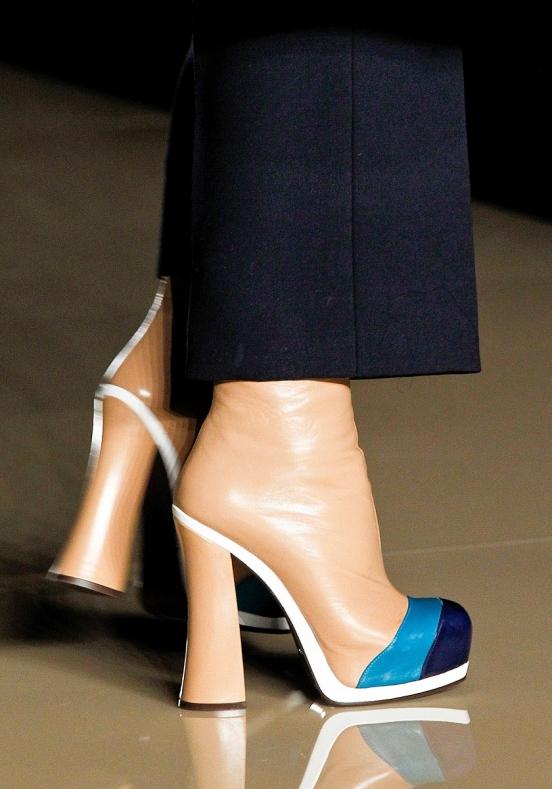 Shoes Prada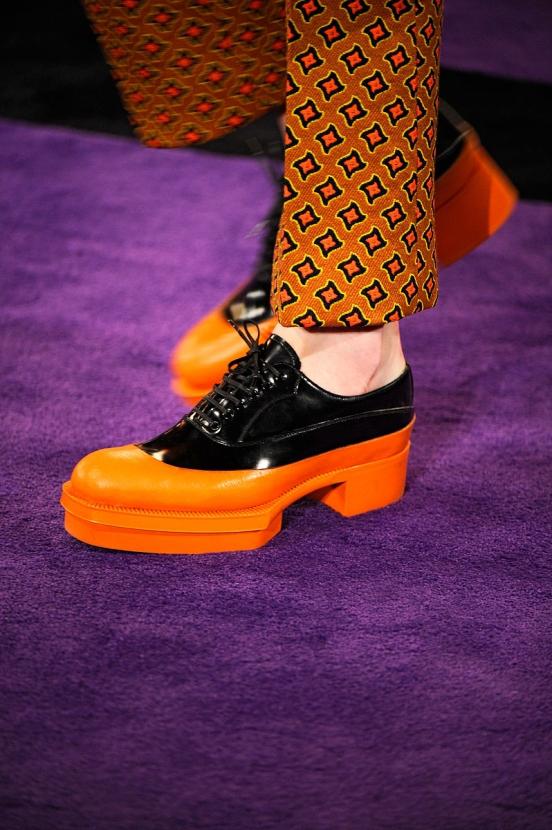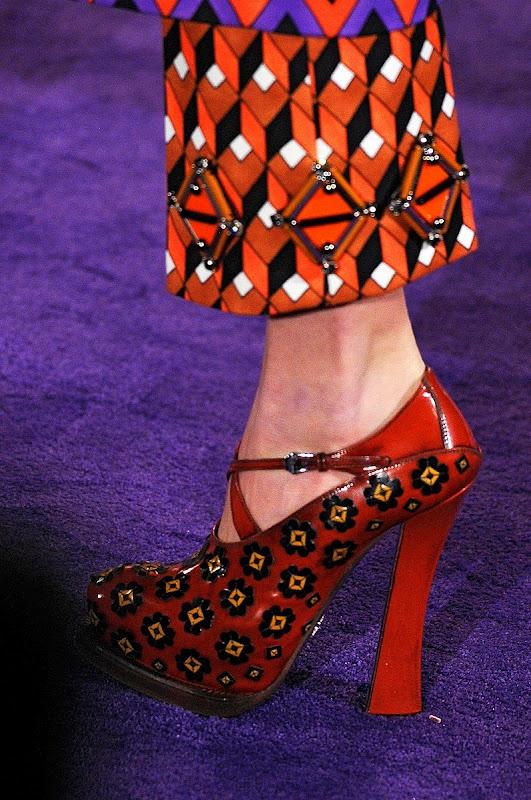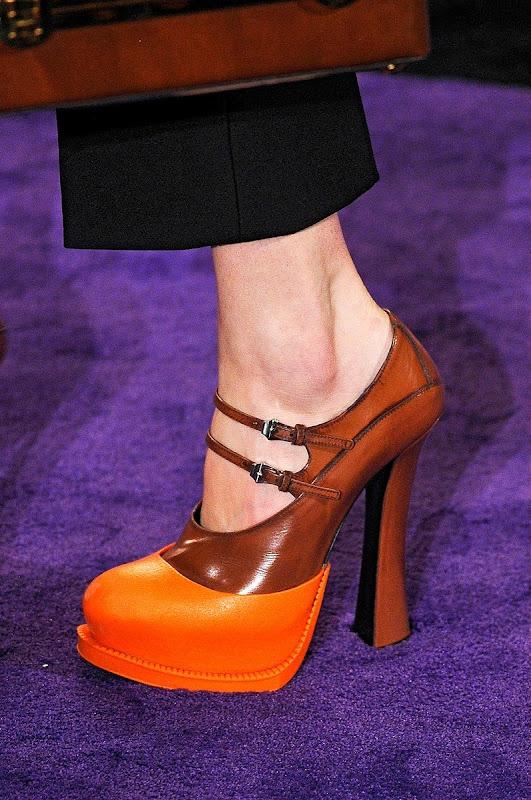 5. Shoes 2012-2013: fashionable materials
Textiles, many textile. It is clear that the practicality of such shoes is minimal, but to celebrate it at the time. Options to decorate shoes and even boots - weight. This and embroidery, sequins, mesh, sequins, belts, buckles, lace, knitted items. In this part of the fashion trends of 2013 are endless. Generally, the use of fabric materials for shoes made it possible to cut shoes as you like. Tuck in the forefoot, tucks, pleats. Soon, these features enable design slozhnosochinёnnye model shoes and sew them we'll be on the order according to their own standards.
Lwren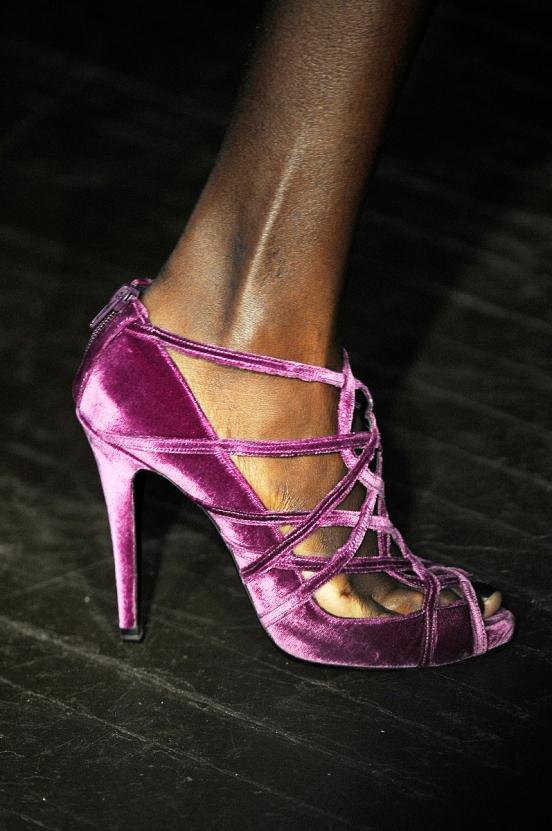 Marchesa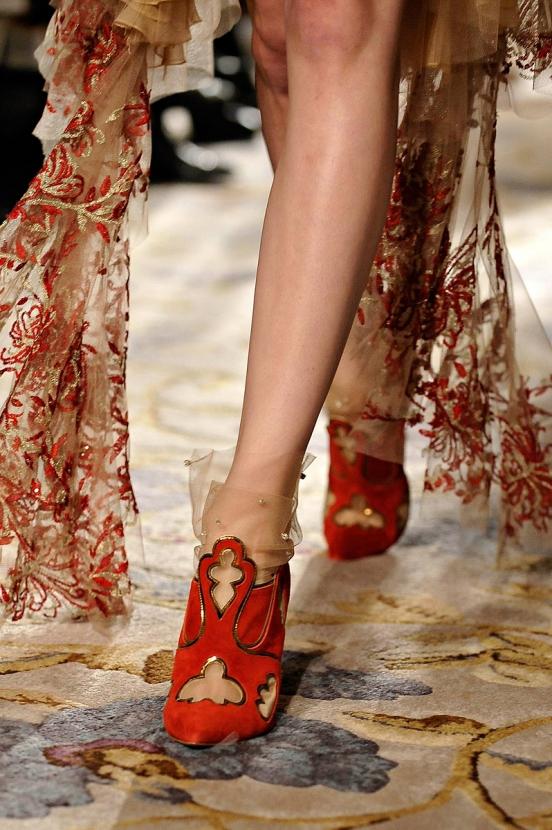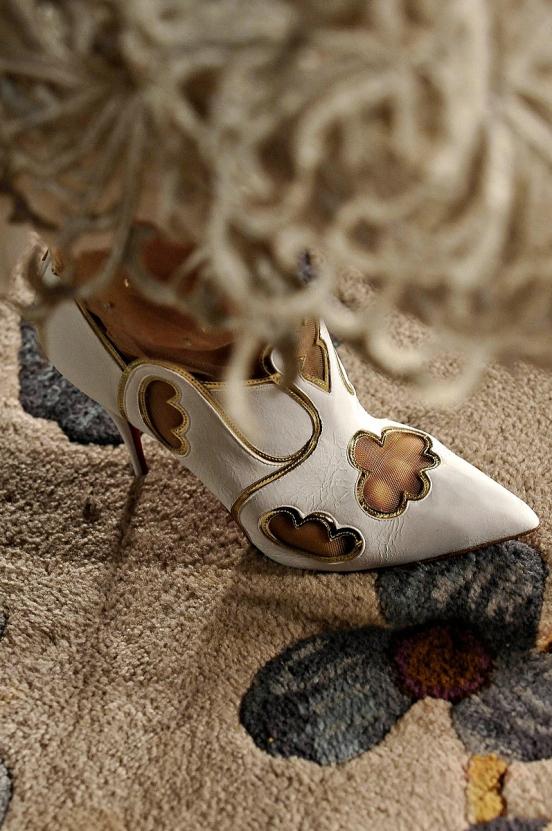 Oscar de la Renta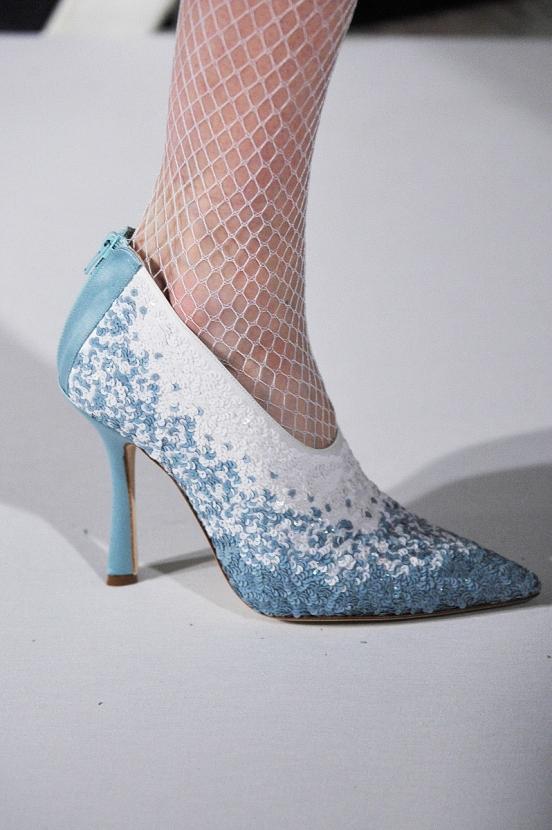 Prada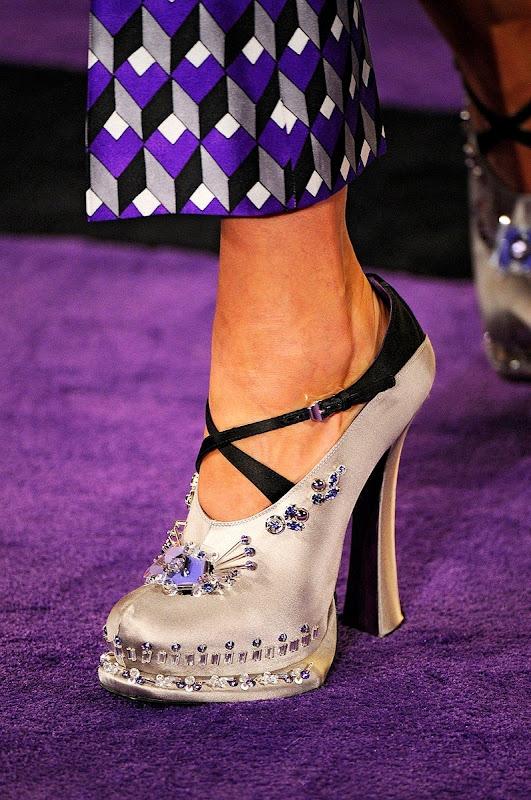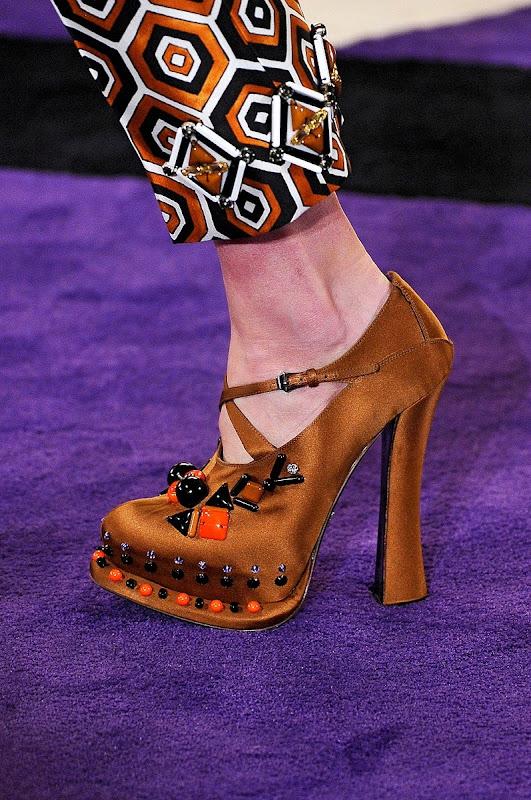 Stella Mccartney
Natural skin colors, embossed "crocodile" and "snake", suede. Classic in its pure form, the form can be any material - only quality and natural.
Stella Mccartney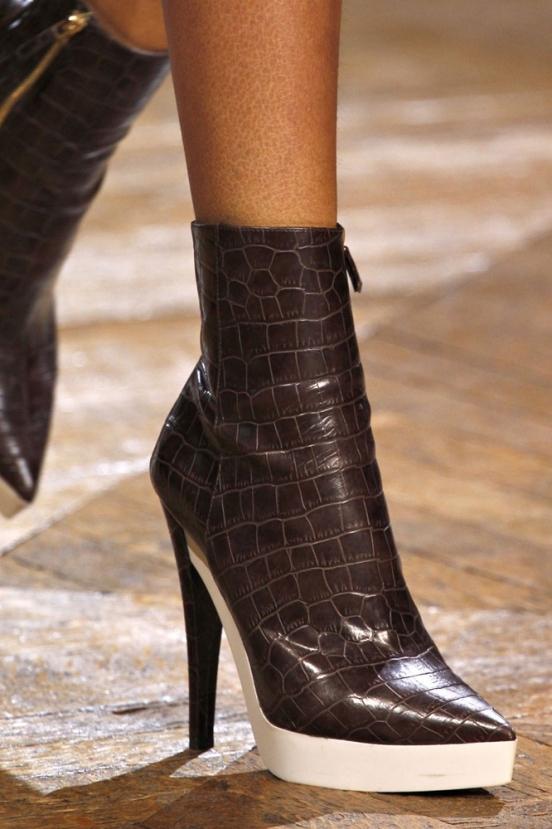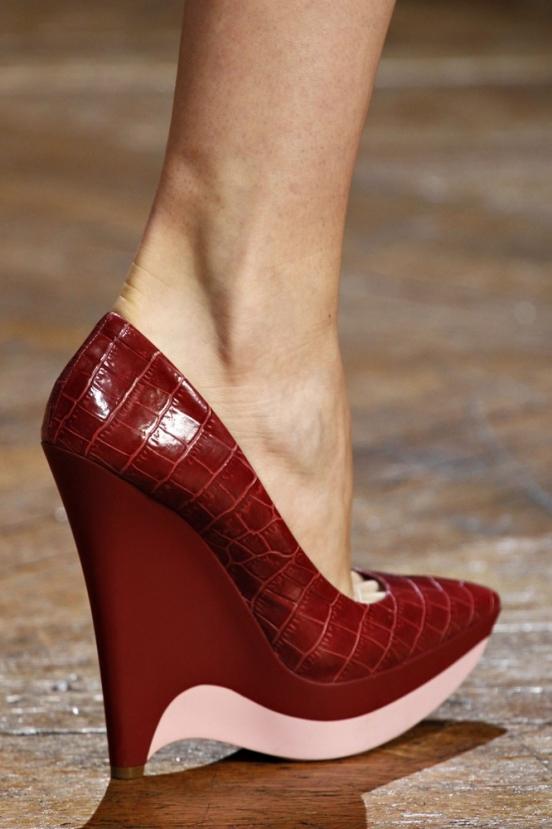 Louis Vuitton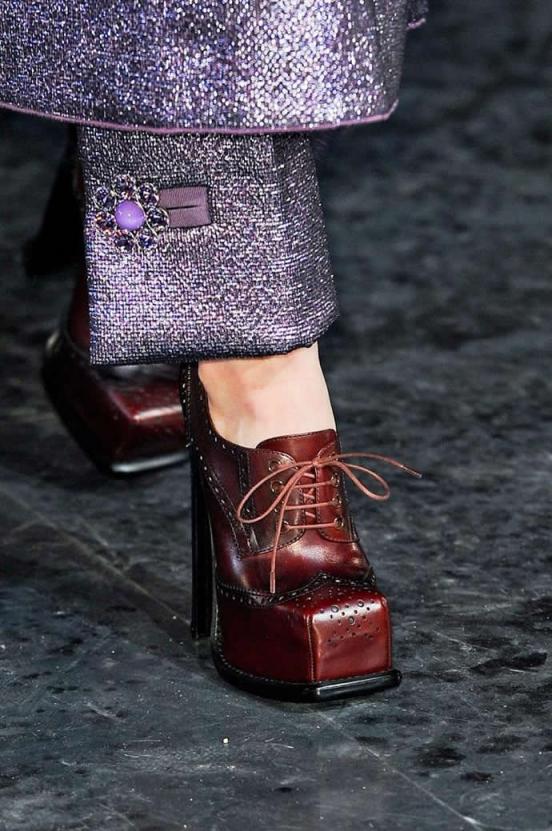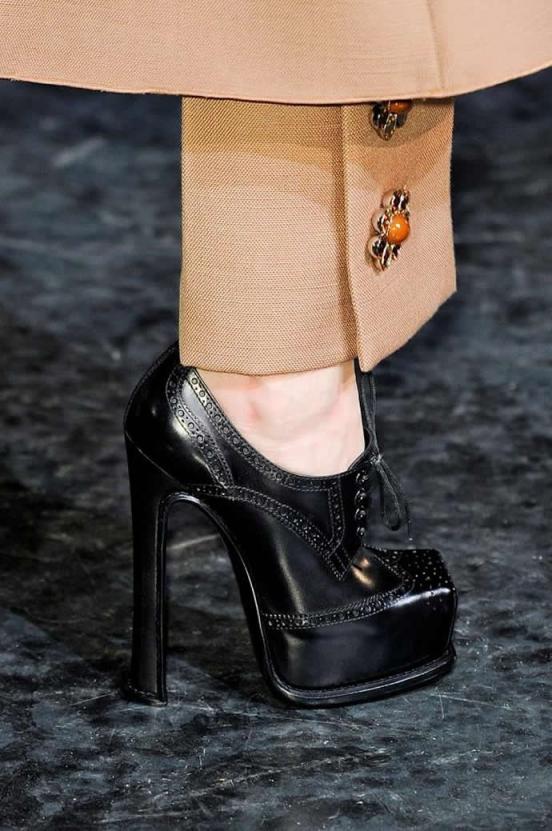 Fur is not news for shoe trends. In 2012 boots and shoes of all kinds and colors of fluffy still at the peak of popularity.
Alexander McQueen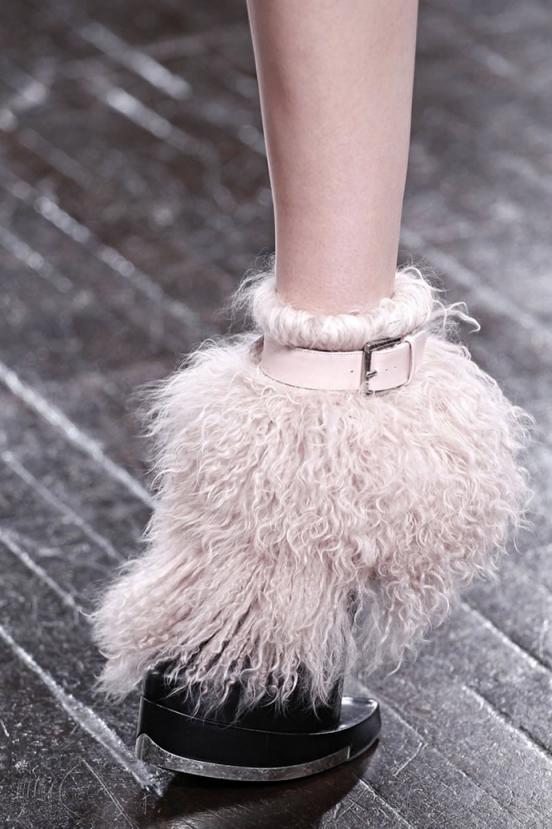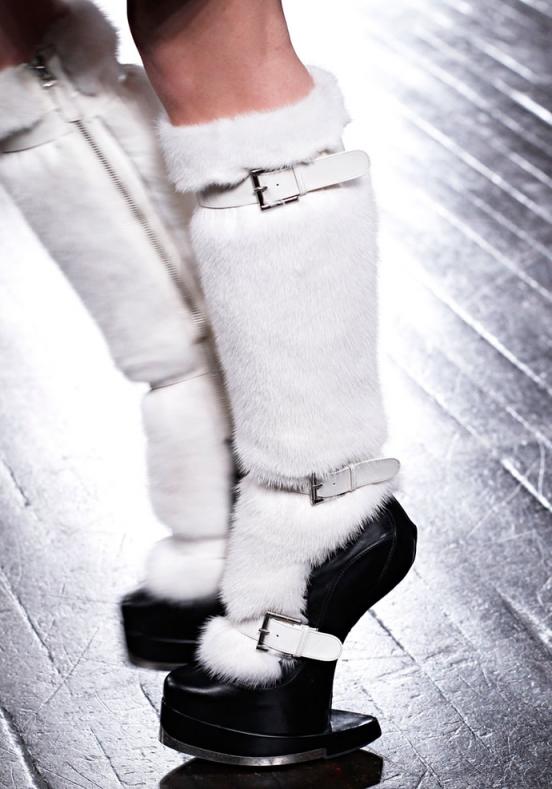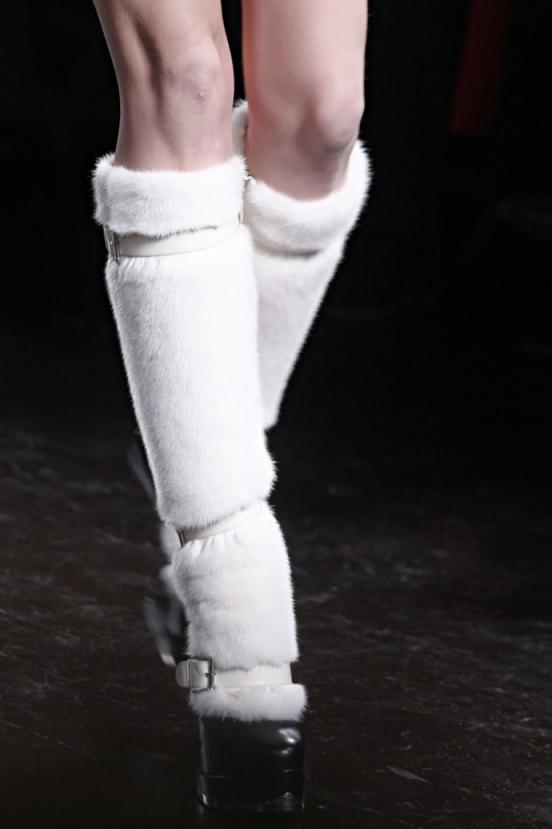 Oscar de la Renta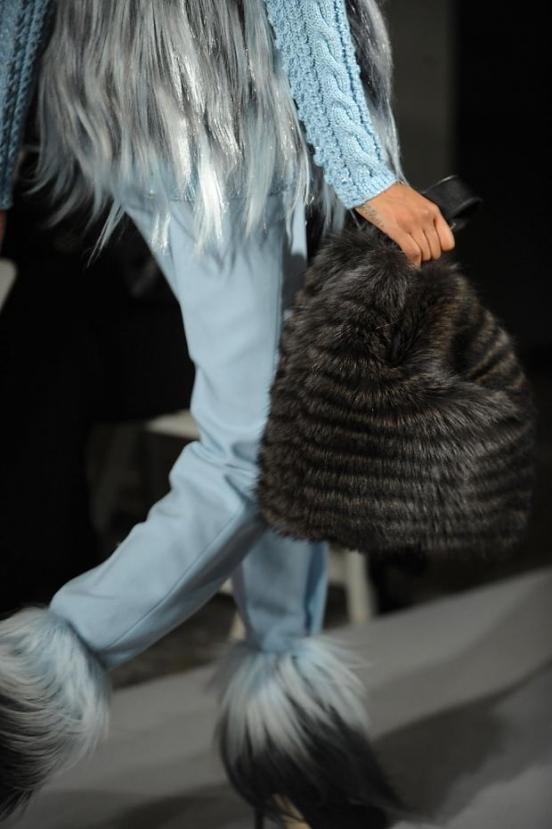 6. Shoes 2012-2013: heel
"A drink" prevailed in the shoe fashion from the beginning of the emergence of high heel shoes. Only Dior, in the middle of the last century, replaced it in the hairpin. Now heel in the form of elegantly curved legs glasses trend shoes fall-winter 2012-2013. Perhaps not enough time has passed to a heel did not seem old-fashioned to us. But this is the fashion element: make unacceptable - mainly, controversial - ostromodnye.
Dolce & Gabbana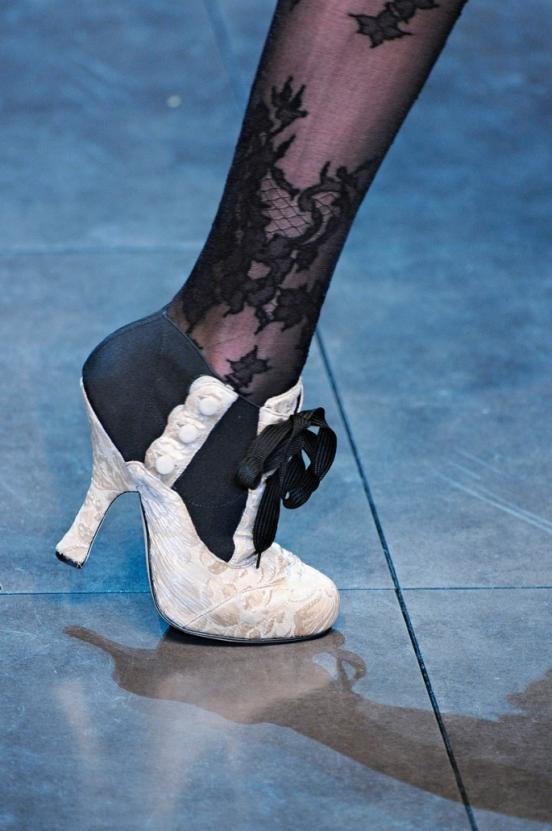 Convenient square heel and flat sole complement one of the main trends of the autumn-winter season 2012-2013: masculine style. In such shoes women's ankle look thin, and the image as a whole - defenseless and charming. Convenience - very nice trendy bonus. Combine mannish shoes in any way was easy. Such a fashion reminiscent of the game. Moreover, the main purpose of it is not just a favorite pastime, and intellectual component.
Prada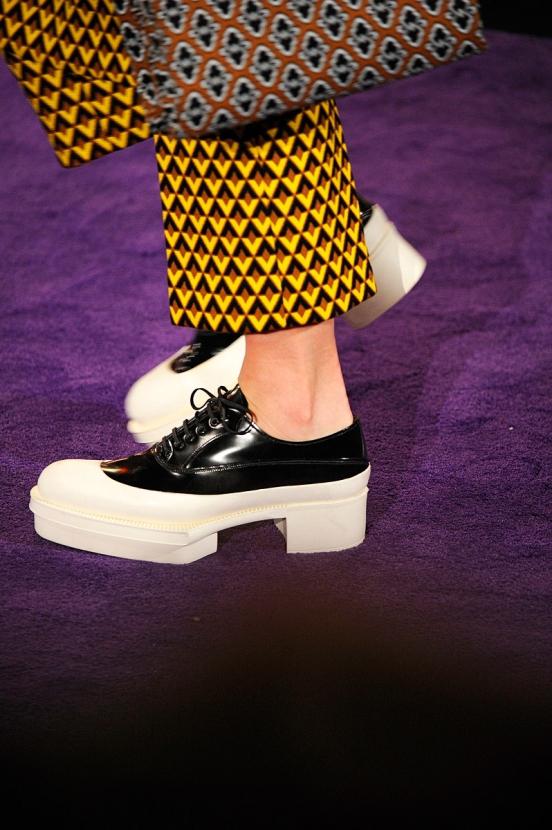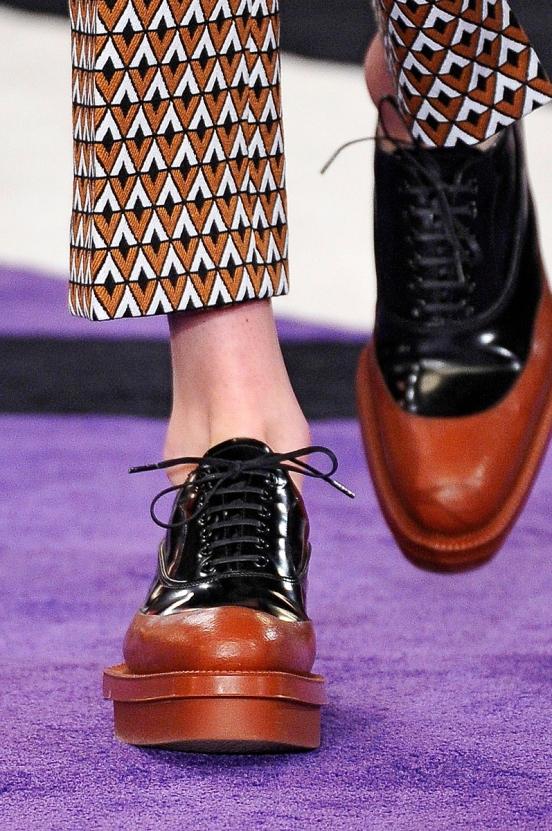 Miu Miu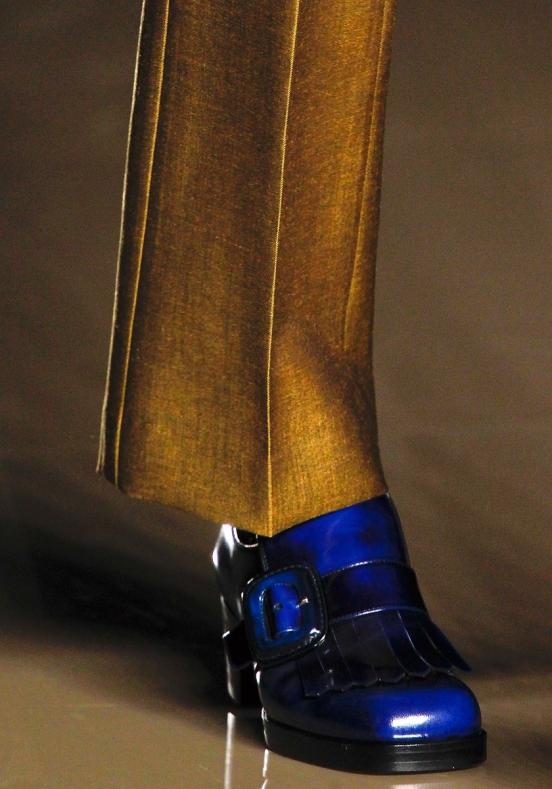 Stable wide heel. He came to the podium as an illustration of a passionate desire to bohemia rail journeys of the first half of the 20th century.
Michael Kors
Chanel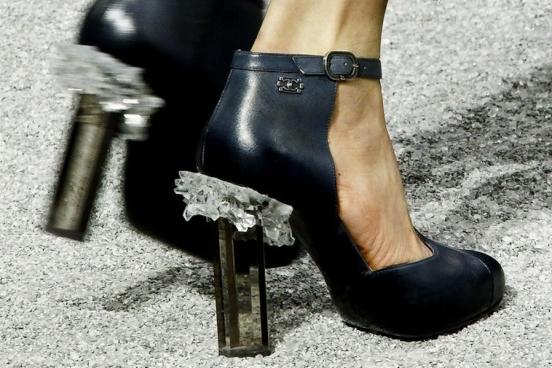 Classical pin. Oddly enough, but it was a lot on the podium. Sharp nose shoe relevant, but not enough to invade the personal space of others. It is "reserved" must be the boat, and with them, and look a whole.
Alexander Wang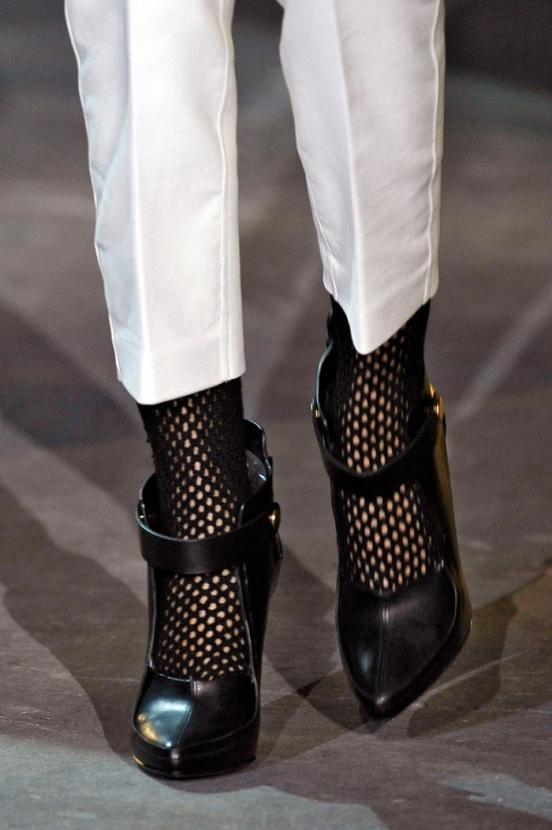 Fendi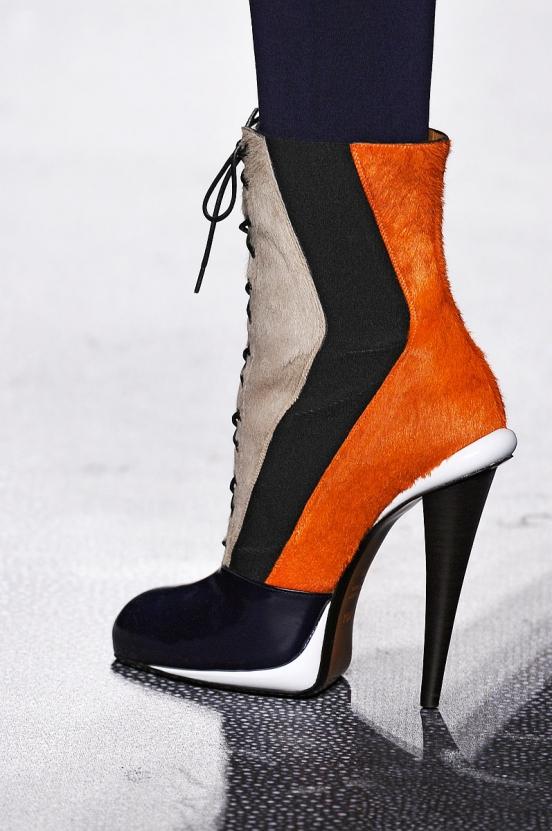 Miguel Vieira