Prepare sleighs in summer ... Perhaps this is generally true for buying a winter coat. But we have a girl - people are unpredictable. And sometimes so want to please yourself with something relevant, stylish, new in the high season. Especially on the nose of the most important winter holidays. Well duck what will surprise people coming in winter 2012?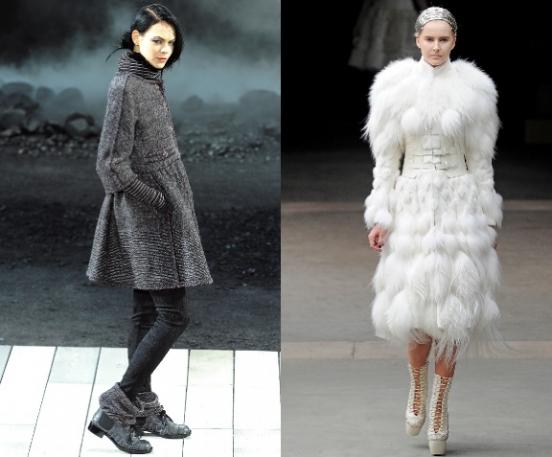 Chanel \ Alexander McQueen

Trendy set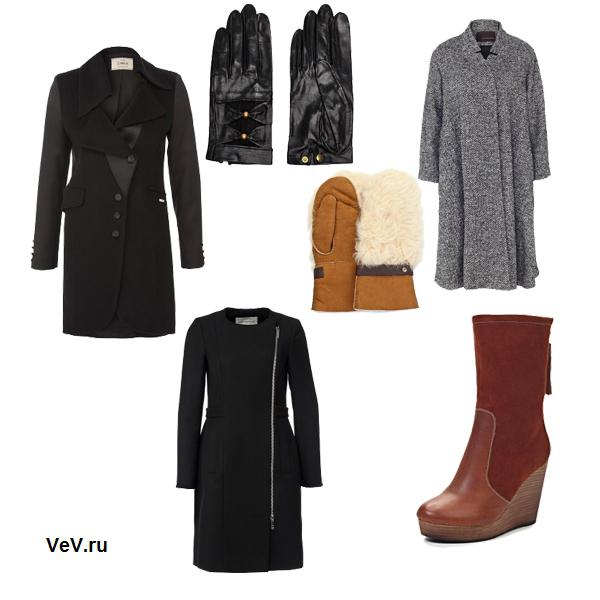 BUY PRODUCTS FROM SETH

Coats TWENTY & TWELVE BY S.MILLER
16 930 rubles.

Coats CHAPURIN
21 000 rubles.

Coats Aniye By
8240 rubles.

Mittens UGG Australia
9900 rubles.

Gloves Georges Morand
2850 rubles.

Ankle Molly Holly
4410 rubles.

Winter coats 2012: Maxi-length

Those who care about health and prefer to look trendy pay attention to the maxi model. Long coat to wrap up you from head to toe. How is it nice! Especially in winter.
Antonio Marras \ Haider Ackermann
Dior \ Giorgio Armani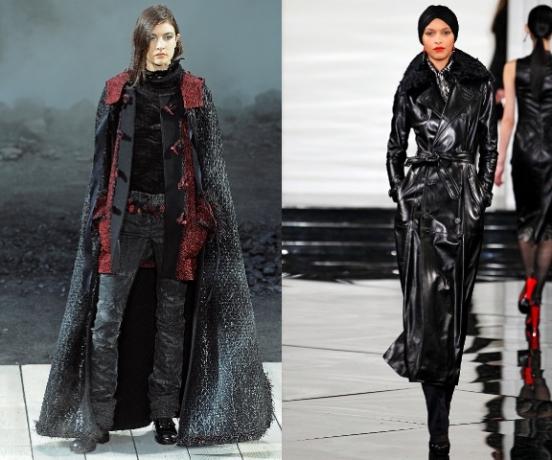 Chanel \ Ralph Lauren

Winter coats 2012: Cape

Trendy capes are relevant in snowy seasons. Dressing such a thing, you feel like a real Zorro or some daring musketeer. Superheroes, bullfighters ... There are more associations. So as not to fall from hypothermia into the first snow, it is advisable to wear a cape even any coat or jacket. That's what the designers are offering us.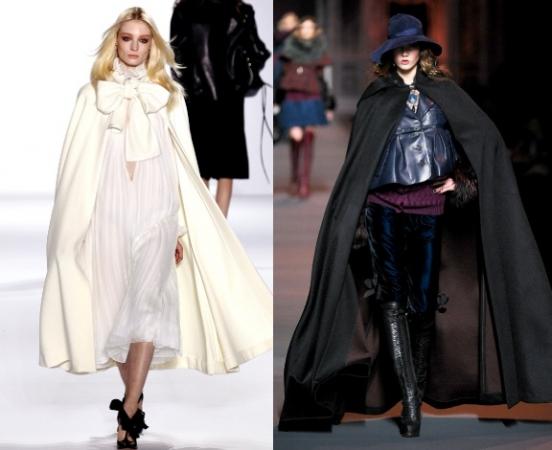 Chloe \ Dior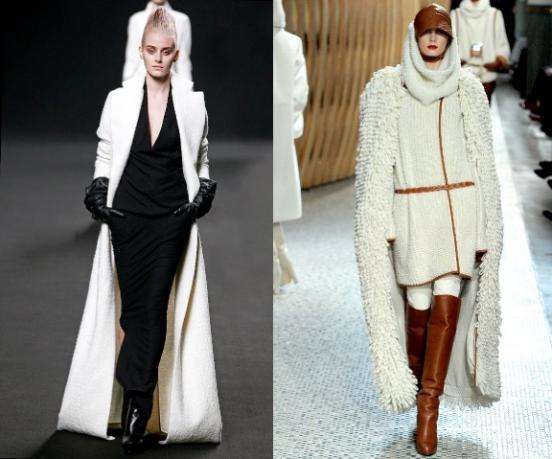 Haider Ackermann \ Hermes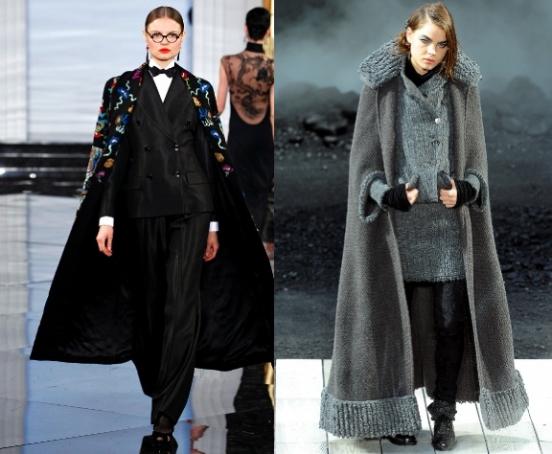 Ralph Lauren \ Chanel

Winter coats 2012: Straight lines and volume

Free cut coats - this is a real trend. Direct and solid models now enjoy unprecedented popularity. And even in Russia. We have our own motivation - under a coat hook can be a warm sweater, without which it can not do in the winter.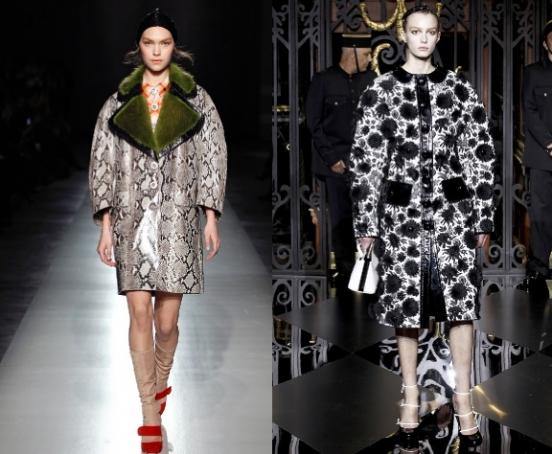 Prada \ Louis Vuitton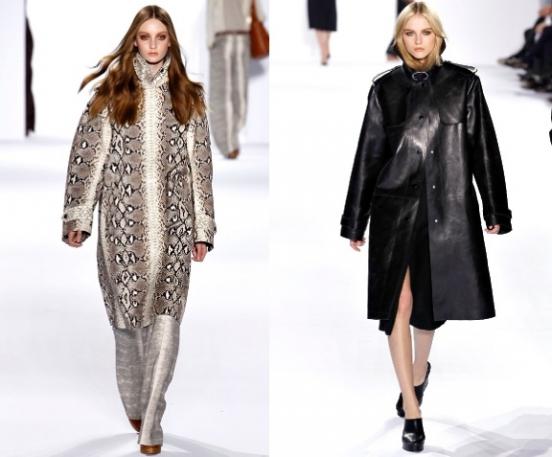 Chloe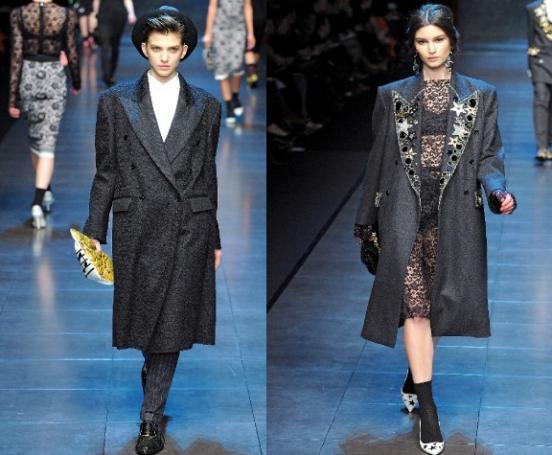 Dolce & Gabbana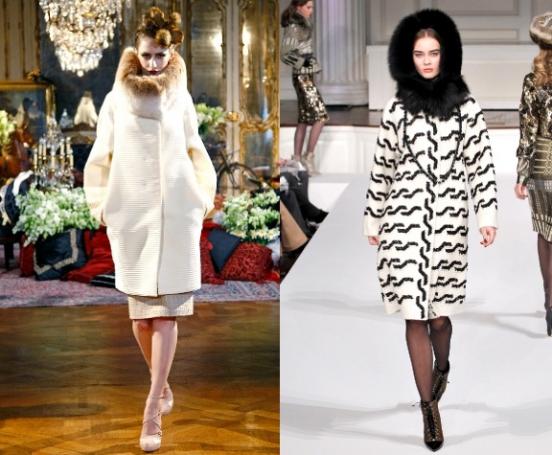 John Galliano \ Oscar de la Renta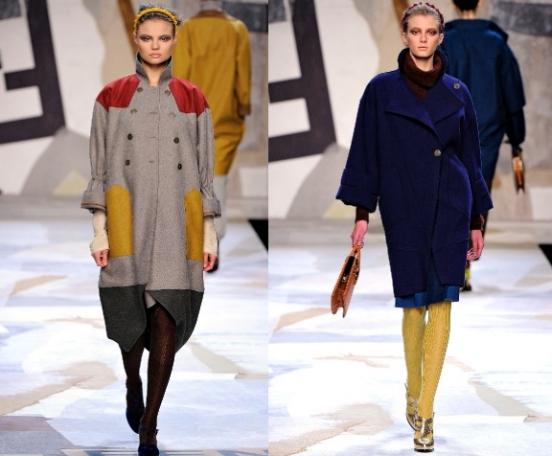 Fendi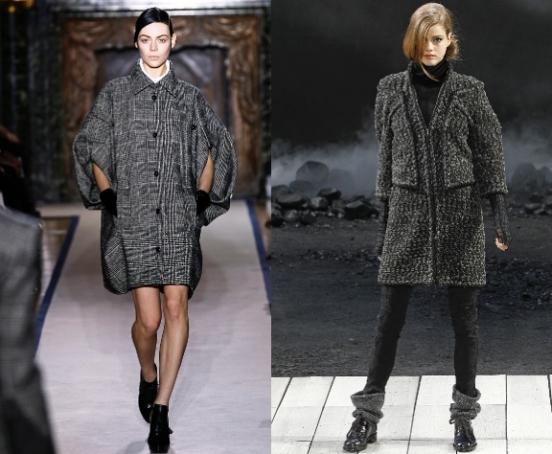 Yves Saint Laurent \ Chanel

Winter coats 2012: Tochenyi silhouette

But, as they say, from the feminine slim line models or anywhere to hide or escape. Moschino, Gucci, Louis Vuitton, and not only presented the ladies chic winter models in many different variations.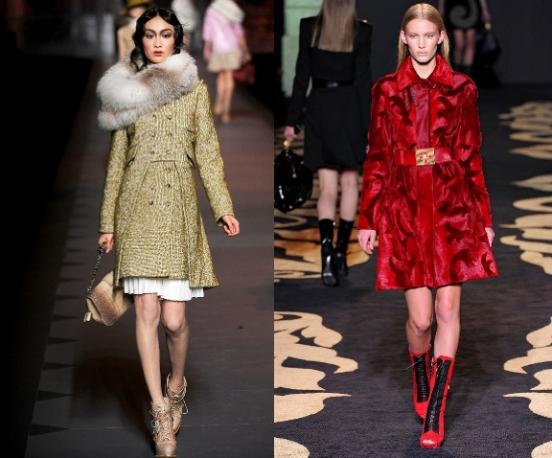 Dior \ Versace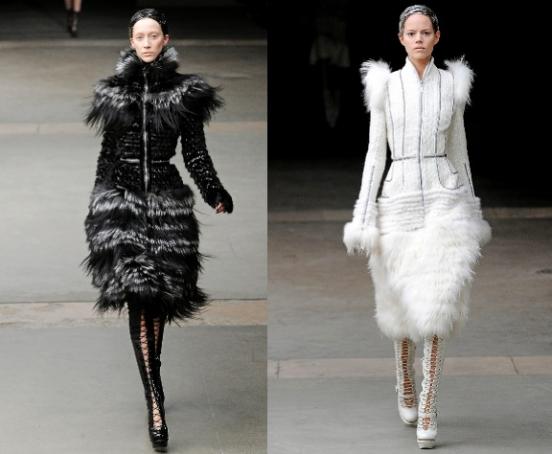 Alexander McQueen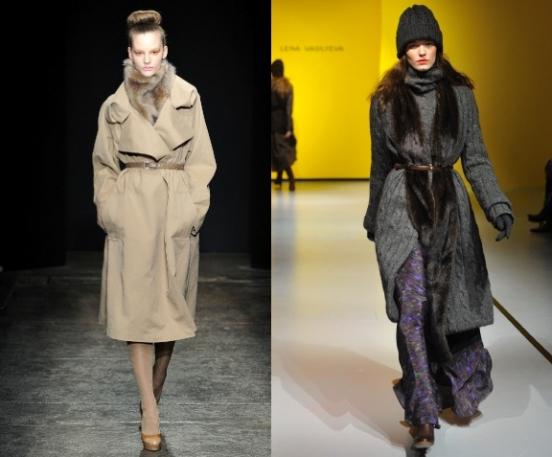 Donna Koran \ Lena Vasilyeva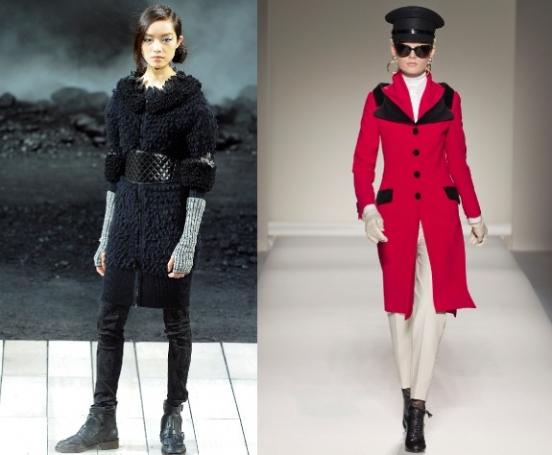 Chanel \ Moschino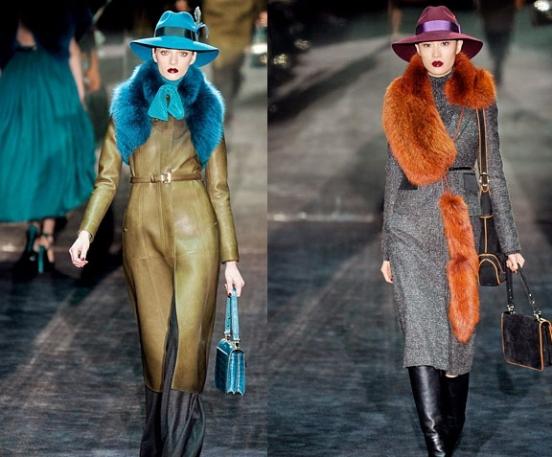 Gucci

Winter coats 2012: C fur of life

Winter and fur - inseparable concepts. I would like first of all to pay attention to the abundance of bright fur on the catwalk.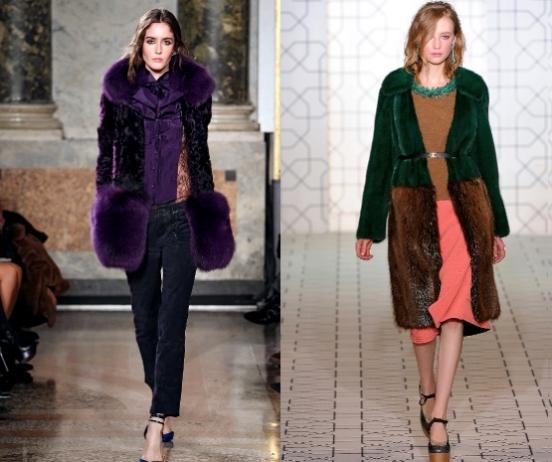 Emilio Pucci \ Marni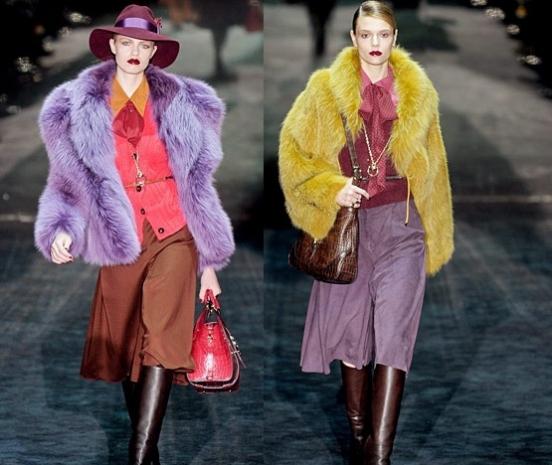 Gucci
Coat this season decorated with fur collars or other soft inserts. They say, fur fur strife. But today's designers do not think so. Today, in honor of any fur. Do you want to - fox and mink. You want - yak and goat. Yes, even for those who are against the destruction of animals, there is an alternative - fake fur.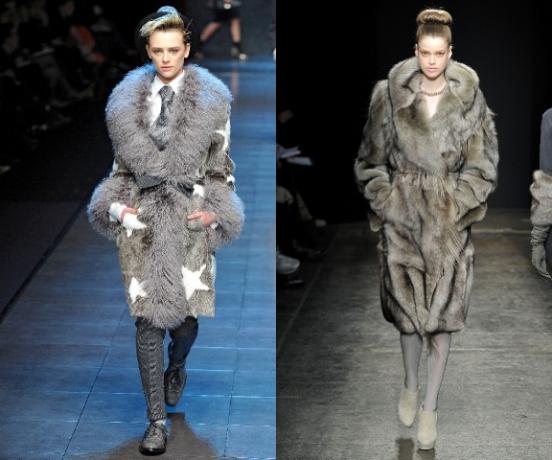 Gucci \ Donna Koran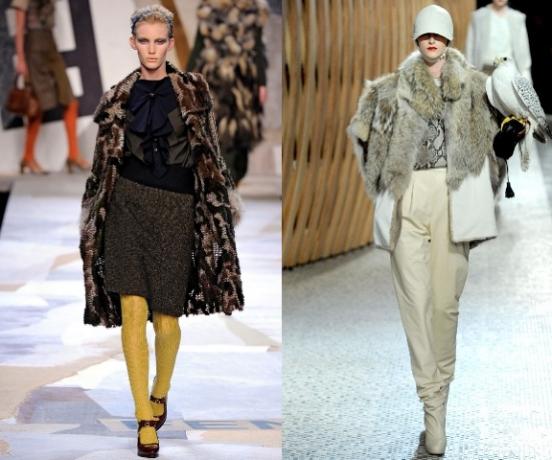 Fendi \ Hermes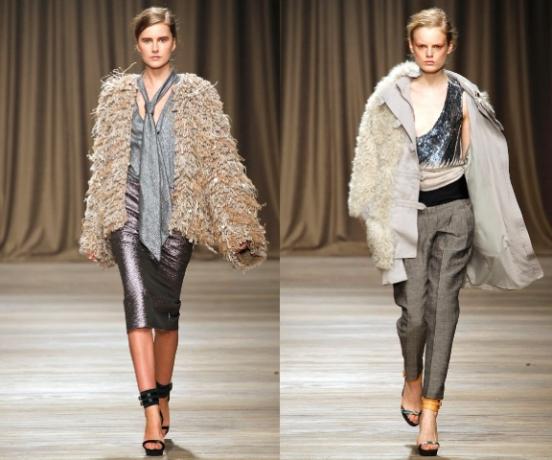 Iceberg
Lena Vasilyeva
Marc by Marc Jacobs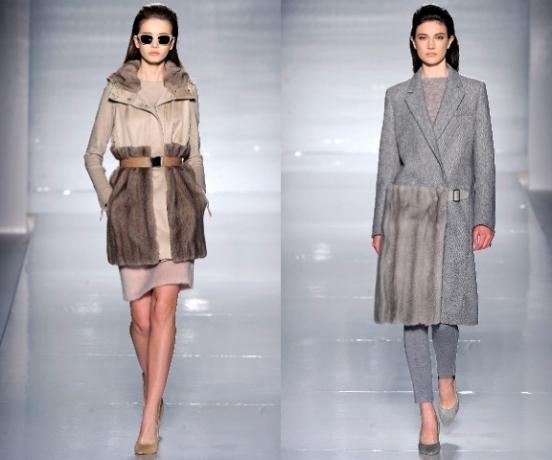 MaxMara
Oscar de la Renta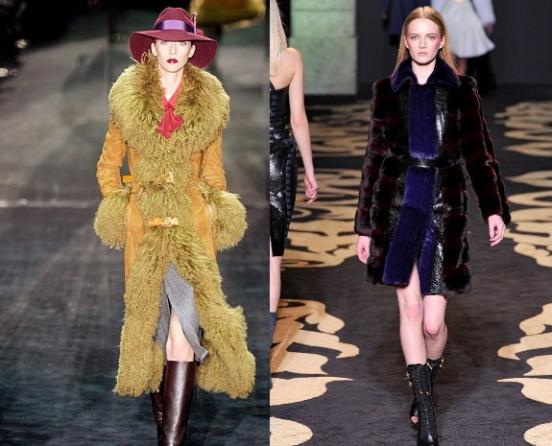 Gucci \ Versace

Winter coats 2012: Color abundance

Winter is not pleasing to the eye a riot of colors. May God grant to meet someone in a bright pink hat - immediately mood rises. Designers have decided to help us survive the harsh winter monotonous routine. Meet the colorful patterns winter coats!
Opens five original models nondescript coat from Gucci. But in combination with the bright and wonderful fur hat model looks great.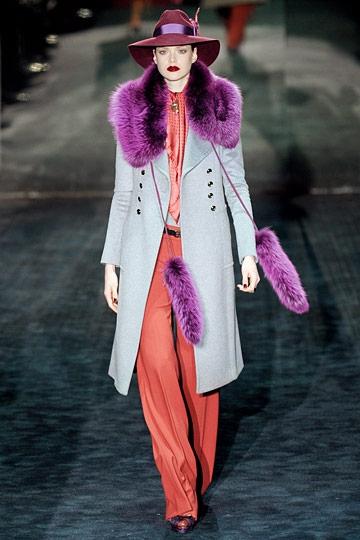 Gucci
In fourth place tiger coat from D & G. Well, predator? On the hunt!
Dolce & Gabbana
In third place the geometry and volume. It looks lush and stylish.
Hermes
The second place of honor - fur jacket from Bottega Veneta. Bright Mandarin, which is the true symbol of the holidays!
Bottega Veneta
Well, at the head of the parade - Oscar de la Renta. Bright colors, Russian style and simple cut for real beauty.
Oscar de la Renta

Winter coats 2012: Shorter model

Do not ignore the truncated model. Warm and stylish, they are ideal for avtolyubitelnits. Agree to press the pedal in a long coat can not each. In order to avoid an accident is better to prefer a short model.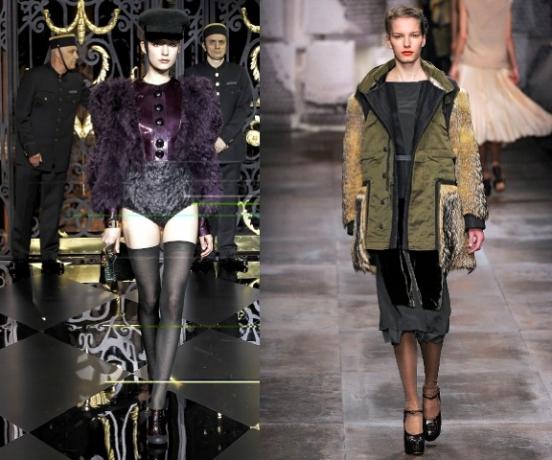 Louis Vuitton \ Antonio Marras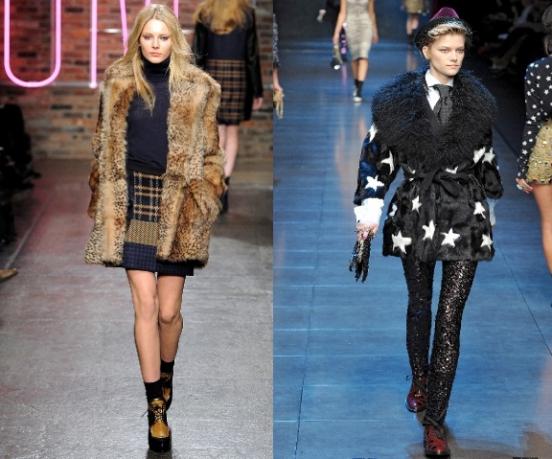 DKNY \ Dolce & Gabbana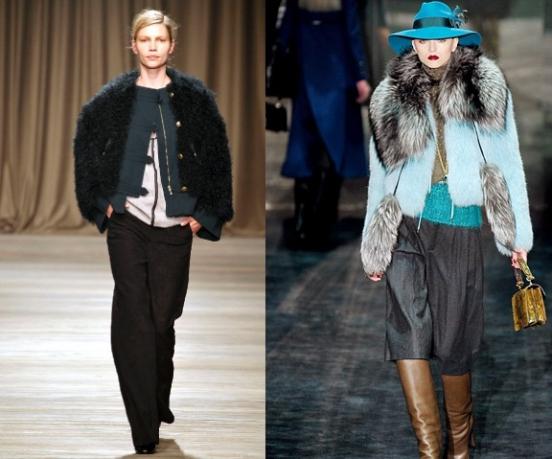 Iceberg \ Gucci

Winter coats 2012: downy happiness

Well, I want to finish on a favorite dress of all Russians - down jackets. Hollow coat is the best suited for our harsh climate. For those who are afraid to freeze created a collection Nina Donis. Of course, these models are very reminiscent of rustic coats. But the heat.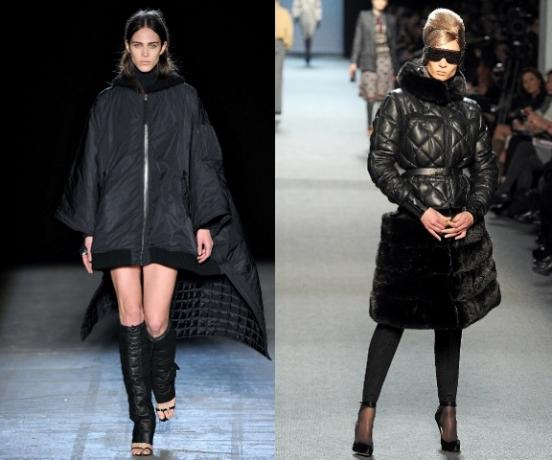 Alexander Wang \ Jean Paul Gaultier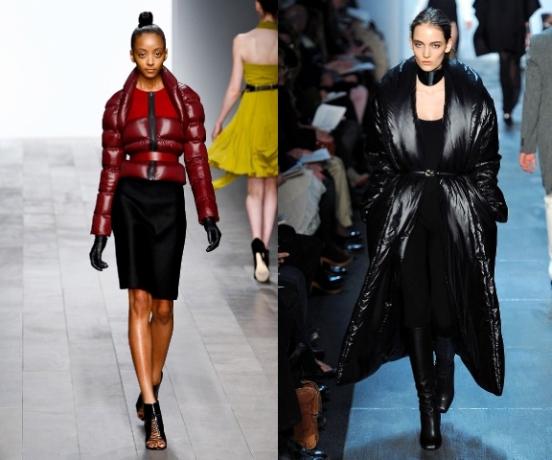 Marios Schwab \ Michael Kors
Nina Donis
So, girls! Before the New Year a few days! And that means - it's time to buy a new winter coat. Or two. Or…