Hello!
Today I invite you to meet my family, but rather look at what toys to play my malyshnya and what gadgets enjoyed. The compilation of a lot of children, it is not for children and not the children's devices. I invite you to our first "family" review.
Grush

Interactive toothbrush labeled «smart» - and experiment, and the need, as Arseny, like many children of his age do not care too much about the health of teeth. And, like many children of his age, with great pleasure pulls sweets.

This force / explain that brushing your teeth - a clear need, we can not, and he is not interested in the process of throwing it. We have ourselves, "trimmed", often with a "kicking" and otnekivaniyami. In the dental office we have already visited and RDK (early childhood caries) has offered treatment.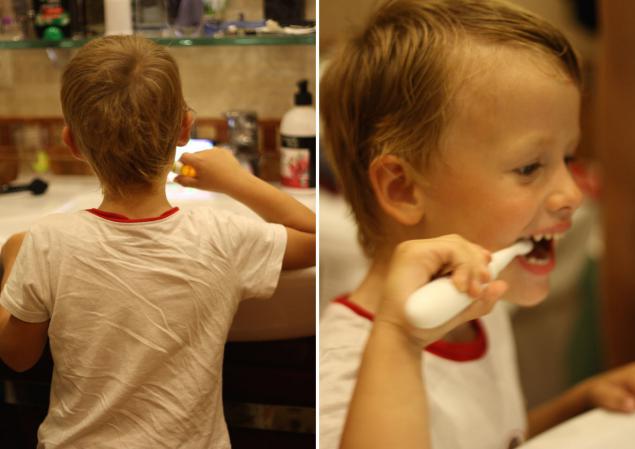 Chip умной toothbrush Grush - «geymifitsirovannost." It interfaces with IOS and Android devices via software, where children have the opportunity to play 2 minutes into the game, but for the parents - to monitor the quality and quantity "approach."

Actually, the game as a method of "habituation" to the brush is recommended and psychologists, and dentists, and it works. The child turned out to be fascinated by and immersed in the process so that at the end it was impossible to pull. However, he did not notice that cleans teeth, and for him the whole process boils down to "kill the bacteria."





For our age - 3 years - the game itself turned out to be very dynamic, and Arseny barely keep up with the plot, in which in different parts of the mouth appear harmful microbes. The photo shows that he brushes his teeth is not where provided for in the moment, and arbitrarily, but he stands before the end of the allotted time. And he asks for more.






Brush Grush is offered in a small box, where you will find three removable head. It works on a "mizinchikovoy" batteries and syncs via Bluetooth to IOS devices and Android.

Appendix game:

IOS Android
 Parental Control:

IOS Android
 * Tested on both platforms i>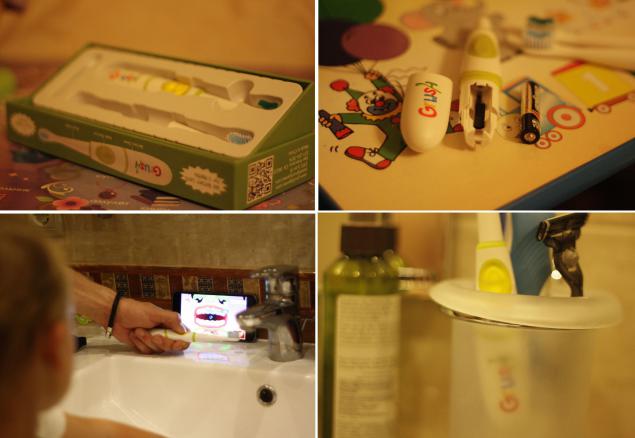 Important For me it became a matter of principle can disable vibration. Brush - electric, so buzzing. Arseny wary refers to this type of sounds, such as a drill, all sorts of chatter, and I knew that to make it stick in his mouth something like that - will come. But even though the brush head is not rotating, the vibration is. A second press of the button after switching removes it without interrupting communication with the application, and in our hands - the most common brush.

Cardboard

Guided by personal experience, and нашей selection , tossed into the house points VR, and then turned, as they say, and the children to amuse themselves and entertain. Games, even the simplest, were not very clear, but are able to take virtual tours of children at some time. And my wife was fun to watch as they walk around the home, bumping into doors.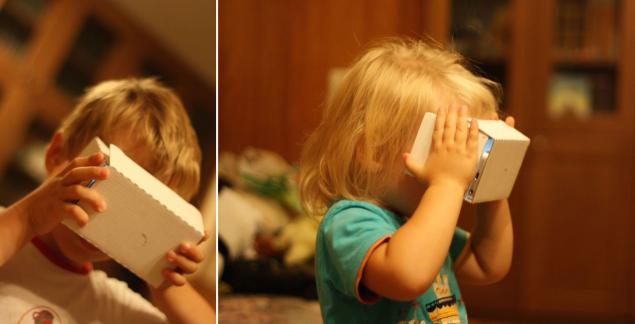 The most favorite was the "Train trolley» Fibrum. By the way, a special interest for young children may be the process of assembling Cardboard, and for them it is also a part of the action games.

We tested for Iphone 5 эту Model , cardboard and 6 for Iphone Plus пластмассовую.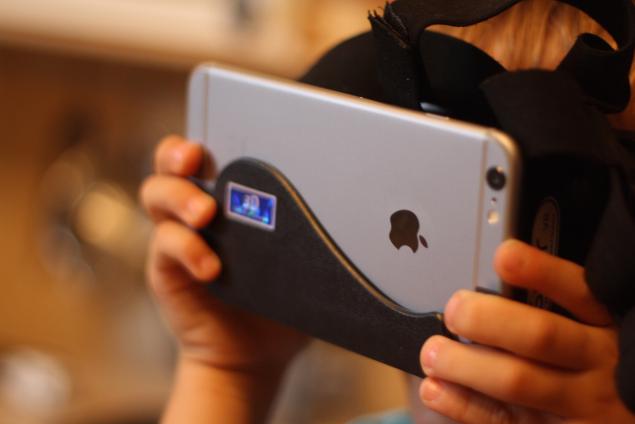 Hold the course, they were all this is not so easy, I suspect that there is a visual turn out to be absolutely clear, so long we are in this process did not participate. But the spectacle they are clearly fascinated, and when they are older may well have fun this way.

Important By the way, that's cardboard box has got such a warning that the magnets can interfere with the pacemaker.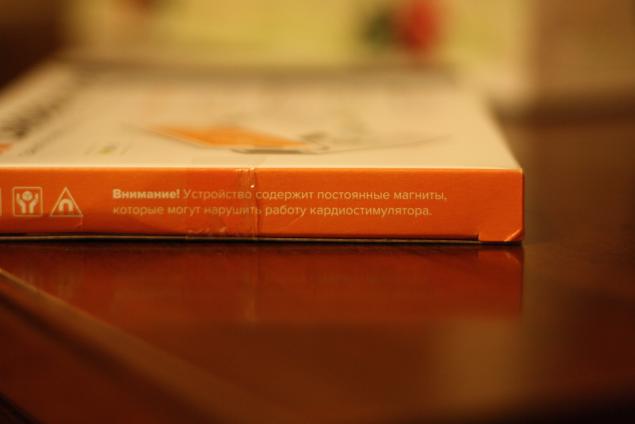 Treat it as a souvenir or gift to schoolchildren - can, however, VR entertainment for a lot more than "educational". Have a home - you can. Also, you can make yourself and the projector from a magnifying glass, drawing paper, and shoe boxes. However, one does not exclude the other.

IMPORTANT. I'd add that most seemed to интересным application EON , which contains pictures of the many areas of human knowledge and activities: architecture, history, electronics, transportation, biology, anatomy, and others.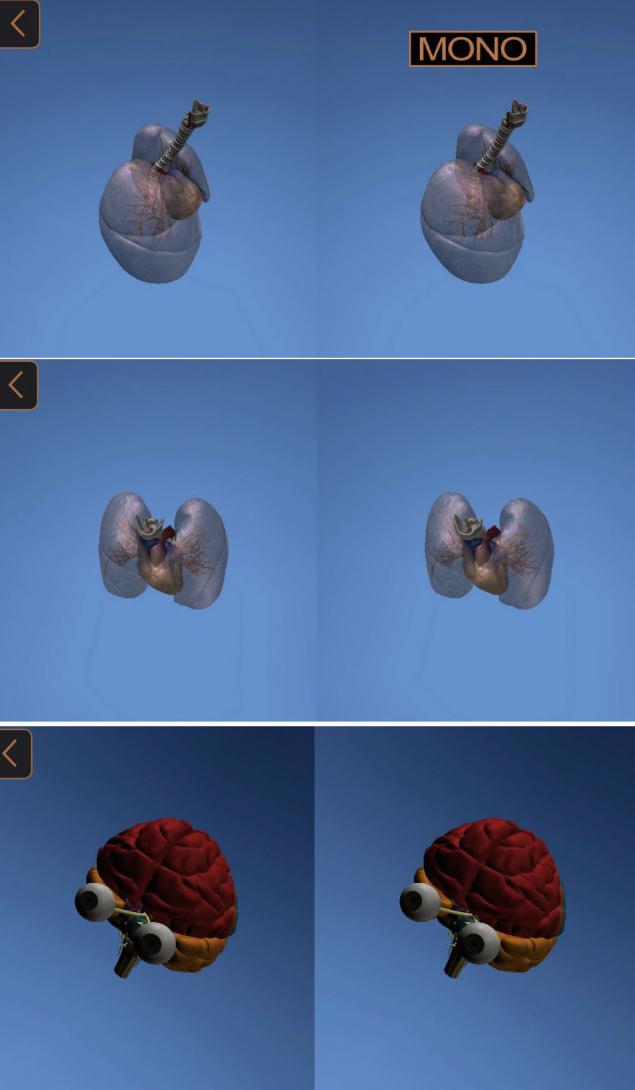 You can admire the eye, brain, military vehicles and dinosaurs, and if there is no head-mounted display, the same images are available online «Mono». I recommend a look.

Verve

Interesting, but not "past age" device - универсальная fee for creating your own control algorithms for something or "development" of simple smart devices.

We started with a simple: change management usual flash toys. For example, trying to simulate the press of a "gap" cotton or imposition of a separate button.





However, the functionality of this board a little wider, and it can help with older children can discuss the basics of programming, algorithms, specify your own alert about any events, such as sending letters, if the house turned on the light. What kind of "security." Once all this was a small review on Habrahabr .

The card works with 8 sensors, which are connected in series to the terminals, then select the action that they will perform, as well as the conditions under which this will occur.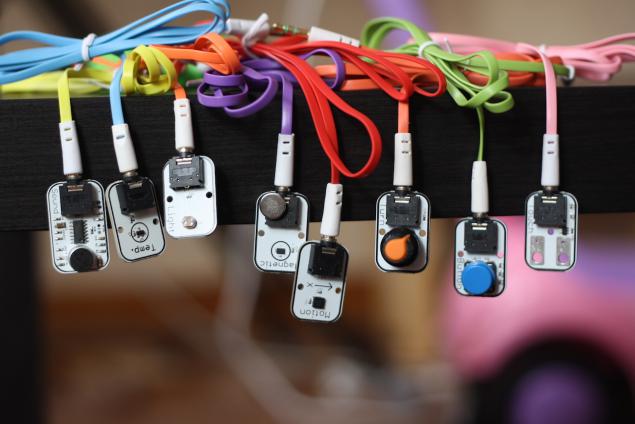 Comes with software and copyright are two simple toys on a flash drive, and "space" the story of one of them with simple controls understandable for children and not very "tough".


Hmm. I have not wiped laptop. Excuse me. I>

Verve2 sold in a small gift box, which contains all the necessary wiring, crocodiles and of course, the sensors.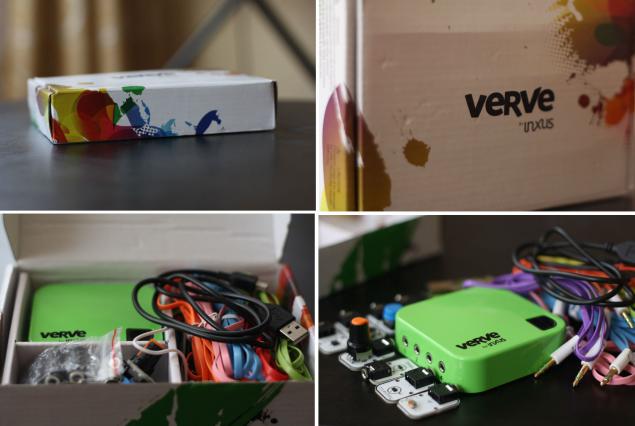 The device connects via mini USB, then you must press a single button. No additional settings are required: all on a flash drive. It works on Windows, and MacOS.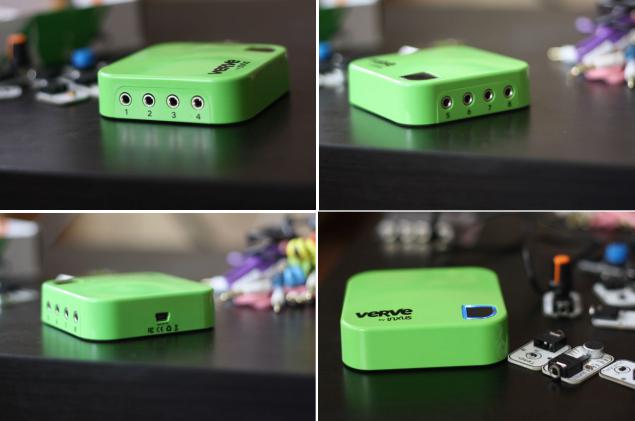 So far, продается in Medgadgets , and for more details you can refer to the official site .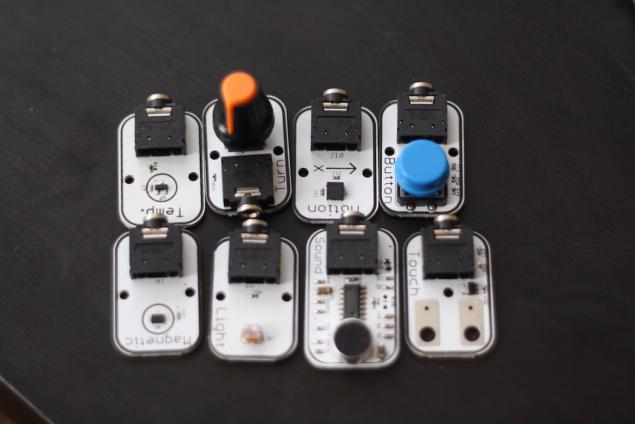 Sensors as a set:


Button sensor - the sensor is fixed by pressing the button. He performs measurement when you release the button is pressed. Click on the button to the sensor react; Light sensor - light sensor - measures the level of illumination. For example, shined his flashlight or provide shade (covering the sensor arms, his body, or otherwise), you can get feedback from the sensor; Magnet sensor - Magnetic Sensor - measures the magnetic fields. Hold it close to a magnet, for example, to that which is included in order to get a response; Motion sensor - Motion Sensor - measures the change in speed. Shake it, for example, from left to right to get a reaction; Sound sensor - Sound Sensor - measures the level of ambient sound. To get the response of the sensor can, for example, snap your fingers, clap your hands or talking / yelling beside him; Temperature sensor - Temperature Sensor - measures the ambient temperature. To respond sensor, place it in a cold or warm place; Touch sensor - Touch Sensor - measures small changes in the electrical conductivity, for example, when your body applies to both contacts. Include, for example, contacts to your body (and body of your friends) to get the response of the sensor; Turn sensor - the sensor rotation. The sensor measures the rotation of the rotation of the rotary knob. To get a response, you should turn the knob back and forth.
3Dali

Unboxing and review of the pen was one of the my first posts on Geektimes , and this is the most intuitive device for a joint recital with children.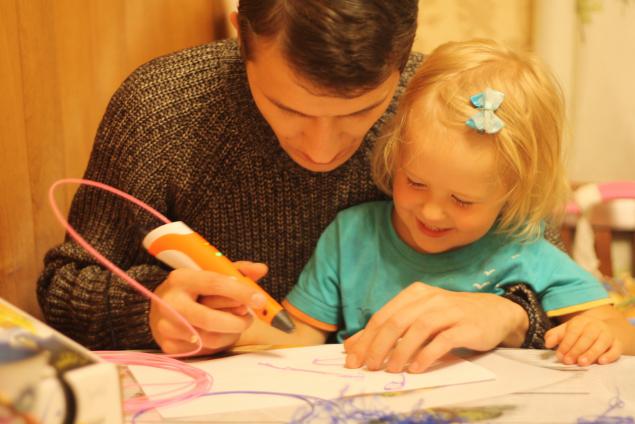 +


It's exciting Unusually
 -


You can burn Not everything Dear plastic that disperses instantly when you draw with the kids The smell, but the children did not give it value
 Draw bulky items with small children does not work, but they are very unusual, that the pictures can be taken in hand, to touch, to break, to change, to finish again, and so on. F. Little Ones of this age (2 and 3) not quite see in the creative process probably trying to remember and reproduce some steps:


To hold the line Stop Wait until the cool down Put Restart ul >
 While it happens that most of what I bring home for them - a wonder, and they try to participate in it, as just see something new, unusual for them. Willingly try on trackers, smart watches.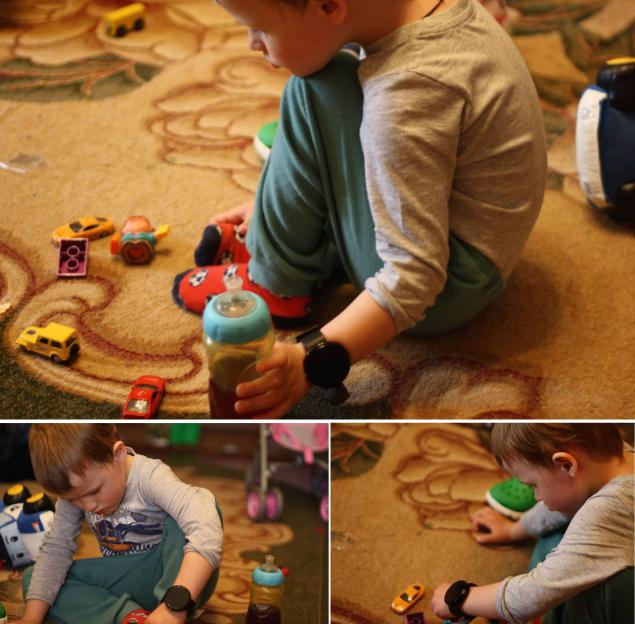 But the same 3D handle the systematic use when ceases to amaze, can be a great incentive for all sorts of experiments with form. In one form or another, I would recommend to keep something like this at home.

Luminous

Our timeless classic - driven smartphone лампа Luminous , known since the time when we wrote to Habr. Fixed joy.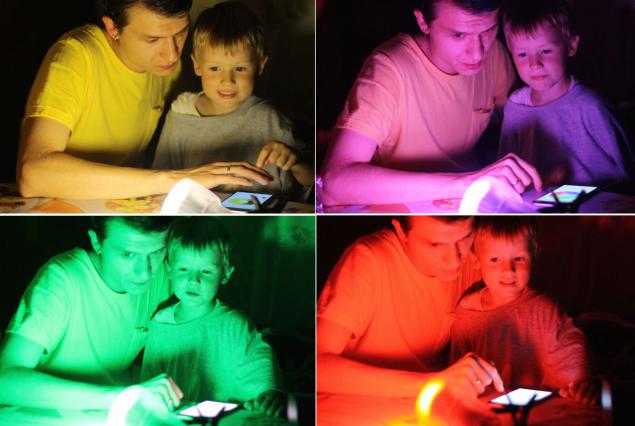 We can not say that it is in the full sense of "children's toy" from the category of "smart house", but the thing is uniquely attractive as a single object, which may be different. The most requested feature - a change of colors and shades, which can be used with a specific convention and methodological purposes repetition if rehearsed color.

Then, the different modes of interest, pre-flashing and flickering, and at the end of the day, when put to bed, child can turn off the light from the phone itself. In any case - it's fun, interactive and a little magical. What really.





The toy is not for two, as the lamp is tied to a single device over Bluetooth, and this - in my case - its main disadvantage.

Toys

The catalog has recently appeared and toys: drones, robots, robot designers a solar-powered, but that toy house - a mountain, so much on the subject do not bother. I'll tell you about the most simple.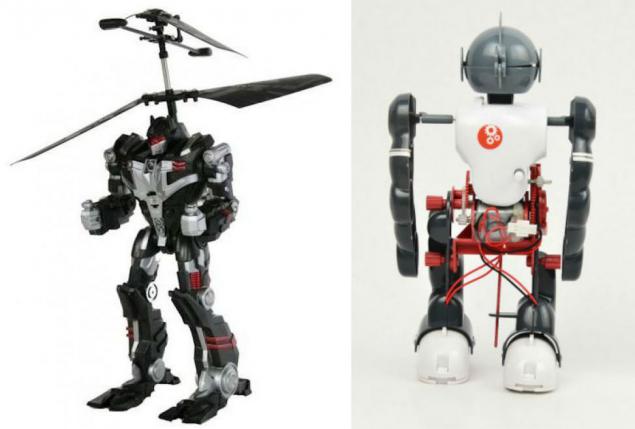 The incident robot which then falls, then rises, and so - until you get bored. For this show we need to заплатить 900 rubles . By the way, it will have to start gathering! Робот-танк-скорпион: Solar Designer. The model is not expensive, because the "set" is very limited, but for young children "3 in 1" - enough. 650 rubles. The easiest way - the bathroom - кораблик by Power Up . It is not controlled by anything. Just a motor and modelka.
 Separately, the company will add about Icon, which includes a range and crawl and roll and fly. We have, for example, Icon Tank . There are two colors, is easily controlled using a special application, so that the toy will be clear to anyone who has used similar devices with remote control.



The device interfaces in the phone settings, and then simply run the application interface. You can choose "Console" control or by using the "slope" phone in different directions. It goes from left to right, back and forth, shoots, turns the gun.



The application, of course, free.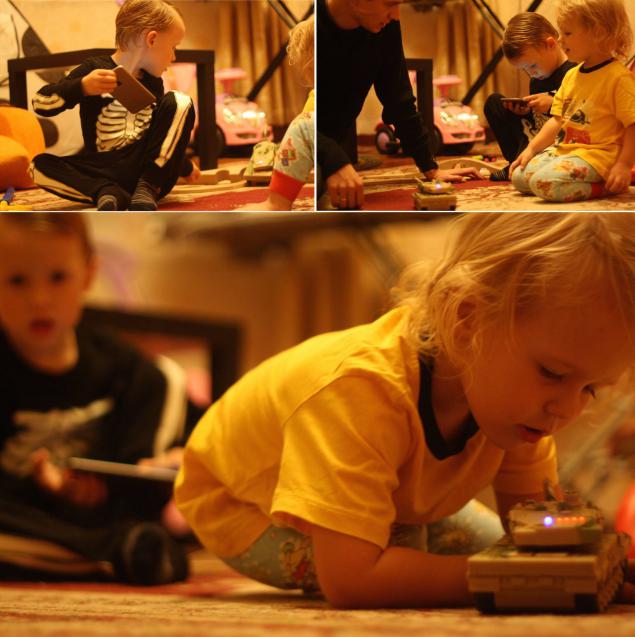 The girls, as it turned out, the tank is as interesting as the boys, so that at the time of pick up and put on another battle. Better than fighting.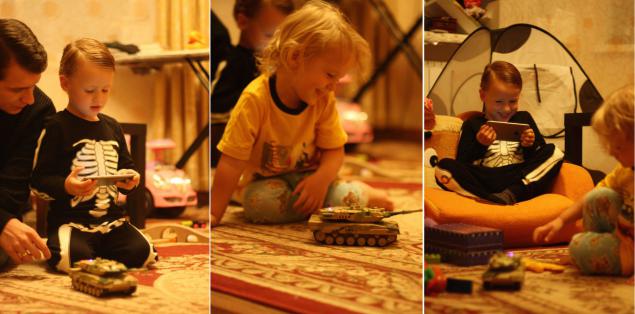 Icon Tank is чуть more than 3 000 .

Also taking to see Icon Golf - controlled golf ball - slightly increased in size simulator, which has a built-in battery, can change colors.

Himself a ball, and is sold with a charging station. Size It significantly longer golf balls, but only comparison I can make a ping-pong table.





The application can choose how to manage devaysom what color it will be, or run it for a given algorithm. Immediately - charge indicator and some other settings.





In fact, the main difference from similar line controlled toys is that they are all controlled applications for IOS or Android, and have a slightly larger number of settings or "action games", and the rest - the usual and simple contraption. Look at them:


Icon - The robot helicopter . Copter may be difficult and not very clear to the child, and the flying robot - an obvious match. Takes off on the basis of the helicopter, as it has only one propeller. The same principle works НЛО ICons propeller , which is protected by a dense material. The difference between the two devices that run them at home is not recommended! Машинка, which can reach speeds of up to 3 m / s.
 For older children and most adults - дроны!

More Health

I do not expect that I'd be potestit QJack, but it happened that we ponahvatali snot and thus show our home thermometer.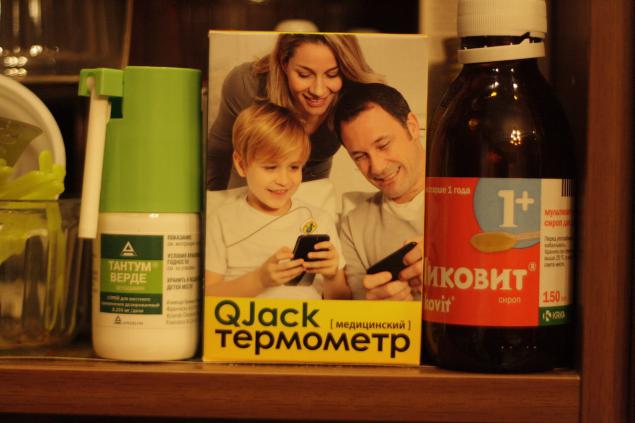 This domestic development: wireless gadget that connects to your smartphone via the headphone jack. The second end - either in the mouth or under the arm.





QJack can be calibrated against a standard mercury thermometer, consistently making measurements on it first, and then - on the electronic. In the future - everything is simple: select the profile, connect, wait, save.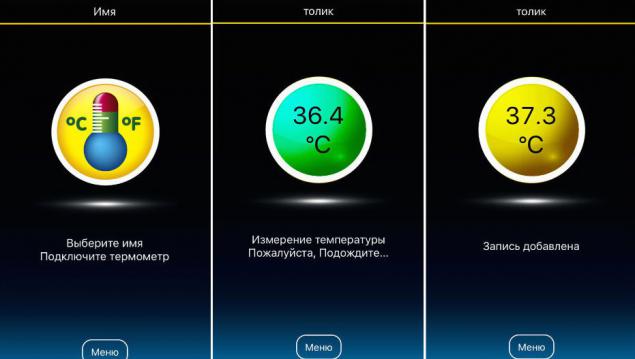 By "zdorovesberegajushchim" - should also include a further "our" invention: & quot; Мастер posture & quot ;. Electronic tablet equalizer sends vibrations, calling straighten.

About electronic correctors can be read on Geektimes: history spine



The final

At the end just want to tell you about a favorite "toy" Malena: Aftershokz - Headphone technology bone conduction . I suspect that her admiring glances due to the fact that the vibration, without which the technology of sound transmission, it just tickles.





Then I add that common question has always been about the safety of the bones of the skull bone conduction. In terms of the impact on hearing this technology more secure than air, so it does not affect the most sensitive organ - the eardrum.

At the same time we ourselves are constantly use it in everyday life: we hear your own voice so. And even if we plug the ears to distinguish between what we say we do not stop. Several theses on technology bone conduction and bone headphones мы We gathered here .

In non-medical purposes is most widely used in headphones for athletes, as you can listen to both music and phone call, without closing the ears, then let's have the ability to control their environment: car horns, noise, shouts.

Something to Geektimes:


bone conduction devices Malchik with microtia (no ears) plays a synthesizer in Aftershokz Large collection of headphones with bone conduction technology from China to Kickstarter
 Thank you for attention!

Source: geektimes.ru/company/medgadgets/blog/263754/