At one of the events in August, Amy Childs appeared in a chic dress fitting close golden brown, but not the only one who chose it. Tulisov also chose Robe by Forever Unique. Both girls have added a set of light curls, bare legs and beige shoes. However, they have picked up various accessories and makeup. So which of them looks better? There is already up to you, but in my opinion, Amy Childs looks in that dress is much more harmonious. By the way, this mini costs only 279 pounds.
Everyone knows that Kate Middleton taste good, so no one was surprised when he saw her in the lace dress from Zara, supplemented jacket from Ralph Lauren. But it looks like good taste - a sign of the many members of the royal family, because a little later in this same dress was spotted Essex Princess Amy.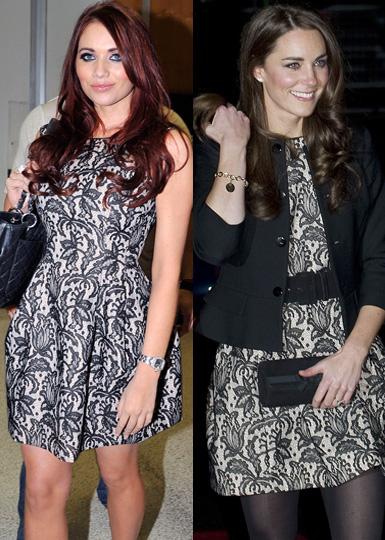 Dress in a sports-style of the new summer collection of Stella McCartney have already started flickering on the red carpet. One of the first in this Nicole Kidman lit by a model in a red polka dot maxi. Second Gvinett Paltrow appeared this time in small and blue. Admittedly, Nicole is the dress does not quite fit - not her style, but at the Gvinett this model looks wonderful.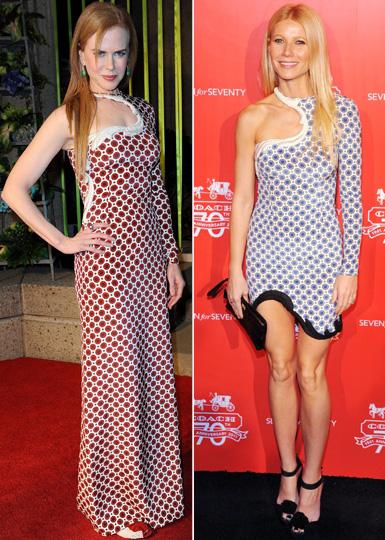 Freida Pinto could first put this dress, but she hesitated and became the owner of Alexa Chung. Her example was followed later Kris Jenner, mother Kardashian clan, appears in the guise of Emilio Pucci on the show "Today." This stylish company also joined Kylie Minogue, which appeared in a vintage dress at a charity concert of George Michael.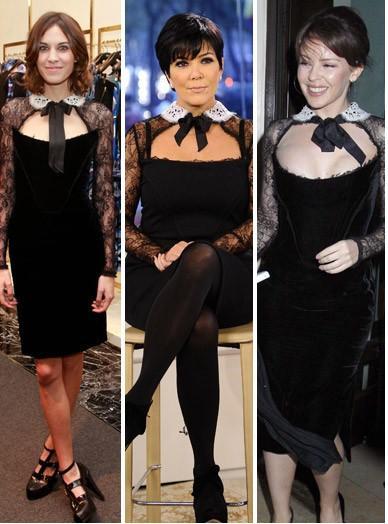 After the appearance of the world Lady Gaga immediately appeared a thousand stars, trying to outdo her eccentricity. Of course, no one has yet managed to jump over your head, but they are still trying to leave. There also, and Nikki Minaj and Jessie J, pulled this monstrous blue overalls (coveralls this is?).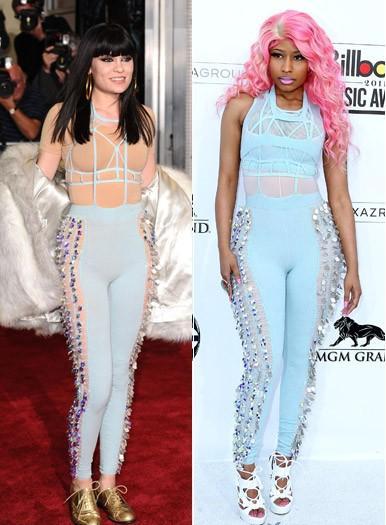 The ceremony GQ «Man of the Year" Louise Redknapp has proved that it is - the lady with great taste, has appeared in a blue velvet dress from Stella McCartney. Redknapp added a small amount of accessories dress - unusual ringlet, clock and clutches. It turns out, Louise took a leaf from Penelope Cruz, who previously wore the same dress at the Cannes Film Festival. Her attire was complemented by shoes in color and a little jewelry.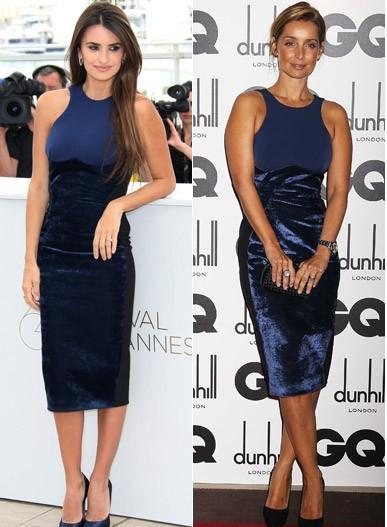 It is very strange that two such different women opted for this beautiful dress from Temperley, however, Lindsay Lohan appeared in it at the wedding, Kim Kardashian and Pippa Middleton appeared at a reception at the wedding of his sister.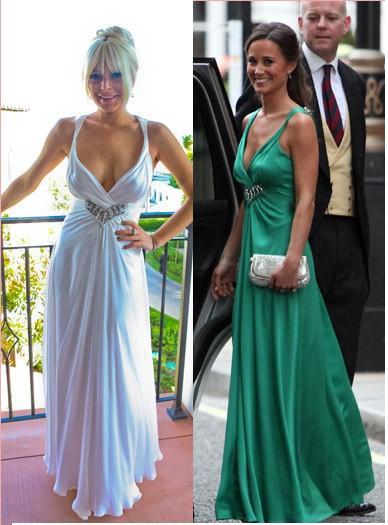 Blake Lively showed this lovely dress Cornflowers in July, adding to his leopard shoes. It was very stylish. A month later, we saw Taylor Swift in the same dress. Well it can not condemn - indeed her outfit really is. The singer added a golden strap dress and shoes with a bow.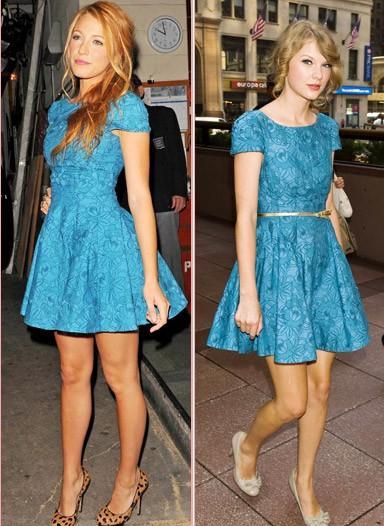 Still, it's an unusual dress by Issa looks better in the Ashanti plump than skinny Katy Perry.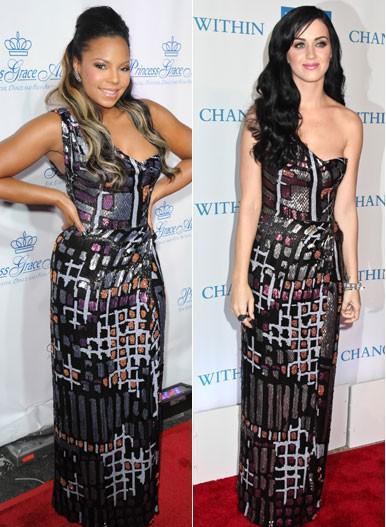 Ashley Tisdale and Lourdes Leon made their choice in favor of this lovely dress by All Saints, but presented it in completely different ways. If it turned out rather Lourdes rocker, then the opposite Ashley hit the glamor by adding beige shoes and bouffant hairdos making.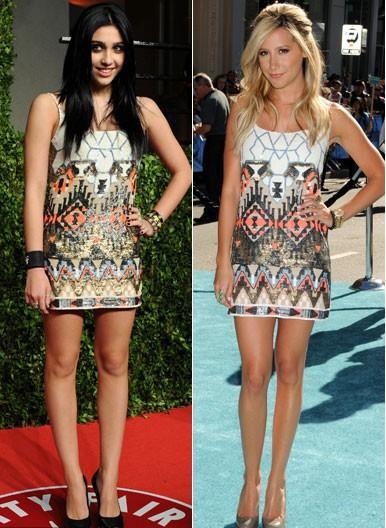 Actress Camilla Belle complement the dress-shirt with floral prints from Miu Miu pink glitter and pink clutch, getting beautiful fresh image. Courtney Love, too, appreciated the dress is appreciated. Well, a change for the better.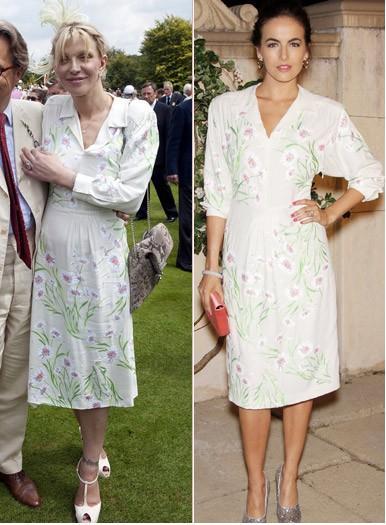 JK Rowling has behaved very modestly at the premiere of the last Harry Potter film, although it was on the list of the most distinguished guests. Nevertheless, dress for the event writer has chosen a very beautiful - flower apparel from Oscar de la Renta. Oddly enough, Ryan also chose this dress for the Brit Awards 2011.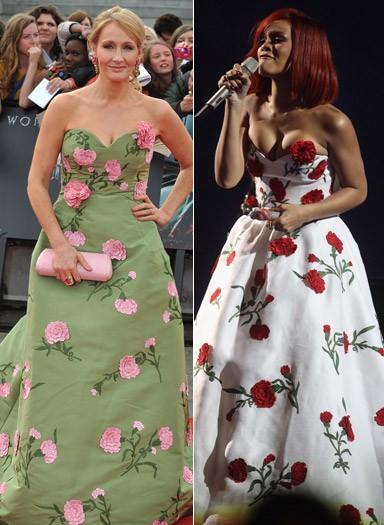 Kate Middleton appeared in this wonderful wool suit nautical theme by Alexander McQueen. But Kate is not the only Rate this outfit - in 2006 Sarah Jessica Parker also shone in the same suit, but in a contrasting color.
Rebecca Romijn loves dresses from Issa - here it is in a mini one shoulder and an animal print. However, Alexandra Burke ahead of her - in 2009 she already wore this dress.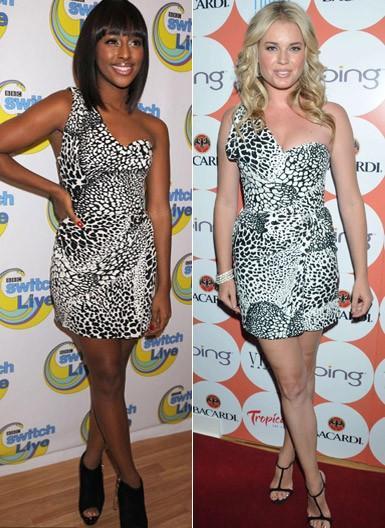 Once Kate Middleton appeared in this wonderful dress at dinner ARK and no one could not take his eyes from her - a real princess. And even it does not matter that the actress "Gossip Girl" Leighton Meester also once wore the same.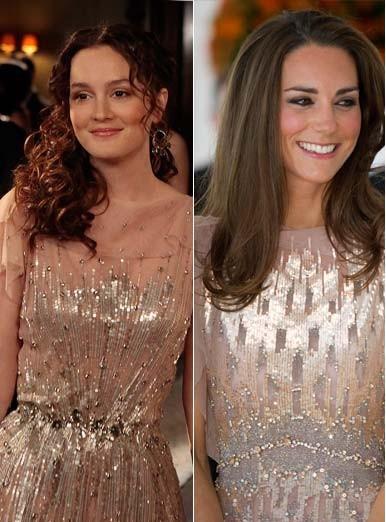 Penelope Cruz shone in this chic slinky red dress at the premiere of the film "Pirates of the Caribbean." Actress looked irresistible - an embodiment of fire and passion. Celine Dion chose a dress of white color, and, unfortunately, it looked not so impressive. Bravo, Penelope!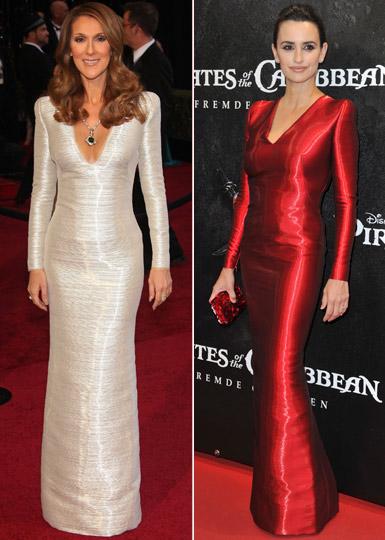 This light white dress looks just fine on Elle Fanning, she's so fresh in it. Olivia Palermo chose the same outfit, but on it he looked not so impressive - after all fairy attire more suitable teenage girl.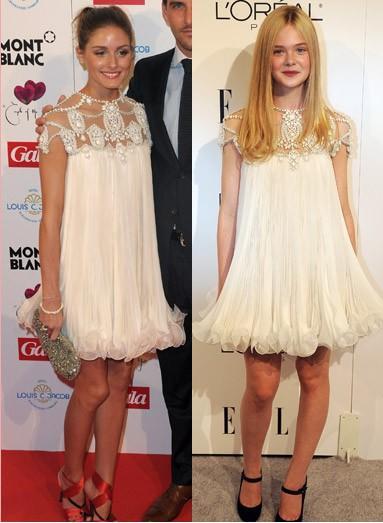 Kate Bosworth and Taylor Swift chose a white lace dress is not in vain - it really is two beauties. Both add black accessories, but still more stylish version of the Swift.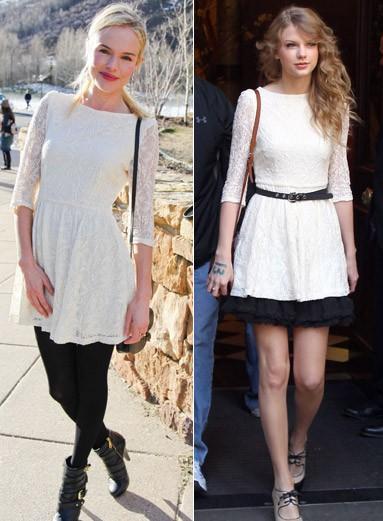 Christine Bleakley in the trench coat can be safely sent on the cover of a fashion magazine, but Zara Phillips in the same looking as if preparing for war. Probably because of the beret.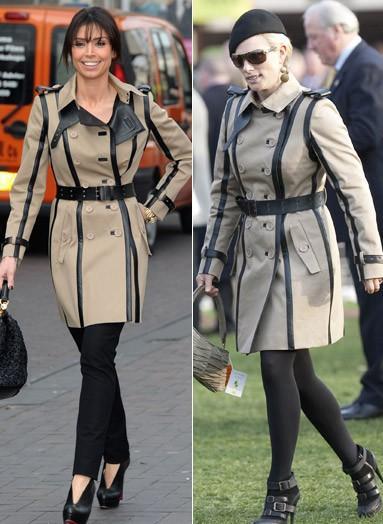 It turned out a little unfortunate that Nicky Hilton and Jaime King chose the same dress, but they are not upset and found the positive side.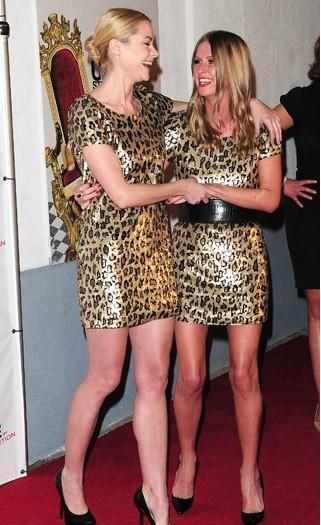 Not everyone is on denim dress from Roland Mouret will look like on Demi Moore. Is that Nicole Richie.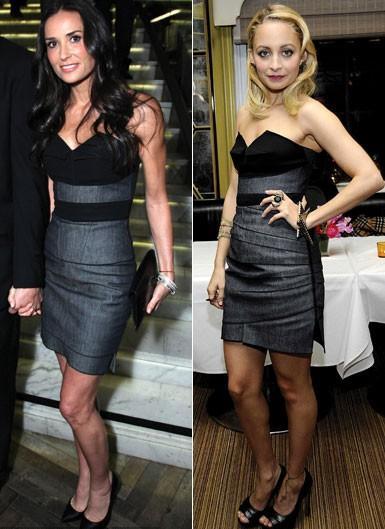 Lady in Red Sarah Harding and Carrie Underwood on the red carpet. Very elegant.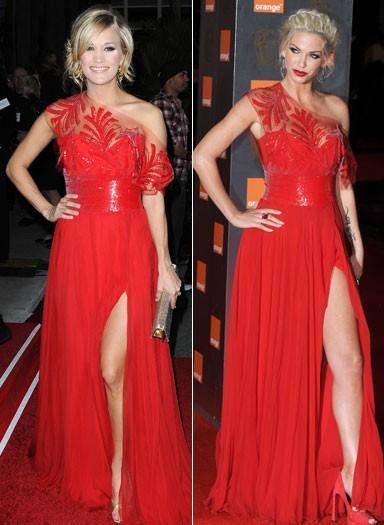 The usual thing in the world of stars - 2 celebrity dress 1. And this is not the first time that Kim Kardashian copy someone else's style. First Kate Beckinsale ...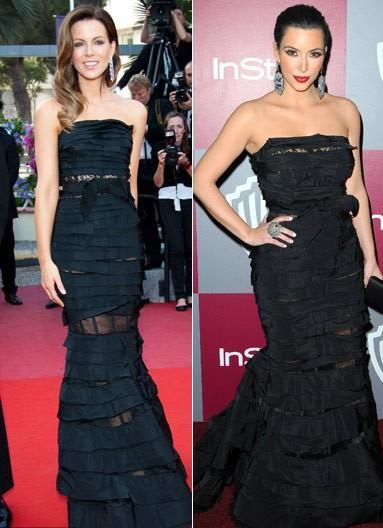 ... Then Natalie Portman. Kim, is not it time to find your own style?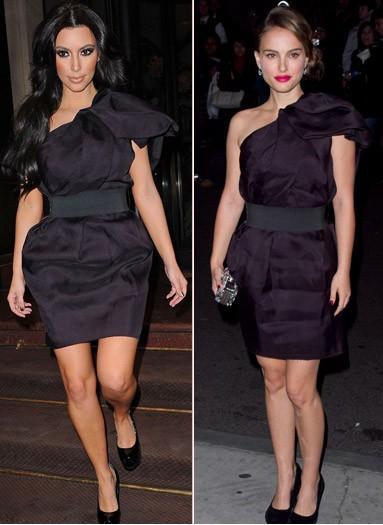 Tess Daly is so fit is checked dress from Marc Jacobs that it's hard to imagine someone else. Chloe Sevigny was not worth even trying.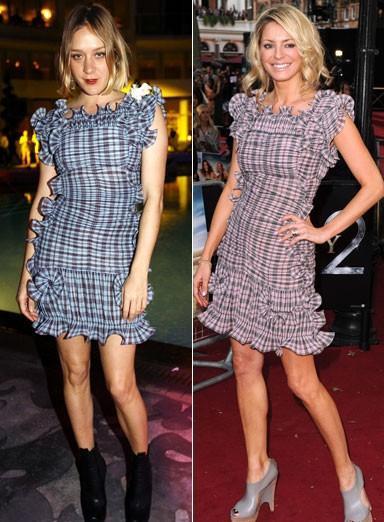 Alecsandra Ambrossio appeared in this dress by Dolce & Gabbana in September 2011, and Winona Ryder for some reason decided that it would be a good idea to wear the same two months later. I wonder why she came up with this idea?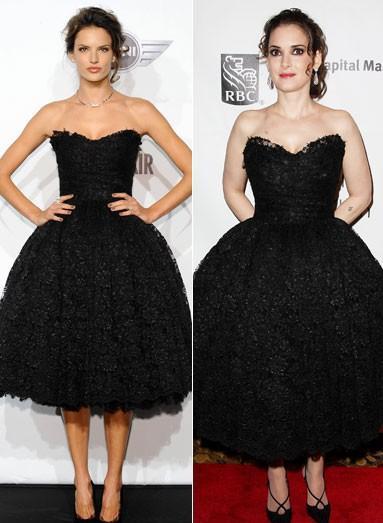 Still a bit strange to wear an open dress with boots, so undoubtedly Sarah Michelle Gellar looks much better than it Diane Kruger.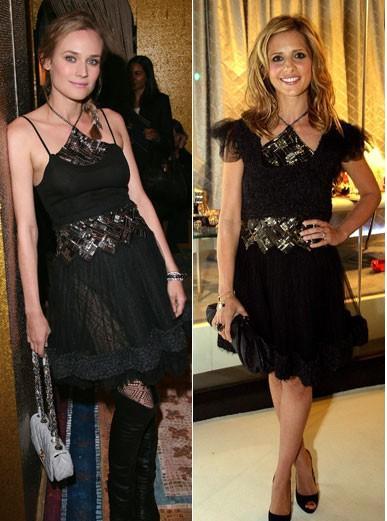 Fearne Cotton and Sienna Miller chose the same coat, but different colors. Sienna impresses with its boldness in color scheme.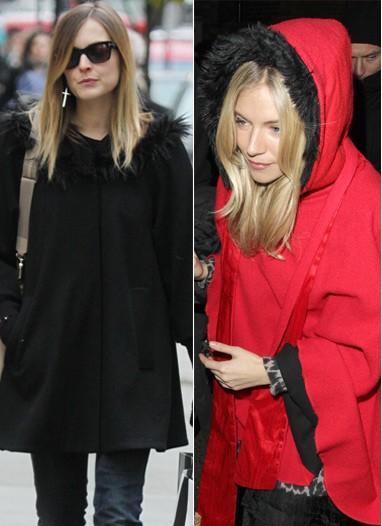 Hofit Golan wore this unusual gown two weeks earlier, Fergie, but we must admit that the singer this dress looks a lot better - it's too it suits her style.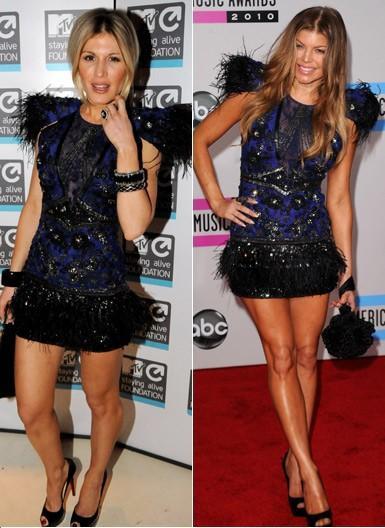 It is very difficult to come together in a duel with trendy editor Vogue, but Carey Mulligan took a chance and if they did not win the battle, it is certainly not lost.