The most important night of the year has finally arrived! Nominees and invited guests took place at the famous carpet in the world, demonstrating the luxurious outfits, and prepared to hear the results of the vote of the American Film Academy. I hope you will keep fingers crossed for your pets, and your expectations were met. In the meantime, leading to announce the nominees and winners of the past, I suggest to see one of the most interesting and important part of the annual "Oscar" - outfits stars and newcomers. Some of them may soon go down in history as the best. In the meantime, the important fashion critics have not yet decided which of the dresses considered better or worse, I propose is to define ourselves.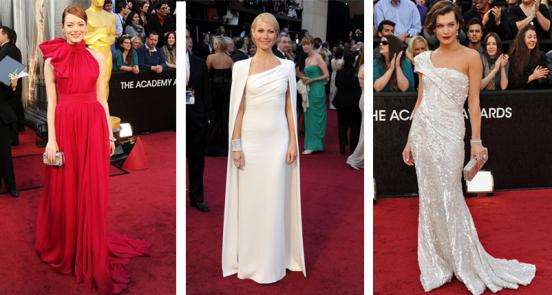 I did not have the slightest doubt that Michelle Williams appears in a red dress, in order to build on the success of its appearance on the SAG Awards in late January. Then, too, there was a red carpet, red dress by Valentino, well, and in the appendage - reddish-coppery hair. Good to Oscar Michel changed his mind and dyed blonde. Now though not merged with the track. Her coral-red dress by Louis Vuitton and details that are not allowed to finally be a continuation of the carpet - pink clutch, silver accessories and rich pink lipstick.
Very interesting outfit Jessica Chestin, she chose a black dress on the floor with gold thread embroidery from Alexander McQueen. Jessica has not yet so much go out, so long especially not compare with anything, but it is already safe to say that she or her stylist (who knows?) A very good taste. Judge for yourself.
The girl's most famous bachelor on the planet, better known under the name of George Clooney, made her the envy of everyone again. Stacy Keibler clothed his wonderful camp in golden dress by Marchesa (read "Marquis"), which a few days ago, it was shown on the catwalk in New York. Despite the fact that I am not a lover of golden fabric dresses and even more weighty roses, where they had not been placed designers, this dress is Stacy. Perhaps Clooney grab yourself an attractive golden statuette before the start of the ceremony.
Milla Jovovich reminds me in this dress by Elie Saab charming diva Golden era of Hollywood. If you look closely, you will notice that it is trimmed with fine detail and must weigh a lot. But how elegantly and gracefully demonstrates its lovely! It is worthy of praise double.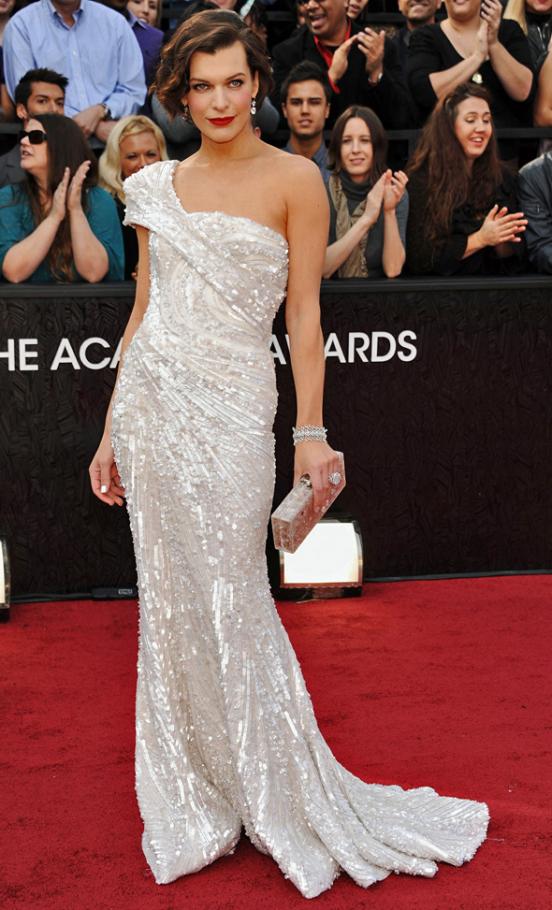 Another favorite dress from all the Hollywood stars parading down the red carpet awards of varying importance. Nominee for Best Actress (Film "Artist") Bérénice Bejo visited Elie Saab show not just seem to choose the dress for the upcoming ceremony. Well, the choice is not bad. Elie Saab knows a lot of beautiful women's dresses.
And once again the star of the film "Artist". At this time - Penelope Ann Miller, who is incredibly beautiful pale pink dress with golden sparkles from Badgley Mischka. Looking at this photo, it's hard to believe that Penelope 48 (!) Years.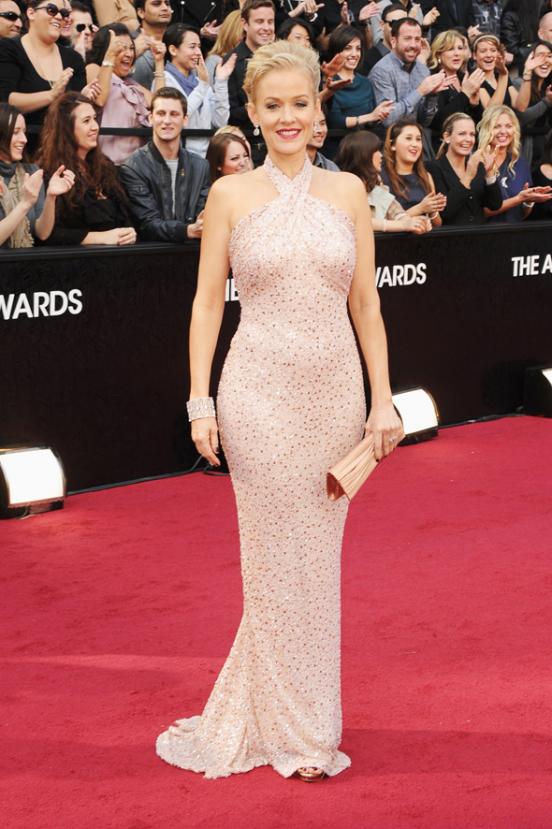 Very modern and attractive image chosen for itself Judy Greer. In a dress by Monique Lhuillier it is worthy of infinite admiration.
A quick look at Penelope Cruz along made me think of the incomparable Grace Kelly, and indeed, of the monarchs of the past century. May be a bit old-fashioned for our time, however Penelope dress by Armani Prive insanely beautiful. And despite what critics have called this image is not quite modern, I believe that it is Penelope.
Incredibly beautiful shade dresses couture collection Giambatista Valli, who paints the already charming Emma Stone. For the first time in my life I want to say about the color, it looks like, well, a very tasty. If you do not pay attention to the bow at the throat, that in itself is a simple dress, and this, in addition to color, making it incredibly attractive. Especially such a pretty girl like Emma Stone.
Gwyneth Paltrow again surprised me. At first I did not recognize her on the cover of the American Harper's Bazaar (I did not think that it is so toned body). And now she's in this wonderful dress by Tom Ford. Simple, clean lines are incredibly Gwyneth. It is not just the best dress she ever wore for the ceremony, but in general, the best dress in which she appeared before the cameras.
The winner in the category "Best Actress" - Octavia Spencer (film "The Help") in a dress Tadashi Shoji. It should look and winners. Excellent choice in favor of this nyudovogo dress that best hides the flaws and highlights dignity.
Viola Davis looks like a star in a green dress by Vera Wang. A lot of rumors passed around about how it will look hairstyle, but Viola, as you see, has decided not to philosophize and came, they say it is. I really like the way this Green emphasizes skin tone Viola, but its design is not pleasant at all.
For the 84th Oscars Sandra Bullock chose a two-tone dress by Marchesa with very interesting patterns. But this dress is remarkable not only embroidery, but also tempting to cut back.
Natalie Portman in vintage dress Christian Dior. I mean not just vintage in style, and in a dress from the spring collection 1954. This is certainly a cool trick and Natalie charming as ever, but, in my opinion, this is a pretty dress with polka dots and dorogushchee necklace of diamonds together look out of place.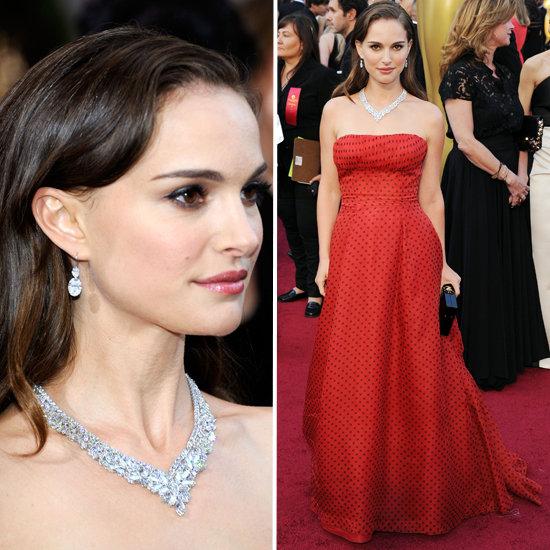 Another my assumption was real. I was 200% sure that Rooney Mara will opt for Givenchy. So it turned out. I'm crazy about the dress from couture collection, but, nevertheless, I think that a girl with pale skin should not wear clothes of the same bright colors. In the photo below good lighting, so pale Rooney Mara does not seem such a problem. On the other photo Rooney seems to me a bright spot, from which most clearly stand out bright red lips.
Cameron Diaz, though not chocolate, but a nice California tan she can boast. Therefore, it nyudovoe dress does not look strange. Dress with a spectacular train, by the way, from Gucci.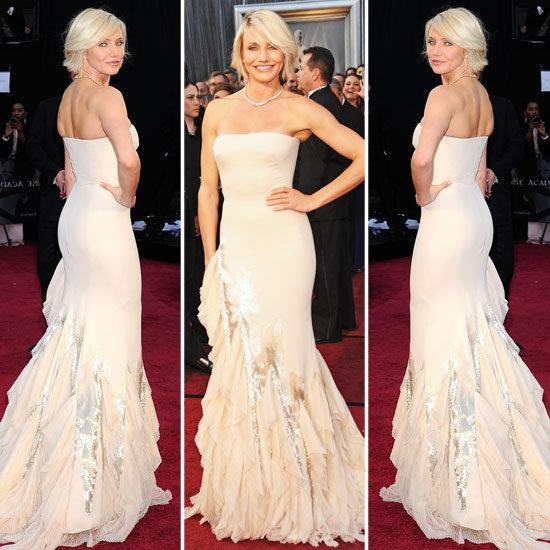 Certainly, the recent Rose Byrne changed and prettier. I like shiny dress from Vivien Westwood, but do not like too massive for this dress shoes, which she picked up.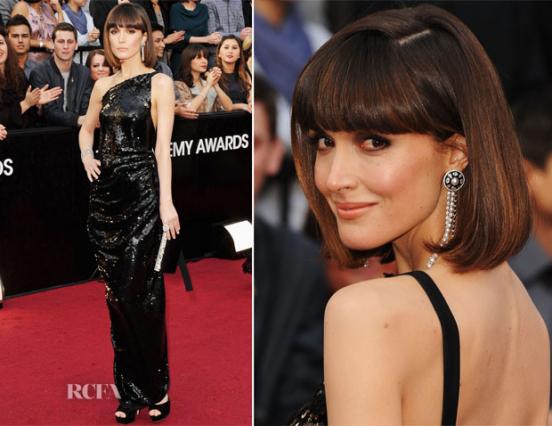 Simplicity - the key to success. Shailene Woodley thought and dressed in a white dress by Valentino. I think awesome.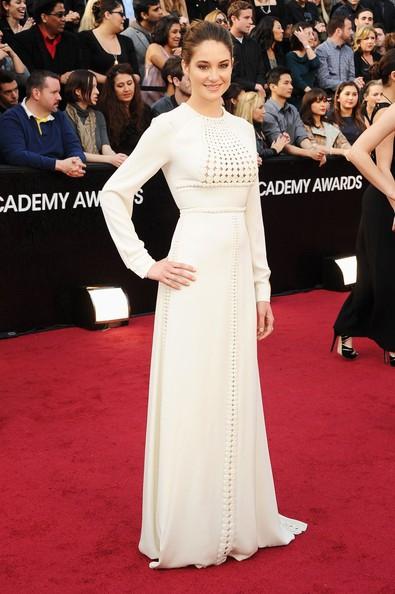 The last two outfits that Angelina opted for the red carpet, I was disappointed. This - inspired. In a dress by Atelier Versace with such a posture reminds me of Angie Jessica Rabbit. She really is velvet. This dress is another proof.
Brad Pitt has not changed the tradition and put on a suit by Tom Ford.