That died down in Los Angeles 84th awards ceremony "Oscar", which became triumphant movies "Artist" and "Hugo." The show itself was quite frankly without the prefix - super, but I thought it was much better than last year (very much pleased with the performance «Cirque du Soleil», although it has not been without corrections). Dress famous beauties this year also were not the most beautiful, but I said to myself a couple of outfits that are worthy to be "walking their" on such a prestigious ceremony. As for the stars hairstyles female, then they we now pay more attention, but I will say in advance that no special surprises along the "Oscar" was not.
What kind of charming girlfriend grab yourself George Clooney! Stacy Keibler was not only one of the most stylish women in the evening, but also one of the most beautiful. The photo is not very noticeable, but she amazing smile that during the passage of the red carpet appreciated even P. Diddy, who in an instant the eyes light up so that they could cover the streets, instead of using a flashlight. Well, not only smile played a role in this (you know what I mean). The girl is beautiful and has good taste. Laying on one side someone suitable, but someone not very good, but Stacy is the face that it almost does not spoil, especially such a great haircut. I like this blonde. Clooney, marry!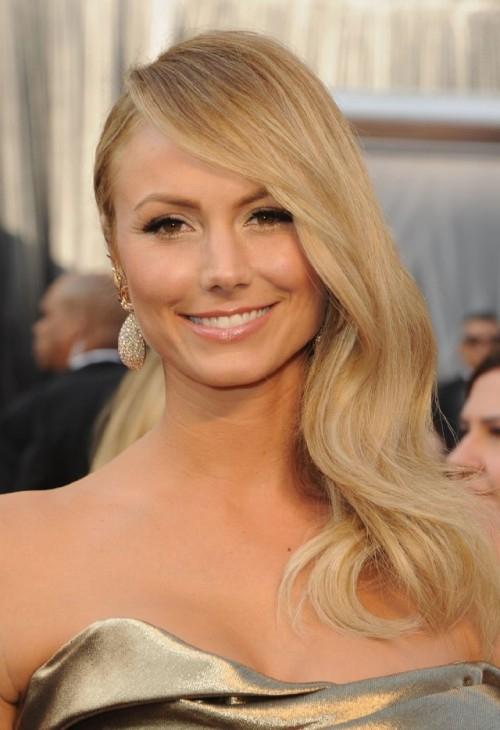 This year, Jessica Chastain has not received the coveted "golden man", but all at once his impeccable appearance. In my opinion and the outfit that you can see in the post "Oscar 2012: outfits" and hairstyle, which is represented here are among the best on this award. 30-year-old Jessica was first nominated for the "Oscar" as well as its counterpart on the sets of the film "The Help" Octavia Spencer, but the latter has received a statuette as "Best Supporting Actress", but the red-haired beauty Chastain not. But I think that everything ahead, especially since she is a good actress. And a couple of words about the hairstyle she though simple (well, judge for yourself, nothing original in it is not), but very beautiful. Feminine, concise and well shaded by the beauty of its owner.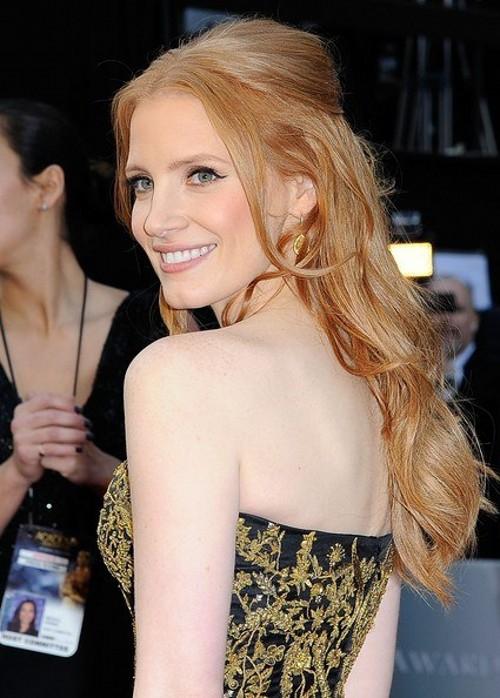 She is gorgeous! And how could I not love Gwyneth Paltrow I can not say. White dress by Tom Ford perfectly emphasized her figure (for almost 40 years is very, very good), and discreet hairstyle only confirmed that the actress has grown in terms of style and now does not want to shock, and wants to get nice feedback on your images. Beautiful, healthy hair, pulled back in a ponytail - it is certainly not for the haircut "Oscar", but she really came.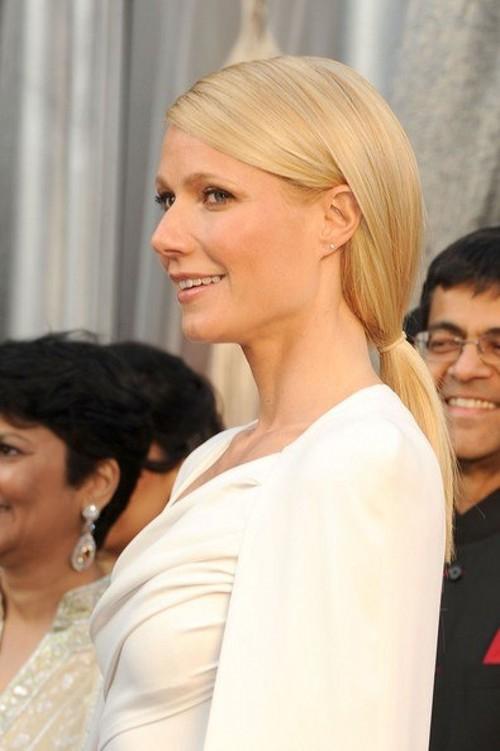 There are many options for hairstyles stupid name "pony tail", but Sandra Bullock chose the classic. Well hairstyle she goes, but I would in her place her hair down and made some soft waves styling. By the way, the tail is not native.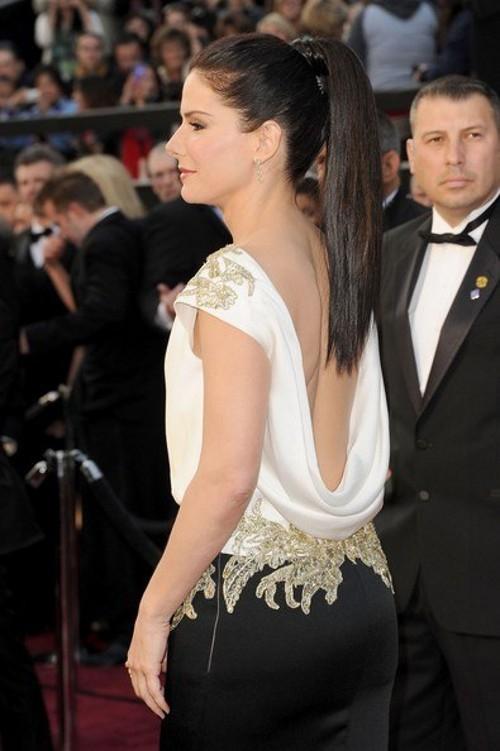 What a beauty Rooney Mara! Profile - shine, haircut too. It looks like this is the most favorite hair styling Rooney, because we see it in every event in which she might appear. And why these dramatic changes, so if the hairstyle suits you? A small tail, under simulated beam, and fringe - a standard solution for the Oscar ceremony, but Mara, for the first time at such an important event takes down all the established canons. It seems that this hairstyle is easier to do everything, but really need a lot of effort to bring the hair in such a condition. Varnish took Mama Do not Cry!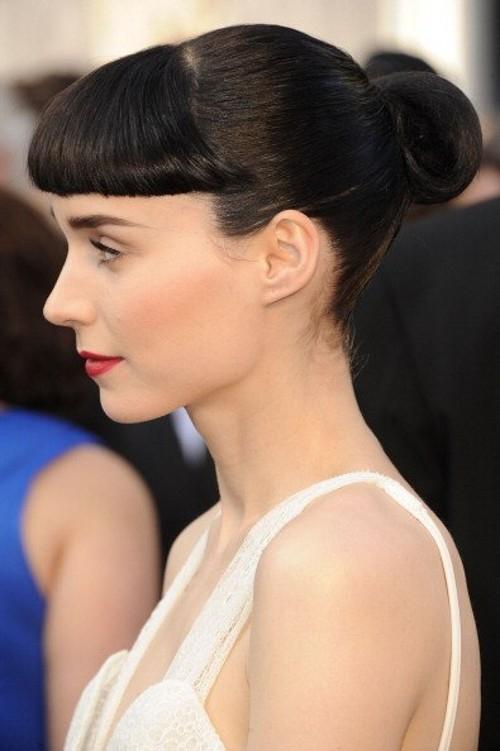 After birth, Natalie Portman, of course, has changed. But what else? In an interview, she said that the whole year are relaxed and enjoying motherhood. Apparently she is still in this state, because her image was one of the worst. Dress like a prom Agriculture and hairstyle too simple. Felt that she was not to prepare ... But she came with her beloved, and it pleases me, because I thought that, shortly after the "Black Swan" they would part.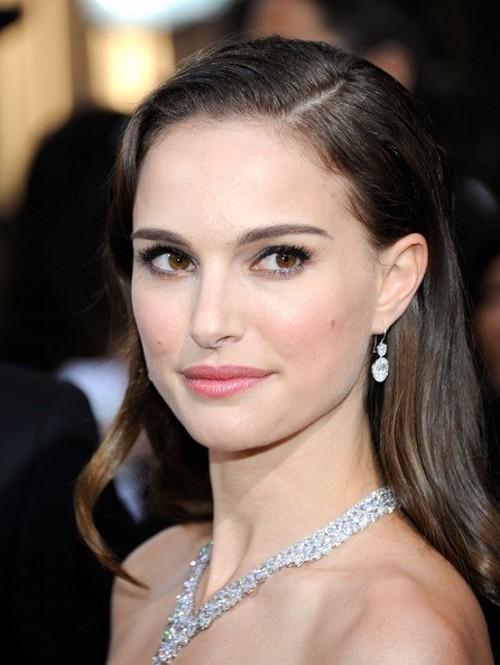 Cameron, Cameron ... And why is it only hair cut? This hairstyle does not make it more beautiful and just a freak. Perhaps she acted for the good old principle: the shorter the hair, the younger look. But this raving lunatic! No explicit styling, Cameron Diaz just enjoying what is happening around and bestows all his wide smile.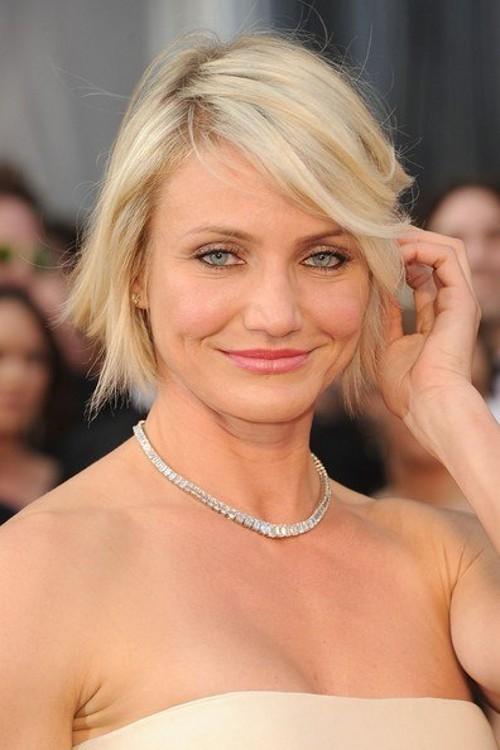 Rose Byrne - "Miss Perfect styling».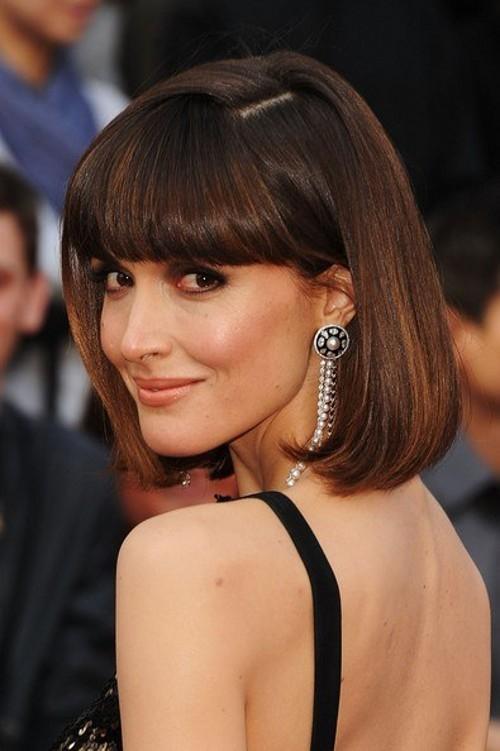 French Bérénice Bejo gave the palm unpretentious hairstyle of pigtail. Beautiful color of hair, but the hair is quite frankly not ice, so to stab them was the right decision. Incidentally, the actress is very nice, the first time I see her, as well as her partner in the film "Artist" Jean Dujardin (stunningly charming man). I burn with impatience, hoping to see this black and white picture. I look forward to standing reel.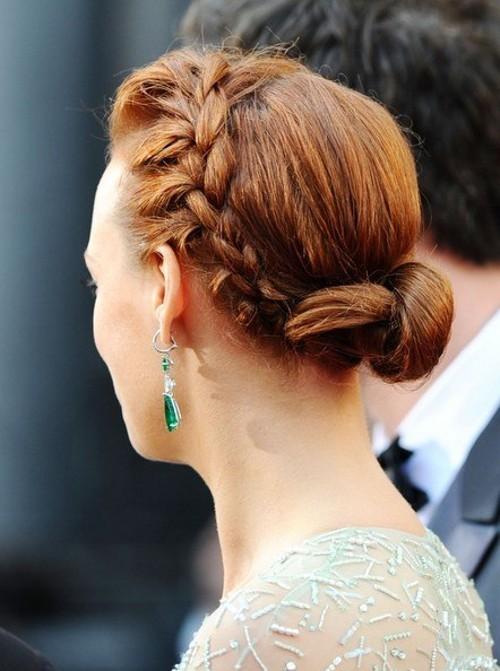 Angelina Jolie at this time I was disappointed. She is a very beautiful woman in her 36 years, but the image turned out some vulgar or something ... I understand that she wanted to surprise and conquer, but its refined elegance in the last images I liked much more. Hairstyle sloppy and I think it's a family, because on the red carpet is one of the leading noticed that Brad looks a bit shabby. What happened "before" God only knows.
Octavia Spencer received a statuette for supporting actress in the movie "The Help," so sincerely happy that even I felt the emotions it. The film did not see, but they say that it is really good. Octavia chosen from the variety of exquisite beam and made the right decision.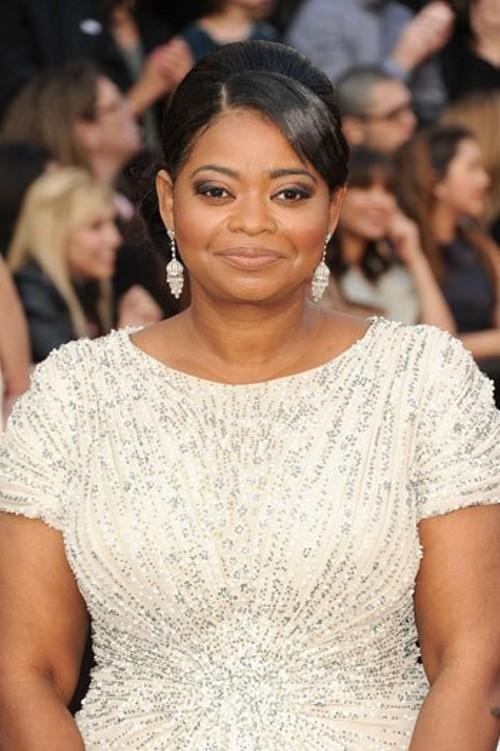 Michelle Williams did not have long to dream, because hair on her head is too small. Laying a good, but the bad Michel presents itself on the red carpet. All the time, as frostbite.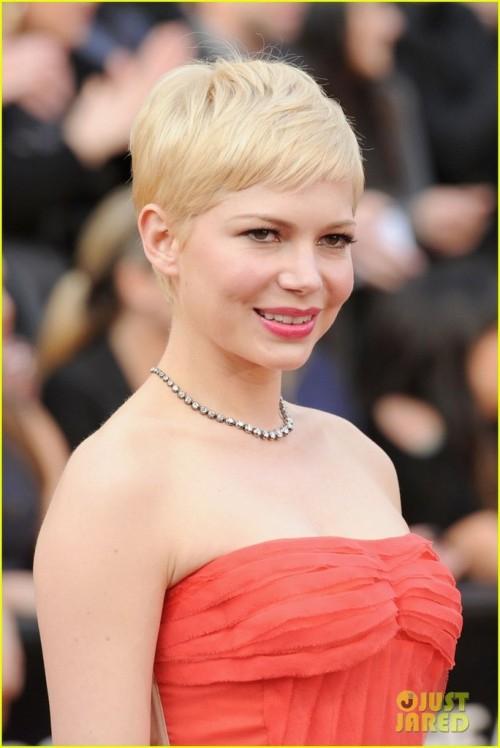 Penelope Cruz with short hair is difficult to know. I do not like the fact that this haircut to grow old it for a couple of years, and the dress turned pale and boring. But Penelope is capable of more and I hope that next year it "blow up" the audience with his appearance.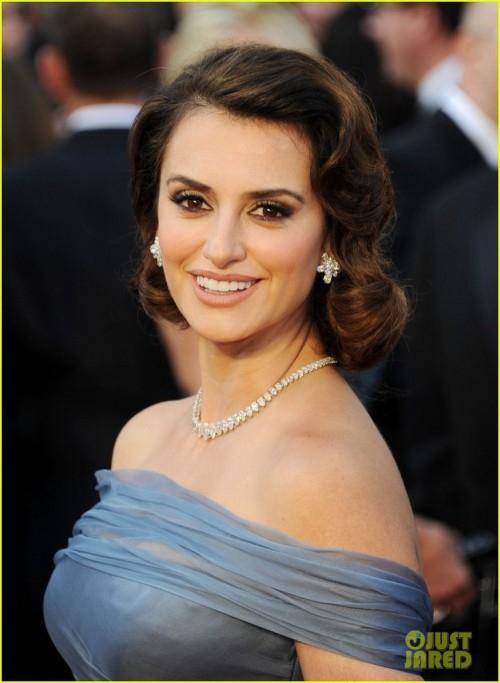 Ageless 35-year-old star Anna Faris comedy demonstrated beautiful styling and cut square. Blonde she always had to face, so I have no complaints. The only thing that may not like: the hair looks like a wig.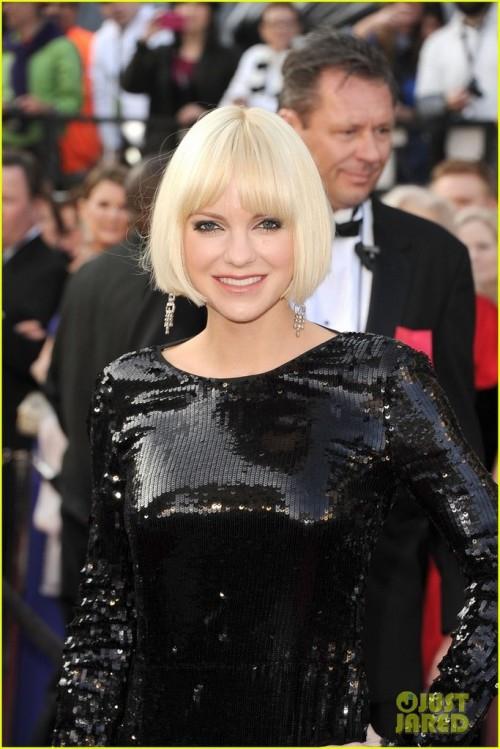 J. Lo in his style. "Beehive" on the head - it is her crowning hairdo, but she used it a couple of years ago, and more recently forgotten about him. I suspect that Lopez wants to look as young as the years before. She did manage, young boyfriend confirm.
Kate Mara is not as pretty as her younger sister Rooney, but her hair is in good condition. Probably great care: masochki all things ... Hairstyle seemed to me sad, but she had come to support her sister, and the most a while there is nothing to boast, so everything is logical.
One of the first on the track appeared Milla Jovovich. It turned out that the "Oscar" it first, but turned out to be a nice initiative. Dress and hairstyle mediocre, but they fit Jovovich at 100, so I will not quibble over trifles.