These two beauties - Cheryl Cole and Alessandro Ambrocio - chosen for the publication of the bandage dress by Herve Leger. They even compare it is awkward, as both enchanting.
Who would have thought that Katherine Jenkins and Kim Cattrall may be something in common. However, they agree on the choice of the same cream asymmetrical dress from Lanvin. Both look like it just gorgeous.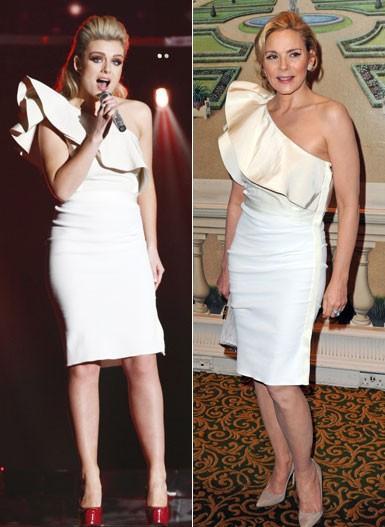 Not the first time the dress from Dolce & Gabbana shine on the red carpet, but this time it is lit up at various events three times. For the first time - by Lauren Conrad, and then Imogen Lloyd Webber and Rita Simons.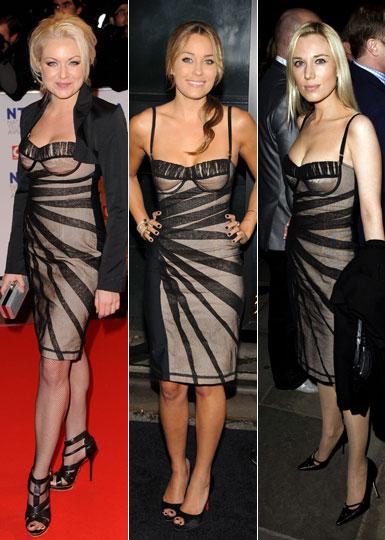 Lace dress by Dolce & Gabbana filled world of fashion, that Dita Von Teese with Britney Spears decided to join him. Only in the ideal figure Dita dress looks much more harmonious.
Paying tribute to the talent of Alexander McQueen, three celebrities have appeared in his creation. They were Patsy Kensit, Eva Green and Joel Richardson.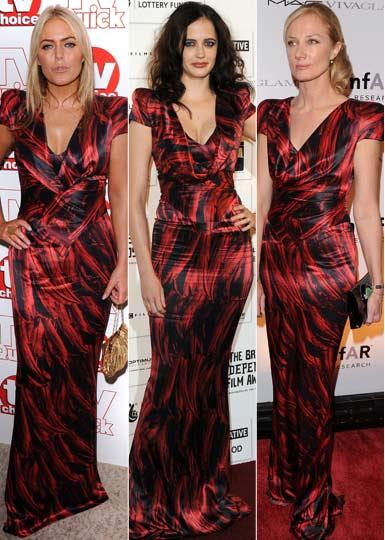 One dress - two celebrities, and so different. His first put Christina Ricci and her it looked more than elegant. A few months later Lady Gaga appeared in the same, drastically changing the way - she added to the dress Mickey Mouse sunglasses and cap.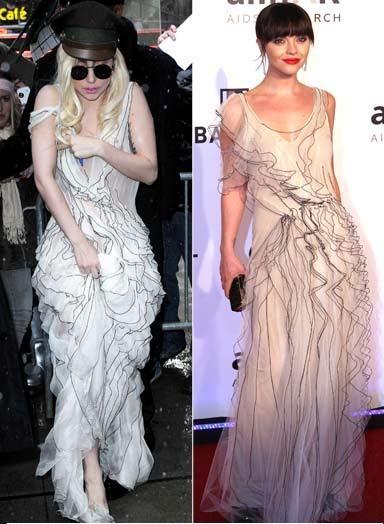 This dress was presented with a difference of six months, two completely different girls - at first it appeared Alicia Keys, and then Blake Lively.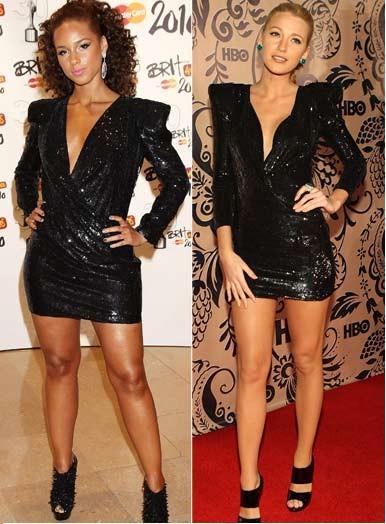 Each celebrity has to shine, which is what Paris Hilton and Alexandra Burke in a brilliant blue dress by Lipsy.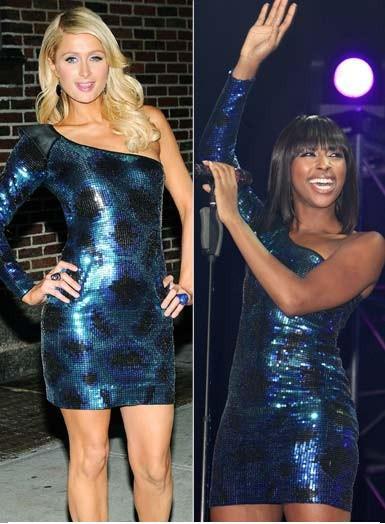 Jennifer Hudson and Blake Lively chose this dress from Victoria Beckham, worth 1490 pounds, which is perfectly underlined all the advantages of the area.
In this black and white bandage dress looked perfect, both light-skinned actresses - Kristen Stewart and Anna Friel.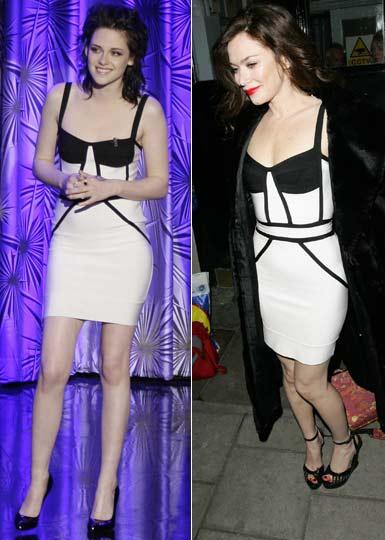 Even though, that Goldie Hawn Taylor Momsen over 48 years old, she looks in this classic dress by Christian Dior is much more advantageous.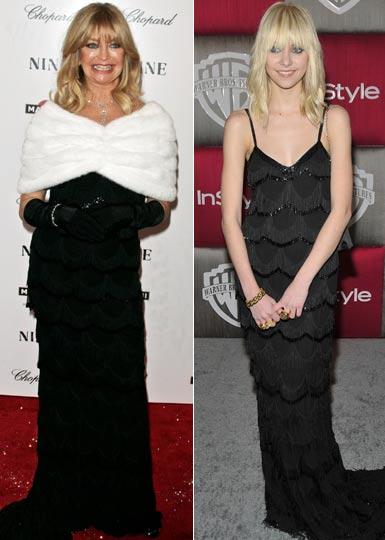 Although Tara Palmer-Tomkinson wore an unusual dress first, Cheryl Cole, too, looked at him perfectly, slightly altering his appearance.
This dress with floral print was honored to decorate Salma Hayek and Meryl Streep.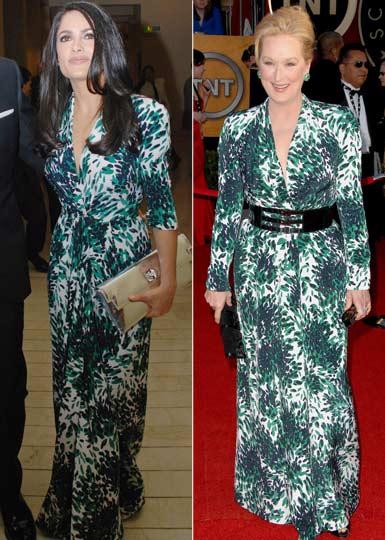 Donatella Versace would never have put on the dress, already represented in the world, but Christina Aguilera little things really do not care.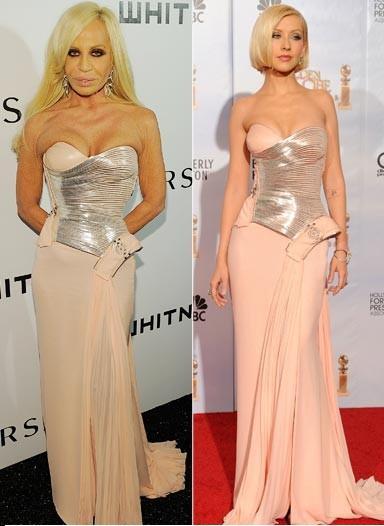 Again, the same dress was chosen by three celebrities. This razmodel from French Connection show Fearne Cotton, Katherine Jenkins and Linda Bellingham.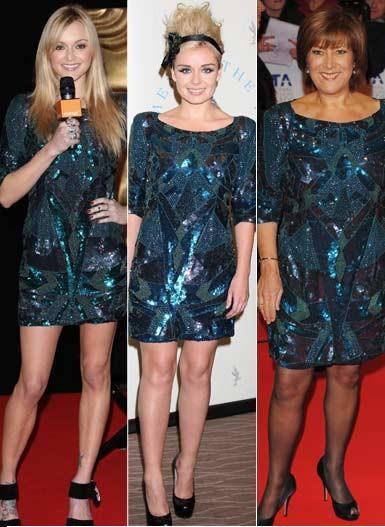 Stella McCartney in his creation, and Joanna Lumley demonstrates how to wear this dress is more mature women.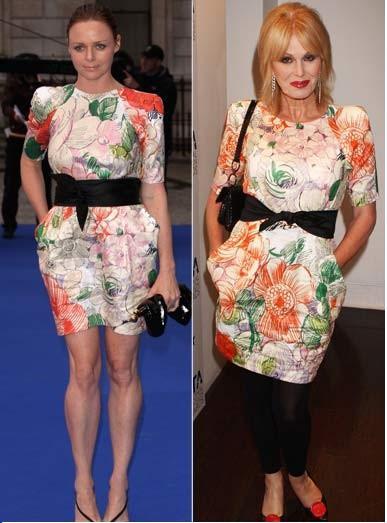 Looks like Monica Cruz is not very comfortable feeling in this brilliant dress, but the opposite Miley Cyrus looks fascinating.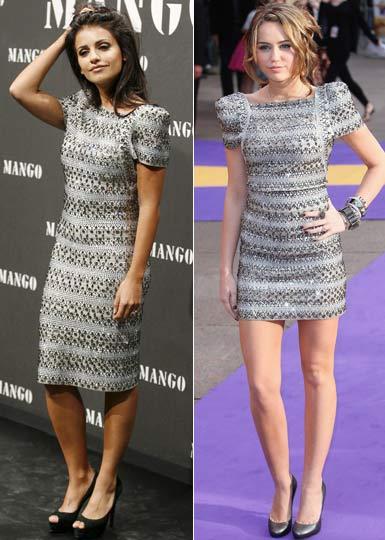 It would be difficult to imagine Kate Winslet and Mariah Carey in the same dress, but nevertheless it happened.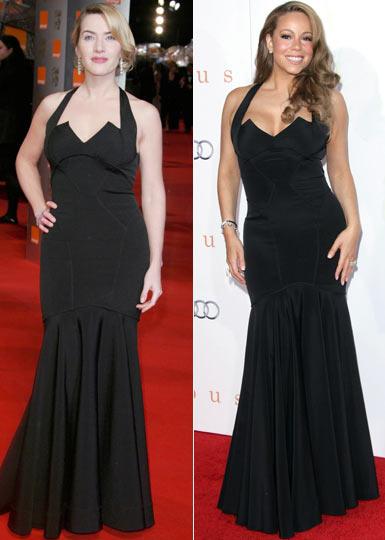 Surely Courtney Kardashian borrowed this dress from the wardrobe of her sister Kim.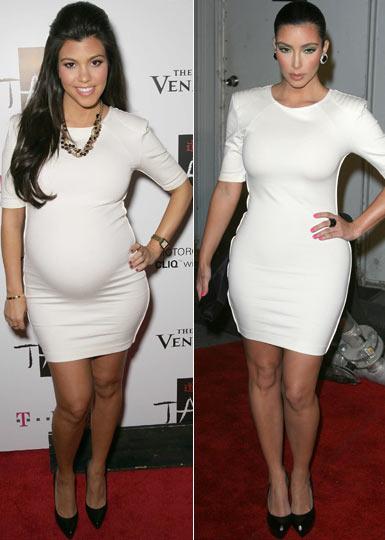 They are different colors and lengths, but nevertheless it is the same dress so differently presented by Katherine Jenkins, and Amber Rose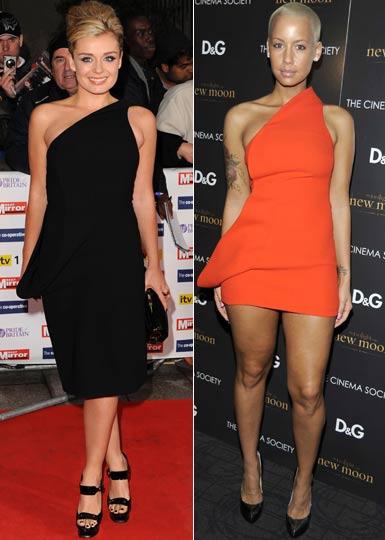 Chloe Kardashian and Audrina Patridge looks the same in this cute mini with black and green print.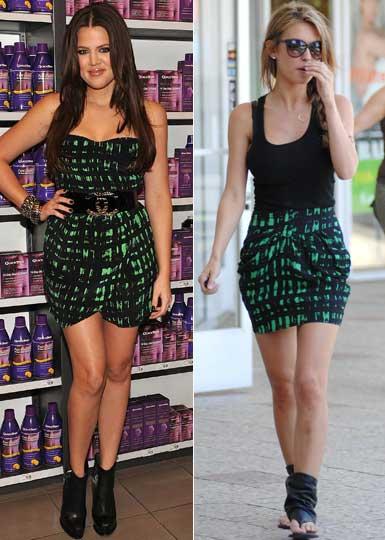 AnnaLynne McCord and Britney Spears both chose this everyday dress, but the choice of footwear Britney approached lightly.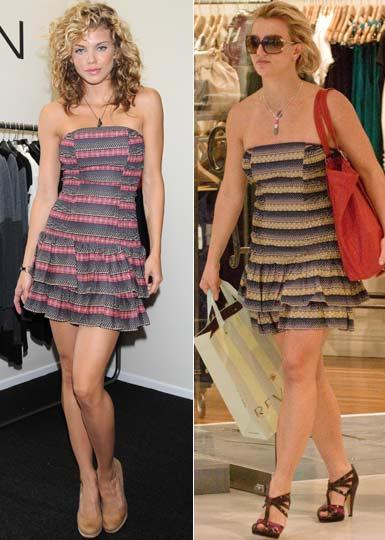 Beyonce and Melody Thornton chose the same dress in different colors, but it looks just great on both.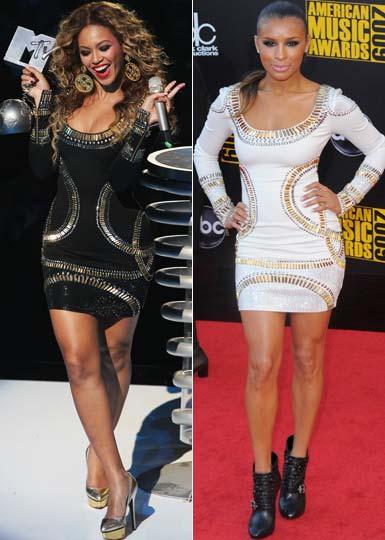 Another difficult combination - Drew Barrymore and Victoria Beckham. However, Drew did not first take the example of the style Posh Spice.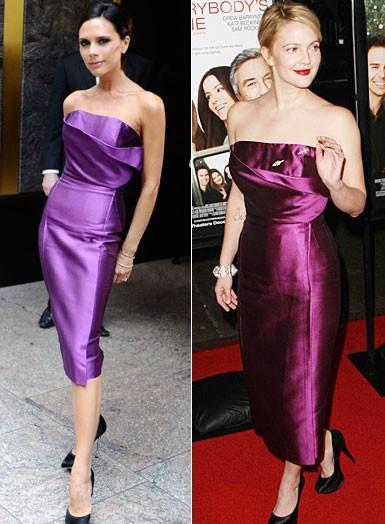 Sara Paxton also took lessons of style. But they presented the same dress completely differently.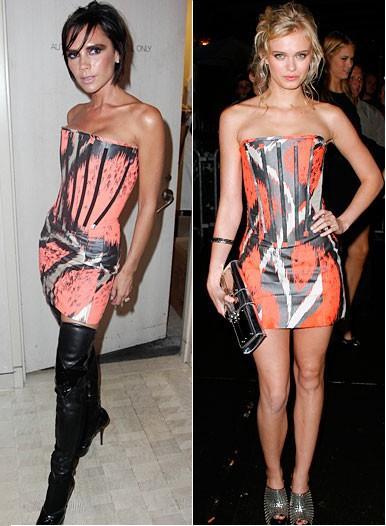 Pink and Shakira appeared on the MTV Video Music Awards in the same leather dresses adorned with chains and studs. But the singer it does not bother, they are happy to pose for photographers before the rest of the evening.
Amber Tamblyn is a mini combined with a belt and black tights, but Chloe Kardashian, despising the accessories, it looks much better.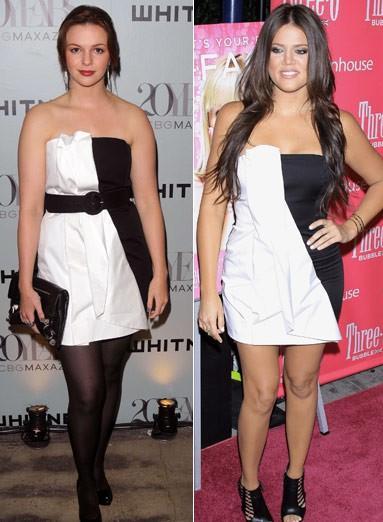 And Lauren Conrad, AnnaLynne McCord and look great in this lovely blue maxi.
It seems that Heidi Pratt, Kristin Cavallari and Heather Graham combines bad taste, because they have chosen this small vulgar to go out.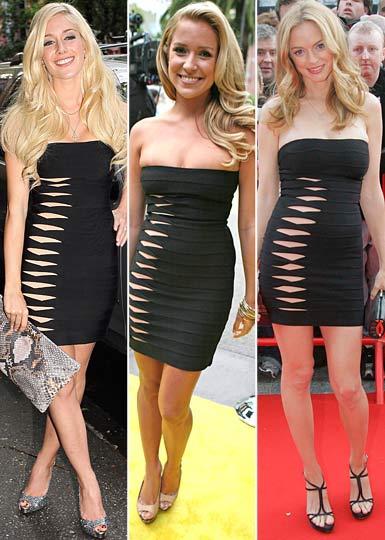 Great thoughts seem probably why Madonna and Whitney Houston have chosen the same dress from Dolce & Gabbana.