Anyway, women are always a headache for more than the men. Even on weddings: all the care for two, except ... the dress. The most important dress a woman's life. By choosing this dress for centuries all brides start trembling and even some joy in front of the weight of responsibility - in fact in this outfit you are happy and in love will be forever captured in the photographs and in the memory of friends in one of the most wonderful days of life.
Stars still easier - they have in the arsenal of all the famous designers from around the world who are happy will create a memorable date something unique and unforgettable, beautiful and fantastic to meet your individual wishes and style of star bride. However, sometimes a wedding gown is more than beautiful, and sometimes, on the contrary, more in keeping with the essence of the request and the stars. But in fact, and in another case, some of these dresses are famous and are included in the history of the world of wedding fashion. I included in my collection, and religious wedding dresses, and just in a magical beautiful. And let us start with these princesses: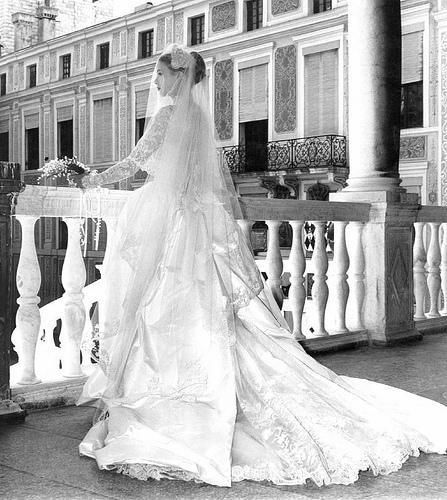 Grace Kelly.
From the day of the wedding of the famous Hollywood star Grace Kelly beauty and Prince Rainier of Monaco has been more than half a century, and her wedding dress is still a style icon for designers and brides who want a wedding itself necessarily princess, and all designers also create stylized model " inspirit Grace ».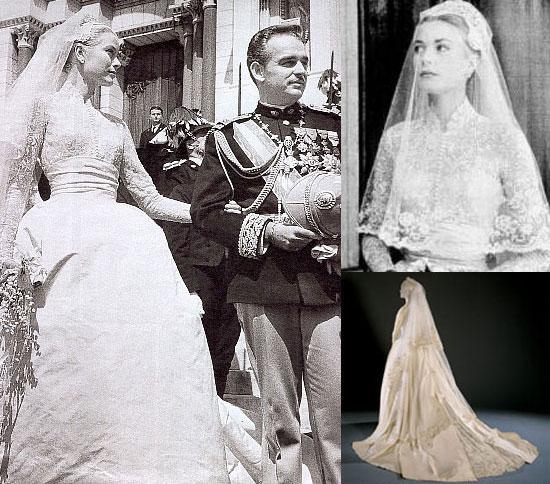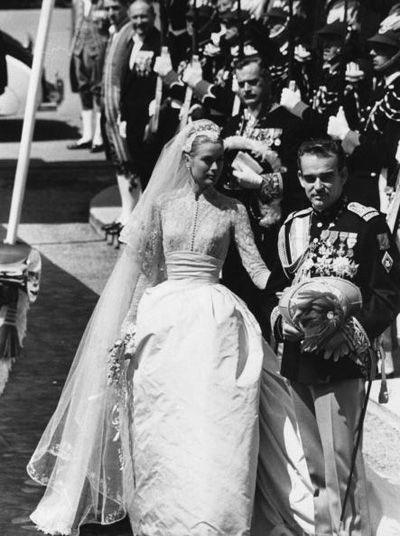 The famous dress was created specifically for Grace MGM studio chief designer Helen Rose. In a unique dress it took a huge amount of silk taffeta ivory Valenciennes lace, prescription which is calculated over a hundred years old, his specially bought from the museum's future husband Prince Rainier Grace. A veil was decorated with thousands of small pearls. The designer sought to ensure that payments are recognized character actress, that is supposed to be both simple, feminine, elegant, noble, but not too grand. And most importantly, it had to emphasize the natural beauty of the bride. In the end, it happened so.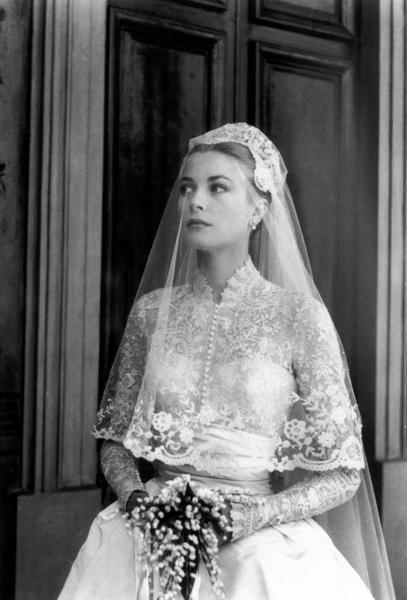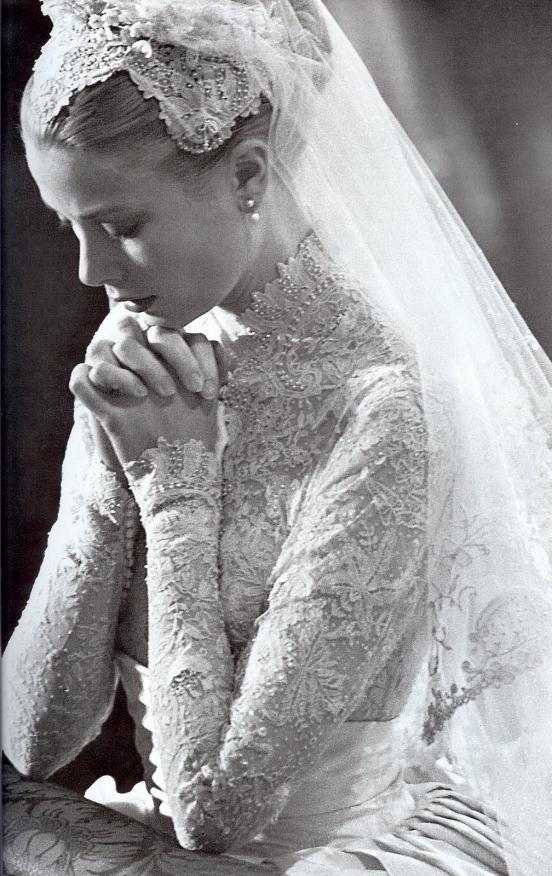 Princess Diana.
This is one of the most iconic wedding dresses in the history of fashion. For the wedding with Prince Charles chose Diana splendid dress of ivory satin, embroidered with precious stones by David and Elizabeth Emmanuel.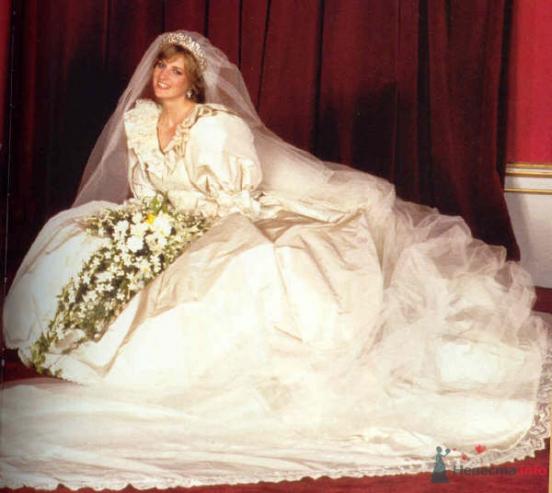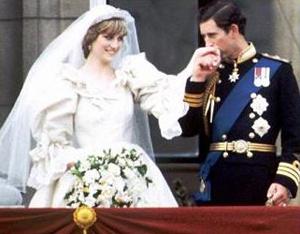 Dress Diana unusually lush, expensive and literally royal. Complements this gorgeous dress layered veil and a diamond tiara, which is recognized as one of the most expensive wedding hats in the history of mankind.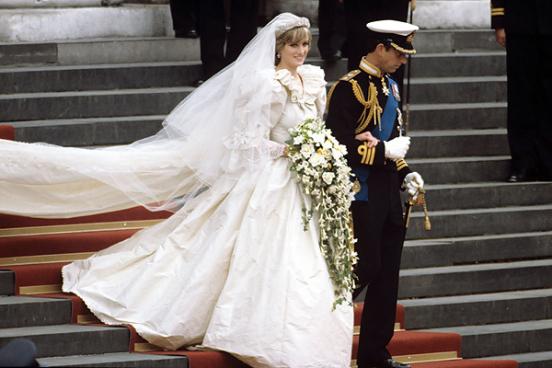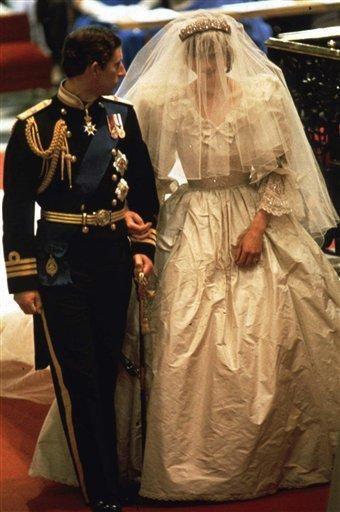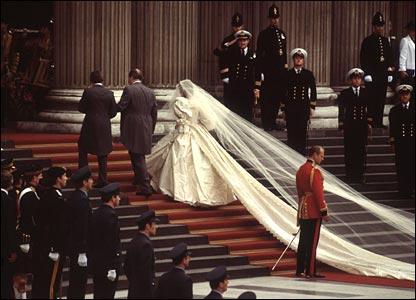 Jackie Onassis.
Future First Lady Jacqueline wore to the wedding to John Kennedy in 1953 dress from New York designer, African-American Anna Lowe. We can say that it is fully consistent with the spirit of the time and represents the perfect wedding dress America of yesteryear.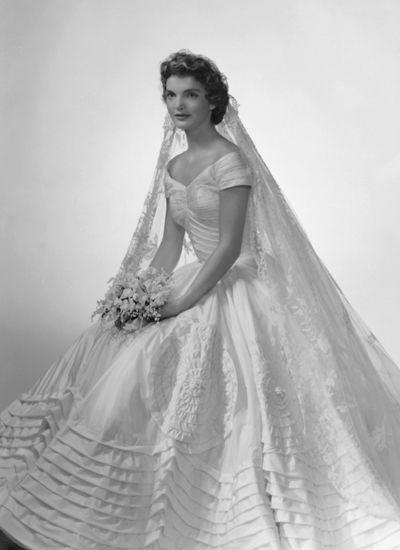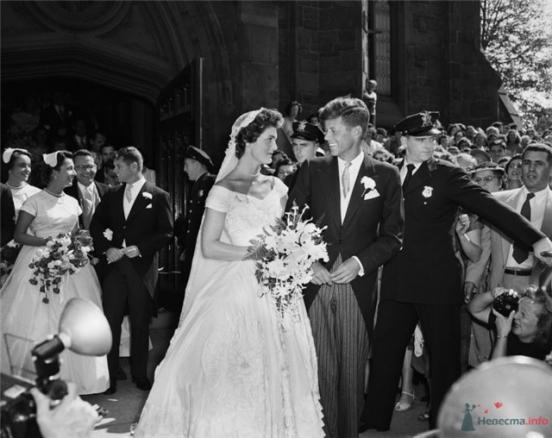 Simple and elegant dress with dropped down his shoulders and a long skirt flared.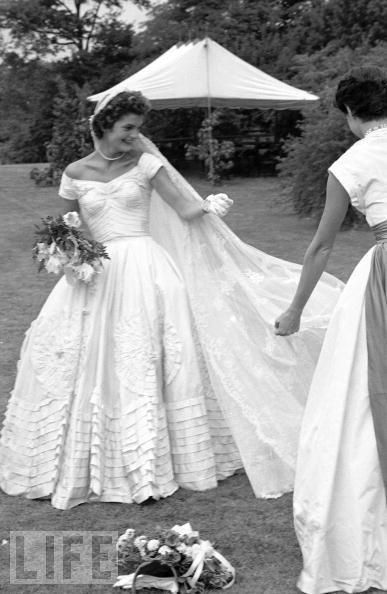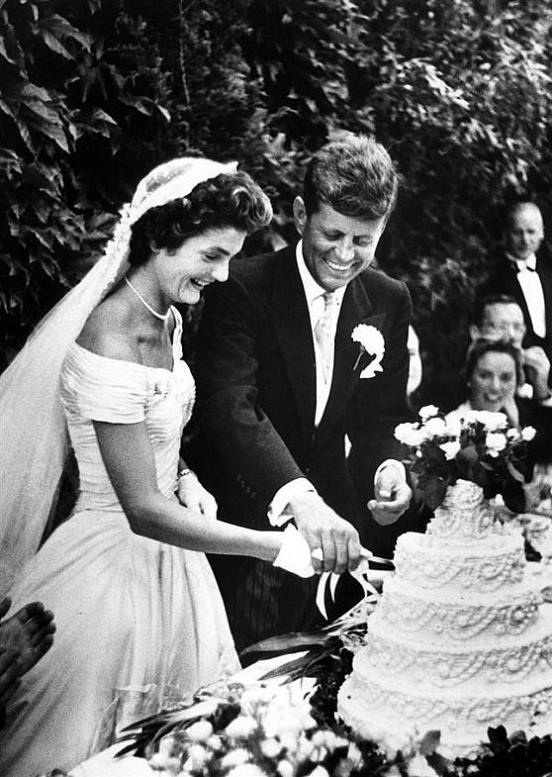 Marilyn Monroe.
It is ascetic dress. There she married in 1954 in San Francisco, Joe Di Marco, a star of American baseball. A simple brown dress below the knees with a straight skirt and a neat white collar does not look wedding.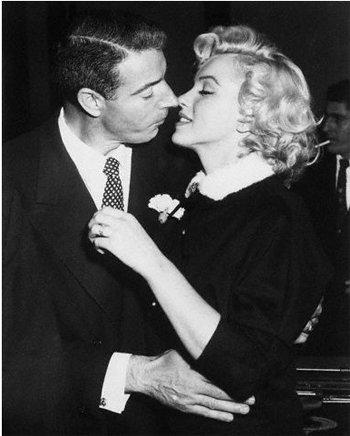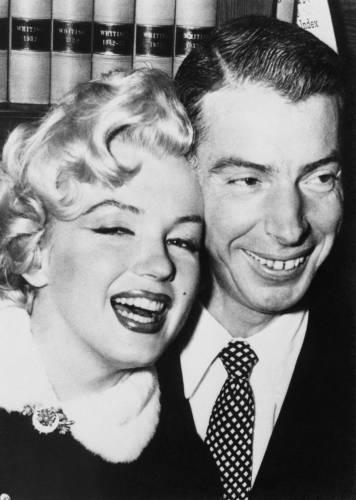 Interestingly, more than the wedding dress looked, she ordered for herself on the day of the birth of John F. Kennedy, and which eventually became the most expensive evening dress in history. He appreciated nearly $ 2 million.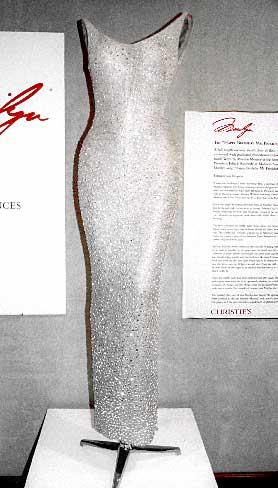 Bianca Jagger.
That made a real revolution in the world of wedding fashion when wearing a wedding with Mick Jagger in 1971, a long skirt and a jacket on a naked body.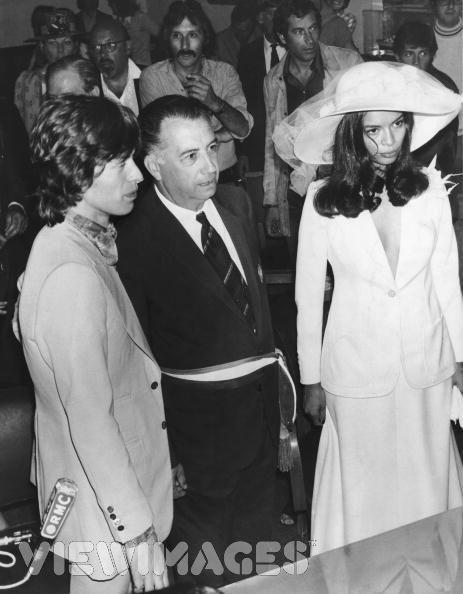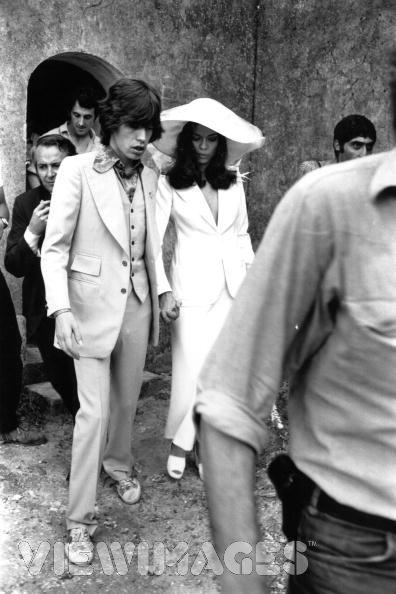 "I did not want a traditional wedding dress, and Yves Saint Laurent perfectly embodies my vision. Many believed that I was getting married in a pantsuit, but it is not. Laurent sewed for me a long white skirt and jacket, "- he said in an interview with Bianca.
Yoko Ono.
In 1969, John Lennon and Yoko Ono were dressed all in white. Yoko was a white mini dress, white socks, huge sunglasses and wide-brimmed hat. The dress is absolutely in the spirit of the bride.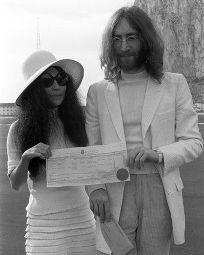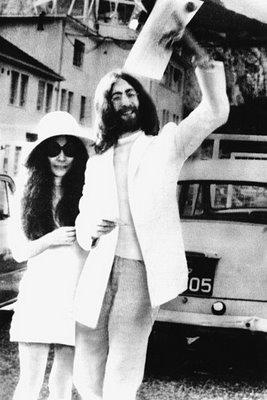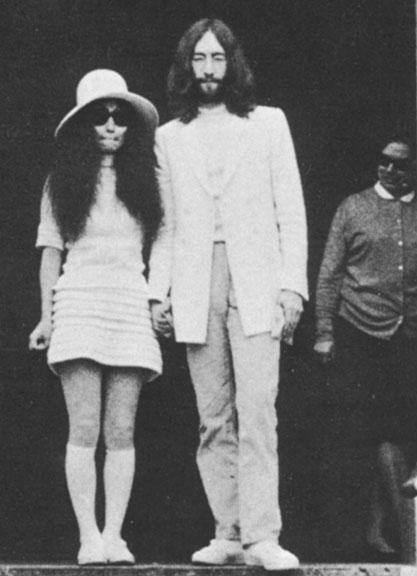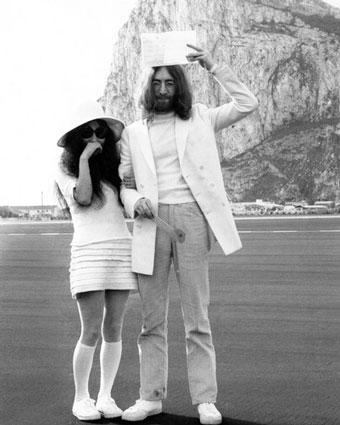 Dita Von Teese.
The wedding took place in the burlesque star Irish gloomy medieval castle where guests were offered the most exquisite cuisine and falconry. But to the dismay of the paparazzi, no eccentricities, except for unusual wedding dresses, it was not. But on the dress really worth a look! Dita celebration for all managed to change a few dresses, and everyone was in their own luxury. But the most surprising - a purple-violet with a narrow bodice and skirt with a train the latissimus, silk taffeta from Vivienne Westwood itself, however what else, reflected the style of Dita, and went down in history as one of fashion's most unconventional.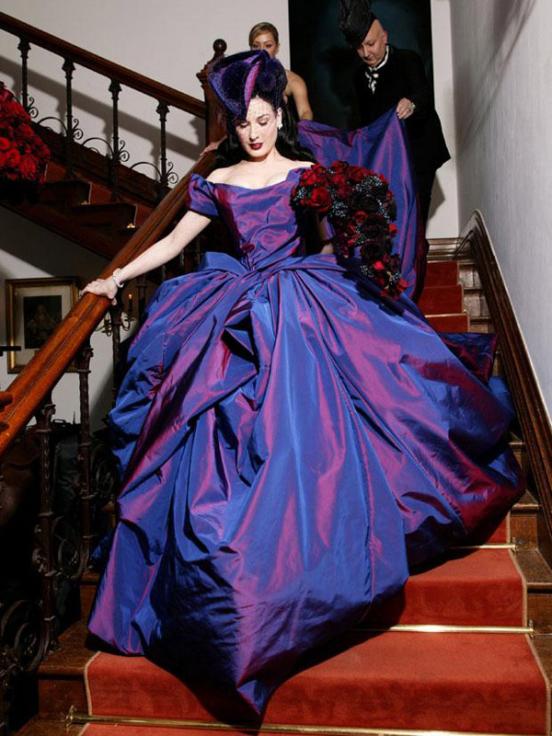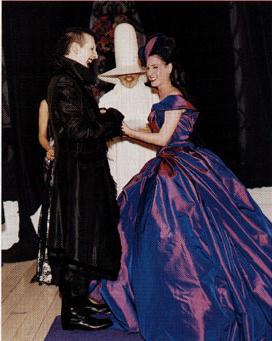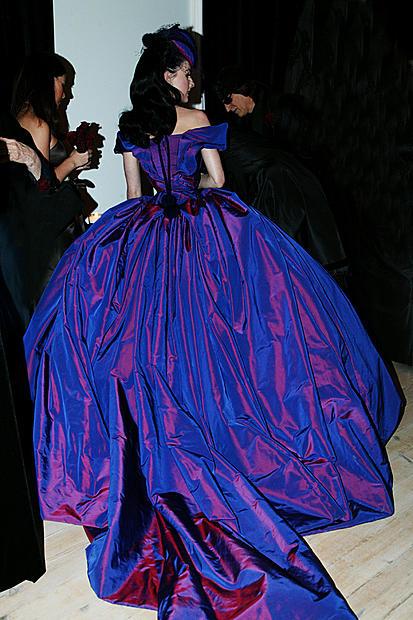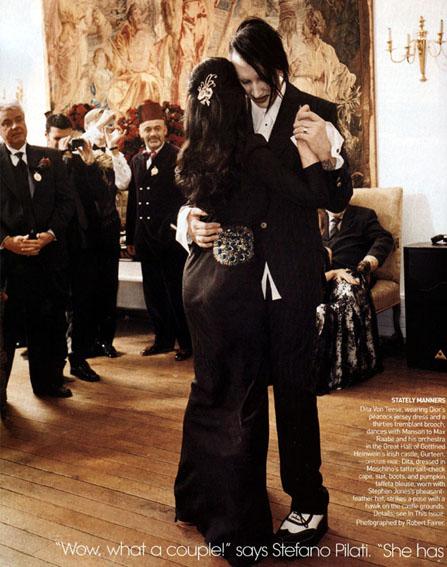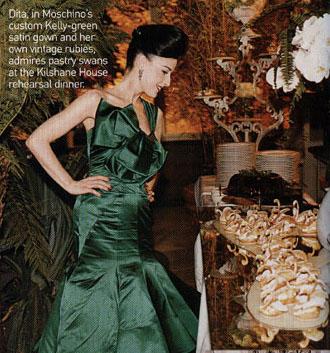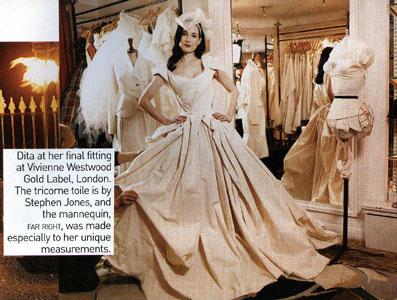 Avril Lavigne.
His wedding dress Avril greatly surprised his fans, accustomed to her punk outfit. Her beautiful dress of organza strapless cream and a fluffy skirt.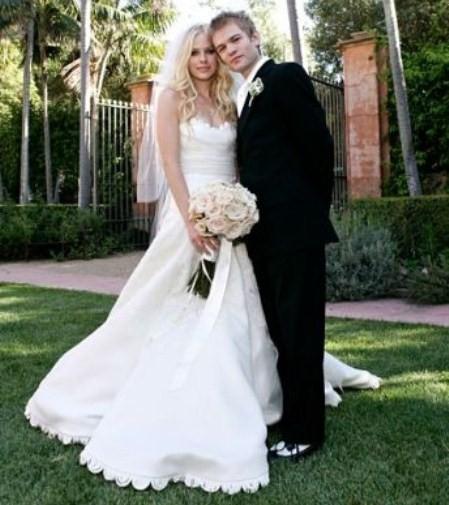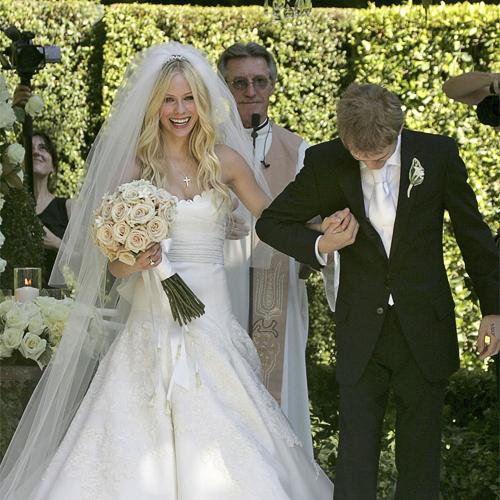 Popular singer in the dress from Vera Wang loosened hair and wore a magnificent tiered veil, which looked exquisitely feminine among her friends who dressed up in pale pink dress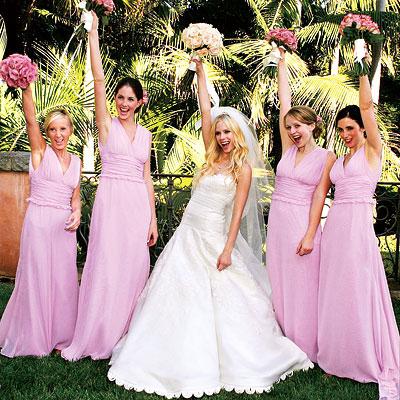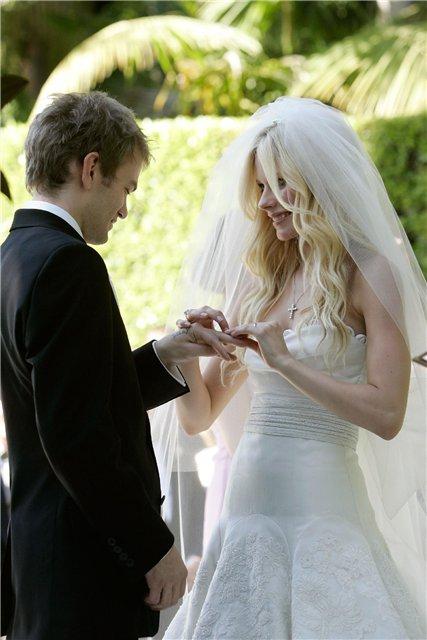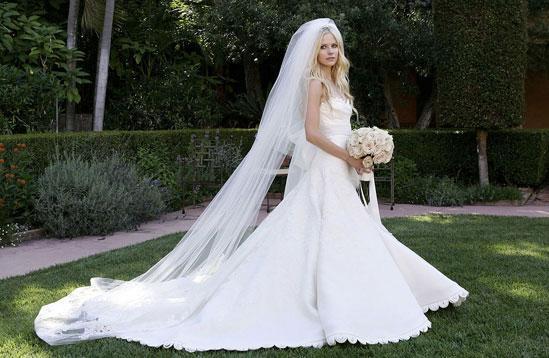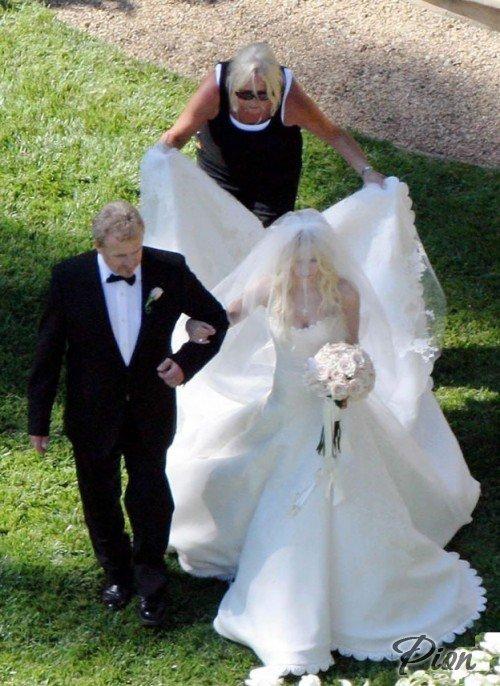 Victoria Beckham.
In a future fashion icon was elegant dress with a rigid corset, very original design on the chest, and the broadest skirt with a train, with an openwork gold crown on his head and with a cross around his neck.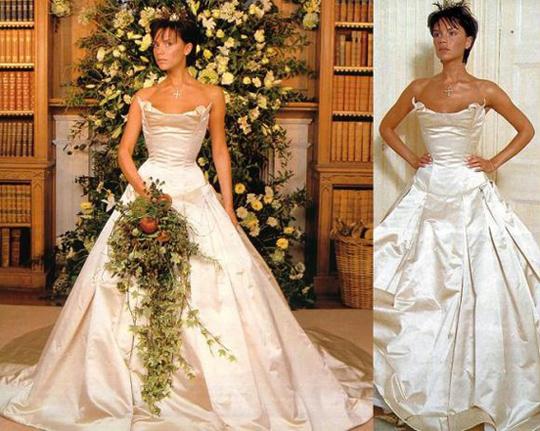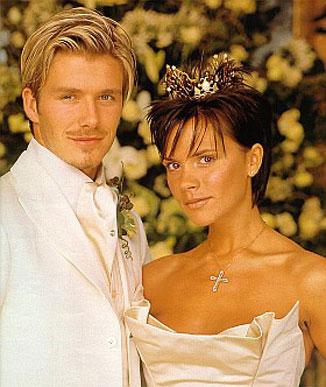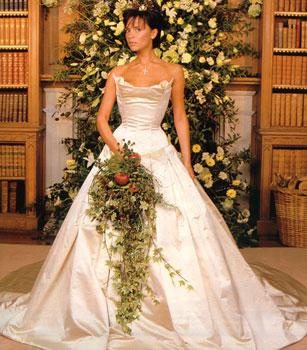 Pink.
The wedding was performed on the beach. And the bride chose a light cream dress with a plunging neckline, pleated full skirt and a big black bow at the abdomen. Black Pink wide ribbon has replaced the traditional veil. The result was one of the most beautiful and at the same time the original wedding dresses.
Christina Aguilera.
The famous pop star, too, surprised the audience by selecting her wedding dress not daring frank and luxurious strict dress by Christian Lacroix, the main advantage of which was gorgeous long train.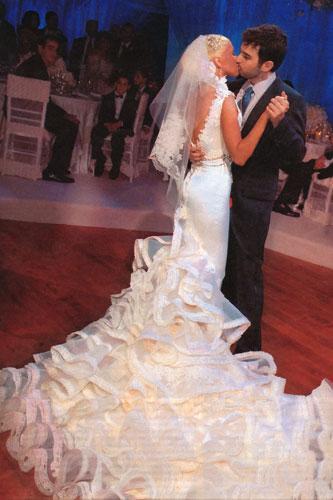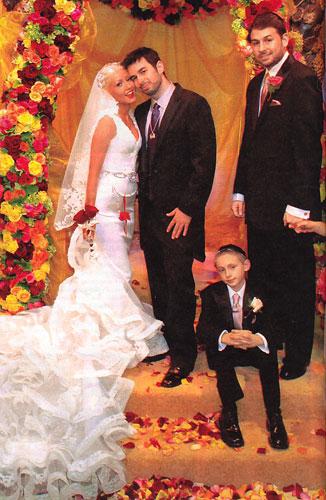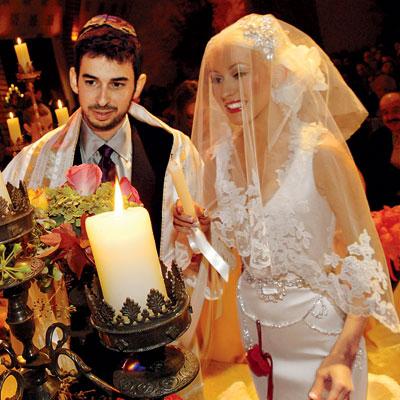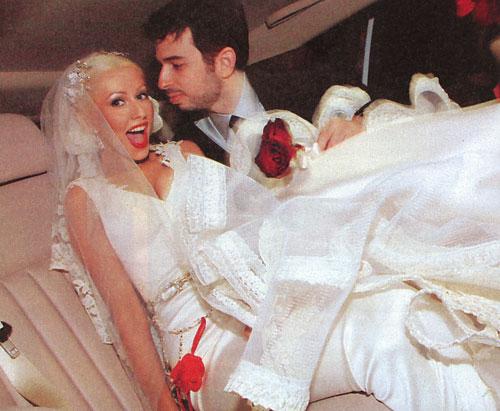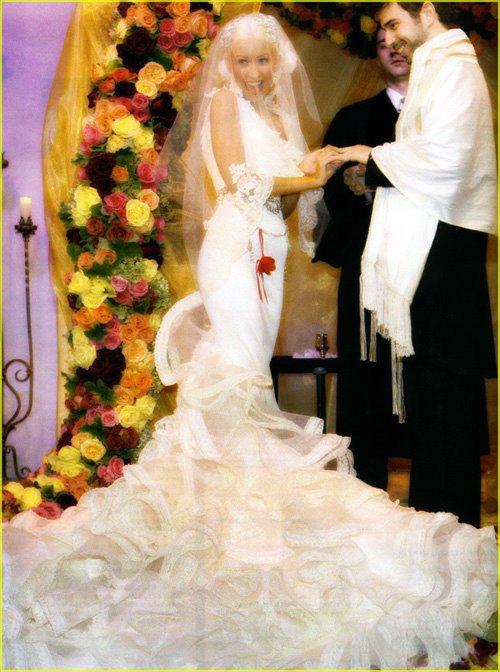 Melanie Knauss.
Billionaire Donald Trump, fulfilling the desires of his bride, model Melanie Knauss: gave her the opportunity to choose the most expensive wedding dress in the world. Perfect dress by Christian Dior worth 100 thousand dollars. It was made of satin and trimmed with diamonds. They said that it weighed about 12 kilograms, although it does not eliminate its uniqueness.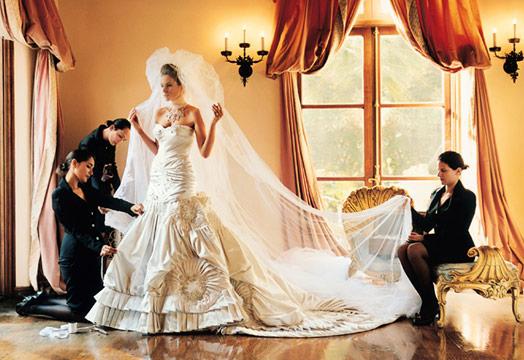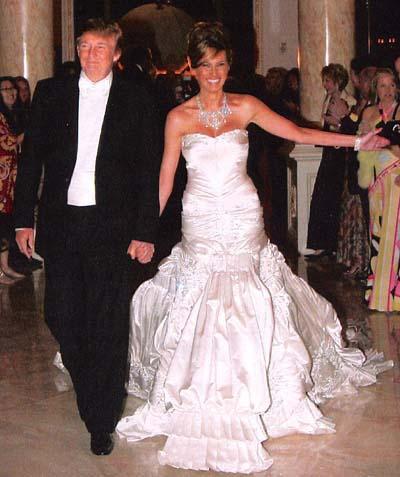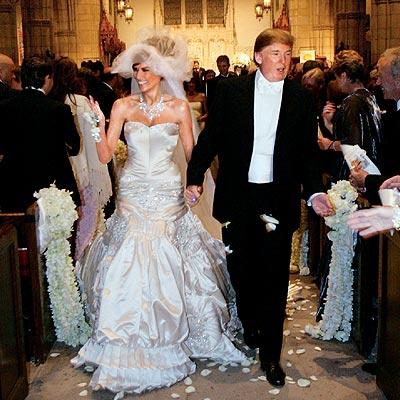 Salma Hayek.
Temperamental movie star was dressed in an elegant wedding dress from the creative director of fashion house Balenciaga, Nicolas Ghesquière, for sewing that took more than 5 months.
Fergie.
Fergie walked down the aisle in the original snow-white dress by Dolce & Gabbana, who finished with a skirt dress beige and black colors of the fabrics, from which descends a 4-meter trail.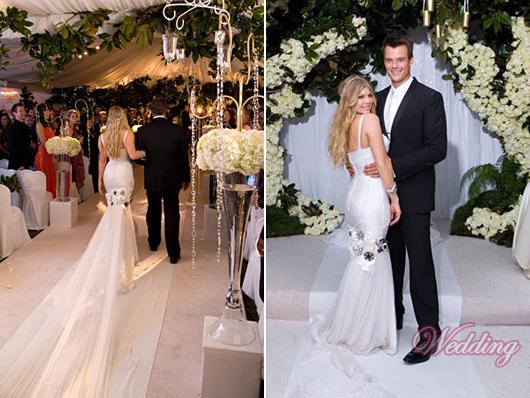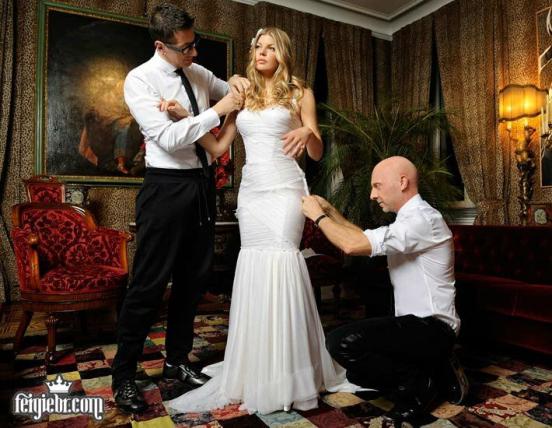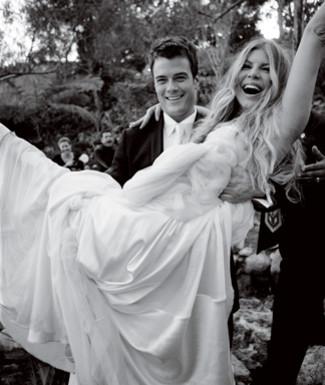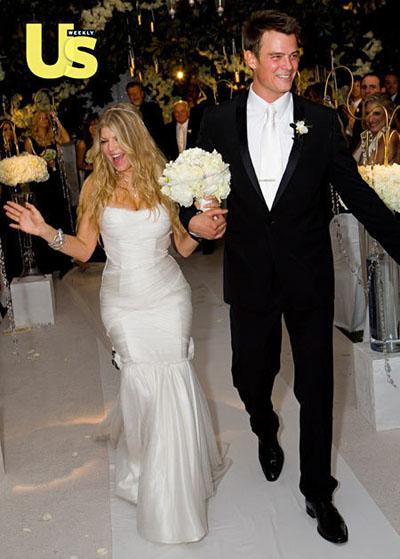 Catherine Zeta-Jones.
A graceful actress chose a dress of ivory from Lacroix. The dress was a bit reserved, but refined and elegant.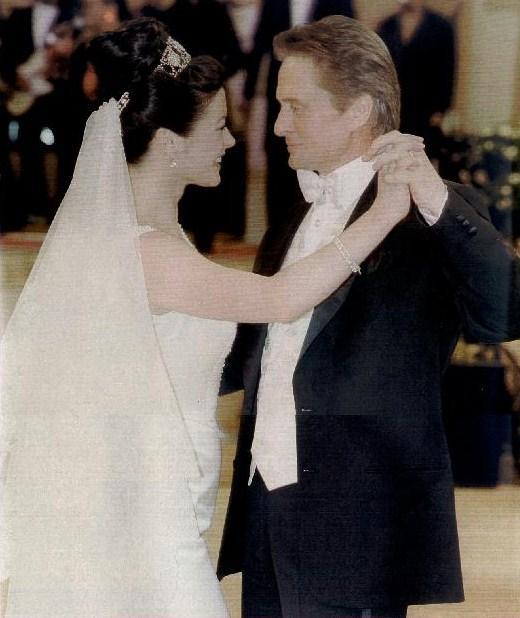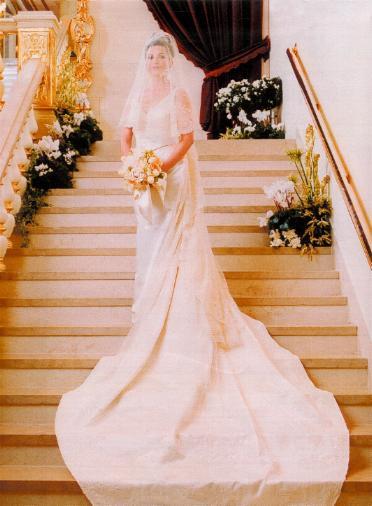 Jessica Simpson.
Dress color Marengo from the legendary Vera Wang, and that says it all. A look at what the bride's bouquet!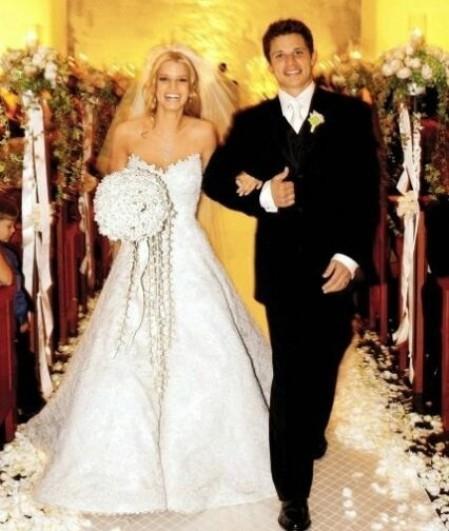 Kate Hudson.
Luxurious dress by Vera Wang with a thin pale turquoise ribbon at the waist Kate wore not for his own wedding, and in the film "Bride Wars." And this dress immediately became a sensation.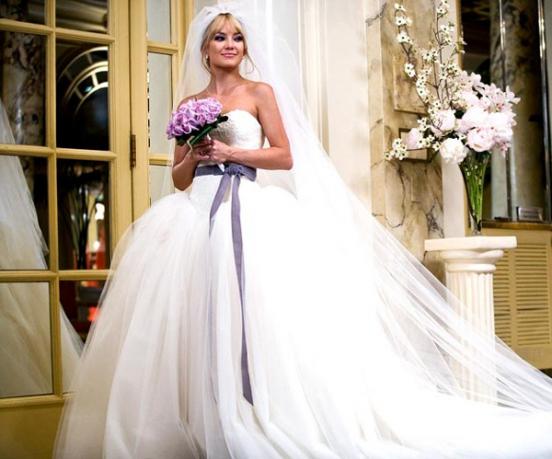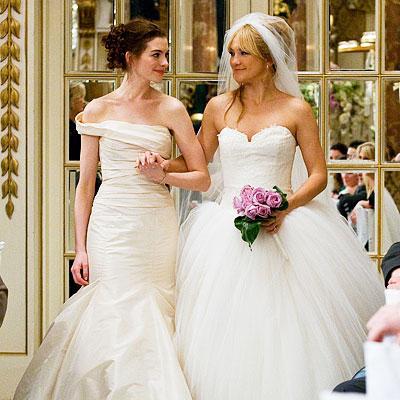 But on her wedding Kate was more restrained.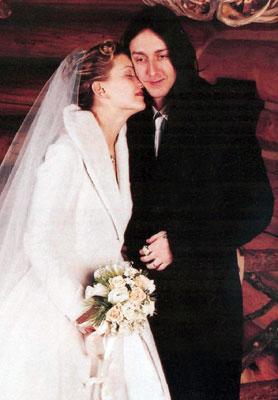 Nicole Ritchie.
Wonderful delicate dress from Marchesa. On its creation it went about 100 meters silk, organza and tulle.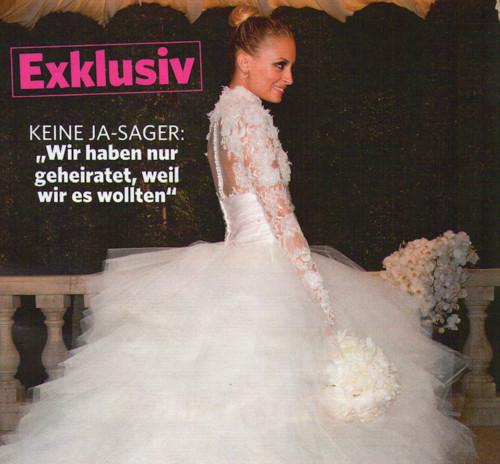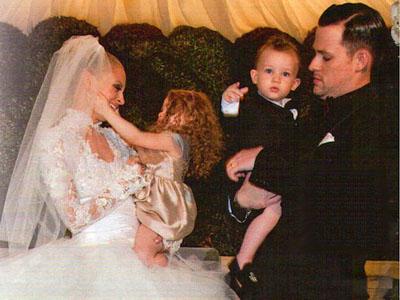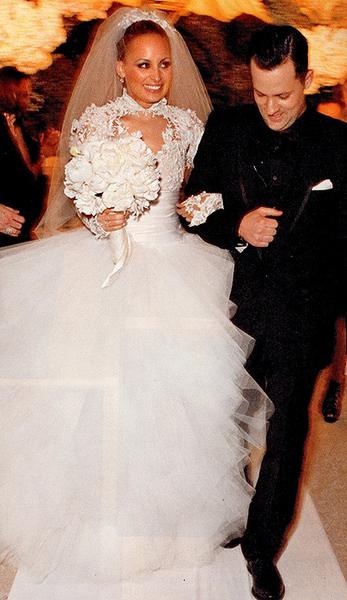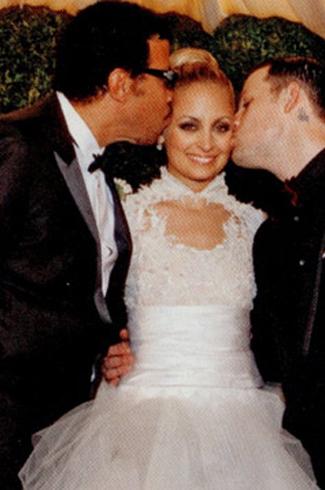 Gwen Stefani.
White-pink dress for Gwen, otherwise you will not tell. Especially made for her by John Galliano, it meets her eccentric style.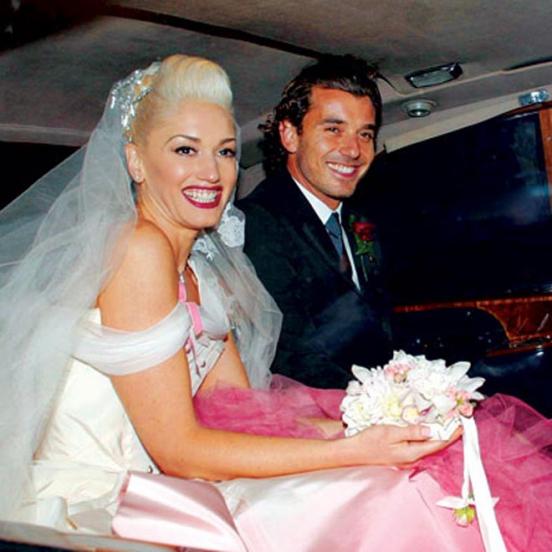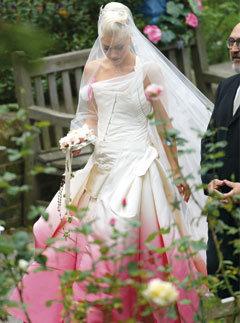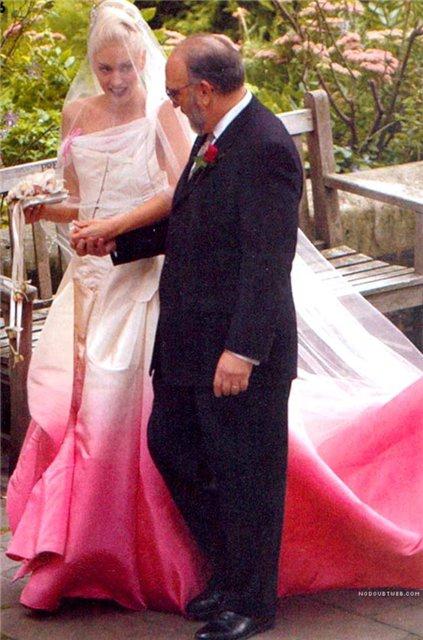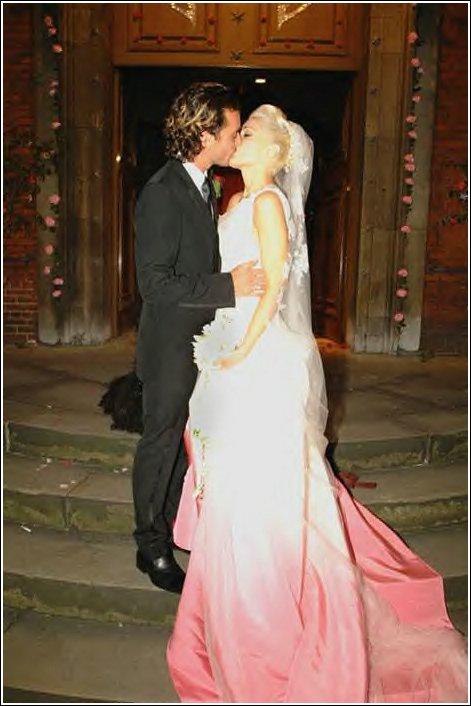 Elizabeth Hurley.
It would seem that the classic white wedding dress. But by Versace, and it just changes everything.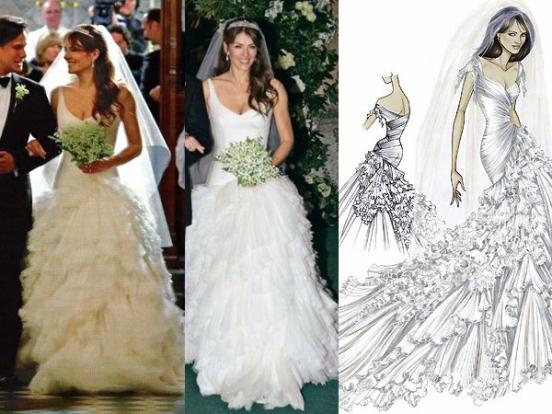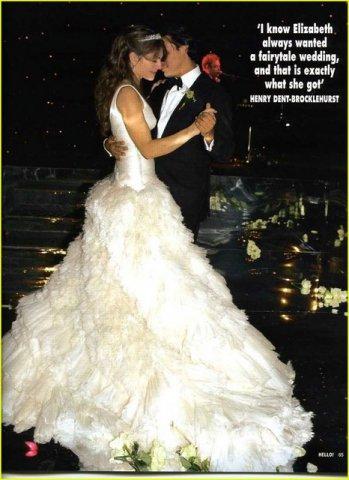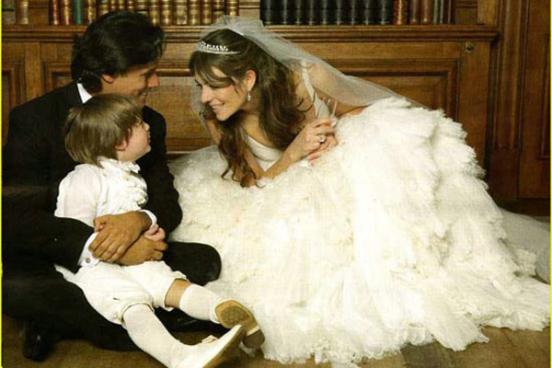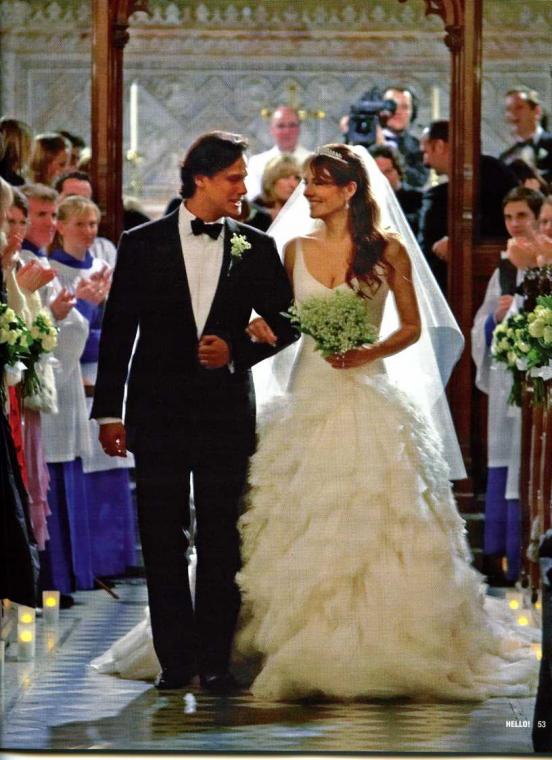 However, in India, Liz dressed in luxurious saris, making more original than the English bride.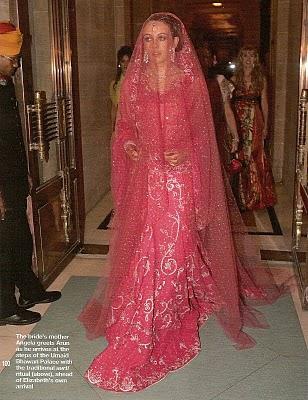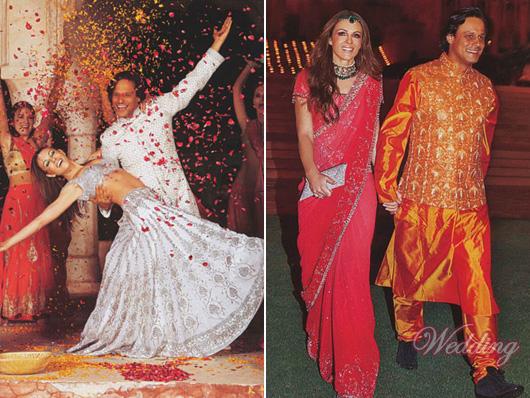 Sarah Jessica Parker.
This beautiful wedding dress from Vivienne Westwood immediately struck by its splendor and originality, and entered into the annals of the highest in wedding fashion.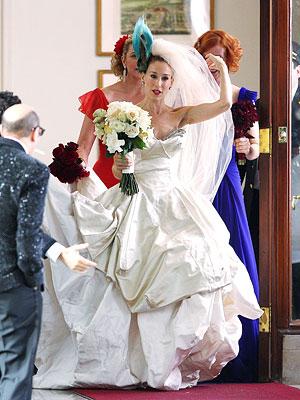 Laetitia Casta on the show Yves Saint Laurent.
One of the legendary wedding images was the release of Laetitia Casta in bikini of roses on display Yves Saint Laurent in 1999. This is undoubtedly a luxurious wedding bikini is quite possible to get married on exotic islands or in hot weather :).