And Tamara Ecclestone and Jennifer Love Hewitt chose this gorgeous dress by Herve Leger for two events with a difference of only 2 days. I must say, it looks on Tamara perfect.
The star of the series "Beverly Hills 90210" AnnaLynne McCord appeared in a gentle dress from Alice And Olivia on a fashion events, combine it with a white jacket. And four days later, an angel of Victoria's Secret Marisa Miller has demonstrated throughout his perfect body, dressed in the same small.
Jennifer Hudson showed its pretty emaciated figure with the help of the dress from Alexander McQueen at the festival in Cannes. However, Vanessa Williams has managed to light up in the same month earlier, with the only addition in the form of a thin black strap.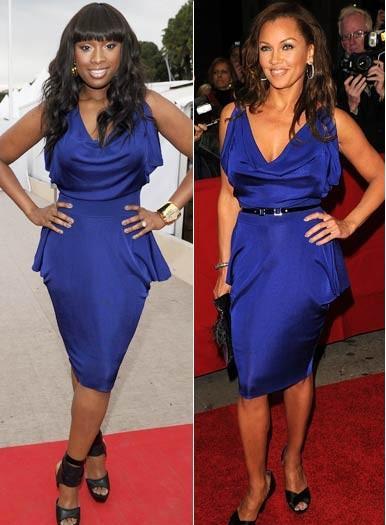 Models Jade Parfitt and Lily Cole both chose this unusual dress by Louis Vuitton with a difference of only 3 months, but they both looked wonderful in it.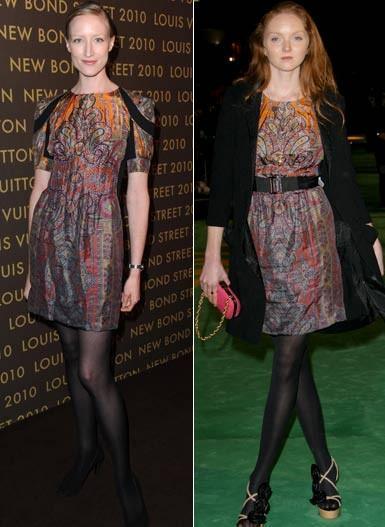 Thandie Newton opted for this lilac gown by Vivienne Westwood, and only 3 weeks later, Jaime Winstone as it appeared in the premiere of "Sex and the City 2" in London.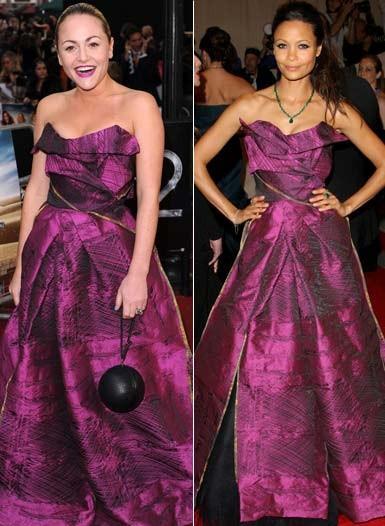 Of course, Kim Kardashian looks much more refined in this asymmetrical dress coral compared with Tyra Banks, where it hangs on a hanger.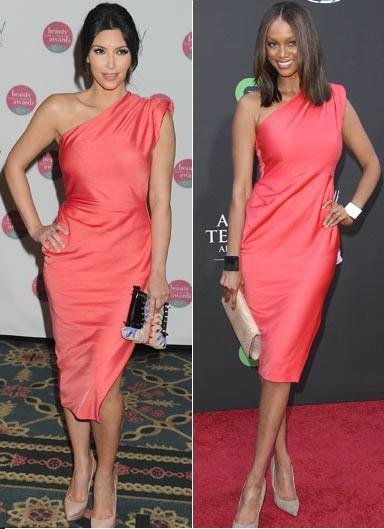 Michelle Monaghan and Natalia Vodianova has attracted this weird dress by Louis Vuitton.
Victoria Beckham must have been pleased that Victoria's Secret model Selita Ebanks chose a dress from her collection.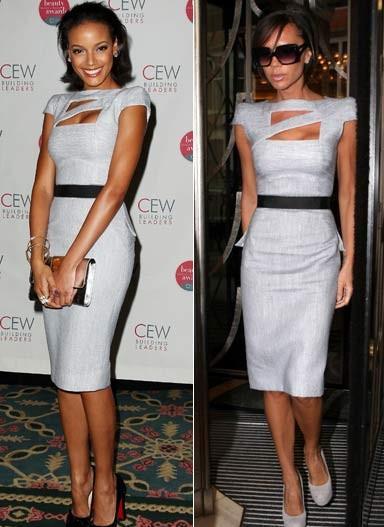 Trudie Styler and Jessica Simpson also appreciated the creation of Victoria Beckham.
It is strange that the designer Marchesa Joji Chapman wore his creation is not the first, Emmy Rossum appeared a step ahead.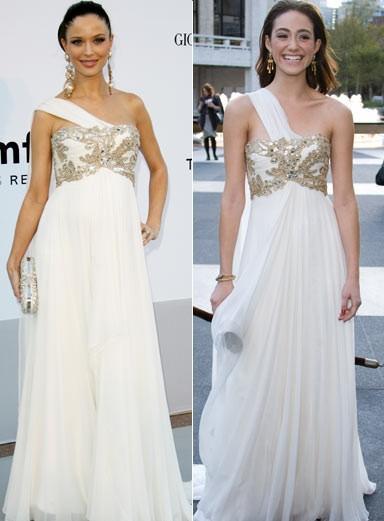 Eva Herzigova has gained worldwide attention on the red carpet of the Cannes Film Festival, has appeared in a chic mini by Dolce & Gabbana. However, it was not the first, Blake Lively fascinated others in this dress a few months earlier.
Kylie Minogue looked excellent in this mini by Emilio Pucci. Well, maybe she just saw Fergie in it and decided to buy the same.
Audrina Patridge has appeared in this glittering dress in October of 2009 and the spring of next year, Carmen Electra has decided that it is appropriate for her dress.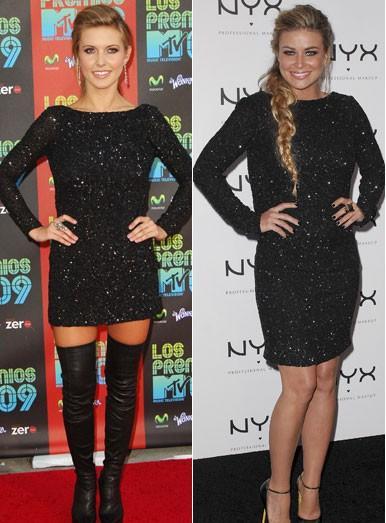 Sharrlotta Church and Alexa Chung chose the same small, but in different colors and adding various accessories.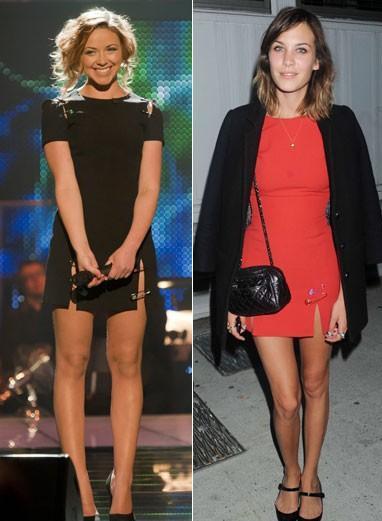 Without a doubt, Christina Aguilera looked at one of the open issues of Oprah, but the dress looks a little familiar. Probably because Sarah Jessica Parker has dressed it up a bit earlier.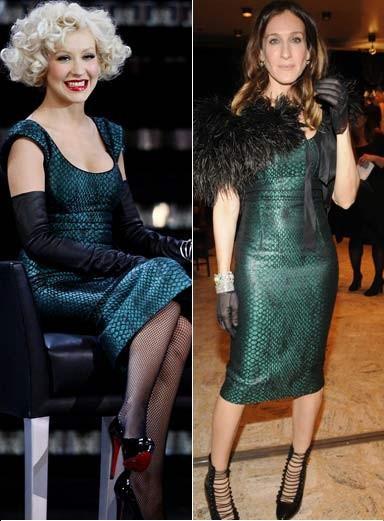 Georgie Porter looked very fresh in a white dress by Stella McCartney on the red carpet. Stella herself had already dressed him, apparently trying to make him publicity.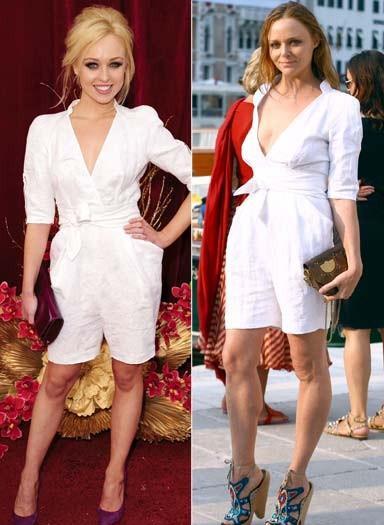 And Zoe Lister, and Diane Kruger looked charmingly in an asymmetric dress by Roland Mouret.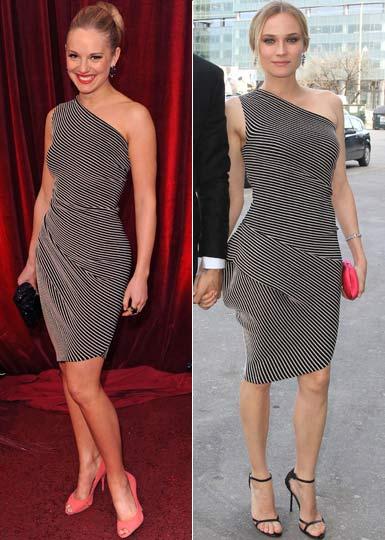 Cheryl Cole and Charlie Clemmow chose the same dress for different events, but it looked better than Cheryl.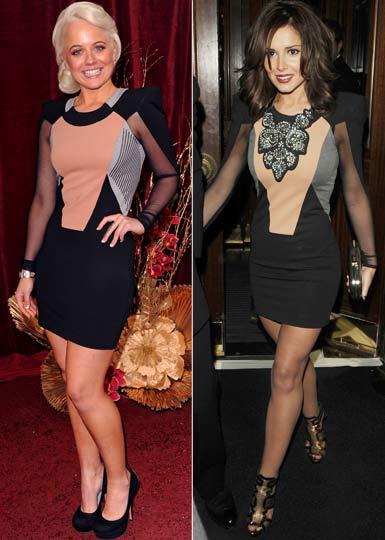 Sarah Harding has appeared in a beautiful dress by Alexander McQueen a few months later Tyana Benjamin, but they look at it equally well.
Nicky Hilton and Margaret Missoni chose one dress in different colors to shine in the spotlight.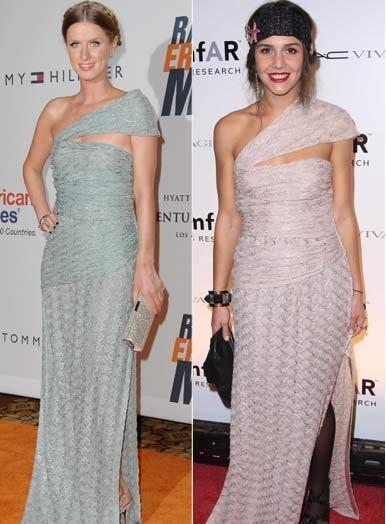 As soon as Sheryl Crow and Tina Fey arrived at the Matrix Awards in 2010, they found an unpleasant thing - the two girls were in the same dresses from Dolce & Gabbana. Perhaps they are slightly disappointed, but did not show, moreover, that the cut-out at the different dresses and immediately the similarity is not so noticeable.
Kelly Ripa and Sarah Jessica Parker chose this delicate dress to go out with a difference of a few days, but both looked lovely.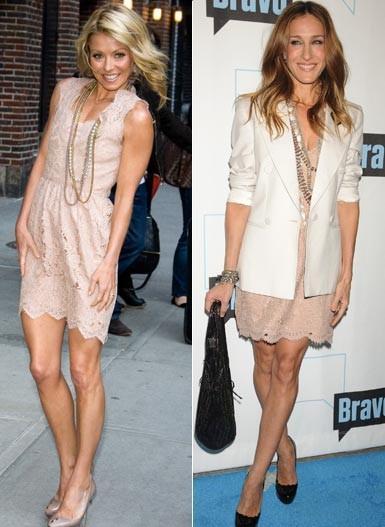 It looks like Cheryl Cole and Tolula Adeyemi both fans lace dress by Sass & Bide.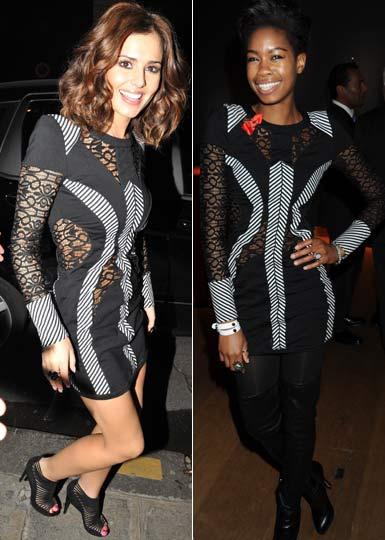 Florence Welch and Rihanna chose this exquisite dress by Dior and it looked gorgeous.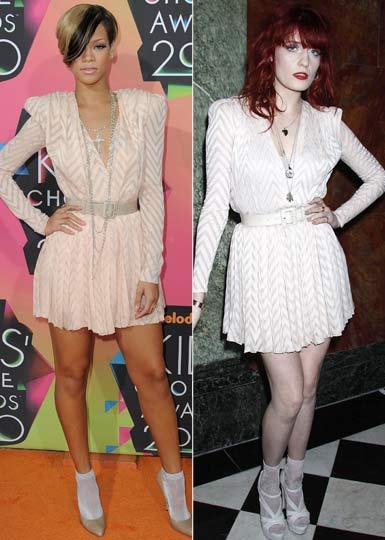 Leigh Lezark and Kate Bosworth wore this cute mini with a difference in a year, but both looked at it in different ways, thanks to the accessories.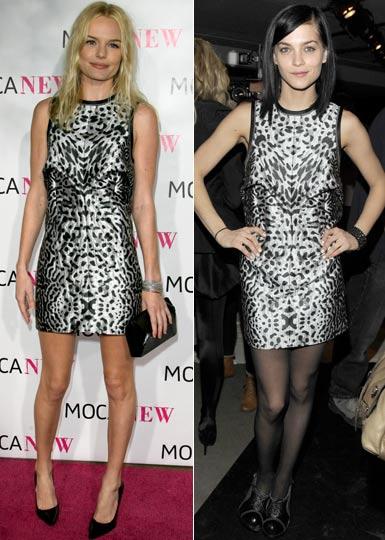 Fergie looked very sexy in this bright dress from Dolce & Gabanna, while Jamie Winston tried to give it a more conservative look, a little bit down the length.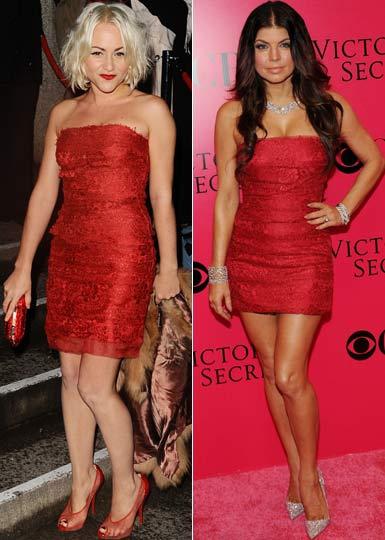 Rose Byrne and Sarah Siegel-Magness decided that this dress with high collar suit them perfectly, but still with black tights on Rose, it looked much more advantageously.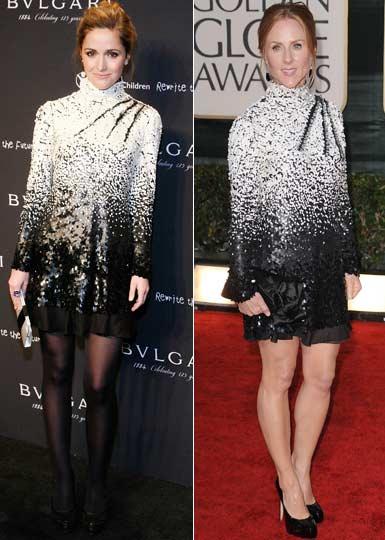 Toni Collette and Paulina Rubio looked like a goddess in this chic long dress.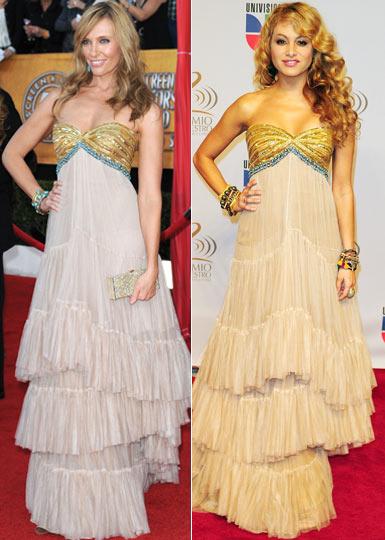 And Princess Eugenia, and Rachel Bilson have preferred animal prints.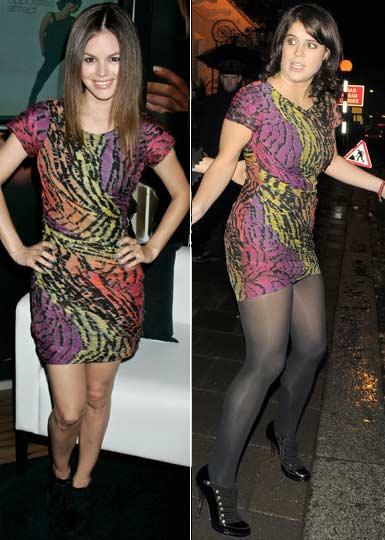 Blake Lively appeared in a lace creation of D & G in December 2009, and after 3 months Beyonce chose it as a stage outfit for one of the shows.