We continue to consider the same dresses celebrities ...
It seems that it is really very comfortable denim overalls, just three times celebrities (Alessandra Ambrosio, Ashley Tisdale and Nicky Hilton) chose it.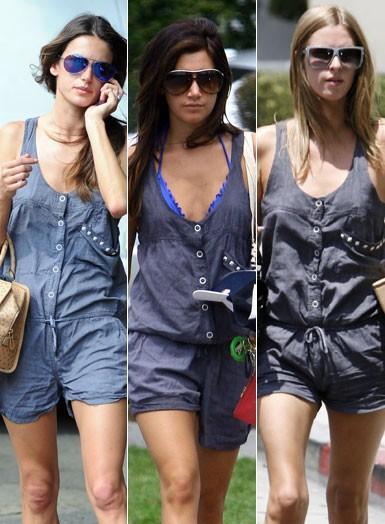 Leather dress from Dior does not leave much room for imagination. Nevertheless, Marion Kotilard and Daisy Lowe were not afraid to flaunt it.
Christine Bleakley appeared in this extraordinary dress by Project D Tinsel at the ceremony Pride Of Britain in 2010, apparently not knowing that Dannii Minogue ahead of her all week. Both beauties look so alike (from red brooch and ending with black shoes), it is difficult to say who is better.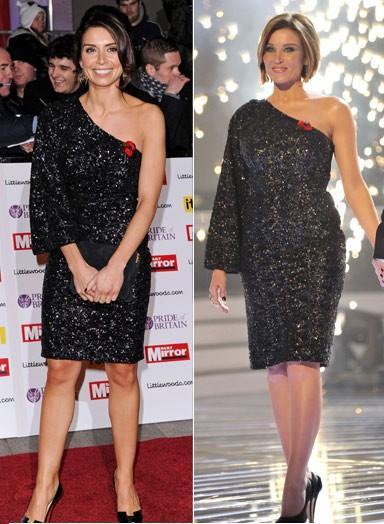 Lea Michele starred in a dress by Herve Leger six months earlier before the Nelly Furtado chose him for a walk down the red carpet.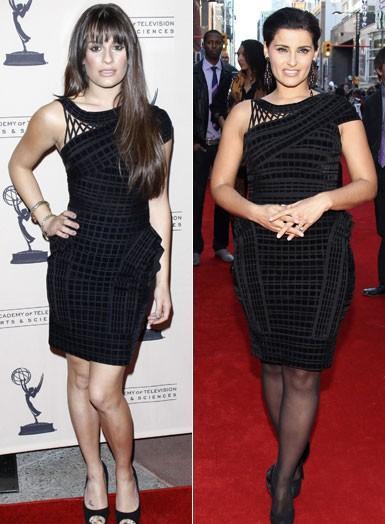 If someone needs proof that in matters of fashion Victoria Beckham always ahead of the rest, then here it is: peppercorn appeared in this dress by Roberto Cavalli four years before Raphael Bar.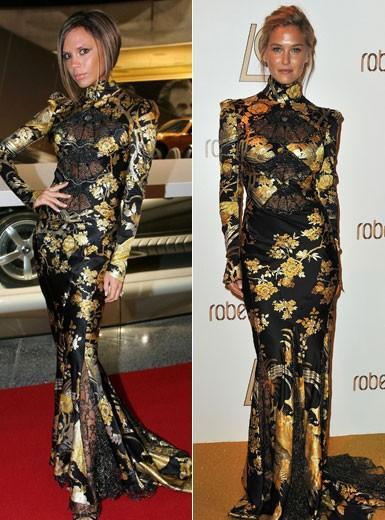 Of course, Eva Longoria looked a million dollars in this brilliant mini by Elie Saab. But if she knew that in 2010 Cheryl Cole wore it to present its line of jewelry?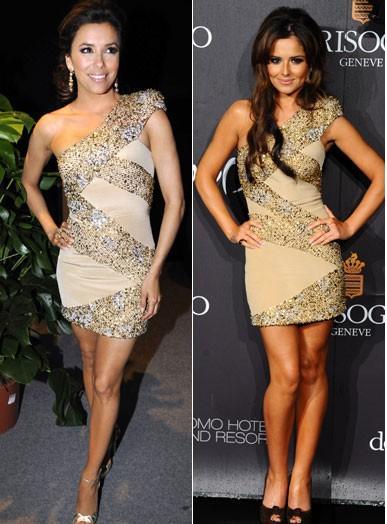 Looks like Kim and Chloe share not only genes, the girls chose the same dress for different events with a difference of only a couple of days. Of course, no one missed the chance to compare sisters and then the winner is visible at once - this time at the height of Kim.
Lily Allen is heated in a cozy poncho by Louis Vuitton. However, Kate Hudson ahead of her for a few months and I must admit, Kate looks much better - Lily in this outfit some gray and dull.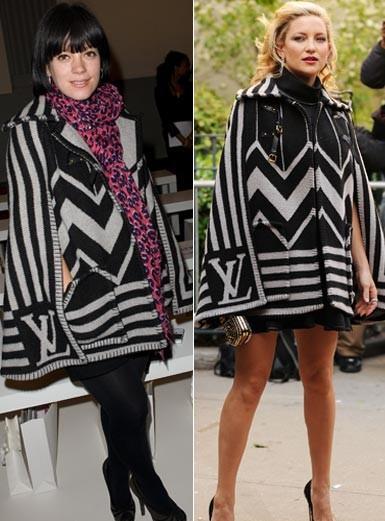 Ryan is known for his love of experimentation and unusual outfits, and Jennifer Garner on the contrary his craving for classic elegance. Nevertheless, both chose a little black dress from Stella McCartney.
And again we have someone? That's right, Kim Kardashian. This time the star of a reality show came together in a battle with Kristin Cavallari for the right to be the best in this wonderful dress tulip. Of course, the two girls presented a completely different images, but she and the other simply irresistible.
All used to seeing Olivia Palermo in vintage clothes or design refinements and then she appears in a purple robe on Bensoni, in which four months earlier sported Jennifer Love Hewitt. It is not clear, of course, why she latched on to a pretty flowered dress leopard belt.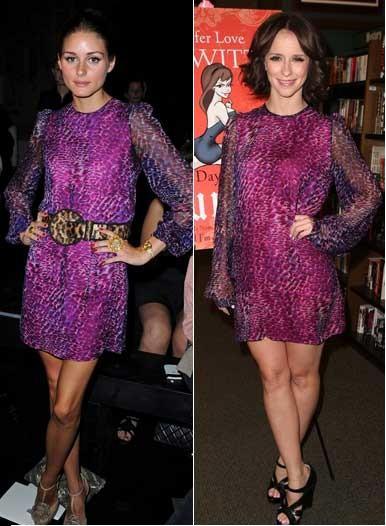 No wonder that Victoria Beckham appeared in this elegant dress before Leighton Meester in an episode of "Gossip Girl." And no wonder that it looks much Vicki harmoniously - still strange to combine a dress with flip-flops.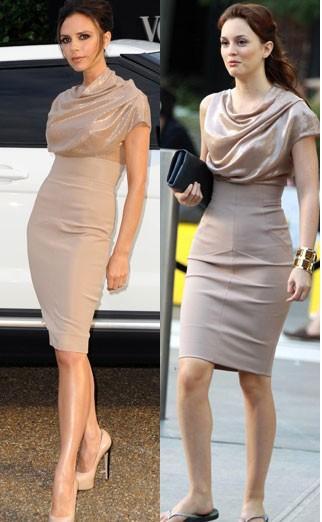 Drew Barrymore gets a little plus for this beautiful dress by Catherine Malandrino. And it does not matter that Mary J. Blige has already lit up in the same little earlier.
Poor Serena Uilliyams decided to engage in a battle with the fashionable Miranda Kerr. Of course, once it is clear that the model wins in all respects, but we must pay tribute to the Siren - hair and smile refresh the whole outfit.
Since both Beyonce and America Ferrera - girls with forms, not surprising that they both prefer one style dresses. As an example, here's this wonderful dress by Catherine Malandrino. Although Beyonce appeared in it much earlier and look simply irresistible, we must pay tribute America - outfit looked at it no worse.
Eva Longoria struck all on the spot, appearing in this elegant suit, but she did not know that Rachel Bilson already wore it a bit earlier.
Who would not want to be in the same dresses, so it is with Eva Mendes - well, who wants to, so it was compared with that perfect woman. At this venture could only Thandie Newton.
Fearne Cotton and Liv Tyler shared the taste in this colorful dress from Mulberry, however Firn give it a more casual look, and Liv, it seems, is going to a party.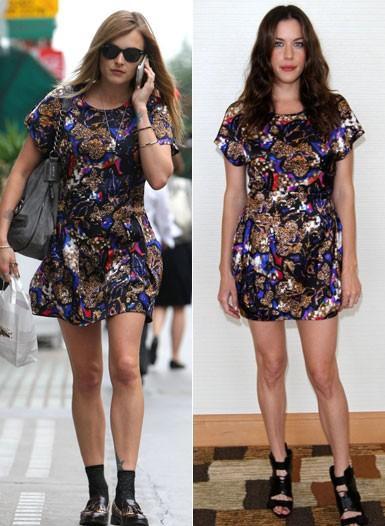 And while it's shiny black dress may seem to some outfit for Halloween, Ryan and Jennifer Lopez as well not believe in it safely dandy at social events.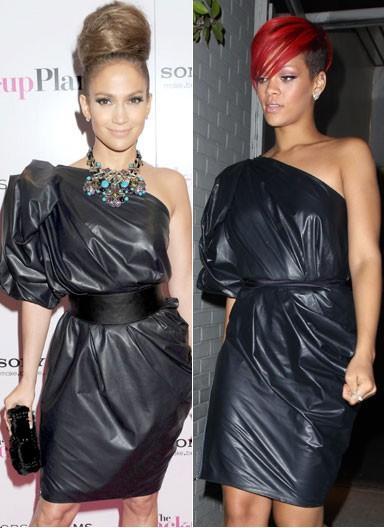 Zoe Saldana ahead of Olivia Palermo for four months, the first in this beautiful lace Valentino mini first.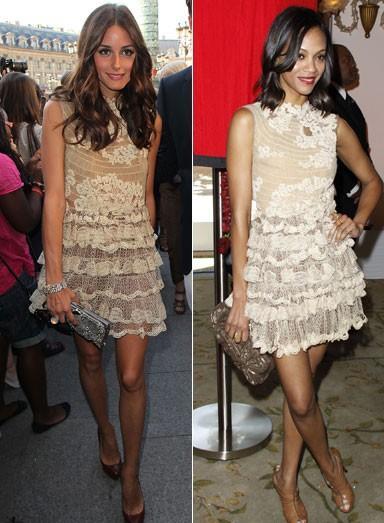 Kelly Brook shone in this Goroshkova dress a few days earlier Connie Hyuk, but it does not matter - because the dress for 45 pounds can not qualify for a dress for the red carpet.
Zoe Saldana and Eva Longoria appeared in the same dress from Herve Leger, but it did not bother neither one nor the other, because both girls dress looked quite differently.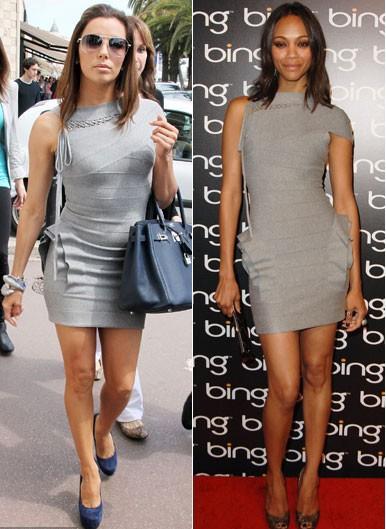 Emma Bunton appeared in this fabulous dress by Alexander McQueen few days earlier Salma Hayek. But it can be repeated, yet Emma in London, and Salma - in New York.
Just three celebrities appreciated extravagant dress by Julien Macdonald. Cheryl Cole chose gray option, Alex Curran and Tamara Ecclestone settled on a black and white version. And all three look very impressive.
Daisy Lowe and Ashley Greene are very fond of D & G. That love for the brand and allowed them to appear in the same dress.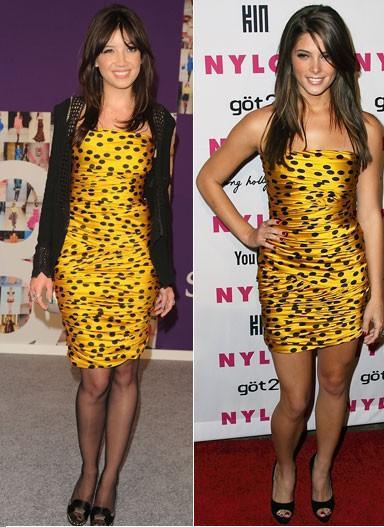 Another pair of celebrity fans D & G - Sophie Ellis Bexter and Peaches Geldof.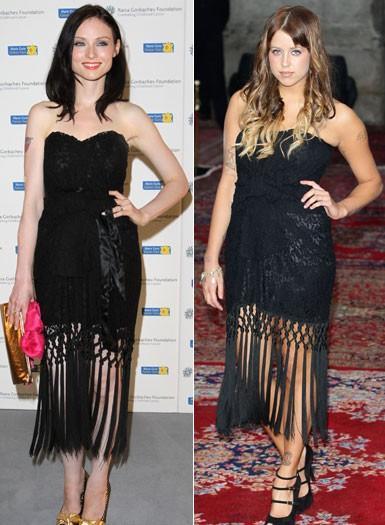 Fergie and Julianne Hough have preferred black dress by Camilla & Marc. And both are fine.
It turns out that even celebrity sisters change things. Example of Chloe and Courtney Kardashian, appears in the same dress from Chanel on different days.
With the growth of Lily Cole golden dress by Dior looks more like a tunic. And Charlize Theron, it looks very noble.
They are both young and beautiful, so that the designer Phillip Lim should be pleased that Samia Smith and Lauren Conrad chose him dress for the appearance on the red carpet.