In those or other variations shirt-dress appeared in almost all collections SS14. Absolute hit by the cut this spring and asks to take place in your wardrobe. About color variations universal clothes, fabrics and textures, accessories and shoes - in this review. A specially selected 10 of the best options from various online stores to help finalize the style, color and price of future purchases.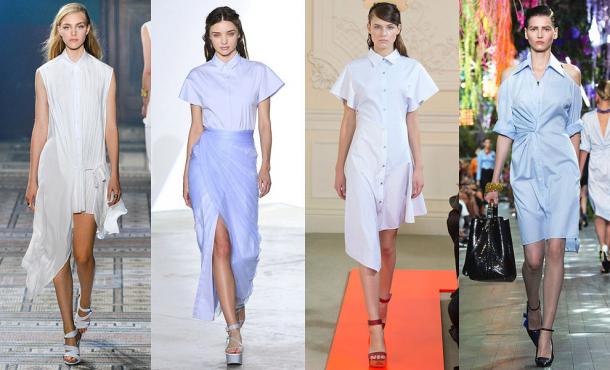 Dress-shirt collections from international designers
1. Christian Dior
As simple and uncomplicated, straight-cut shirts have become an important part of the spring 2014 collection by Christian Dior. Minimum of accessories and all the attention to style and cut of the elongated jacket make it a versatile and convenient thing for every day. The main decoration, which allowed themselves designers, this oblique seams and an abundance of buttons in unexpected places. Also, these dress-shirt borrowed from the main trend in one of its components - casually rolled up to the elbow sleeves.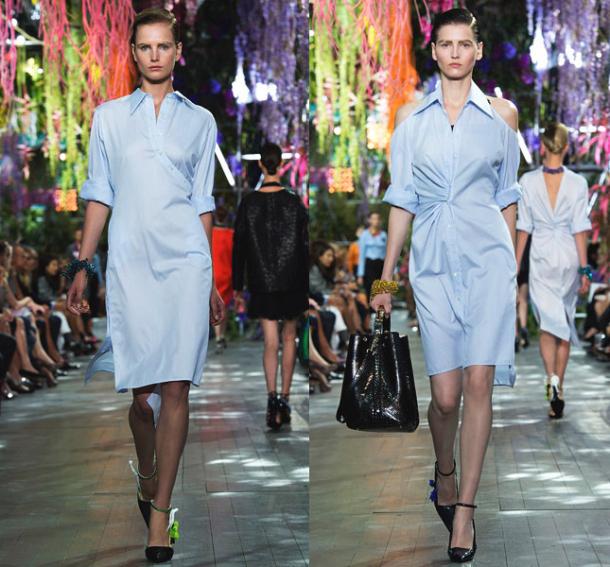 2. Balenciaga
More elegant model in 2014 suggested designers Balenciaga. Their dress-shirt in the popular bright white with translucent inserts distinguished elegance and intricate cut. A tight collar under the throat contrasts favorably with the length of the mini. In terms of the sleeve these designers offer two options: too long and loose or no. Here it is a matter of choice.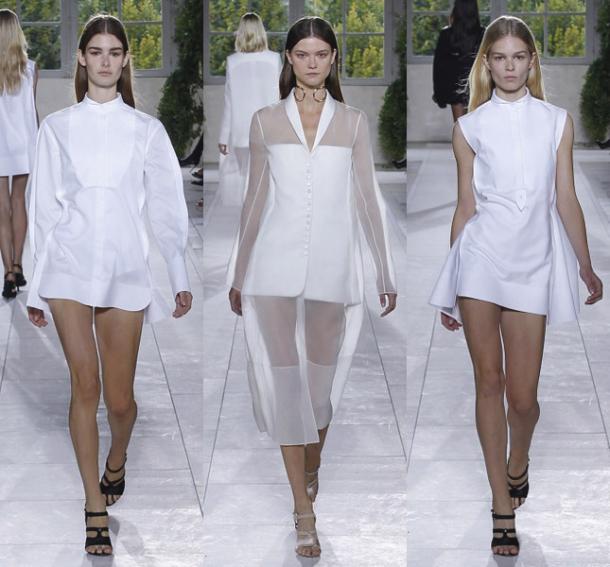 3. Ports 1961
These dresses full of rich colors are reminiscent of a shirt collar or smell somewhere at waist level. The rest of this classic dress with a full skirt just below the knee of the gentle flowing fabrics.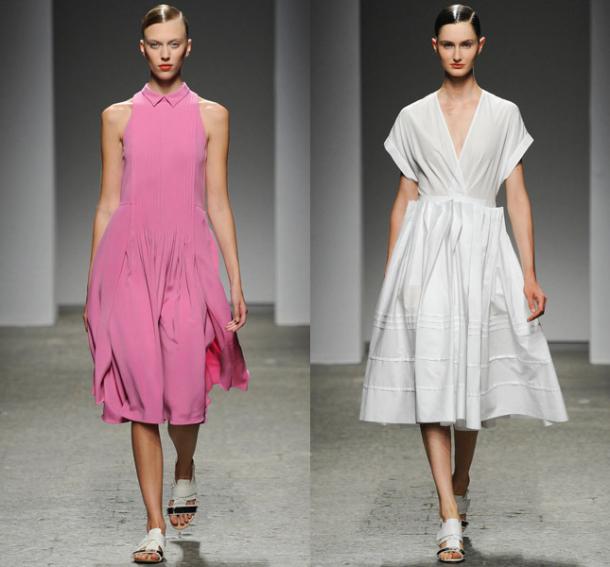 4. N 21
That's what I understand shirt. Classical oversize model of its claims to be the length of dresses and stylish appliqué adds a shirt from the male wardrobe femininity and charm. Characteristically, this model-shirt dress needs no buttons, zippers, additional accessories and parts. At its N 21 fashion trends spring-summer 2014.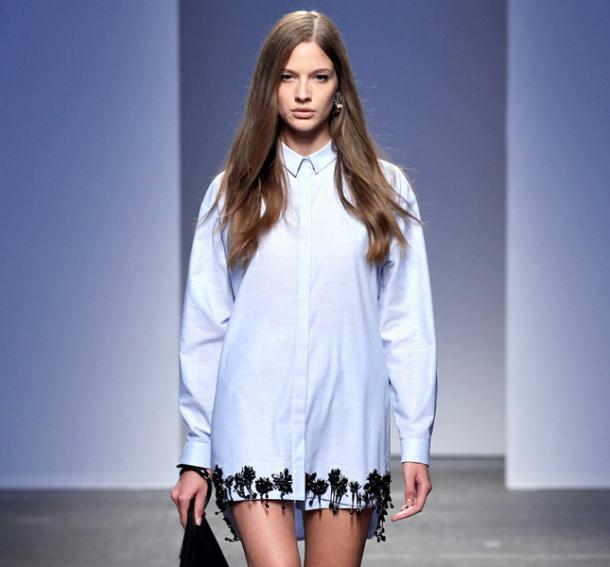 5. Tods
Interesting model leather jacket-dress takes an entirely different color in the spring 2014 collection from Tods. The fact that this skin, you can guess with only 10 look so subtly worked out every detail and soft texture is selected. Such models are very nice on the background of black lacquer, often stiff shirts that walked on the runways this season. Here - delicate flowers, free cut, rolled up sleeves and such fashionable layering, where the skin is soft dressing akkomponimiruet cotton in the same colors.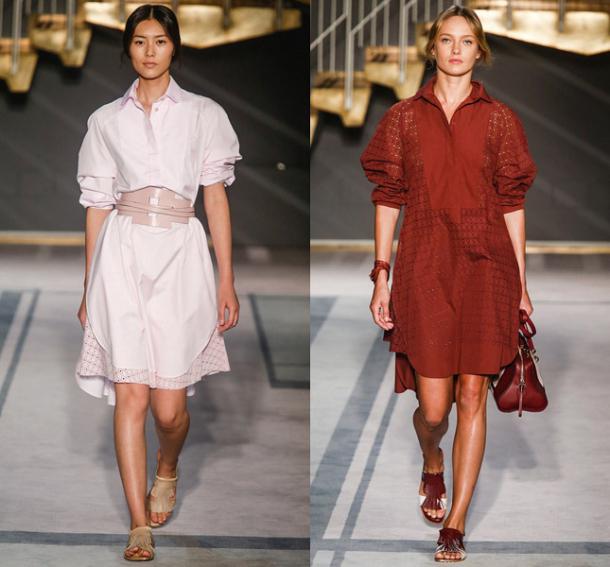 Fashionable colors of the season
The collection spring-summer 2014 you will have to try too, that would find a similar model dress-shirt in acidic, too bright and cause shades. Along with the undoubted favorites - beige, pastel shades of pink and blue, in the first row are interesting models in burgundy, cherry, milk, dark-blue shades. Among the most popular prints stripes.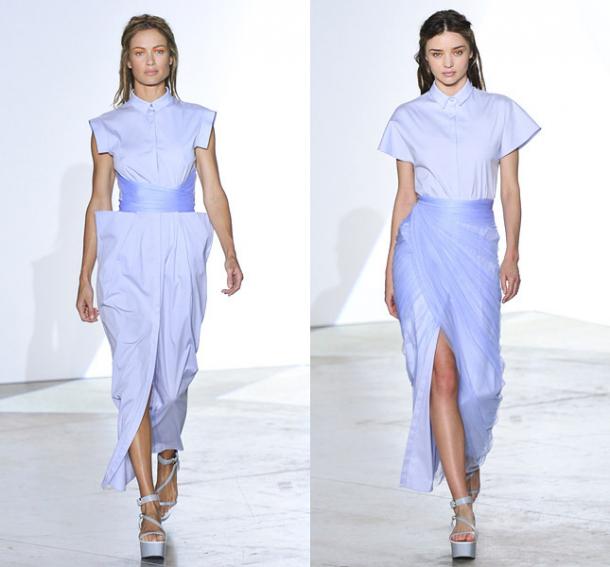 Vionnet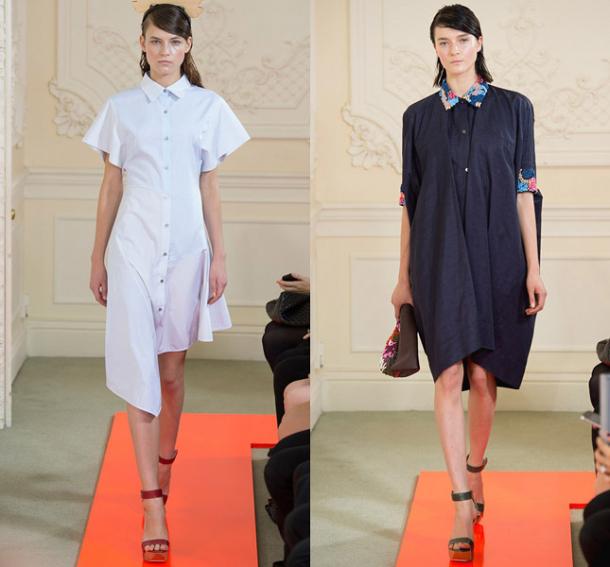 Eudon Choi
Shirt-dresses 2014: fabrics and styles
Silk, cotton and leather models, often made of light, almost weightless flying and fabrics are undoubted favorites of the collection spring-summer 2014. A good choice can not be one-piece model, and shirts with inserts - from the same leather or translucent materials. Extra Long shirt or dress with buttoned collar attracted in the first place, its practicality and versatility.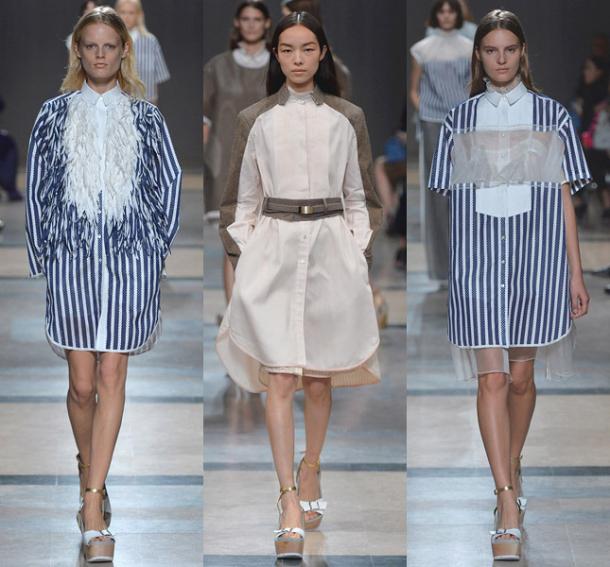 Sacai
Shirt-dresses 2014: the best deals at online stores
1. Silk translucent dress plaid shirt McQ Alexander McQueen, stylebop.com, € 251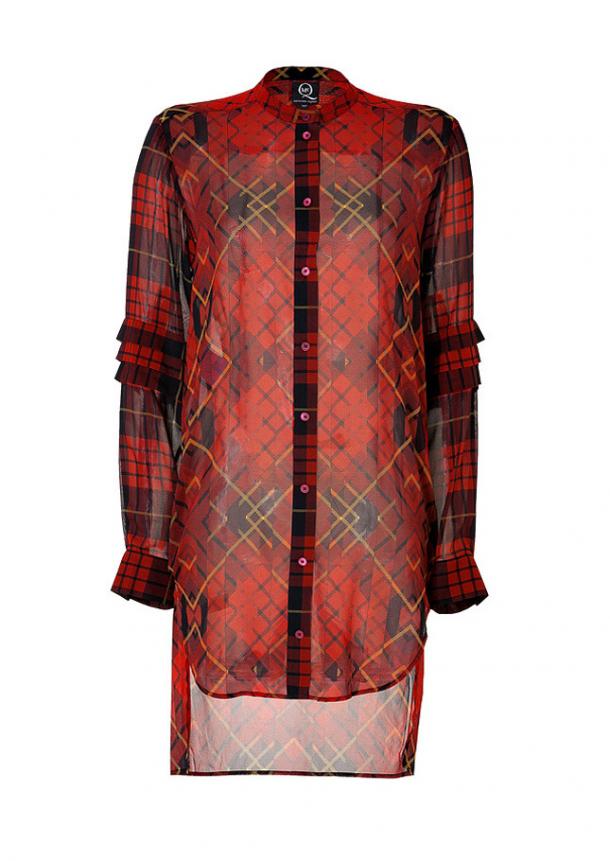 2. Cotton dress shirt without sleeves Alexander Wang, farfetch.com, € 577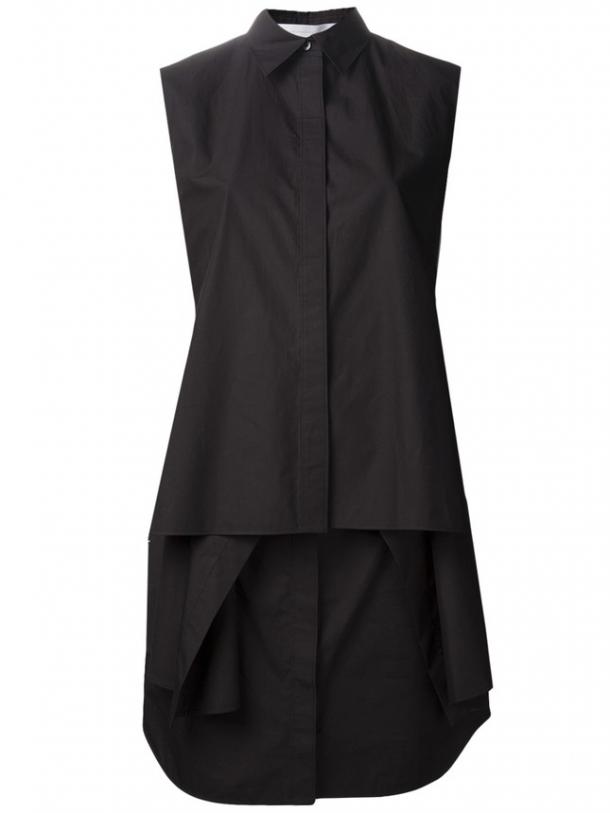 3. The dress of silk chiffon and 3.1 Phillip Lim, farfetch.com, € 729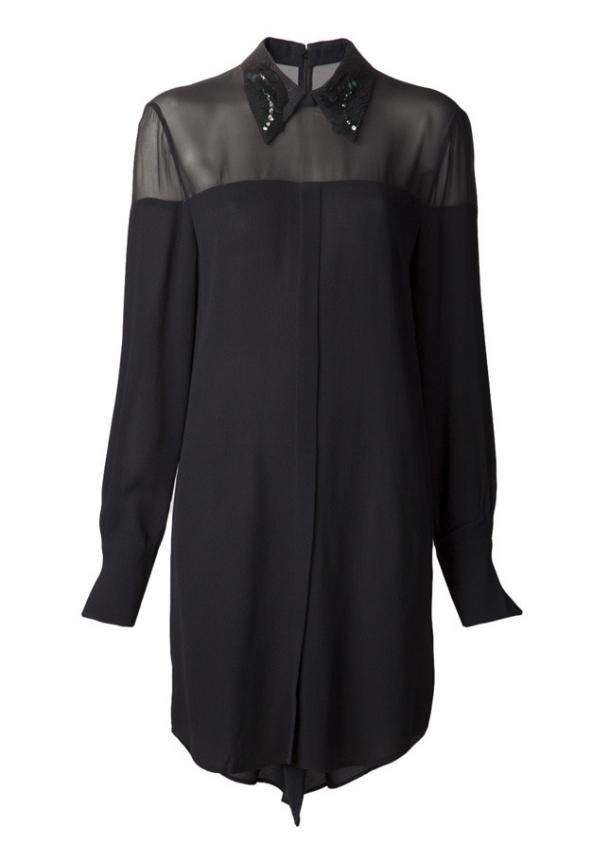 4. Leather dress Reiss, £ 350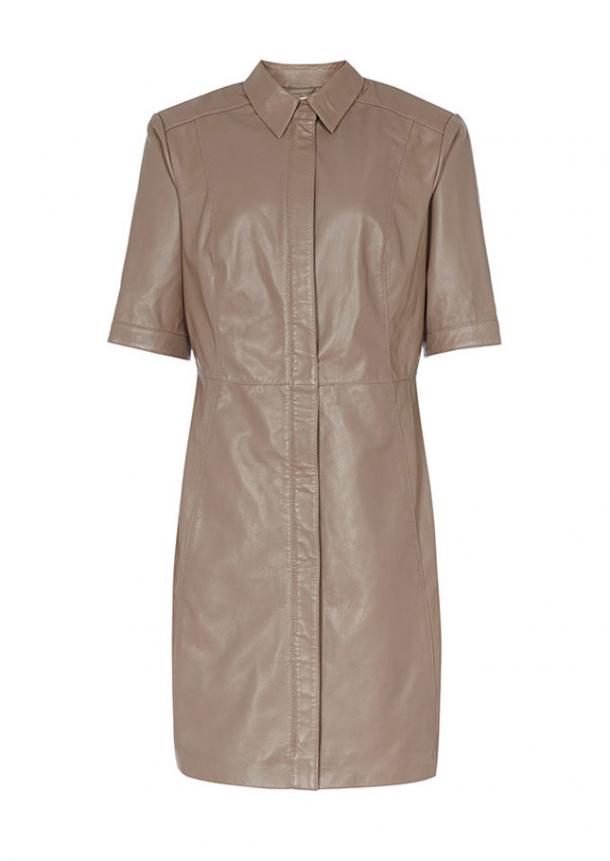 5. Suede dress Iris & Ink, theoutnet.com, £ 295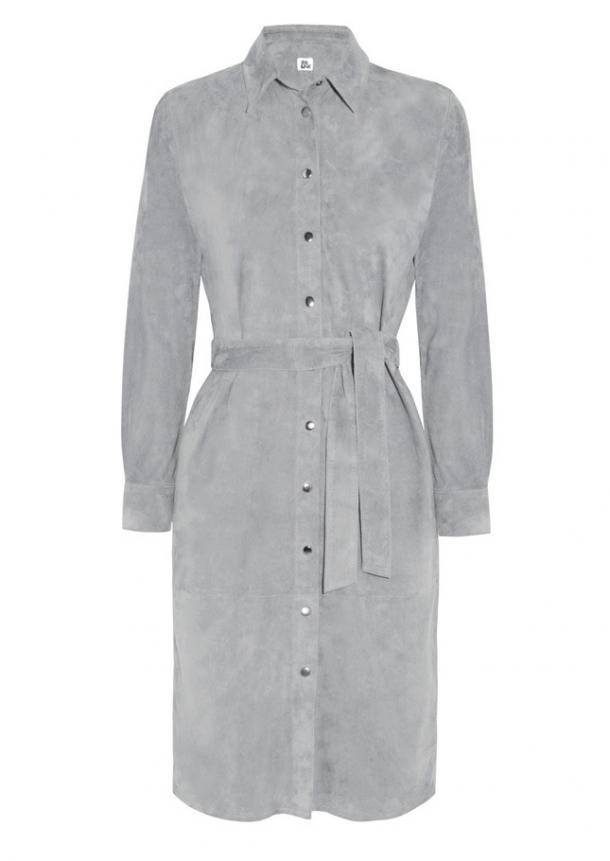 6. Cotton dress with geometric print Carven, farfetch.com, € 331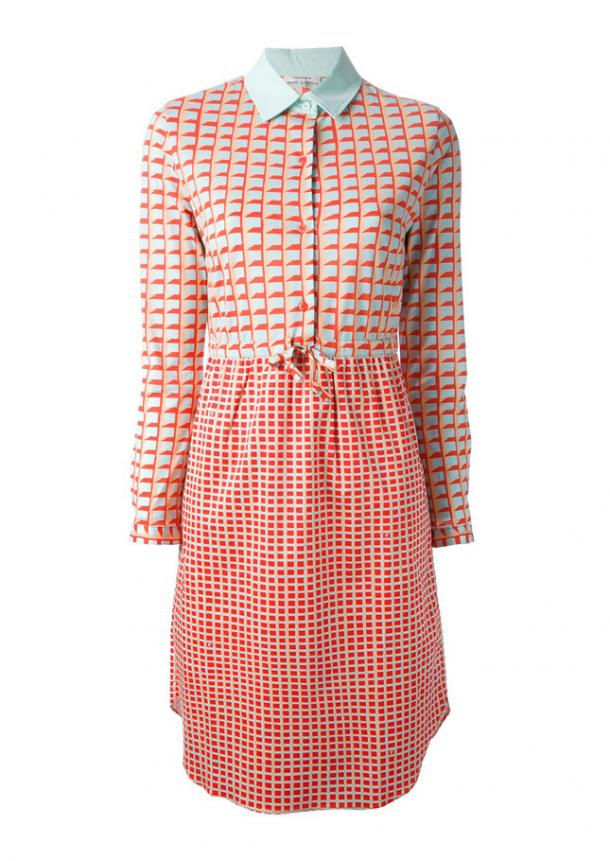 7. Light cotton dress Acne, net-a-porter.com, £ 208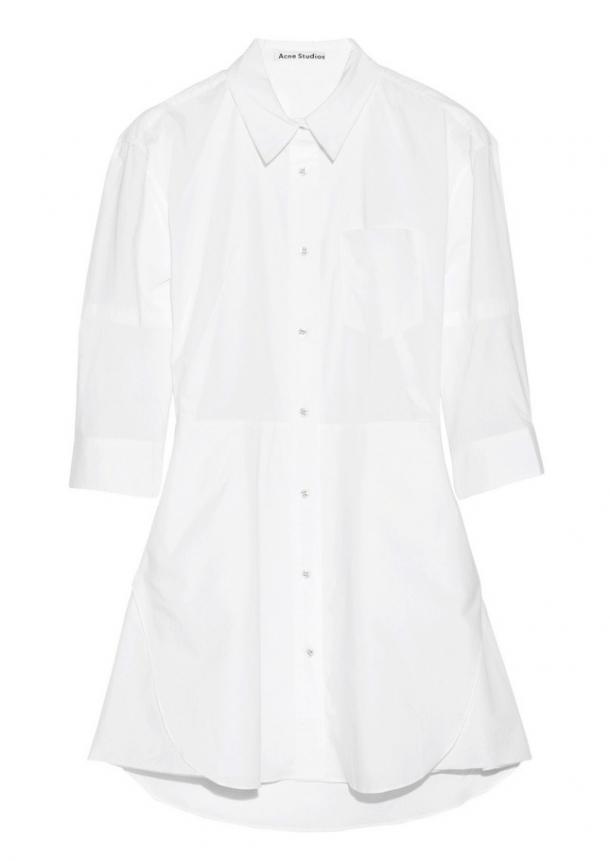 8. Dress asymmetric cut with pockets Alexander McQueen, net-a-porter.com, £ 670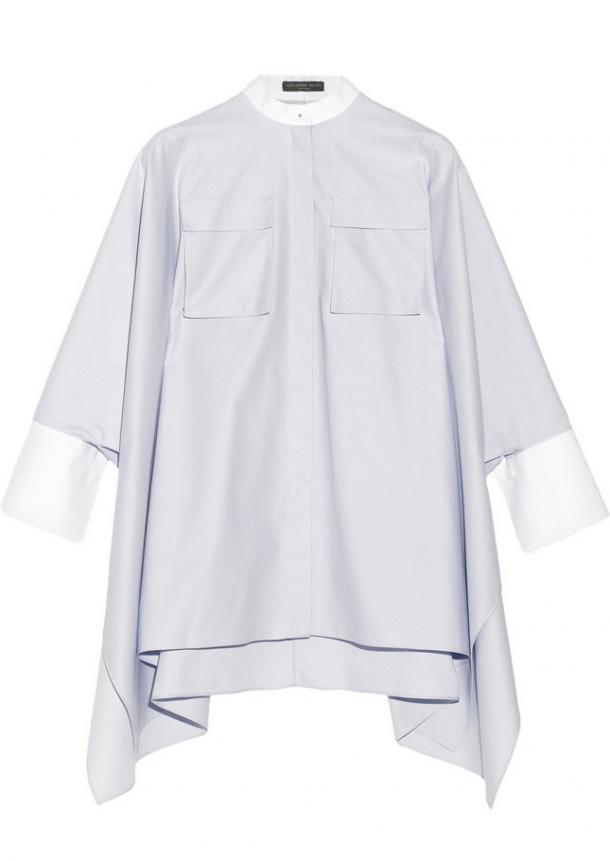 9. Dress-shirt in military style, Burberry Brit, stylebop.com, € 421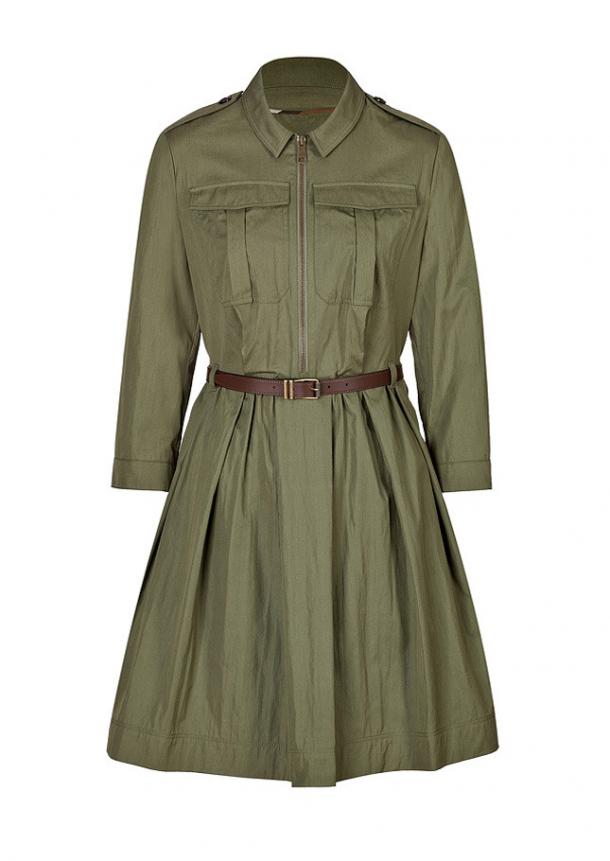 10. Silk dress sky-blue Jil Sander Navy, stylebop.com, € 404