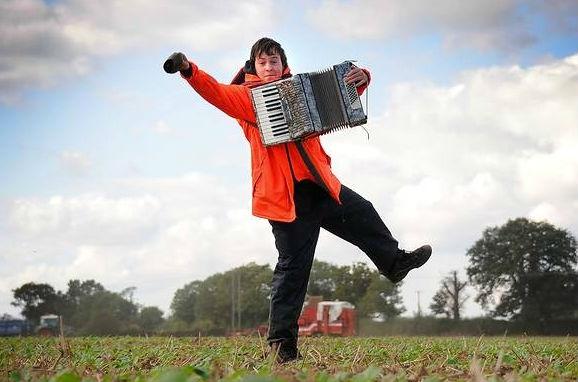 Quite an interesting career start chose a Briton Jamie Foxx. The young man received a diploma of higher education. He is a musician. But it seems that while studying some tumbler clicked in his head, and he decided to take a pause for reflection.
And it seems especially fruitful environment clean field. Well, not quite so pure, to be absolutely accurate. Because it works scarecrow. And this work, as the graduate musician, leaves him a lot of time reading and meditation. Periodically, he rides with backyard poultry, playing the accordion, ukulele, but most of the time reading and thinking.
Pay him for this work two hundred and fifty pounds (375 dollars) per week. By British standards, of course - sheer nonsense, but I think that many of our compatriots have agreed to share the burden of care and for the protection of flora Jamie British farmers. By the way, the owner of the garden is very pleased with the efficiency of a living scarecrow. Conventional hangers rags is absolutely ineffective. Pests have also become advanced. And in the absence of live threats yuzayut fields and gardens in full growth.
Overall, a very curious a creative approach. And the chemistry is not necessary to turn off the crops under the ruthless struggle with vegetable garden users. And, you see, is not yet a philosopher in Britain appear. And the musicians out there already enough.