Dita Von Teese - and an extraordinary figure is controversial, at least by me. Under (we will speak frankly) unattractive exterior hides a desire to stand out in any way. And, thank God, this extravagant lady has chosen for itself is vintage style, and not her ex-husband, adorable Marilyn Manson, has decided to become a "monster." Although these two deserve each other.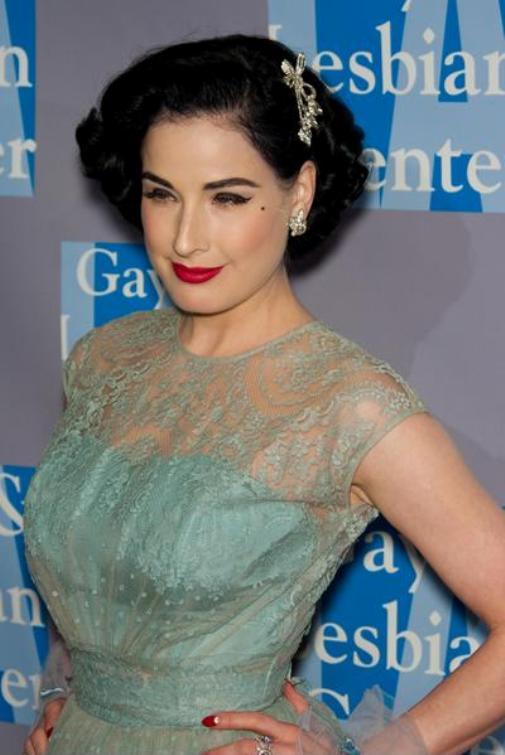 Hallmark Dita Von Teese are black hair, bright red lips and bright skin tone. Frankly, I do not pretty it all! However, I like people who can present themselves as though you - Miss Universe. And then all the others will think the same. Some fashion magazines included Dita Von Teese in a list of "the most celebrity dress well." Well, an urgent need to check ...
Bright and expressive. Atlas color "eggplant" light tone, volume skirt and feminine neckline. Flirtatious "vintage" by Dita Von Teese.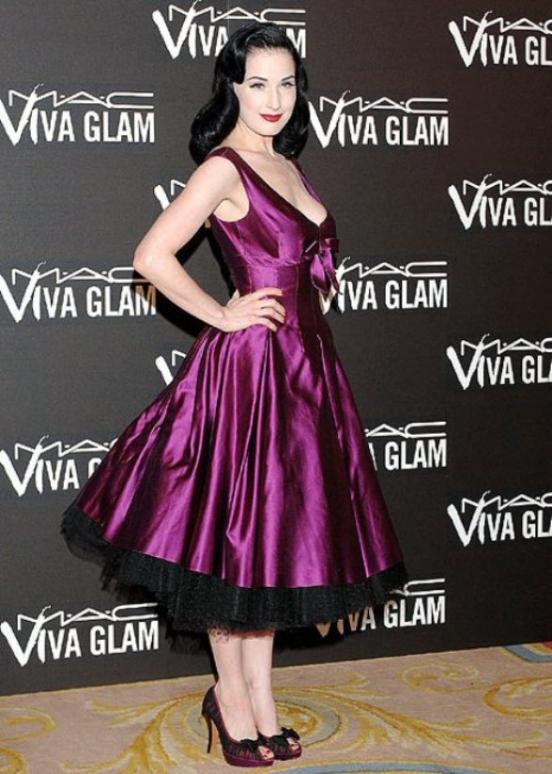 The hat is not exactly to my taste. Although by this addition is more or less suitable. Dress rustic in my opinion. There is something of the style of country music.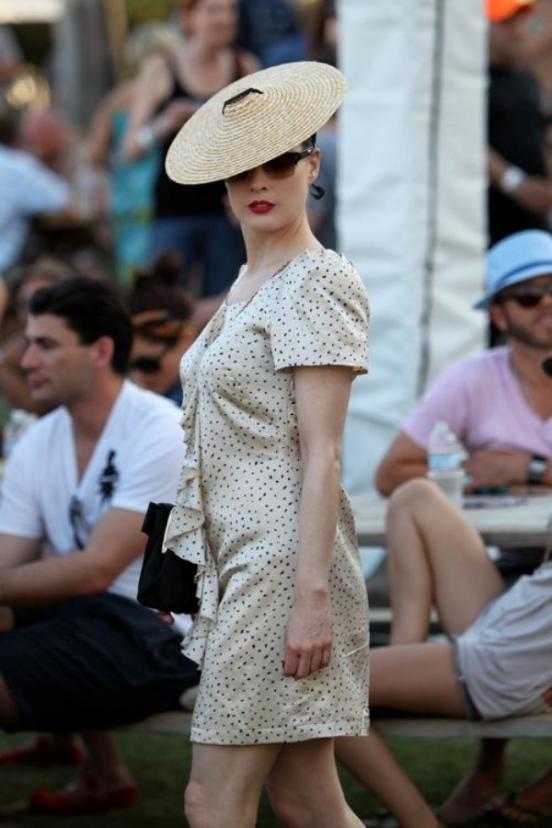 Another vintage suit, though descended from pin-up pictures. A hint of the 40s. The combination of different materials and lace patterns makes this a very original outfit. Black-and-white classics.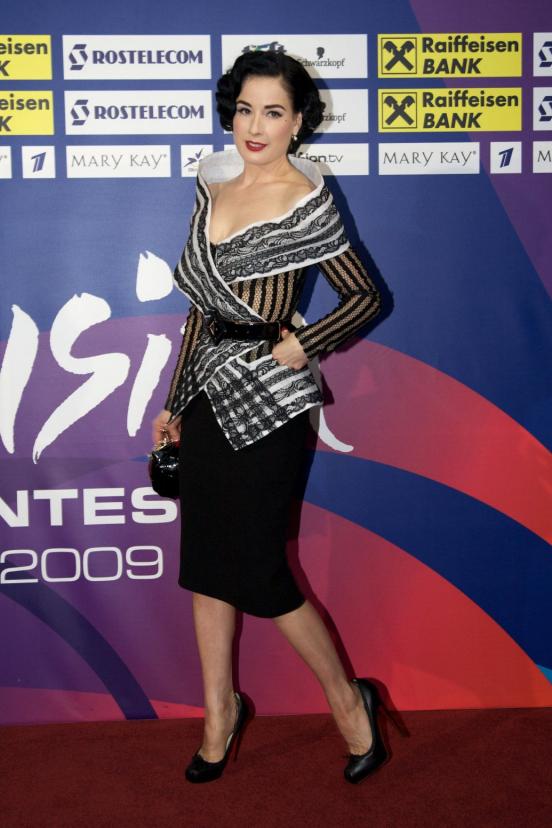 "Living a walking" Oscar "." Association just like that. Elegant dress and status. But I think that it needs a softer makeup.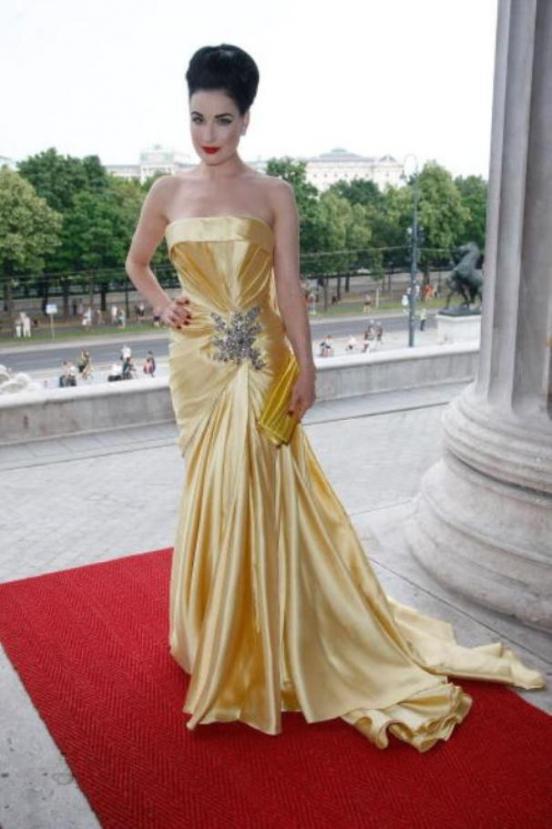 ​​
Artistic forging. The bodice at first glance resembles a cast headboard. But the skirt - in the spirit of Russian folk ensemble, only in black and white.
If not for expensive accessories - handbags - I would have thought that Dita has to walk the dog. Breeches Ballet cloak - two different styles. I wish she had chosen a black straight trousers.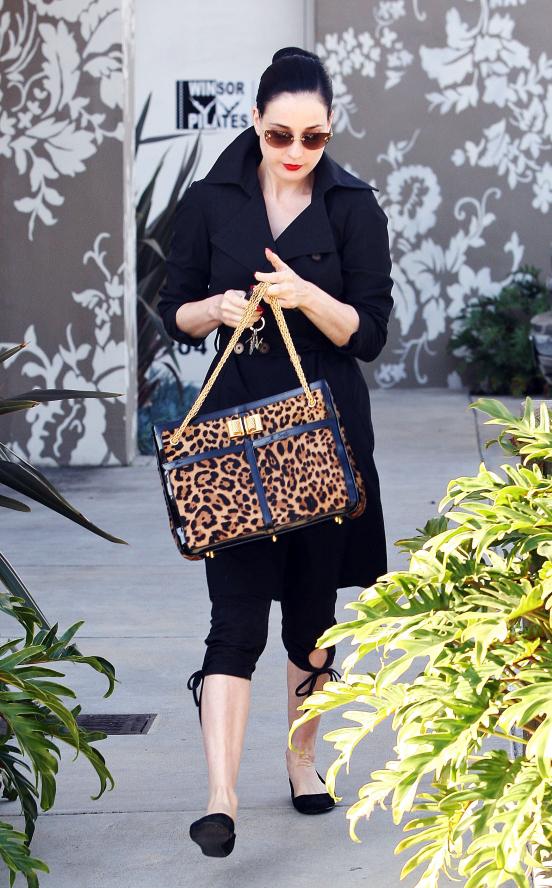 At the festival, "Coachella". Hawaiian colors and cap, borrowed from the sailor. Everyone is relaxed as best he can.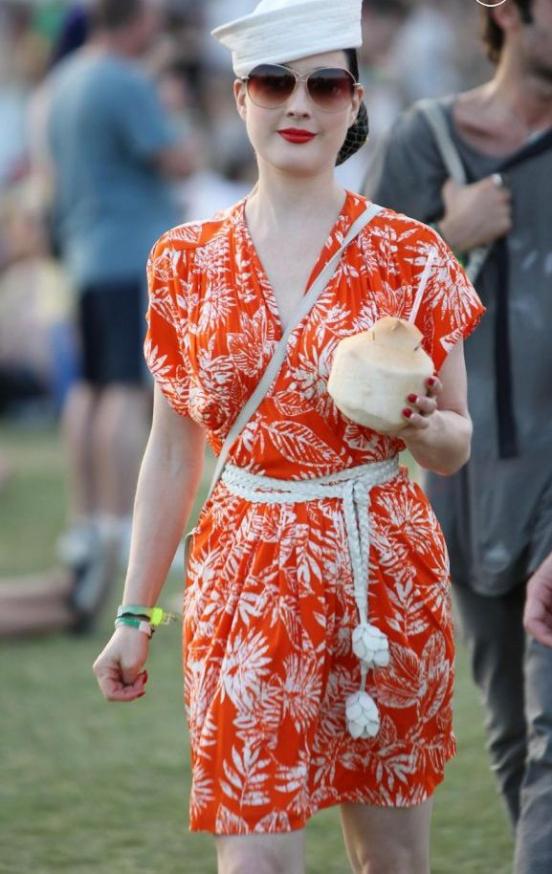 Somewhere I've seen this ... Oh yeah! Corset from Gaultier to Madonna. The upper half of this dress just to me it resembles.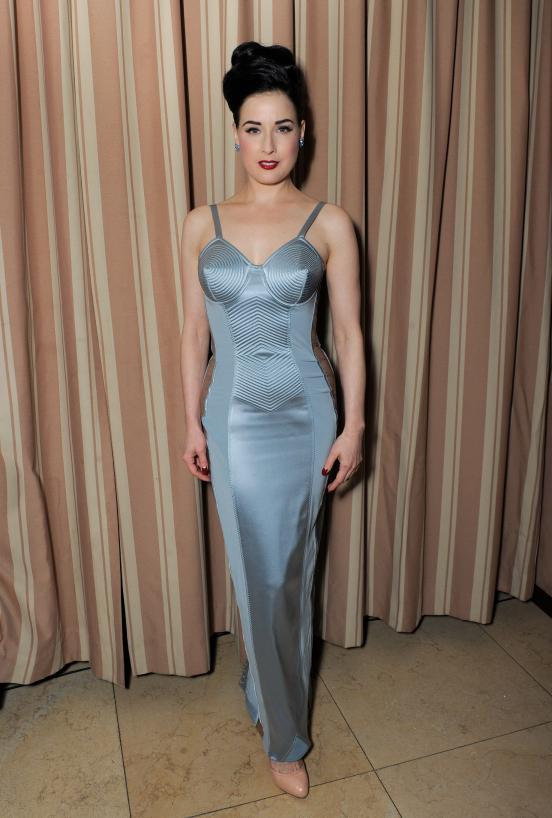 Fashionable girl from the free 60s. Merry rastsvetochka. It breathes optimism - and therefore very much.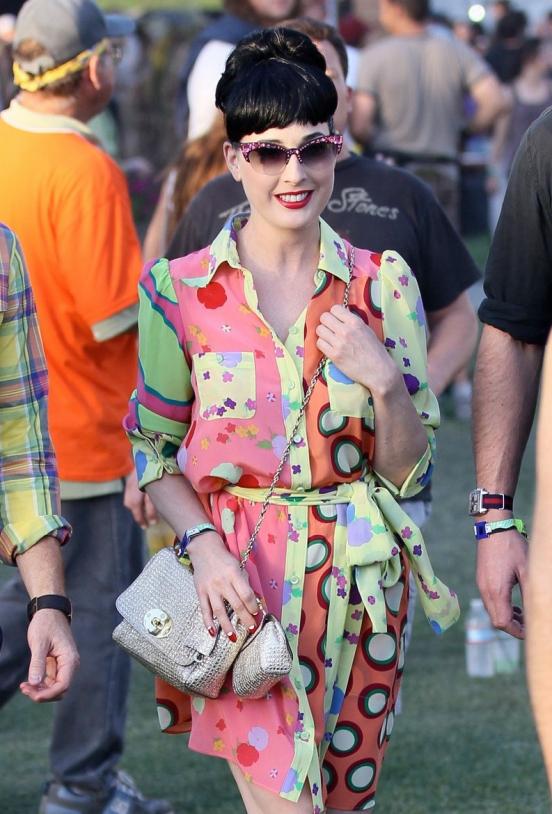 Stylish and noble. It can not be called a vintage dress, because it is relevant for contemporary fashion. However, there is in him something of the same from the 40s of the last century. Strictly, luxurious and very expensive.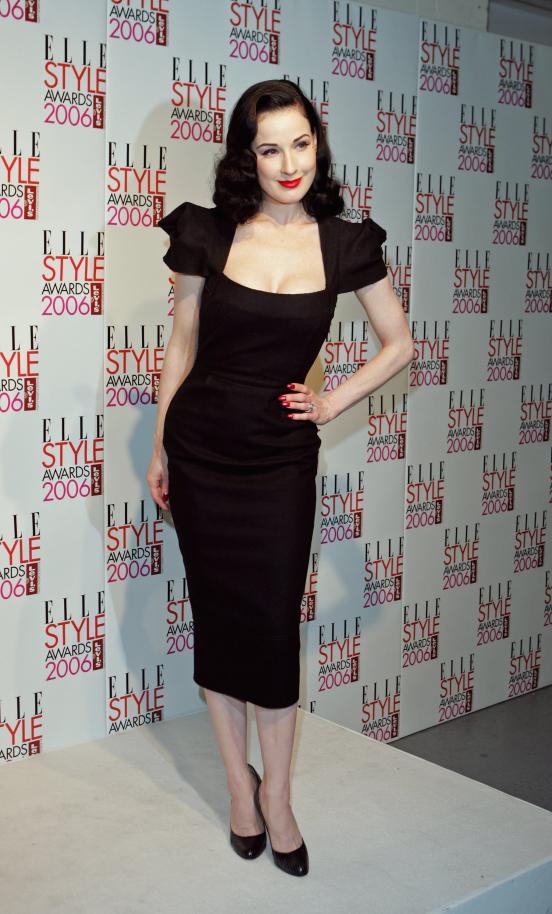 Dita "hide" in the wave of the sea. Another proof of the fact that many pastel shades make the image of juicy, bright and some - on the contrary, may "priubit».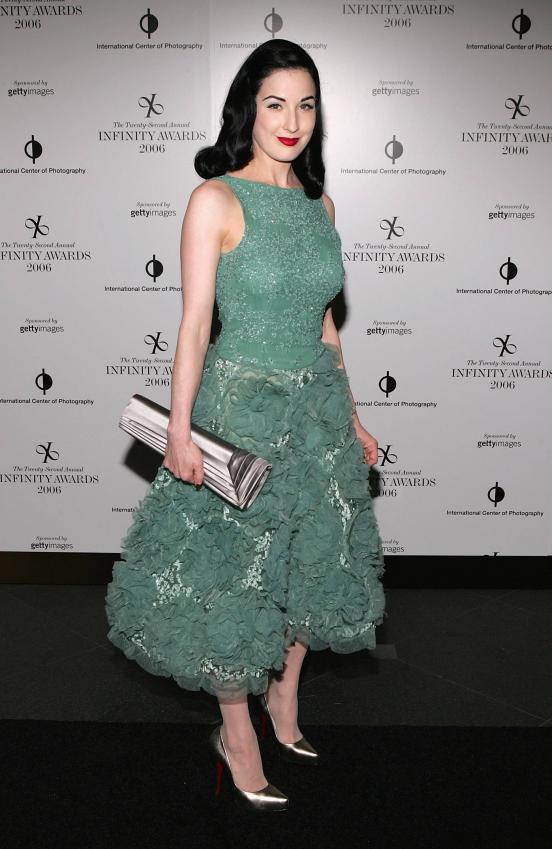 Hopefully, this dress did not fall off the shoulders of Dita Von Teese while posing for photographers. Romantic and very sensual. In this photo Dite managed everything and makeup, and hairstyle, and accessories, and even look.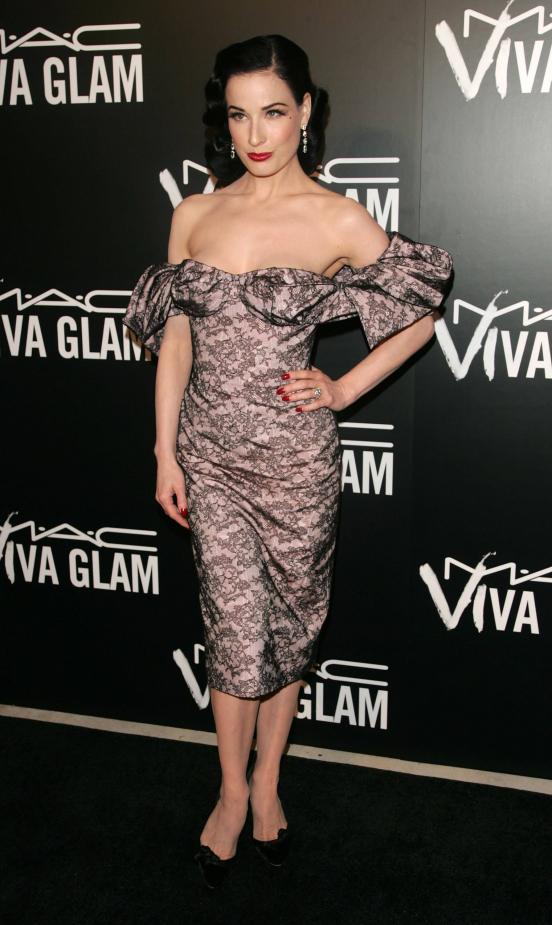 Very sexy vintage and very soft, despite the saturated colors. Deep red plus road atlas equals the most sophisticated "advertising" lipstick.
This image seems a bit old-fashioned. For me. But if someone chooses vintage, it has to be consistent in their choice and outerwear. A very Dite goes.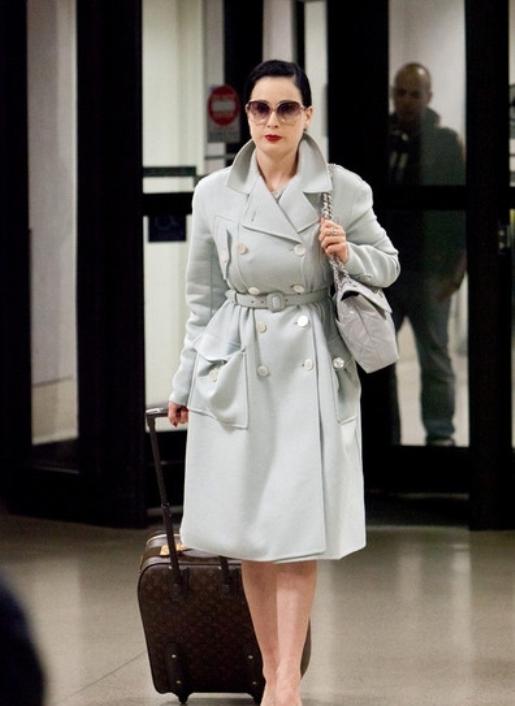 Even a trip to the supermarket begins with the selection of vintage clothing. These blouses are usually worn by the secretary in old American movies. But now, so you can go to the school meetings. Blouse fully allow bulging his intelligence.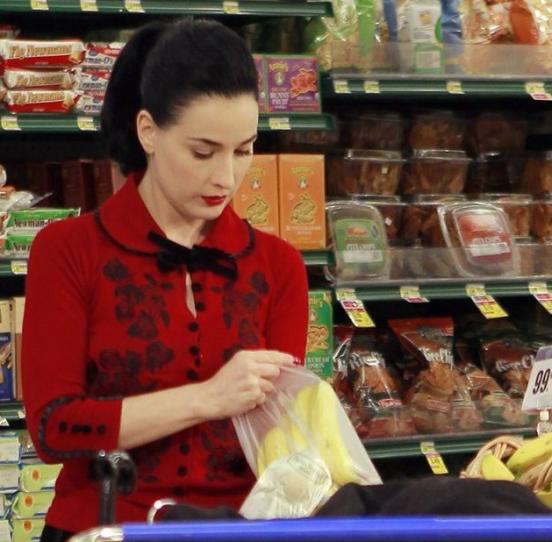 Restrained elegant vintage. It looks like Chanel. Close to the business style.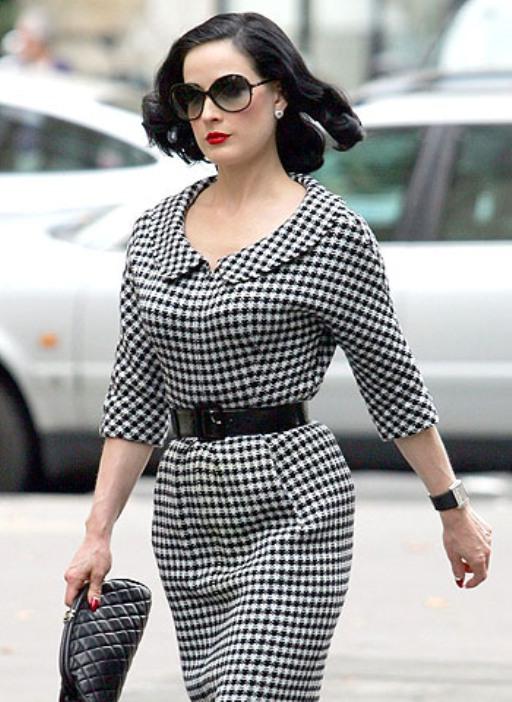 Such a coat with a furry, I myself would not mind to get hold of in her wardrobe. Now, if them still boots, the image would have been finished.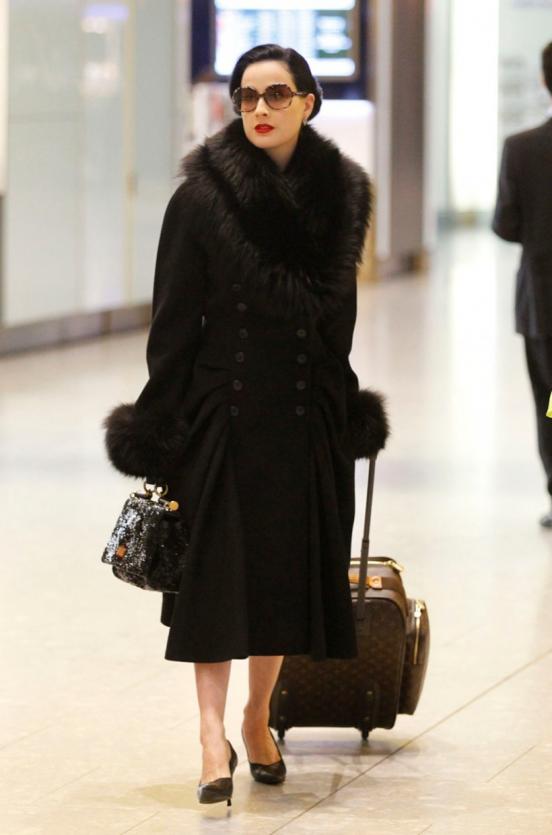 Dress like a "fish scales". It would look exquisite, if all the dress was of dark blue satin as a sleeve.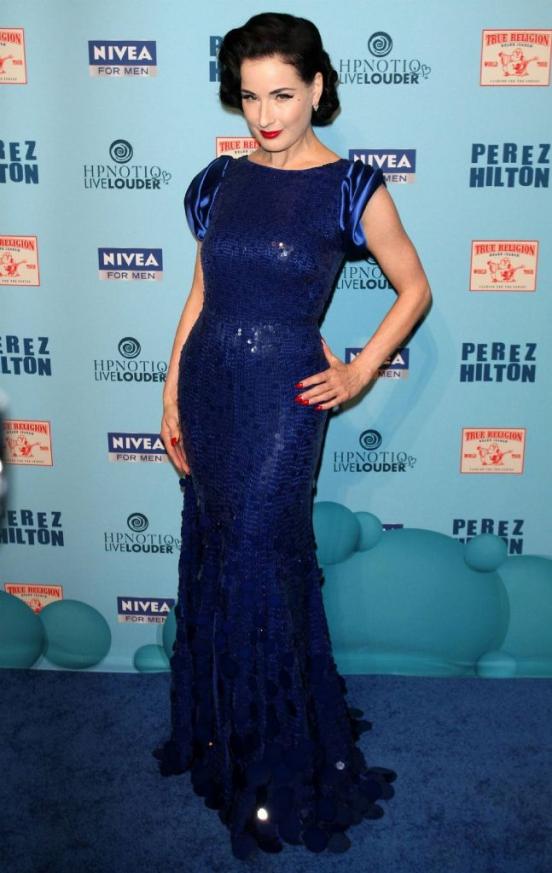 Excellent and sophisticated image. So masterly "cope" with beetroot hue dress! Dite amazing vintage dresses are great and very "expensive" images.
This is some sort of "Dance of the Little Swans". Such "heavy" person is not suitable for children pink foam. Dita in this dress no.
You can relax and break away. From the sea a suit again, blowing a 60-mi. We had to act in "Dirty Dancing"! And even points, despite its extravagance, very well complement the image.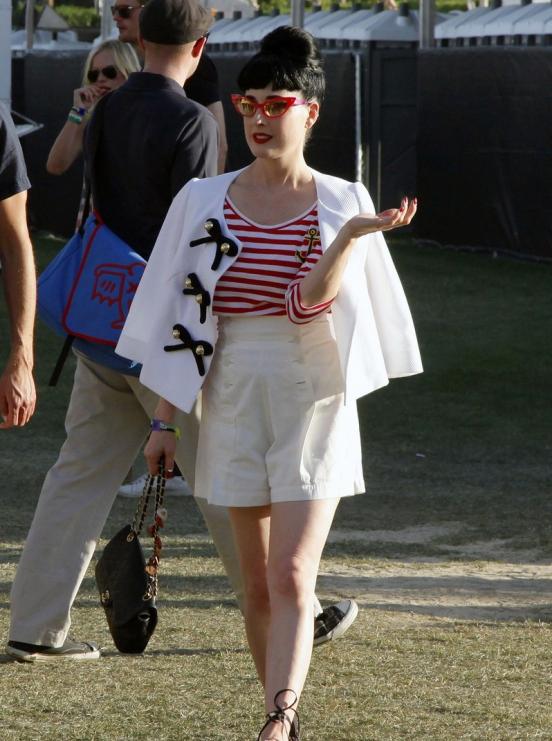 For this costume, I can get a divorce and marry again it is there. Insanely attractive and elegant finish! The neckline is a trapezoid emphasizes feminine lines.
Foil and cellophane. Full catastrophe. Wedding homeless.
Right captures the spirit of glittering silk aqua and luxurious finishes. Only five points!
The dress called "something from the 80s." But this shade of red I do not like. The skin is too pale. Dita something bought in a boutique Vivienne Westwood. Not surprising. Strange personality attracted.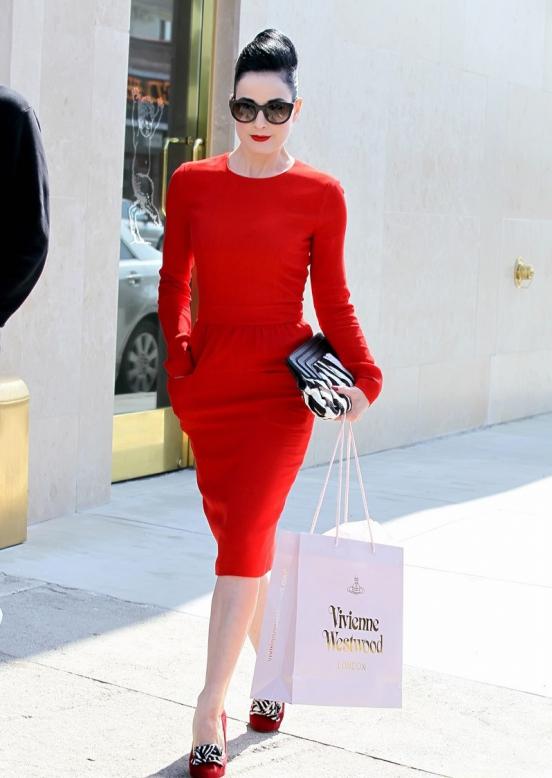 On Dite constantly the same makeup. Gradually it becomes annoying. This dress would be mono teach very differently, if she had in her purse anything but red lipstick and black eyeliner. But she picked up right clutch.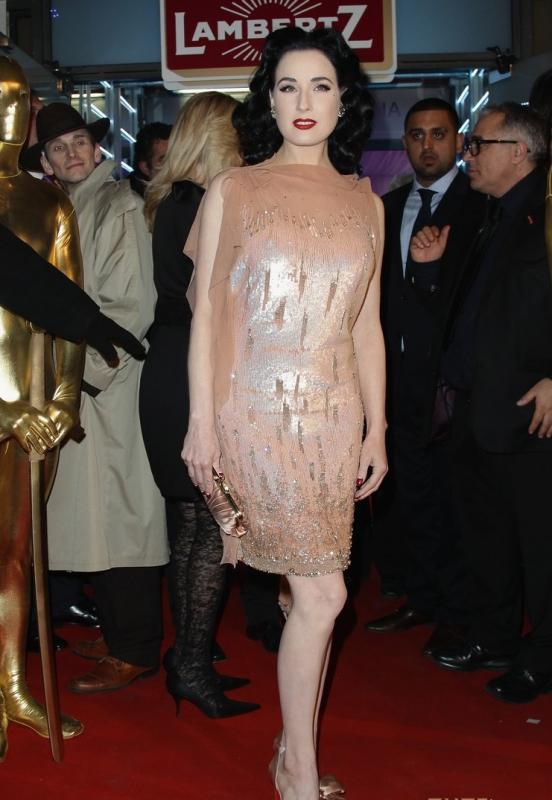 For me - I must have for the summer! Multicolored, diversity and positive. The image of a generic for any city.
Dress Flesh Tone diluted brown bow in front and a red clutch. Tastefully from Dita's all right. But this "teddy" bow somehow I do not like. Although without a view it is quite another.
Dress is more suitable for role-playing games, rather than presentation.

Original and unusual. But still the feeling that Dita turned silk sheets. But how artfully!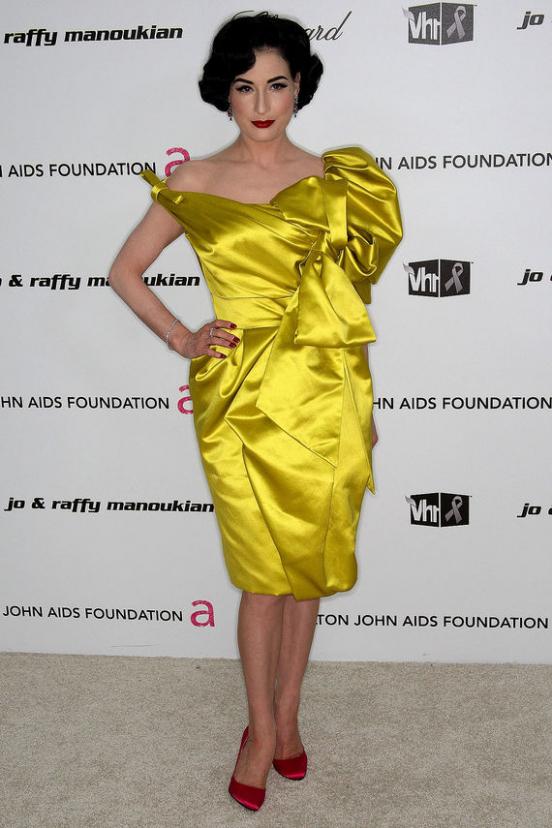 White silk toilet just created for the glossy pages of VOGUE. This vintage dress looks solid and very elegant. Nostalgia for a bygone century.
Great outfit for a shopping trip. And comfortable, and the mood lifts. I would then sarafan felt very comfortable in the summer in the south.
He waved princess sleeves - and flew out of it ... No, swans and flowers delicate pastel shades, but just a whole bunch! "Beautiful" - thought the princess and was not a big waving his hands to himself, it would look strange!