Home "Gossip Girl" Blake Lively All America has repeatedly been honored with the title of the most stylish women of the day, month, year. But some particular style of Blake have not, because it follows the fashion trends and makes it a little better than others. It is not representative of the hipster and bohemian chic, she's just a modern girl who is no stranger to the world of fashion by occupation. The whole family is involved in Lively entertainment, so Blake did not unsettle and became an actress, like her parents. It is high time to move away from its image of a serial, but the fees are enormous and the love of the audience for "Gossip Girl" is not quenched (what to do ...). But then again, rarely, but neatly Blake in films. For example, on the set of the film "Green Lantern" she found the man of today - Ryan Reyndolsa that made it 4 in a row her official boyfriend (before it was Kelly Blatz, Penn Badgley and Leonardo DiCaprio). But that's not the point, because Today on the agenda of the famous queen of hearts shoes men.
Originally, however. What material that finish ... Well, okay, I admit that the models of shoes she is much more interesting than the same Jessica Alba, although here the selection of clothes at Blake limping on both legs. Often she puts on some rubbish (Lively have no stylist, so she probably can forgive these oversights). For example, this image. Well, where were her eyes when she choose this outfit? (I'm sure she has a huge walk-in closet, and things as much as there is in all of us together and you could pick a better set (skirt just killed me)). Hmm, he emphasized waist ...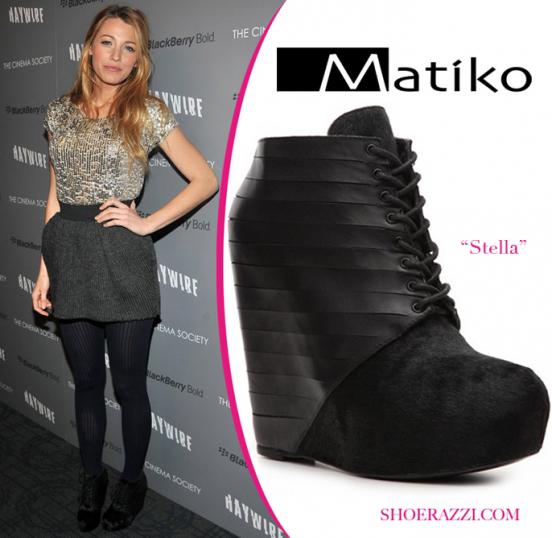 But this image 100000000 times cooler. Everything is picked up with the mind, not from the bulldozer. Shoes chic! (Anyway, I recently kinder and Lively seems to me not so insincere. Very nice and smiling girl, but the "club foot" it does not diminish that fact).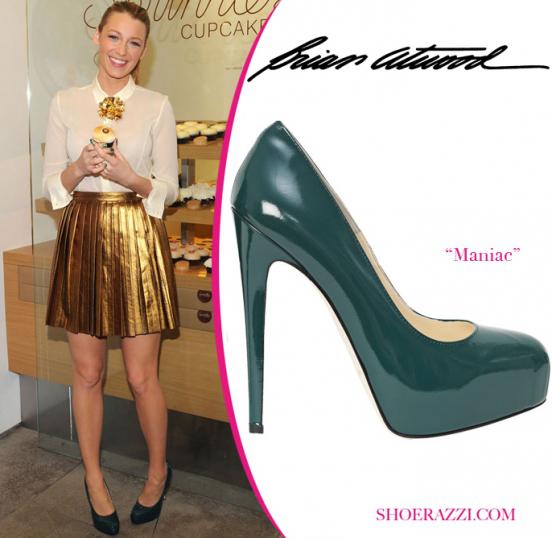 Lovely, warm and welcoming way. Blake gives to the audience as always smile at the next show. Burberry shoes from the collection this year, ideally suited to the jacket (similar finish on the collar). I like this couple, very good, Blake, you can not get up "etopyat!».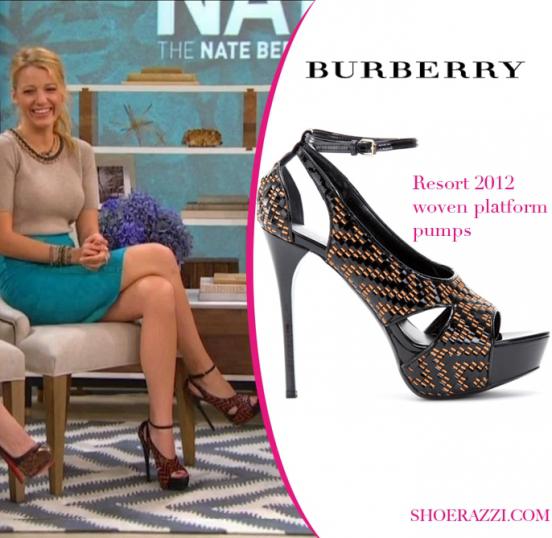 Pantsuit to the skin - very sexy, but unfortunately impractical. These shoes with a strange location pins haunt us from the post in the post, and my attitude toward this model does not change. I DO NOT LIKE. But under long trousers (the color of the suit, by the way, delicious) pin is not visible, so Lively Ladder.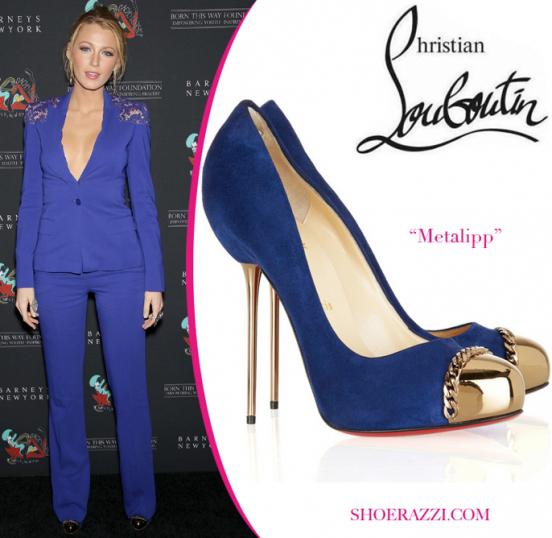 The figure Lively - sight for sore eyes. At least her curtain dress, and she will look great. Shoes good fit to the board. Dress unusual and very beautiful. "Swim like a peahen ...»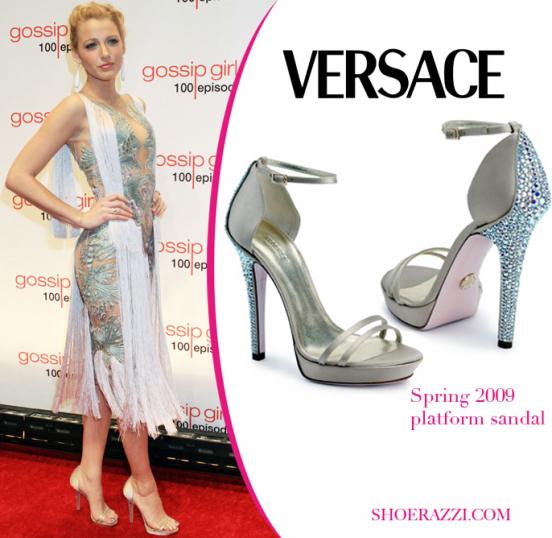 Fashion platform and a pleasant olive color give us here are the shoes by Charlotte Olympia. On the set of "Gossip Girl" Lively dress up in some cheap clothes, but apparently this style at her heroine. In the picture look bitch (unusual).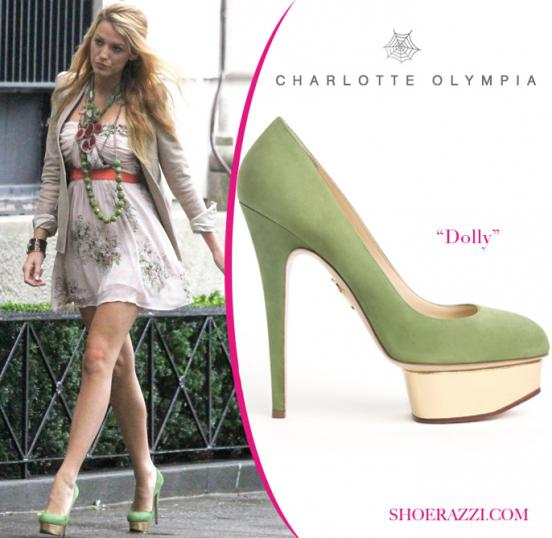 Luxury image! Blake is shining, and with it, her shining leather dress. Finally, she somehow put her hair and in most cases, it is as "rastrёpysh." Shoes cool, like print.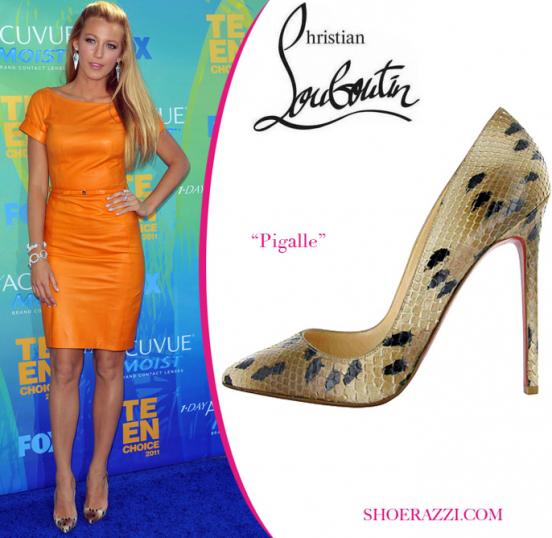 A sickly heels. On one show in these shoes you can go, but I can not imagine how to walk in them constantly.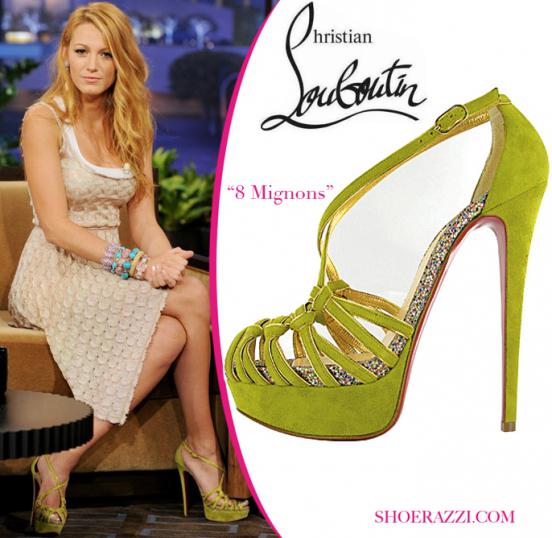 I told you that even if you put it on Blake curtain is beautiful and outshine many other celebrities? So that's what happened. It seems that it is a rehearsal wedding with Ryan Reyndolsom (interestingly, they all seriously?). Shoes, studded with rhinestones, can not catch yourself admiring glances, so I'm delighted. Definitely.
Ocheeeeen beautiful legs! The actress knows about it and put on skirts shorter and shorter (important not to overdo it). Shoes in sequins excellent.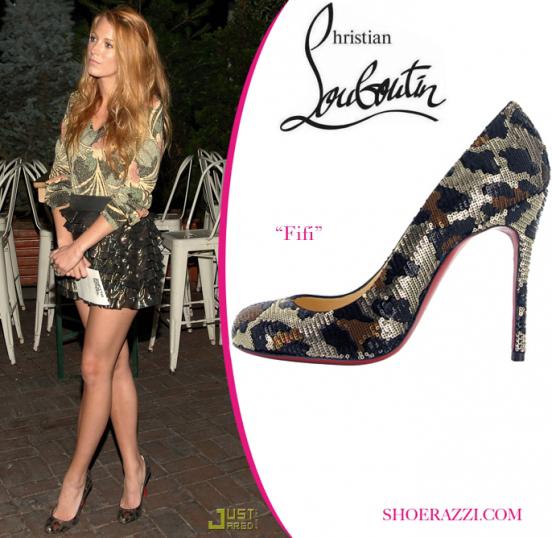 Again filming "Gossip Girl." Taste the "theirs" any stylists. Shoes strange.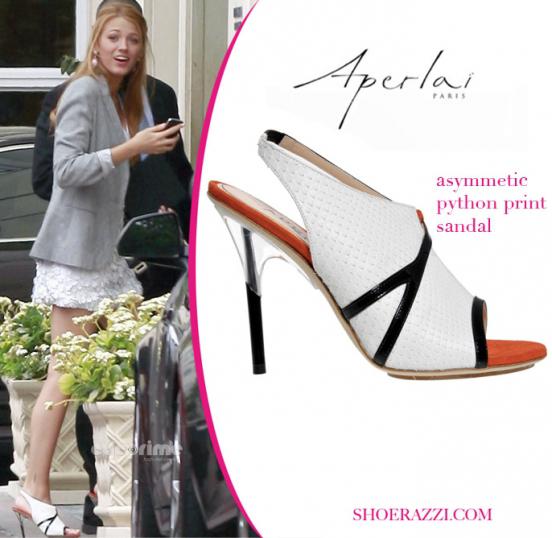 "Good Masha, but not ours ...". Posture Blake is necessary, cameras everywhere and you need to keep, like a star. Although what it's like, she is a star! In my subjective view from Blake too skinny legs for such huge shoes.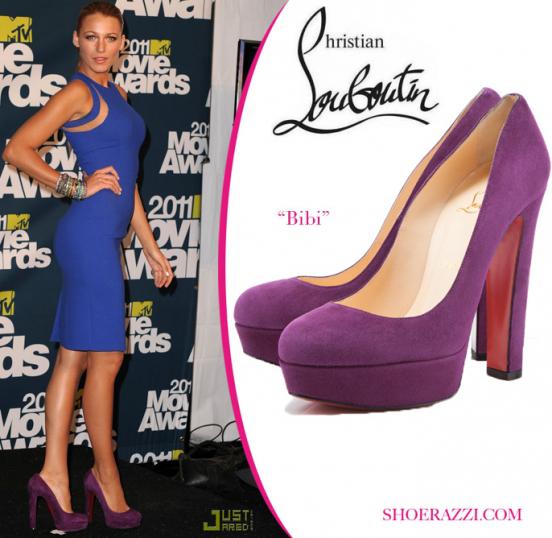 Briefly and clearly. Blake loves mini. Attire? Know kommets. Shoes? Super.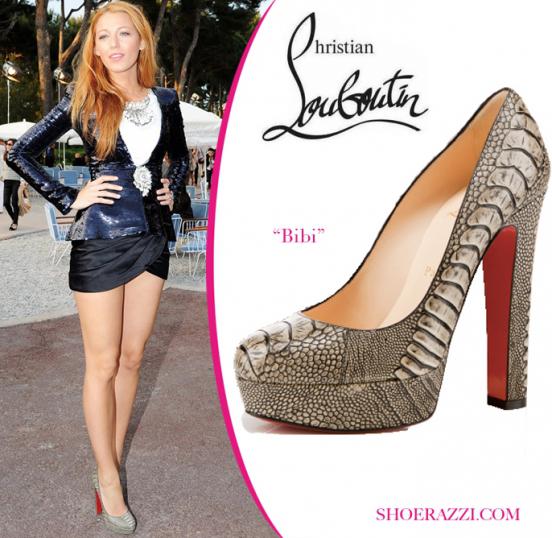 Blake, why did you put yourself on the trash bag? If so fashionable, it's just fashion from the garden. But labutenam no complaints. PS: Blake goes red lipstick.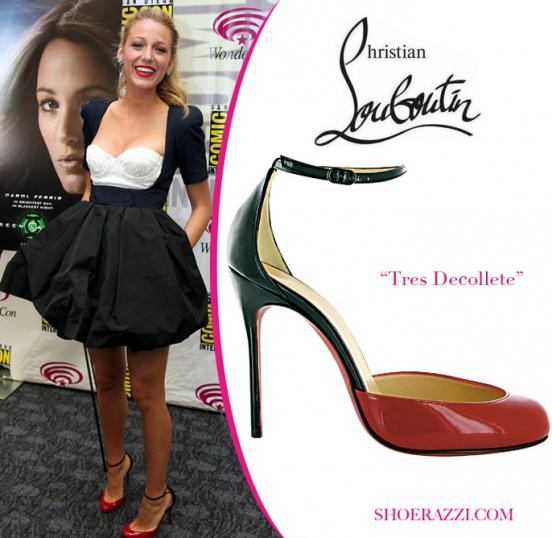 A beautiful red dress. Something like a long white dress, only a shortened variation. Shoes from Atwood as always good (note that it has its own feature - the heel).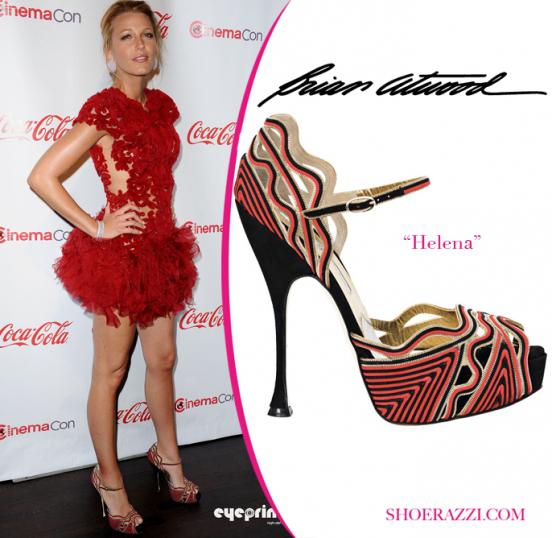 This we have not yet seen. Insanely creative and incredibly beautiful model labutenov. Yes, they certainly are good, though, and the pin is in the middle heels.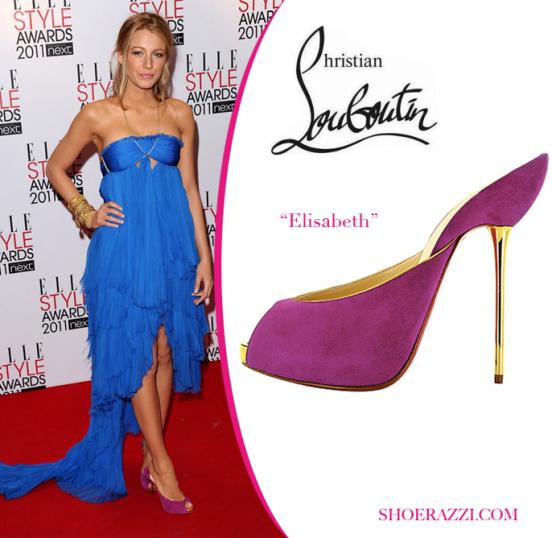 It is so gentle you can pick up a dress sandals less "brutal».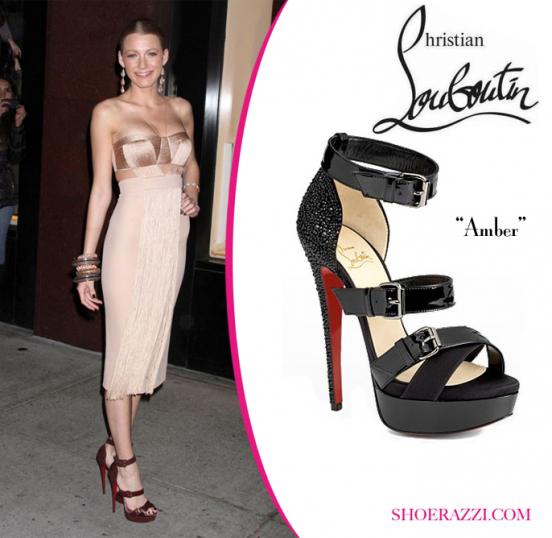 Blake delighted with these shoes, but they remind me a T-shirt Timothy (remember he is not getting out of this mesh nightie?).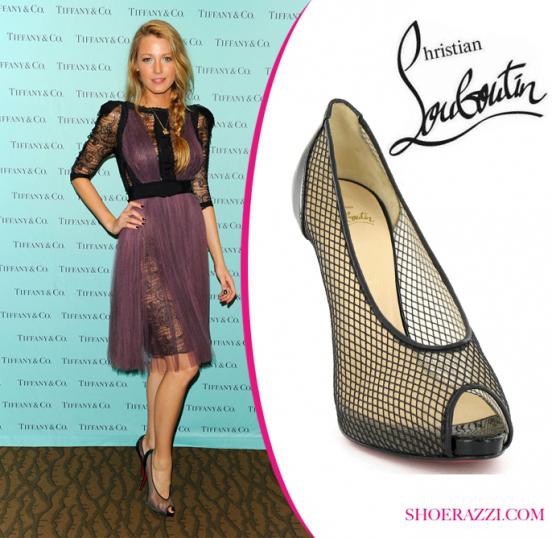 And once again I will say that stylists «Gossip Girl» no taste. Ankle scary as hair color Katy Perry.