The fourth day of the 69th Venice Film Festival, graced us with two high-profile premieres and a little less loud parties. This evening on the red carpet of the film was honored "Master," directed by Paul Thomas Anderson and the French film "Finding Ortenza." While the ladies were shining star at the premiere of his luxurious couture dresses, Frida Giannini and Gucci fashion house received guests at a dinner party in honor of the launch of the new fragrance Gucci Premiere, whose face became radiant Blake Lively.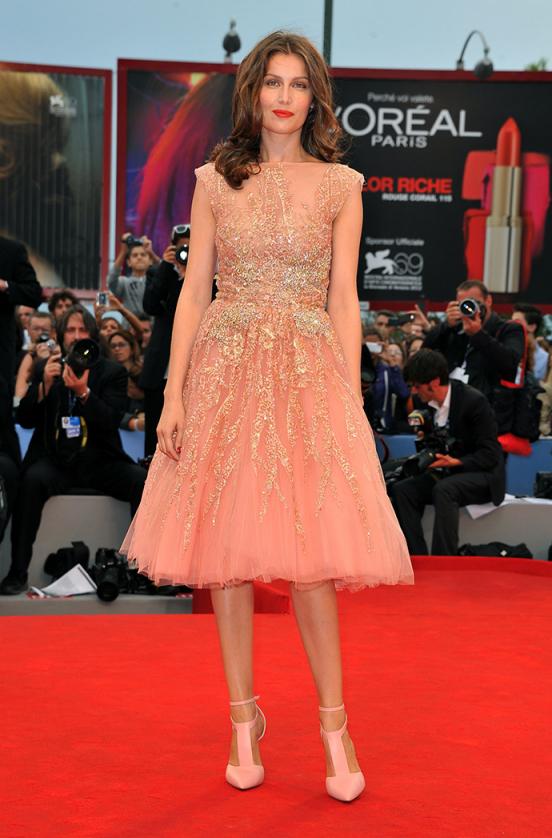 I think this outfit Laetitia Casta will cause not a lot of negative emotions, as her previous toilet by Dolce & Gabbana, because the cocktail dress from the autumn-winter collection of Elie Saab, in which the French actress complained about the premiere of "Masters" looks great. Mouth-watering peach-colored dress with a fluffy skirt and gold trim - a work of art, not otherwise. Laetitia complemented her outfit sharp-nosed shoes from the same collection Lebanese designer and rich coral lipstick, which gives the image of sexuality and brightness.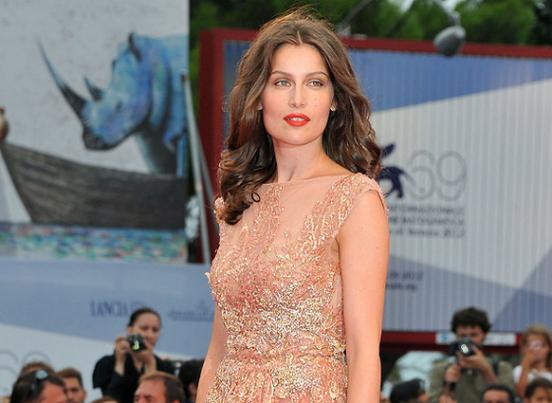 Young talent Madison Betty walked the red carpet in a romantic dress with color nyud multilayered tulle skirt and playful bow on the waist. Perhaps this is the first loud premiere for 17-year-old actress, but she managed to show themselves worthy before the lenses of photographers. If you do not take into account not the most beautiful style bodice, in general, the image of Madison can be called successful. At least, for the first time.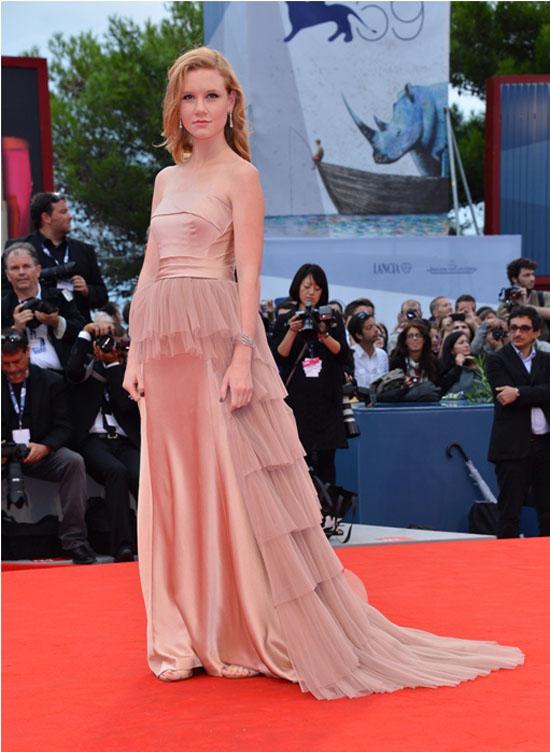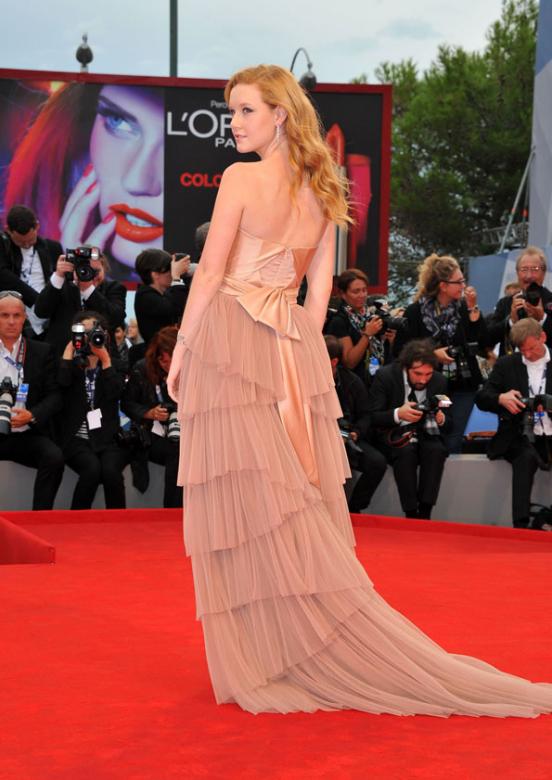 Model Romania Katrinel Marlon, unlike the other girls on the red carpet did not bet on sequins and flying fabric and a simple silhouette and clean lines. On Katrinel was snow-white dress to the floor with contrasting trim and a very interesting cut on the back. It looks pretty simple, but attention is drawn, and this is sometimes enough.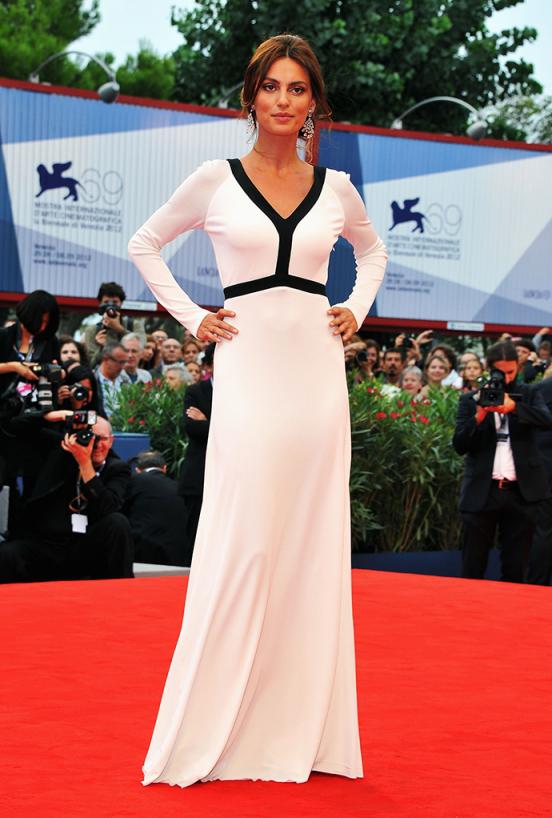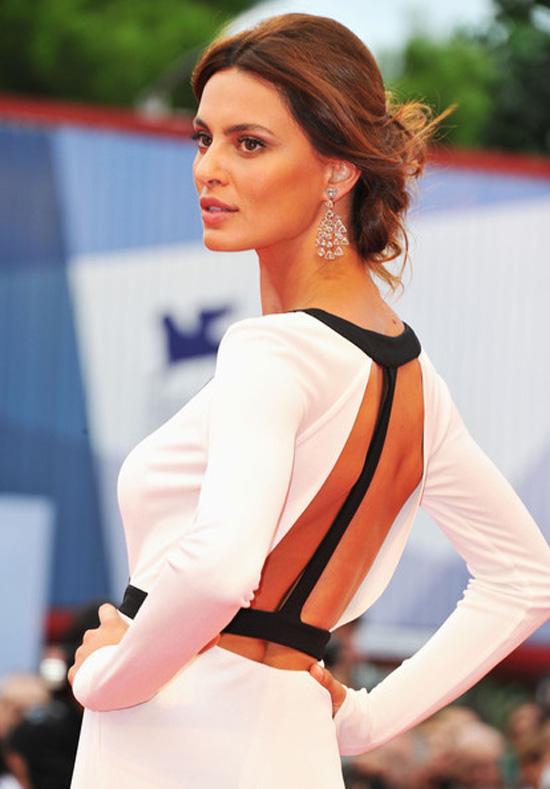 But the image of Monroe Shirts I absolutely do not like. In my opinion, it is absolutely uninteresting outfit and looks cheap. Again, platform shoes that turn a beautiful girl in a horse.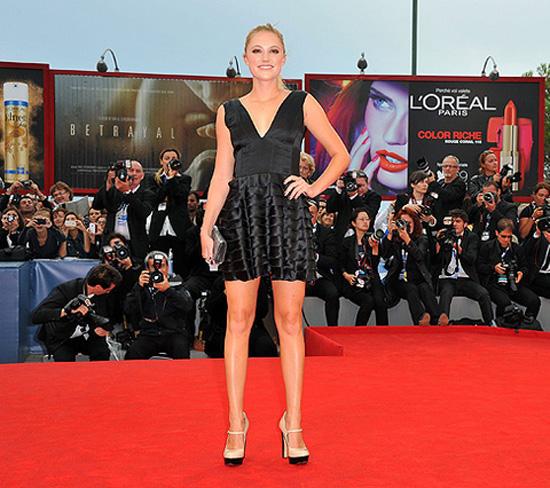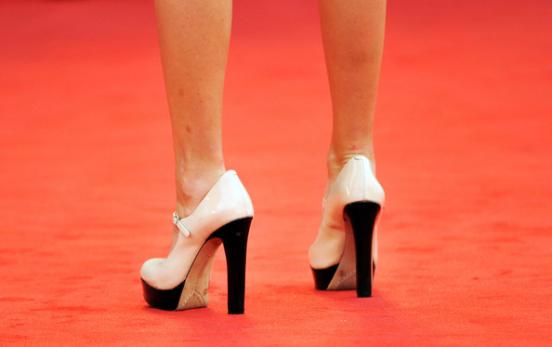 Not the best choice of attire showed us this time Fiametta Cicogna. It feels like it is simply wrapped themselves curtain, utyanuv with the bust that horror slid on his stomach.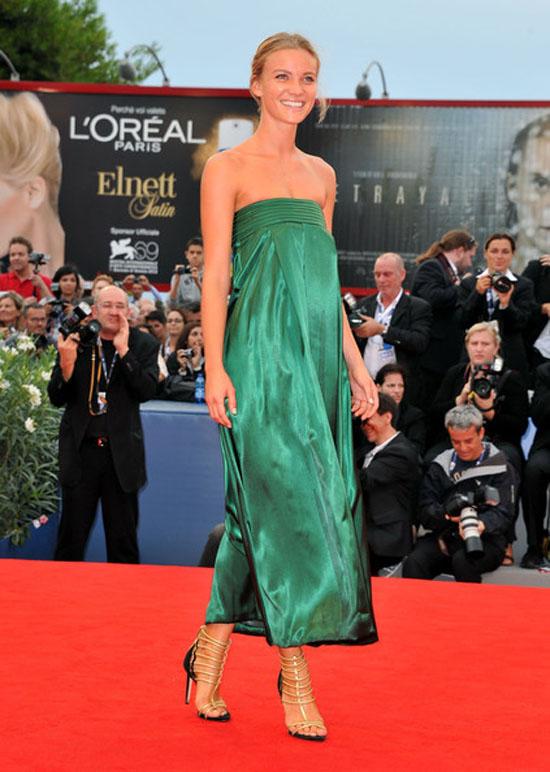 The last time Olga Sorokina very pleased us with his outfit can not be said about its yesterday's exit. Dress just lovely, there is not even argue, but too big and too bright belt completely destroyed all its charm.
Kasia Smutniak once again delights us with an evening dress from Valentino. This time the choice fell on the actress romantic dress cream color with delicate floral embroidery and multi-layered skirt. It looks very worthy, but I would still leave the original version along with a long-sleeved, short sleeve dress because it looks unfinished, although very unusual.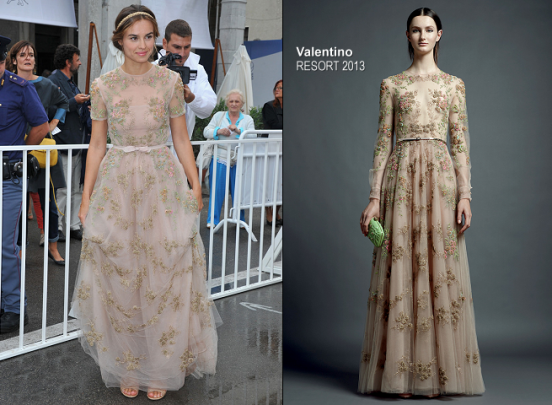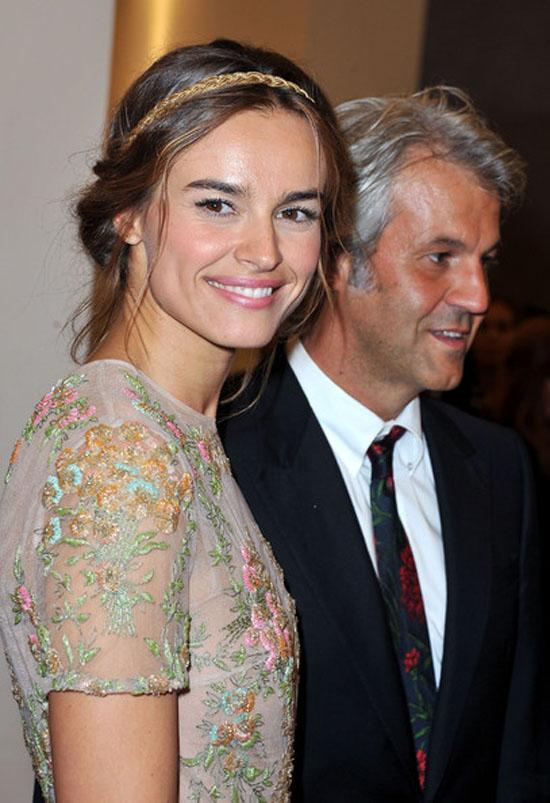 The beautiful actress Kristin Scott Thomas has appeared on the red carpet on the occasion of the premiere of the film "In Search of Ortenza" in chiffon dress printed Indian cucumber. In my opinion, Kristin looks just fine, to take into account the fact that the famous woman's coming of age often try to look younger than their years, and did not opt ​​for the most suitable outfits that just looking at them is inappropriate and even ridiculous. Kristin has not made such a mistake.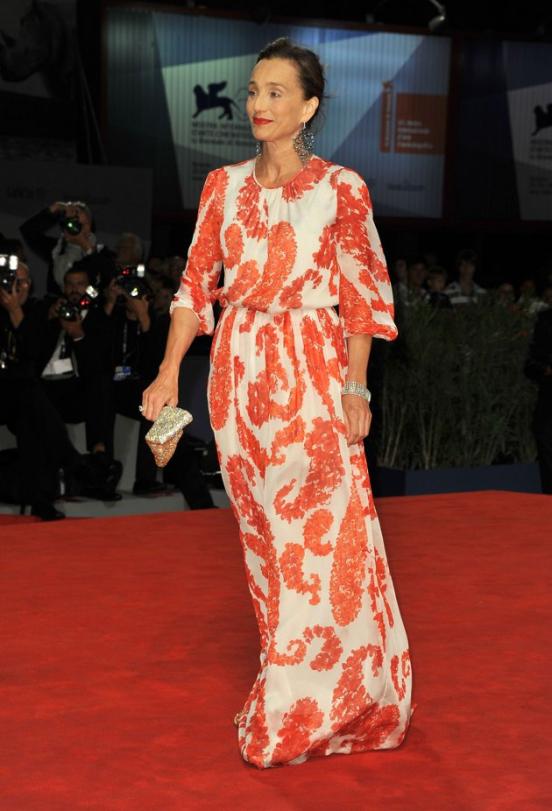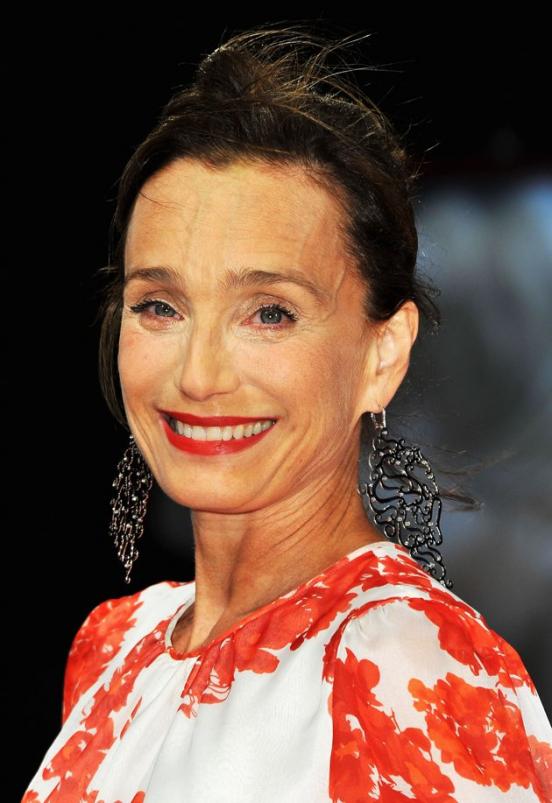 Frenchwoman Isabelle Carré looked at the background of Scott Thomas is very unattractive and uninteresting in a shapeless dress eerie fabric cherry color. No tears will not look.
Party on the occasion of the fragrance Gucci Premiere, and a mini-movie premiere (read "advertising") with Blake Lively took place in a luxury hotel Cipriani, and the star of the evening, of course, became very Blake. I really like this girl - she can be hand-written and beautiful in the usual sense of the word, but it is always nice to look at - it is such a charming and smiling. In addition, Miss Lively rarely disappoints us with their outfits at social events, and it adds another hundred points in her piggy bank. On the occasion of his triumph Blake wore a cocktail dress burgundy with the decor of iridescent sequins, adding elegant dress sandals in the same tone and ornaments with large stones. Impeccable image!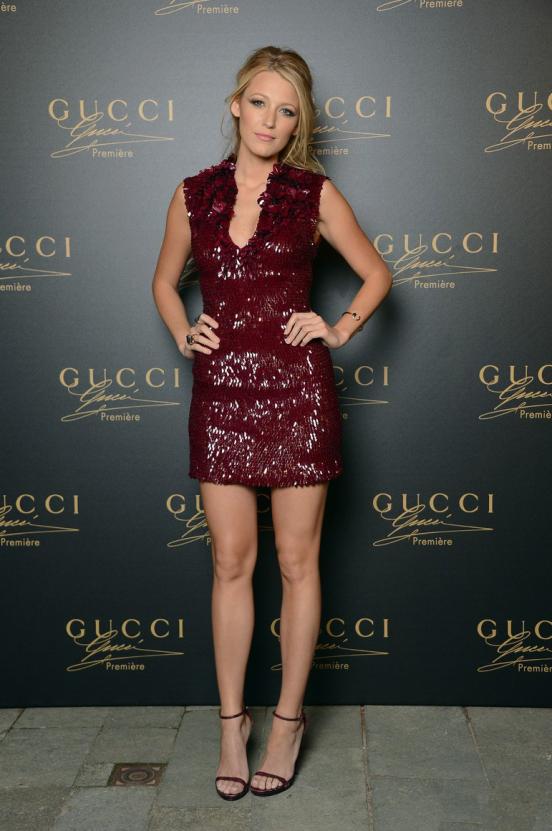 Company Blake was Salma Hayek. Recently, the actress are increasingly choosing to go out black, but that did not spoil it - with such appearance as she can look bright and noticeable in the dress of any color.