Cozy summer cottage — it is important. On earth we not only work but also rest. But garden paths can decorate any area. But first and foremost is the issue of cleanliness and safety (who never fell, slipped on the muddy ground, do not know what I'm talking about)). So today I want to tell you about the
9 popular materials for garden paths
, as well as about their advantages and disadvantages.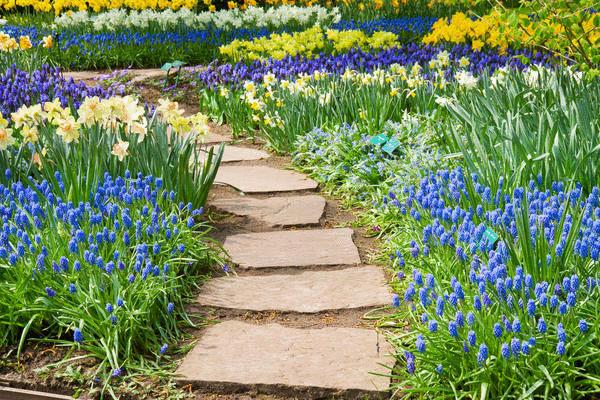 Preparatory robotussin do not have to be a landscaper or a Builder to build on your land is beautiful, durable and safe track. A little information, effort and imagination — and a "track of dreams" is ready. Only, before starting work, suggest you
to mark paths
,
scheduling their location
so that it is easy to reach any point of the plot.The track can be
straight or winding
. Designers know that the winding path are able to visually enlarge a small area. But most gardeners prefer not to philosophize slyly and make a direct.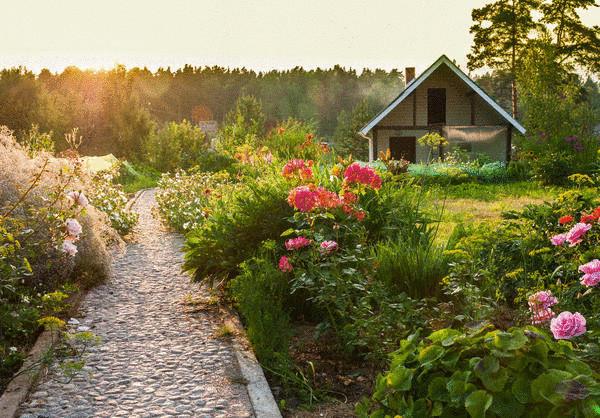 Pay special attention to
the preparation of the soil
. After marking the tracks (and this is most easily done by using string and pegs) remove with a shovel the turf.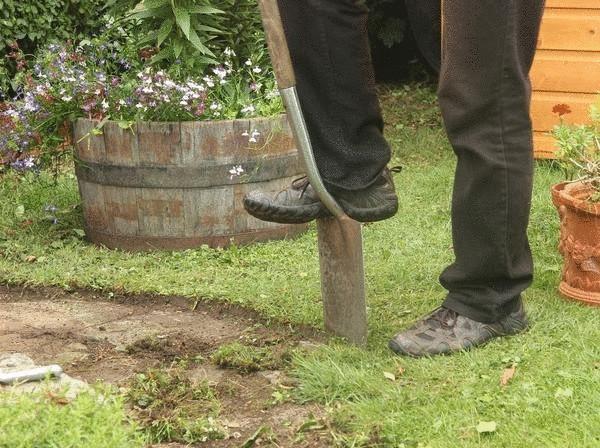 In fact, you need to dig a small trench, the height of which depends on the height of the sand cushion. Yes, in most cases, you will need the sand that we should not just pour, but
to be leveled and compacted
. For greater reliability the bottom of the trench needs to be backfilled with crushed stone or gravel.
The materials for the garden borokiri choosing the material, consider
the topography and design
of the site. Well, if your garden is not the place designer "stuff" comes primarily
from the performance characteristics of the material
, which I will discuss below.  
1. Clinicality natural and noble material, which will fit well into any landscape style. But in our gardens it is found not so often. What to use for the device of the garden path? Very different. Of expensive rocks —
basalt, granite, porphyry and marble
. More affordable —
Sandstone and limestone
. They differ by color (gray, dark red, greenish-gray, black), surface treatment.
You can use
raw stone
collected in mountainous terrain. And you can take
sawnstone
, which in itself is almost the tile. Stone slabs laying much easier, but they cost more. Other breeds used
diabase, gabbro, all kinds of pebbles, tuff, shale and dolomite
.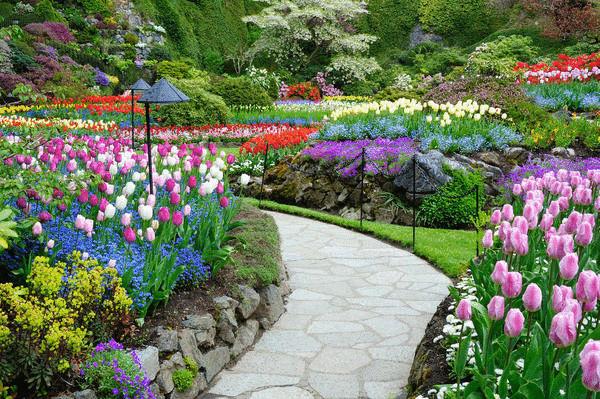 The dignity of
natural stone:
durability: will serve in a literal sense for centuries;
environmentally friendly;
beauty.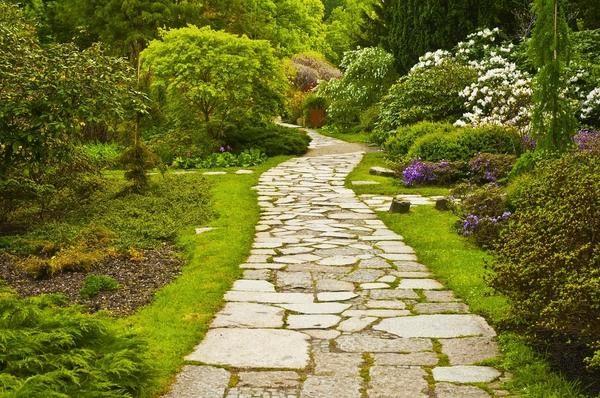 Disadvantages of natural stone:
heavy weight (physically difficult to do this track);
expensive, even if you take the simple limestone.
icing. Alas, most of the stone rocks in the cold season forms an ice crust, and therefore to walk that path is unsafe. Salvation is, but it dare not everyone. This installation of a heating system directly underneath the track)). I'm serious, so, too, do.
What you need to know:
Porous stones, such as limestone and tuff, absorb moisture, and therefore preferably every 3 years to treat them water-repellent solution.
When laying natural stone, remember that at least one side should be smooth. The trench to make deep enough so the stone is well blended and the track was smooth. While half the height of the trench can be preferably filled with gravel. And on compacted gravel to pour sand and lay the stones. And don't forget to buy stacking stone rubber mallet. However, if the stone is solid, you can do with a hammer.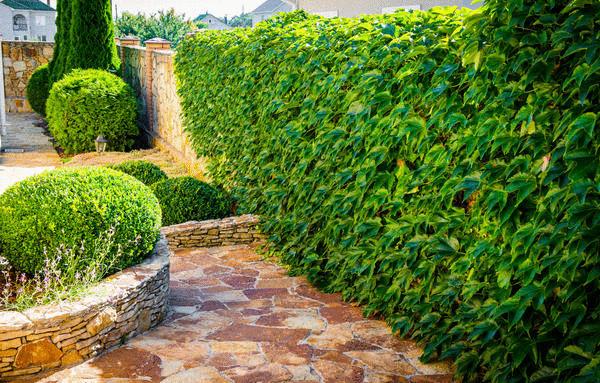 2. Wood in a variety of videomaterial too colorful, but, unfortunately, not as durable as stone. If you do not want to change a garden path every 3-4 season, think immediately about the processing paths of antiseptic and water-repellent compositions. I think it will fit the one that is used for the treatment baths.
Wooden garden paths are very different:
from boards (like bridges — the simplest and most familiar option);
of special wooden tiles;
wooden drunk. It is, incidentally, interesting idea. Looks amazing, especially if you use a saw cut in different sizes and beautifully arrange them.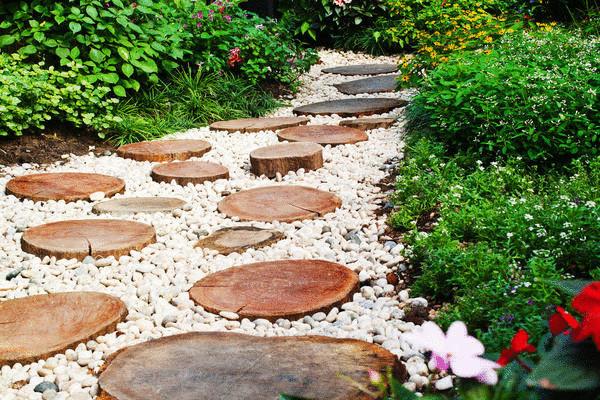 What types of wood are best suited for garden paths? Of course, oak. However, this will not come cheap. Oaks in General are valued in the economy. You know old houses that are still standing on oak posts. Larch, too long decay. Well, if not, grab any wood you can find). You can even cut down garden trees.
The advantages of wood:
environmentally friendly;
beauty;
a variety of solutions. You can think of anything that would be a fantasy;
quick drying. Wood — the material is very warm, so spring quickly thaws and becomes a favorite place for cats sun bathing =))
The disadvantages of wooden garden paths:
short term service (if it's not oak, larch and similar species).
What you need to know:
Before laying the same drunk they can be treated with linseed oil, boil. After drying, this treatment should be repeated again.
On sandy a pillow, some people suggest to put polyethylene film. Wood will not be in contact with the ground and, as a consequence, there will be less to rot. On the other hand, it is likely that there will accumulate moisture. To avoid this, the ground under the future path you need to create in the form of a shallow arch. Then certainly water will not accumulate.
The space between the saw cuts can be filled with wood chips, sand, gravel or gravel. Depending on your taste. If covered with sand, eventually they will break grass and will be very nice.
Nailing catwalk, leave a small gap. First, the wood will "hear" from moisture, and secondly, the cracks will leave the water.
3. Special materials for road, pokrytij those include processed stone, paving stones, paving tiles, asphalt, in the end — that is, all those materials that are traditionally used in the construction of roads and sidewalks.
The advantages of such materials:
ease of installation;
beauty;
strength: they are not afraid of moisture and temperature changes, withstand the load.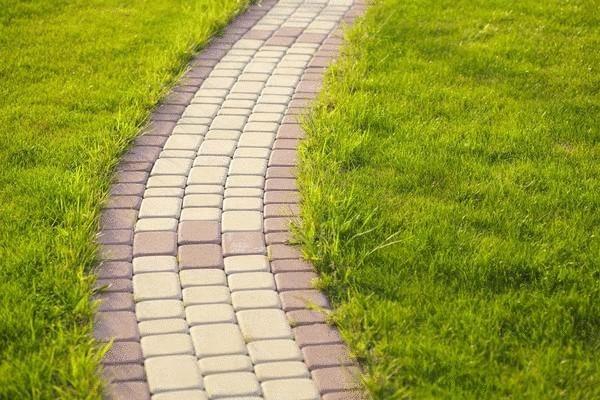 Disadvantages:
the high cost (for example, paving is an average of 400 rubles per sq. m.) If the site is large, such a garden path can be "costly".
on the pavement uncomfortable to walk on high heels (just in case)).
What you need to know:
Garden paths of such materials are complete only in the presence of curbs. Although, if you put them flush with the ground, and be without borders do.
It is important to monitor the fit of the tiles to each other and to constantly monitor the level, otherwise there is a chance to get a skewed track.
Noticing any defects (for example, a crack), do not use this tile, because it will quickly become worthless.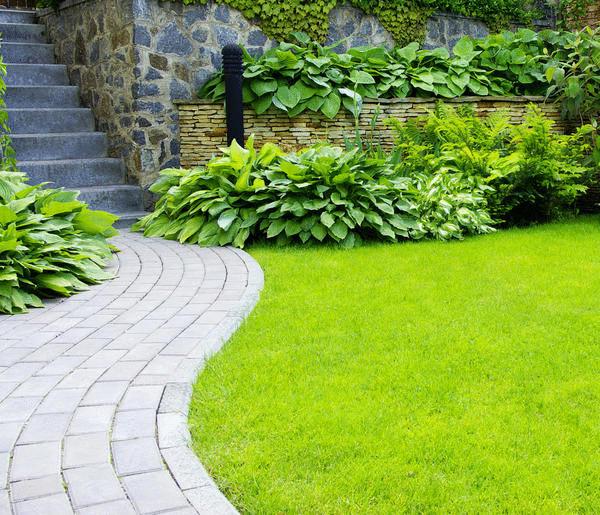 4. Brick as an alternative to bruschetteria often used for arrangement of garden paths. You can combine the bricks different colors to create ornaments, lay them as flat, and on edge.
Advantages of brick garden paths:
beauty;
strength;
a long service life.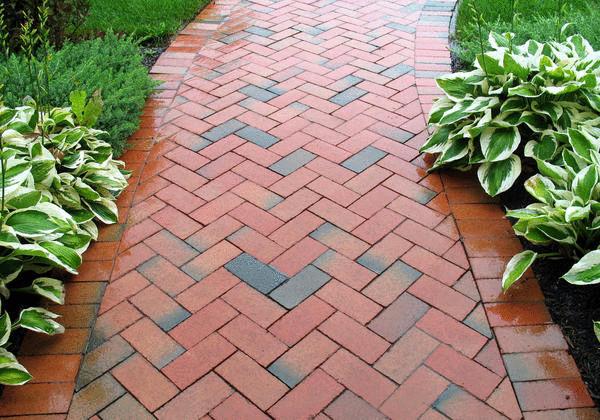 Disadvantages:
high cost (1 clinker brick is an average of 30-40 rubles.)
What is important to know:
A garden path of bricks to lay on a solution. The sand is also possible, but there is a possibility that one day the bricks will simply disperse.
Bricks for borders in any case, you need to put on the solution.
On the sides of the track, at the junction with lawn, you can drive the Board. It will be further to keep the path from "splitting". This technique is applicable to any garden paths.
Are bricks and paving only. It is more expensive, but sturdier construction. Building will quickly crumble.
5. Betonsalon, why not?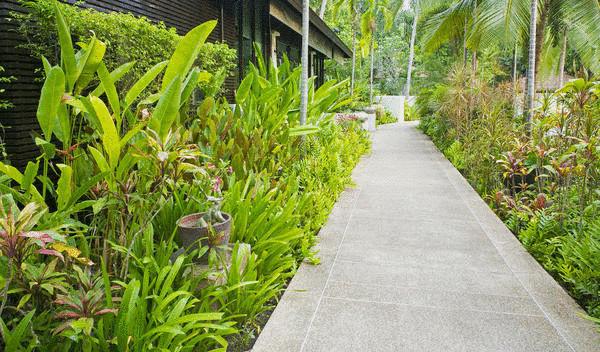 Advantages of concrete garden paths:
strength and durability;
resistance to humidity and temperature changes;
the possibility of subsequent installation on a concrete based tiles or stone.
Disadvantages:
Relatively expensive because you will have to spend a lot of cement, sand and gravel.
These tracks, quite frankly, not the most beautiful. But it is practical. Although here too you can dream up.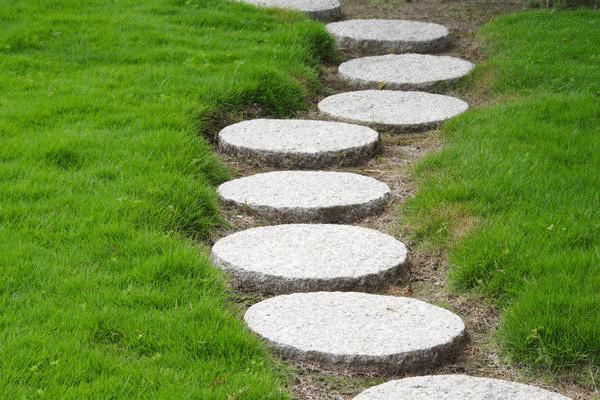 What you need to know:
The more cement in the solution, the stronger the carpet. Optimal ratio: 1:2:3 (cement, sand and gravel, respectively).
The formwork boards on the edges of the binding. Otherwise the solution will melt.
There is an interesting decision for decoration of concrete paths: while the concrete is not frozen, put colored glass and press the large pieces of glass in the surface. Can get a very nice ornament. Similarly, you can use pebbles, small stones.
6. Graviational material to create winding paths. No need to reconcile and align. It is enough to fill and compacted. This so-called
bulk
track. The gravel, too, by the way, is different. You can use clay gravel or any other rock dust, gravel, etc.
Advantages of gravel:
cheapness (KAMAZ gravel costs about 1,5 thousand rbl.);
environmentally friendly;
simplicity and speed of installation;
decorative.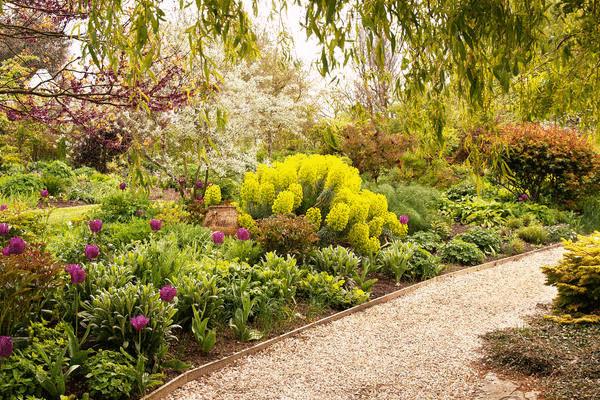 Disadvantages of gravel:
Can not withstand large loads. But Hiking is good.
Gradually grows, "grows" in the ground and clogged. This track is impossible to sweep, for example.
Walking through it is still not very comfortable. Especially at the beginning, when the gravel is still not completely rammed.
What you need to know:
Before you fill the gravel, treat the soil with herbicides, to track not overgrown with weeds (in the same vein, use of agricultural fiber, or plastic wrap).
If not to process, the track will periodically need weeding.
Will have to pour new gravel.
Without borders, this track will become shapeless. Besides, very soon, the gravel will roll around the area (especially if there are children)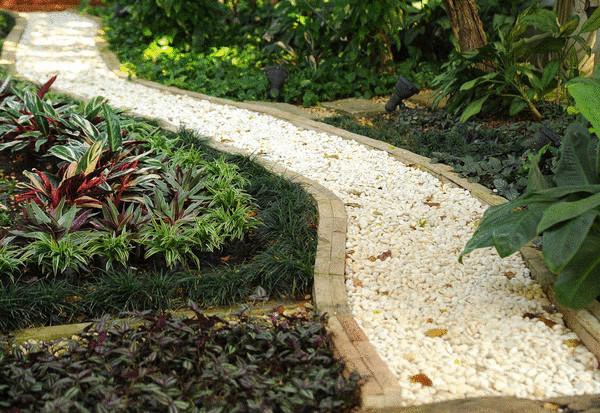 7. Plastics where not only you use this stuff! It turns out that in the shop you can buy special plastic tiles for garden paths. Any color, shape, etc.
Advantages of plastic:
does not rot;
easy to install (as a rule, special floorings are easily fastened to each other);
available in a variety of colors, shapes, sizes etc. And the plastic track can be quite beautiful;
easy.
The disadvantages of plastic:
can not withstand large loads;
fade in the sun;
wear out really fast, although the plastic, too, is different;
can not boast of a special aesthetics.
What you need to know:No special instructions to install the plastic tracks no. And if there is — read the packaging when buying.
Interestingly, there is even a special
plastic paving slabs
. You know how it is installed? Stuck in the ground! Ideal for arrangement of temporary tracks, for example, on the spring crossroads. And not time too.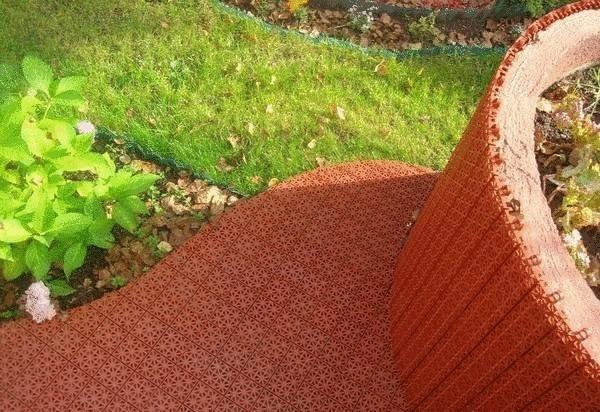 8. Travanut, not the grass that grows by itself, and
a special lawn grass
, resistant to trampling. I don't think any of you want to seriously engage in the creation of the English turf, so this topic is omitted. It needs a separate article)).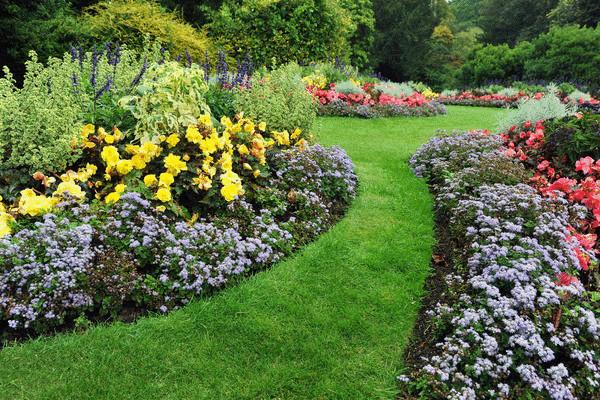 Advantages herbal path:
environmentally friendly;
natural beauty;
you can walk barefoot and enjoy.
Disadvantages:
quickly treads (even the strongest);
requires constant care;
it will be a pity to walk in rubber boots, covered in mud))
Conclusion
: if you want a herbal garden path — let it be, but not as the primary. The herb goes well with other materials. It looks great!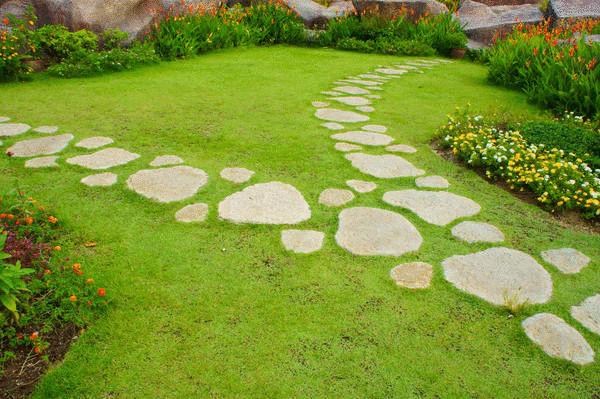 9. Tenacitate material for tennis courts also may be used in the garden. Color — reddish, like red clay. But it could be yellow. The composition of the red clay courts is composed of lime, clay and ceramic chips. After styling it absorbs water, the particles swell and form a solid, fairly dense surface.
Dignity red clay courts:
durable;
eco-friendly;
travmobezopasnosti;
pass water;
easy to care for.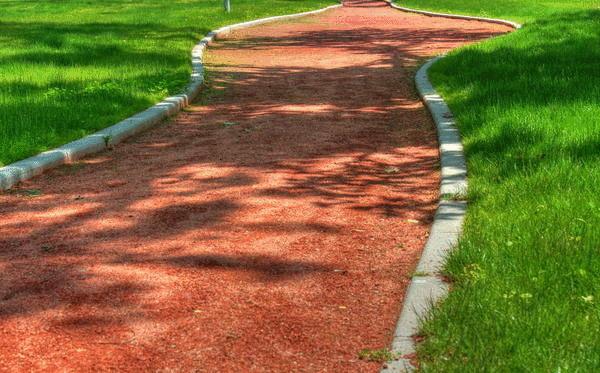 Disadvantages of red clay courts:
The formation of dust during a drought. This track requires periodic moisture.
What you need to know:
The optimum thickness is 5-6 cm, but the original is better to pour 10 cm, it usage;
Base — same as in other cases: a mixture of sand with gravel or gravel;
To walk on such paths can only 2 weeks after laying (material deposited, compacted)
Periodically, the material will have to pour.
In dry weather, the clay must be watered from a hose to the surface is not dry and is not cracked. In addition, the moisture will prevent the formation of dust.
Cost of red clay courts — an average of 3-6 thousand rubles per ton.
Zaklyuchennaya for garden paths very much. And the manufacturers come up with new material, more durable, cheap and practical. If your site until there are no paths, it's time to think about it. And use your fantasy! published
Source: www.7dach.ru