Narrow beds play an important role in organic farming. If you want to get good and healthy crop without chemicals, you will need to know how to make a narrow garden beds and why they are effective. But first, understand why you should abandon the wide beds.
Look at figure 1 and 2. This shows the wide and narrow beds for vegetables. For greater clarity, I took the same footprint area.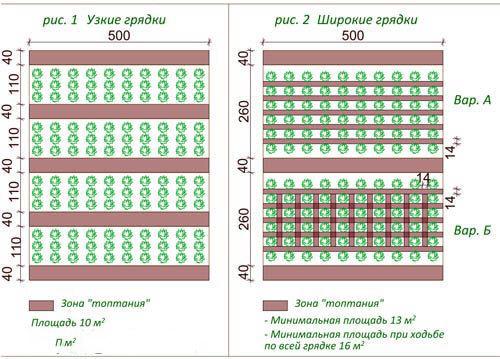 At the edges of garden beds, narrow and wide, without tracks can not do. I took that path will be a width of 40 cm. Oh yeah... All dimensions in drawings are indicated in inches.
Area of one such track, 2 square meters in 5-meter length of patch (you have it can be shorter or longer, and 5 meters is taken for demonstration only). Here you can walk, run, jump... Between two wide beds laid another track. But what have we got? On a narrow bed can easily reach to the middle, therefore, the area of treading where only 10 square meters. Here we do not become the aisle, but only on the track.
Another thing is a wide bed. She can only dream about. Through it, we can say, generally the whole season of treading water. At least a minimum of 3 times per season you stroll through the aisles. And what is that walk!.. Harm it much! Well, this place will tell us more.
Imagine, You came to the wide bed and saw a ripe cucumber or a tomato somewhere in the middle. What will You do? Of course will be on the bed!
What to do when you need to pull the weeds that will give seeds or suddenly it's time to hill potatoes? Anything else does not remain how to stand on the bed. So I say that at least in the garden you will walk about 3 times per season. But it is at least!.. In fact, these movements are usually more than three.
It would seem, so what? We at the plant do not become. But plants can be compared to an iceberg, because what we see on the surface, this is not the whole picture. Under the hidden land the secret life of plants. Yes, I tell you, and you know very well that without roots will not grow any one plant. But the roots of some plants are not only where the stem is. The plant in addition to the main root there are a number of small roots and moved among the bushes, we thus interrupts them.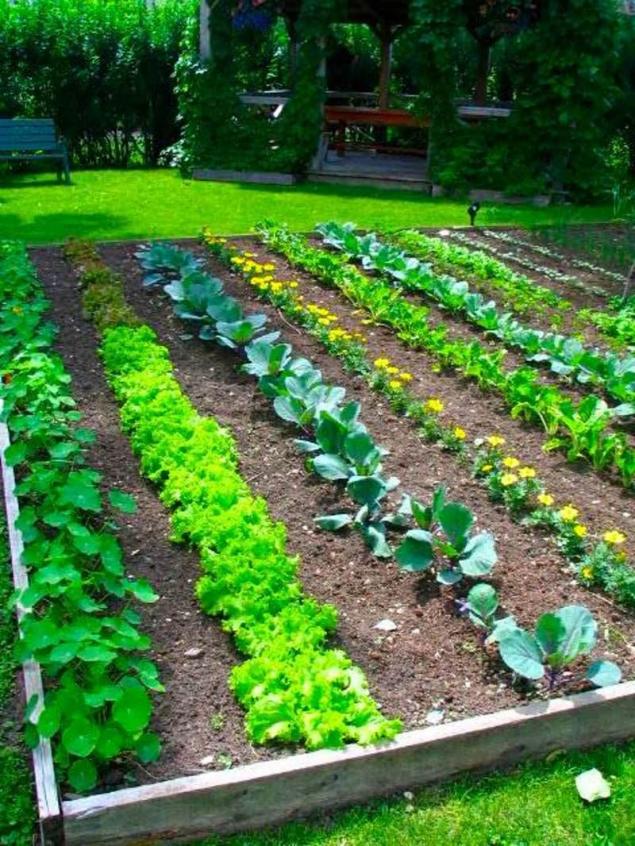 I think, what's the difference? Just think, the spine more spine less... Well, don't tell. Why, then, do plants get sick and give low yields? That little "soda" thrashed? No. This is due to the weakness of the plants, because they are "worried" break small roots. You ever come to heel on the almost bare foot in the subway or bus during rush hour? Almost the same worries and plant. To survive it will survive, but "limp" and will hurt. And in the end a little crop give.
Remember that each step in the aisles is accompanied by:
1. a large number of dangling roots of the plants (this you have already read);
2. the compacted soil. The Packed place moisture rapidly evaporates from the earth;
3. broken stems and ragged leaves of vegetables.
Narrow garden beds for vegetables is much more preferable than broad. On them you can and to grow potatoes. And why not? You'll see, the potatoes on the narrow beds will give a very good harvest. It is easy and convenient to grow strawberries in these beds.
But the fact that wide ranges constantly treading water, is not conducive to large crops. Moreover. The aisles are wide, the beds still need weeding, loosened, watered, and after it past, you need to once again loosen the soil... And so the whole season. The question is, why do extra work? You have no time to take? It is better to sit down once again with children or grandchildren, or just relax and look at the beauty around.
A big plus of the narrow beds that need to be done only once. And until one of the neighbors in the spring will form their baggy beds trample on them and carrying dirt (in spring it does) you already can sow or plant something or simply relax.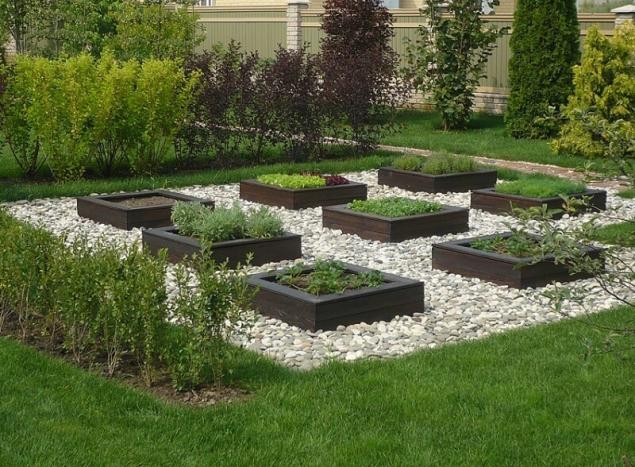 Sometimes gardeners use borders for raised beds, which improves functionality because the earth does not crumble at the edges.
By the way, Yes, on account of mucky. On the narrow paths between the beds sow lawn grass and then not have to "wear" the mud on the site. You all will be clean and neatly. You can still fill the paths with mulch, but I like grass because:
1. she looks prettier;
2. it is more pleasant to walk;
3. squinting lawn grass receive additional material for mulching.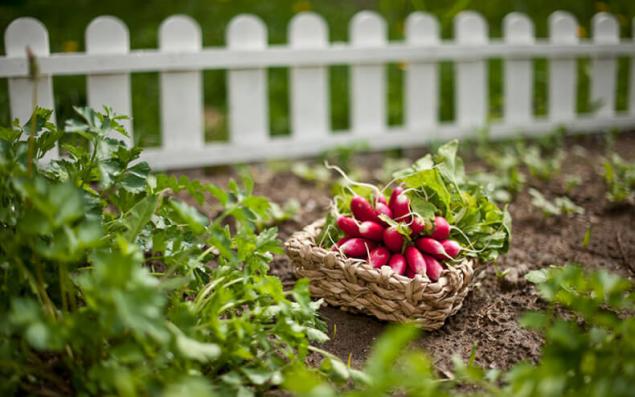 And what is the optimal width of the beds? Then, as they say, a matter of taste. Starting from 90 cm to 110 cm, the Main criterion is convenience. The narrow beds will be effective if you can reach them in the middle without getting on the bed. They are very convenient to handle ploskorez Fokine. The width of paths between beds should be at least 40 cm, and if the garden is large, some tracks do width 70 cm, So it will be easier to move around the garden wheelbarrow.
Another option is to make a narrow garden beds are not rectangular, and oblique. In this case, the angles are not 90°, 60° and 120°. I haven't had a chance to work on these beds, but they say that they are more convenient than rectangular.  
How to create a decorative garden on a country siteof 10 commandments gardener by Catherine Delvaux
I hope I have convinced You of the efficacy of narrow beds, and if You already work for, then tell us about it. I am very interested to know Your opinion too.
Narrow garden beds provide an easy work in the garden. If You value time, health and strength, do narrow garden beds for vegetables and you will see that most of the work will disappear by itself.published  
Source: garden4u.ru/eko-sad-i-ogorod/uzkie-gryadki-dlya-ovoshhey-udobnee-ne-pridumaesh.html