Tiered garden beds for vegetables and berries — it's like an apartment house for people. Yes, plants, like people, want to live in "their" levels-floors. So, some vegetables prefer to live on the ground level bunk beds, and some on the latter, and there are those that say, "I won't live on the first and last floor." A good host can make it fun for their Pets.
How to make a tiered flower bed and why do it at all? Isn't it easier to make an ordinary flower bed? All this you now know.
Creating a multi-level garden bed is really a creative process. Thanks to such beds you replenish food stocks for the winter high quality, environmentally friendly vegetables and fruits grown with their own hands. Moreover, they allow to efficiently use every square inch of useful land. And it is so important if you have a small suburban plot.
Before you make a bunk bed, you should decide what culture and in what sequence you want it to land. Thus it is necessary to consider features of plants: altitude, character of foliage, time of fruit ripening.
If it is a three-tiered garden, low-growing roots, and will certainly occupy the lower tier. Salad greens, peppers and tomatoes will ease in the second layer, and winding the stems of cucumbers or beans will be room to grow and to cling to tendrils for special props and ladders on the last tier.
It is a good option when on the upper level of bunk beds will bask in the sun, exposing the taut hips, the fruit of tomato, eggplant, peppers and greens, and the downstairs will accommodate pretty patissony, squash and zucchini.
When choosing the location of the tiered garden beds is important to consider the opacity or openness of the site sunlight. It is also important to know about replaybility plants or it needs shading. These knowledge and powers of observation will help you to correctly, effectively and beautifully to build a tiered flower bed.  
How to make bunk beds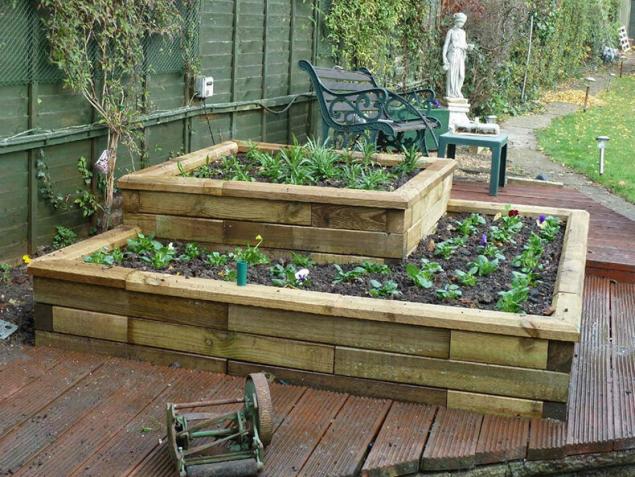 Bunk beds can be a classic speed wall ladders, rectangular or square pyramid. Look great bunk beds round shape, broken by using a special plastic rings or flexible restrictive tapes. Each host can act as a landscape designer and to create, for example, combined two - or three-tiered beds, based on the characteristics of the site and their individual aesthetic preferences.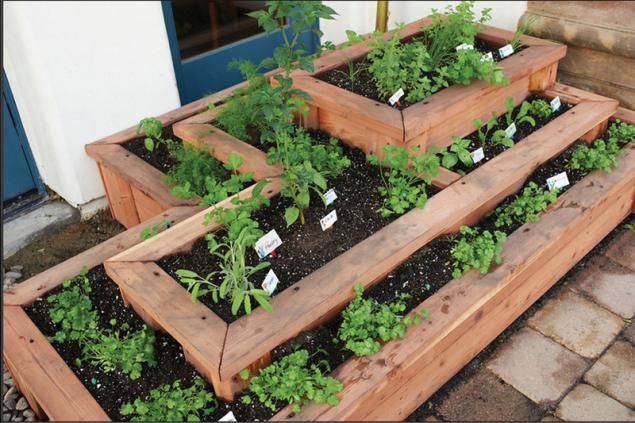 There are two ways to make a tiered garden beds:1.
using frame available materials (wood, roofing shingles, plastics, tile, special tapes, sometimes drums or boxes);
2.
utilizing already prepared, store-bought, special shapes.
Getting started on the installation of, for example, triple bunk beds, it is necessary to mark the place where will be fixed the borders of each of the tiers, plan correctly to the width of the layer, which is required for optimum plant growth in one or more series.
Establishing the first, largest perimeter of the frame tiered garden beds, one should fix on it a metal grid with small cells to protect plants against different species of rodents that are found in a particular region.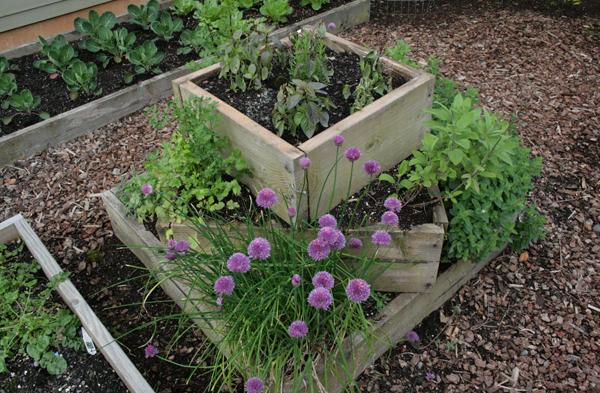 Some owners sometimes laid on the bottom plastic film, usually it is practiced in arid areas with the purpose of detention of moisture, if it is not possible to provide daily watering. Unfortunately, this practice when multi-level beds not the best, in this case, rain worms and soil microorganisms – specialists in the processing of weeds and the production of humus will be blocked access.
Because the greens and vegetables need soil with good drainage, preferably enriched with compost, filling the bunk beds should be approached very responsibly, taking into account all the nuances.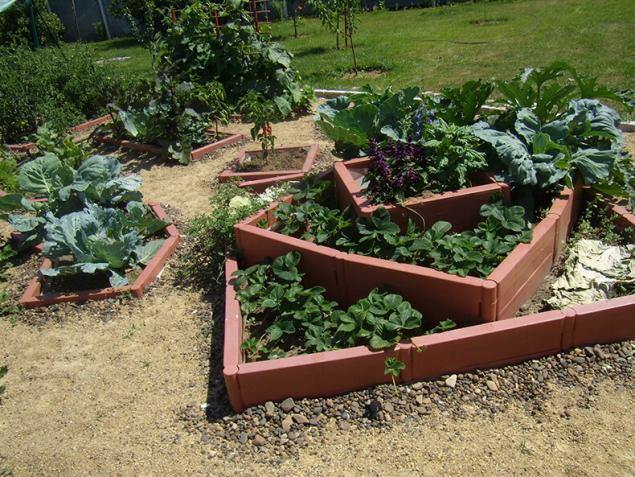 For the bottom layer you can use dried and fresh plants, sawdust, leaves and weeds that will pereplet and in the future will provide organic nutrition to plants grown in three or bunk beds. Then well compacted weed covered with earth. The top layer is a fertile soil enriched with compost and ashes.
To ensure that the soil doesn't dry out and plants felt more comfortable, remember the mulching.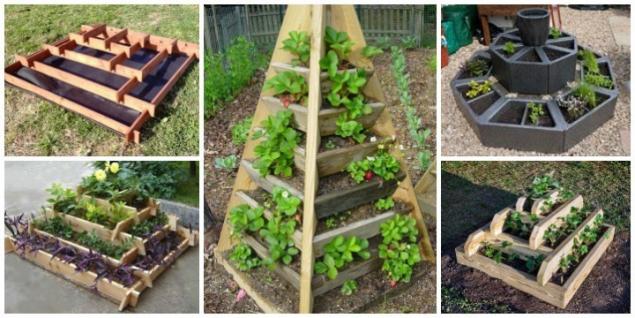 Even creating tiered beds you have the ability to create beauty. On the upper level you can secure support from any materials, such as bamboo sticks (the so-called "Bamboo teepees" completely harmonious look and good support climbing plants). Well, the plants themselves can be tied up not the usual tatty laces, and more unique garters, like monkeys or lizards. As they say, everything is in your hands. You can use the more decorative fences for flower beds and garden beds.  
The advantages of multi-tiered beds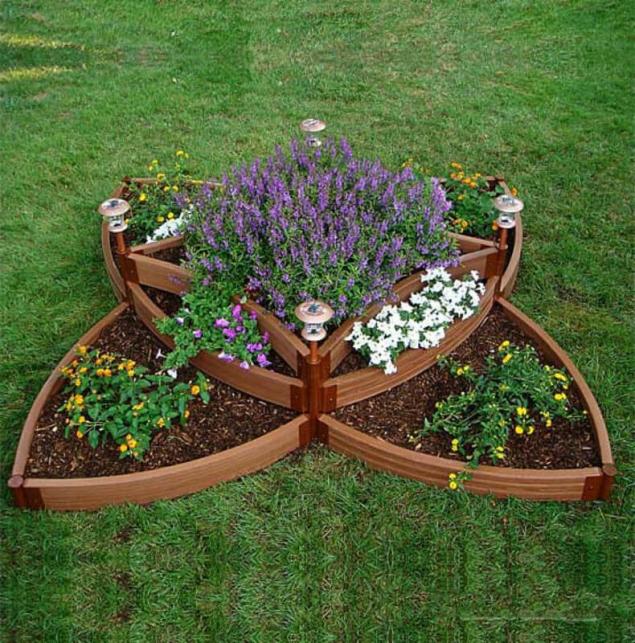 At least it is possible to allocate following advantages of these beds:
Compact
Any prudent owner who appreciates every inch of land, do not be lazy to spend a day on the manufacture of multi-tiered beds. For the manufacture of multifunctional vertical mini-garden will only have the desire, quite a bit of space and a little imagination to figure out how to make a bunk bed soundly and beautifully.


Efficiency
All minor efforts spent on the production of bunk beds, will pay off handsomely, because they crop Matures faster. Well warmed up the land, which is easy to handle, often manages to bestow the fruits of a season several times.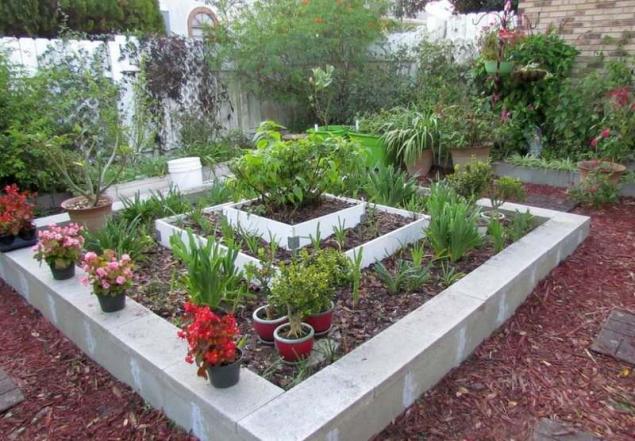 Ergonomics
A towering tiered garden bed is a dream for growers-hobbyists who don't quite appreciate the convenient approach to high bed and the possibility to take care of her, being in a comfortable body position.


Aesthetics
Picturesque multi-level garden, adorned with Golden calendula flowers, repellent soil nematodes, purple Basil protect tomatoes from whitefly is a feast for the eyes and a feast for the eyes. And, of course, the pride of the owners who took the trouble to learn how to make a tiered flower bed.


Bunk beds are interesting to look at the site and they do not have to plant only vegetables and berries. Look great on stacked patches and different colors. So create beauty to joy yourself and your family.published  
 The 10 commandments gardener by Catherine DelvauxThe garden of Igor Liadov – the miracle, it is feasible to everyone
Source: garden4u.ru/eko-sad-i-ogorod/mnogoyarusnye-gryadki.html