Garden paths are an important element of landscape design; their peculiarity is that they, in addition to the pronounced practical functions are also esthetic loading. Garden paths are a great addition to the design of the garden, give the opportunity to care for green spaces and decorative elements. In addition, they make movement through the garden more comfortable, forming a network that unites and part of the garden, and outbuildings.
If competently approach to the arrangement of garden paths, you can smooth over many shortcomings of the landscape or on the contrary, to emphasize the topography, to bring harmony and beauty to the garden design.
When planning garden paths, most importantly the correct choice of material for their manufacture. For this purpose suitable: natural stone, concrete or wood. The choice of material is, of course, a matter of taste, but certainly need to consider the General concept of garden: a garden in the Japanese style decorated with stone paths, in a traditional village garden with its riot of greenery would be appropriate hardwood, for modern cottages acceptable concrete pavement.
Let us consider the specifics of these materials.
Garden paths of stone
stone as a material is very practical: higher wear resistance, durability, good compatibility with other materials. Landscape design, raw stone is a popular material — it is used not only for decoration of garden paths, but also as an element of garden decoration, for example, to create the Alpine slide. From the processed stone popular basalt, marble and granite; their drawback — high price. You can choose more affordable options such as Sandstone or limestone.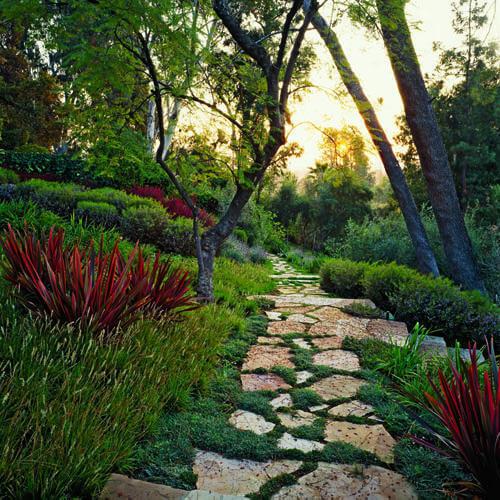 Garden paths of wood
Wooden walkways in the garden look very natural and harmonious. Their main disadvantage is relatively high cost and short service life. Moisture resistance does not apply to the merits of the tree; rainy weather causes wood surfaces harm, even if there were pre-treatment with a special impregnation. Have tree another feature — wet the wood surface is very slippery, so if your family is elderly or small children, it is better to abandon the wooden tracks.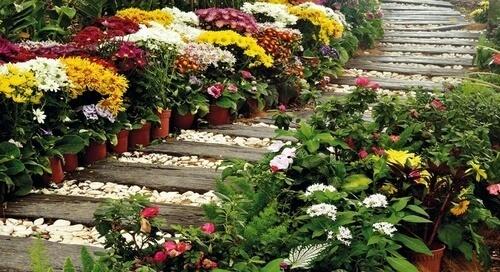 Garden paths made of concrete
Concrete in the design of garden paths is used most often in order to create a monolithic coating. You can also use concrete stone to replace the natural pavers: strength she is not inferior, and the variety of shapes and sizes and superior. A very popular paving slabs made of concrete due to a wide range of colors and forms. Garden paths of coloured paving slabs are a very interesting part of landscape design.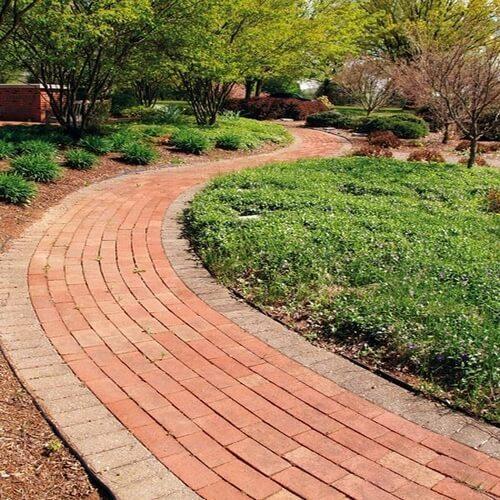 Probably, tiled paths — optimal variant on a ratio the price — quality. By the way, lay tile is a lot easier than a stone or wooden parts.
However, some varieties of tiles can be quite slippery, this should be considered. And last, practical suggestion — you should prefer small tiles: it better fits the topography and therefore less cracking load. Yes, and replace a small detail, if necessary, much easier than larger ones.
Oh and don't forget about the aesthetic characteristics of your garden paths — vary the combination of colors in the choice of material. Or at least lay on the edges of the edges is different from the cloth of a track color. published    
Source: estp-blog.ru/rubrics/rid-30565/