< Anatoly Golubovskii
Mikhail fire - director, artistic director of the studio "Black Square", business coach and just an interesting and mysterious person. For the year of regular intercourse I can not say that I learned it.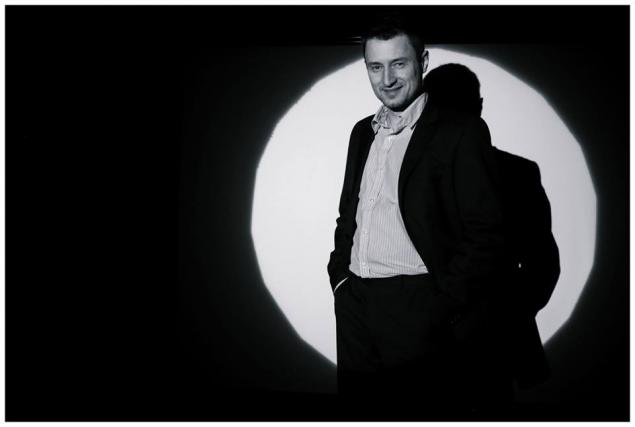 < -Misha, let's start with the source. How do you, kid with a bright future sports and even in such a turbulent time as the mid-nineties, has brought to the theater?
-All Very simple. My closest friend, with whom we are friends since high school, enrolled in a theater mime, and I was late. And for some reason I really like the theater. Maybe because in Pioneer, as a child, played Chipollino, even some fairy-tale characters ... And the food in the tram, I see the ads - "Set in a drama school. Education is free. Shevcheneko Boulevard, 27. The third floor. Listening was then. " Small such vizitochki. In Anatoly Nikolayevich (Neelova, the founder of the theater "Black Square") they may have survived. These cards then, every summer, paste the entire Kiev. Pasted everywhere - in the hallways, trams. Embedded ads PVA, they can not be pull out, many hung over the years. Perhaps even now hanging somewhere. Where long repair did.
I saw, remembered, came. Was interviewed. Came to the exam. Handed over. Passed the disgusting. All were against my enrollment. But I took Neelov. With the wording "for sincerity."
I can say that this decision, it changed my whole life. For me that he'll always be eternally grateful. He gave me a chance, I used 200%. If you say why he did it ... This is a man of great wisdom and tremendous experience. He sees very thin people can predict their growth. I have that much evidence.
In general, I am very lucky that I took the exam to him, not yourself. I would not take myself then! :)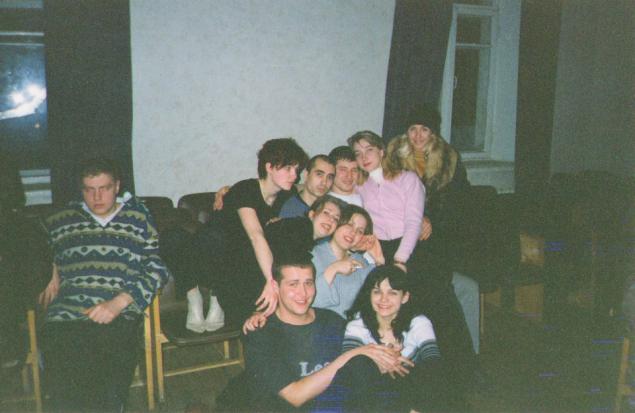 < Well, the vision Neelova legendary. And about the experience - whether it was him at the time of your income?
-In The first place, we do not judge. And secondly ... I did in 1995. The studio has existed since 1991, that is, by the time the last four years. And so you know - now come to the exam 100-150, and then over the summer viewed from three to five thousand people. People had less money, but more time. And there was no internet. People looking for what to do outside of the media. What then? Five TV channels, video - and all. So, theatrical studio - it was cool and interesting.
< -Ubeditelno. You said that a drama school radically changed your life. What do you think you would wait without theater?
-I Do not know. I do not like the subjunctive mood.
< -Pozhaluy, yes. Why did you chose for further study Canada?
-All Very simple. I've got a sister.
< Canada -As you have lived five or six years
-Six.
< -There you participated in productions of Olga Shvedova.
-Yes I Am. I played John in the play "Judas Iscariot". This is a very famous performance. She put it in Canada. Played in Chekhov's stories and something else, the name of which I can not remember for the prescription.
< -So, you were actively involved in the productions. Why, then, has returned?
-Very Many reasons. But first, at that moment, there was a better performance. And still better. As strange as it may sound to people who think that if they pereplyvut ocean, where they await rivers of milk and milk and honey. In general, my specialty - directing, directing movies, teaching, training - there is much more work.
Second, the "Black Square" at the time was just starting out on the level at which it is now. In 2006, there were no rooms on Artem - was only Shevchenko Boulevard. There was nothing but going to be. And it was very interesting to participate in this in my small forces and capabilities.
< -You internally - more director or coach, teacher?
 - It's like asking: "You are no longer husband and manager." This is a completely different role. They can not be compared.
< -Because they are in different areas. I asked you about the skills, the husband - more related to the social sphere.
-I Disagree with you. I think that the "husband" and "wife" - a profession. But everything else - love, lo & s - can be completely and without a family. But when people get married, they should understand that the "husband", "wife", "father", "mother" - a profession that involves a number of knowledge and responsibilities that are not associated with love, s & om and others. These are the people of the XIX century understood perfectly. But it is - a separate issue. So I do not measure, "Who am I more." When I was with the disciples - I'm a teacher. On top managers - business coach, rented a movie - a film director in the theater - theater, mounts - film editor. And in every role I have to think and communicate with colleagues in quite different ways. When I'm an actor - I'm not directing. I obediently :)