< Anatoly Golubovskii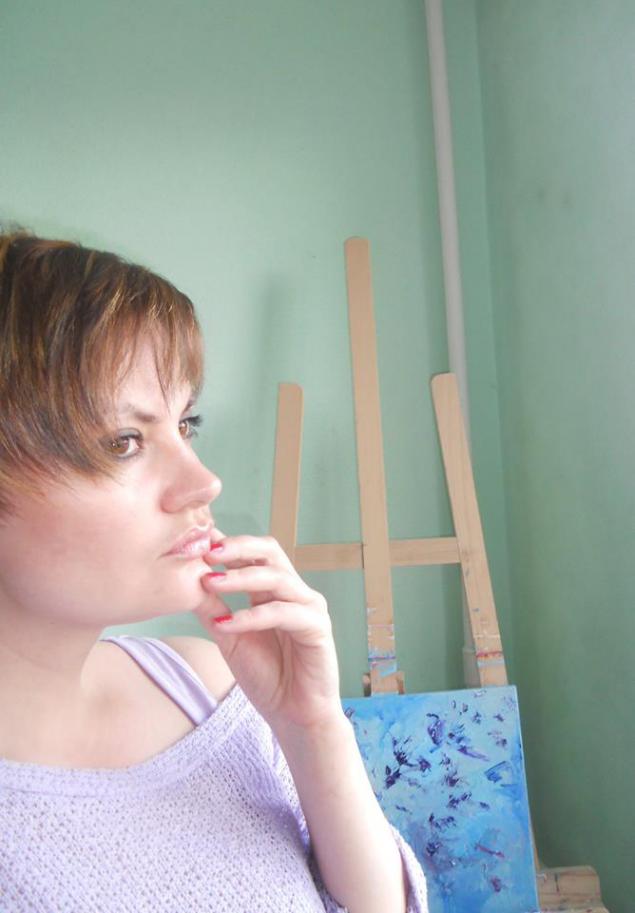 I can not say that I accept nearly everything that makes on-site Nadia. Although, of course, she is sincere in his anguish and more interesting. But her paintings hooked immediately. I do not know and do not even want to try to sort out why. Let it be. Well, made a proposal to talk about all this. Still curious as to why and how a person suddenly comes to a certain turning point in my life.
< -You from Kiev?
Yes
< Why decided to do the translation?
Wanted independence. And to help their parents.
Then Hrinchenko University just opened and had the opportunity to enroll in a free room. I opted for English and German. German hated then, but having studied the market, realized that he quoted the most.
thought, 'Why not? "I had no plans to become a teacher, but my mother a teacher. I just wanted to work with languages. As a result, received. A German fell in love) And with the children worked. Strange, but most children love me. I just talk to them as adults. And who of us in childhood did not want to talk to us, as adults?)
< -And how you brought to the Cheka?
After graduation, I would like to enter the Karpenko-Kary. Even passed independent testing - history and language, although by that time already had a red master's degree. But they have such requirements. Held on points. Went to preparatory courses. Very pleased, excited me lessons.
Since I was a girl aged - already in '23 (by the standards of Karpenko in acting class - you're an old woman), and the first education was free, Karpenko-Kary fees I had to pay. The man with whom I was living told me not to worry - he will pay for his studies. It's not my style, but by the help I did not refuse. He believed in me - and I did not resist. But we parted, Selyava and much choice did not exist - to work and study at the same time (and Karpenko people plow rehearsals till night), I was not able to. Of course, upset, but had to abandon the receipt and go to work to support themselves.
Three years later, the girl friend of the University, who knew about my passion for theater, laid out in the Old VC with the comment - "Behold, you are interested in, it is possible." Moreover, the theater, it has nothing to do. Information was the immediate Cheka.
I at that time was another personal drama, sat on sedatives. The thought that I will stand on the stage, my hands were shaking. And I decided to go on a three-day training to Neelov.
On the second day of training I went to AnatoliyuNikolaevichu the issue of fear. I had to work with the chief of a small problem. I went to Neelov wondering how do I get rid of this tremor and raskolbasa when communicating. He advised consciously create stressful situations. And then announced that if anyone is interested, exams Cheka - Sunday. I thought, "Well, stressful - so stressful." Arrived on Sunday and received.
< -Kartiny you already wrote?
-No. That came later. There is generally more. I simply excess energy can be. That is, you need somewhere to throw out the excess. Areas of work-home-personal relationship to me is not enough. And here I suddenly found a place where they could give vent to their emotions, feelings, thoughts. You can learn to think of something, to change, modify itself ... and it was very interesting. Not everyone is clear, yes. But such is. After all, even when the person is suitable to you two and say, "You know, I'm thinking after your show ..." - is high. I do not care number. Important to me, when someone understands this and somehow change. Or he takes from it something for yourself. This may be one. But I'll be happy.
When it came time to do sketches, I had four ideas. One of them was about the artist. This sketch was prehistory. On the eve of my friends and I went to Prague. On the nose, March 8, the guys wanted to give me something. As to the clothes I'm pretty indifferent, the question was - well give? I gave up everything, because it was so corny ... I hate shopping. And so one of my friends found on the viewing platform in Prague, in the rain, during a tour on March 8, palette. Apparently, it forgot some artist. Rain, dampness. And this palette. It was so weird. I took it as a sign and took it with him.
Then he came up with this sketch - just depressing. The artist paints dry paint on his dead child. Artistic director of Campfires Misha said "NO". I cried all night. But then it's still resulted in a modified form in monoetyud. There's not about that. But everything in life we ​​have to something leads. And well, when there are people who say timely "no", then to this resulted in good quality "yes».
And then there was a break in classes in a theater, something was missing, there was no place to pour the accumulated energy. Girlfriend suggested exercise in the art studio. For the money it was sheer nonsense, why not?
The teacher was totally flegmatom. Sample asked to draw an apple and a bottle. Dotted, put shade. And for me, all you need to do by the rules - boredom death. I draw, and the very batters irritation. He came up to me and asked, whether he even taught me to paint and what they would like to learn? I gasped, of course, "Monet". My favorite artist, and style of the Impressionists learn to draw - it's magic, believe me. After that, I started looking for his own style. I can not say that I found. Since, as with poetry - I have all different. But most of abstraction, in my opinion. Or expressionism. Sometimes Impressionism blows ... to explore different areas, but so far its definition could not give. A mixture of some sort.
< -You know. Me as a child discouraged draw it in the classroom. And then, in forty years, suddenly found out quite by accident that I draw good
-I Irritate canons. Want to go beyond the limits of forms, which is why it is considered to be correct. I was a child involved in dance, modeling, painting. Maybe somewhere in the intersection of all assimilated and I find what I want. I do not know. But I feel that all this is not accidental, and somewhere leads me. I paint as a brush and palette knife, hands, feet probably start soon))) I am interested to learn new things. I paint (I do not write, but rather draw) emotion, feeling, feelings experienced at the time when I sit down at the easel.
When I'm painting, it is likely to fall into a trance. I sit down in front of the canvas. I close my eyes. And when I open - I'm not Nadia Patrelyuk. Why choose certain colors, take a spatula, take this with a brush or paint with your fingers - do not know. It just happens.
I take a bottle of wine poured into a glass, took a sip. And then forget about everything - about wine, about music, about a cat that rubs against my legs. And for a few hours dropped from the reality. It was as if someone or something, but I no longer does so.