< Anatoly Golubovskii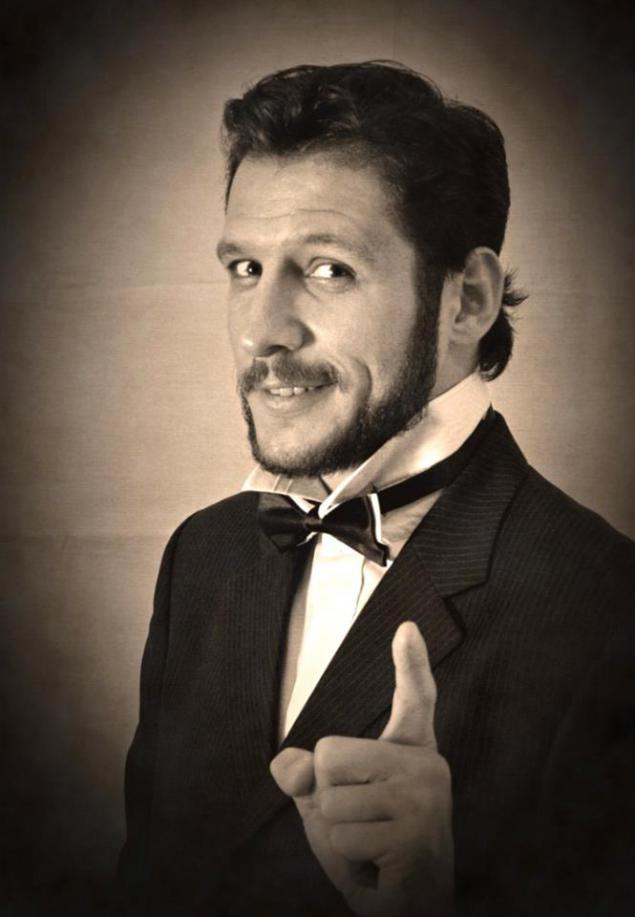 < Vladimir Tagvey - film and theater actor, director and showman. We can say, the star of the first set in the studio Misha Kostrova.
Our fellowship began somewhat unconventional way - a few questions first short interview I said (how this came to life). Not particularly surprised that we have found and something in common. And then proceeded to the official part of the visit under the watchful eye of the Scottish Prince Louis, brazenly lying down on my bag.
< -Volodya what you did just before the advent of the "Black Square»?
-practically Entire adult life I was trading in building materials. Very diverse. Buying and, of course, sell. I lived then in Poltava and on issues related to the purchase, went to Kiev. Kiev I liked and I had a desire to move here to live. Well, just before the arrival of the Cheka I was a realtor. (Here it is, the total!) To do that, in general, of necessity, because with the onset of the crisis theme with building materials quietly died, what to do next is not yet defined, and there seems to be something familiar. The girl with whom I lived, was engaged in real estate (and again the total!) I decided - why not? That is so sly and involved. Sale, for rent.
< -How appeared on the horizon of the Cheka? Someone suggested, saw an ad?
-In Blame my mother Pauline Golovanova. The fact is that, apart from Pauline gave birth she had Svyatoslav.
We worked with him in the company involved in the manufacture and sale of construction materials. I - brand manager, he - technologist. We were friends. Then one day he told me to "Come porzhem." Was a holiday, around the wonderful nature, we have normally taken. And here is a suggestion ... we went. It was the entrance exam to the Cheka. Looked and listened. And argue with the Holy Ghost, that he will do tomorrow. And so it happened.
-Just Trend has already drawn some. This is me on the randomness of receipt. In respect of itself, by the way, I might add - too.
Well, yes. But it is a coincidence ... When you want to do something, but you're afraid, ever invent for themselves some excuses. And wait - well, who will write you this magical pendal!
< -Kostrov once said: "You should have seen Tagveya three years ago, when he came into the studio." You were frankly weak?
-I Can not say that I was very much trapped, but had a lot of complexes. More precisely, there was nowhere to dig. You can in fact courage to do, there is a draw fireworks, and as soon as a little deeper kopnesh - and all people went out. Something like this was the case. Because I was afraid. There were exercises, which I simply did not come out - could sit stupidly. Feared. How Come? I think it just does not allow himself to play. Was some internal brake complex. And just needed to allow yourself to express themselves.
< -Pozhaluy, this is one of the most common problems - when a person does not allow himself.
-may Be. I would say more. Just do not tell Misha. How do I even tried to solve this problem by using a flask of brandy. Arrived by car to school in Pashkov House, drew 50 grams of cognac (3 hours drying time) and classes. Why is it done? Because - he could not understand what was going on. How is it - I'm always so handsome, the soul of the company, but here is ... not suffer. The experiment failed and I do not repeat it.
< You were in the first set Kostrova group. How much has changed in that time, the content classes?
-Change Almost everything. Activities that are carried out now - quite different. Misha constantly makes some small openings and move on. He is not an actor who moonlights conduct of acting. He is a teacher who constantly searches for his method, the method of approach. That's a big difference! So that the present program - is totally different. Misha And personally I am very grateful. He showed to me a lot of patience and attention.
< -On the stage and in the exercises you can say, master of subtext. It is inherent in you and in your daily life?
-I Can not answer unequivocally. I have put the subtext? .. Watching with anyone. Probably some kind of subtext is always available. Can we call this insincerity? Probably this: before I hit the Cheka, I subtext in communication was much more. Was cut in life when all were solid subtexts. At the same time, interestingly, I cheated myself in relationships with people, not calling things by their proper names. When started, the process has gone - the more implication on the scene, the less life. Due to the Cheka I allowed myself to not be afraid to lose something. At some point, I lost almost everything! I had an ultimatum from a girl with whom I lived, about the theater. And I chose the theater.
< What, just like that, "or I, or Theater»?
Well, the word "theater" may sound. Just studio took up much time, effort, money, after all. For the entire first year I only missed one session. I did not, and was one way out - take number. I went into the whole process. This triggered a break in relations.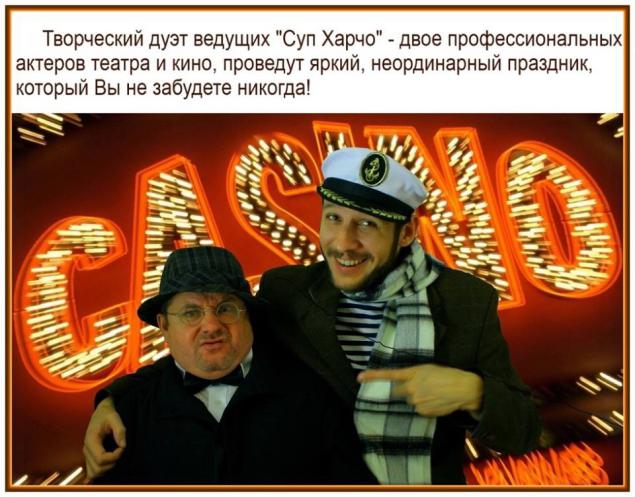 < -How was born "Soup kharcho" your wonderful tandem with Oleg Shushpannikovym?
C Oleg Shushpannikovym we were doing in the same group. And when I have developed those family circumstances, which I have mentioned, or rather the question arose - and how to live something - I fell into the arms of Oleg. Particularly friendly relations at that time was not - we were talking, but nothing more. I figured - when sharing accommodation can be saved, plus a number - a familiar person just like me, fascinated by the theater. And he had just cleared a room in the apartment where he lived. Come on Pozniaky, climb on the 10th floor. Beautiful view, wonderful apartment. And now, two adult males live in together, eat well (Oleg prepares wonderful), life is arranged. Question - how to make money when the two are engaged theater. At the same time no one wants to work. That is, in the classic sense - in the office from morning till evening. With this mode, the time for the theater remains. Need to get out somehow. And born the idea that you can earn on various activities. Duet. Especially since we are so different - it plump and beautiful, I - tall and handsome)) And "Soup grub" - this is from Misha Kostrova. Once he has given us to read the material. A couple of his plays. One of them was called "Soup kharcho on Friday night." We decided to do it. Rehearsed, rehearsed, but still not vyrepetirovali. For this we should be ashamed. The whole story is over etude on an experimental stage and gave the name of our duo.
< -By about "tall and handsome." Whether there is the temptation to use invoice - play a sort of macho? Yet because of the roles in the repertoire is not observed.
-Pozhaluy Not. I do not feel like such a character, let me uncomfortable when he addressed to use such epithets. Although quite ... forgot ... now we're rehearsing a play where I play a character, just do not even thought about it. Macho? For me it is primarily a solitary man, Betrayed, who fear a serious relationship, and then ...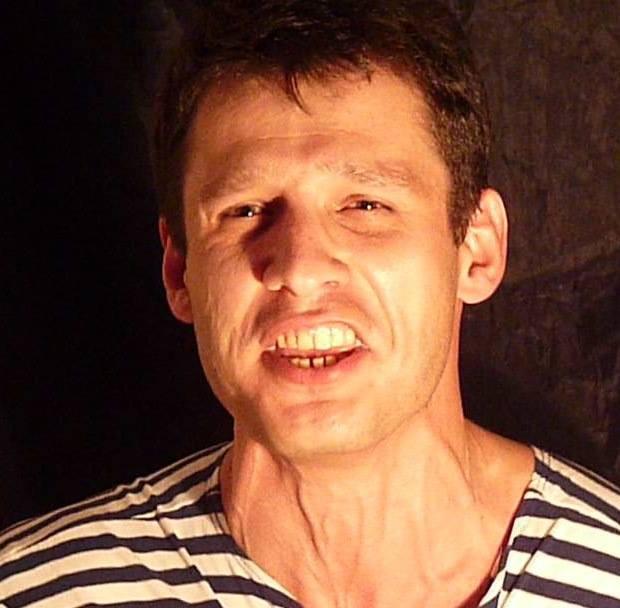 < -Your name can be quite interesting to decompose in English - Tug way. The tow path. Way tug. A sort of lift, which will pull all. There is in this kind of symbolism, what do you think?
-You Know, I never had a doubt that, in principle, the "pull" all I can. The main thing - to choose a direction. Besides, I'm lucky. Minion. Many things were given to me easily enough. Did not have to break a lance, overstrain. Maybe this state of affairs, and I was a little spoiled. Because of this, in fact, there was a problem of choice. I'm a huge span of his life doing different things that were not interesting to me. Engaged because everything worked and had the illusion that it was mine. When all the work - you do not feel the risk of wrong choice, do not measure seven times, that would be correct cut. The result - a lot of time "tug" pulled the wrong way. The choice of the road still needs to be done sooner and more consciously.
< How did you tell me. Say, you feel a director beginning or want to play more?
-Do Not only feel, but also realizing
< -In July final performance you've been involved in about half of the studies. Put you or was it a collaborative effort?
-As Such cases it is usually collectively. But in the sketches I did put, so to speak, hands and head. I generally like to sketch. Yesterday I wrote. Like directing. When rehearsing with the children get into some frenzied state. I then asked, "Why are you yelling at him? It's a baby! "And in you at this point if something switched. No aggression, just have a feeling for what is necessary to press the button that would all work out. In general, I really like this process, although there is not much experience and education. Learning on the go. Ira Cooper entered the directing - I ask her to tell me as much as possible. That's interesting. I want to do it.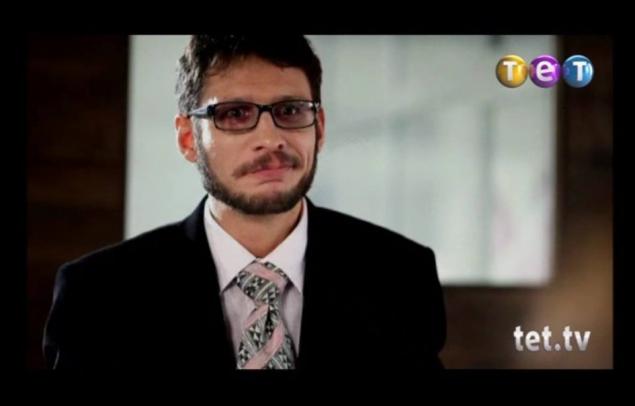 < -O work on television. Character in the "mess" - as a mockery of your capabilities. You're not even in the classroom (not to mention the stage) has been issued a much greater depth. Your attitude to this experiment.
-And I myself came up with this idiot. Himself played. And the whole series, and this series is specifically made to present such a character there. I then still had a beard, I was going to shave it and I wanted to leave on her memory. In one of the projects I've done in quite adequate bearded image, and here - a sort of unbalanced neurotic, director of modeling agency, creative personality. Such a character is quite had the right to exist, and I really enjoyed incarnations of the character. In general, I think the best experience and fit. A depth - it was not there and could not be, because it was not necessary. It was fun. In this "cool" and everything was built.
< -You now have priority development - theater, TV, stage direction, "Soup grub" or everything develops in parallel?
-Direction number 1 - the theater. Nobody canceled the task to play on the big stage, make plays. Second - I teach children acting. This is not the Cheka, they have in the studio did not have any acting, group recruited, they say, from scratch, the kids before me no one did. Twenty people. We can say no to plow virgin. Now preparing for the Christmas party. There and directing point of view is very interesting, and in general a serious challenge.
Third - training. I want to do this. Talked about it with Misha and Anatoly ...
< -Treningi in acting or something else?
What do something else. Acting in the KGB who have to deal with. I saw Misha is training the stake. Public speaking, in acting. I saw how it works. And I understand that you need to do. While I do not work on this subject, do not fill material. Because first you need to understand yourself what you want and you can give people. This should be something new and certainly his. Good training comes from the coach, not from what he read in the books of something clever and recounts his appreciative audience.
And the fourth - keeping activities. Bread and butter too, has not been canceled. Before the New Year two months. And fly to mail a letter from "Soup grub" with the proposal to hold a New Year's corporate.
< What do you to the theater? This method of keeping in shape, it kicks or something else? Still - the four directions. And to fully concentrate on the theater will not work.
-Of Course, will not work. Theater - is creativity. Movie in this regard clearly going after. Theater - not that steeper, but probably only in it the actor can truly realize themselves. Still, the movie can be something to pull through the installation, you can shoot multiple takes, if not happen immediately, cut, glue, dosnyat to "zelenke." The chain of small obmanchikov. And in the theater you went to the scene and - please - cheating. Keep your room. Also seems to be a hoax. But another. More open, or something. It turned out - well done. Well, did not work - not peresnimesh. And, again, a lot more creativity. A movie - because you know, as it is now removed. Arrived, learned what it was about and what kind of character, read the text - and forward. The fact that you need to work on the way, we are not talking. I like the author's cinema. And it would be filmed with pleasure. Do not invite, almost. Write to relieve himself - tried. Not yet obtained. I do not see the whole picture. Here Lena Vahrameeva have such a vision. She originally clip keeps in mind. With all the storyboards. And I do not know how.
< -Nauchishsya. A matter of time. And wanted to stay serious, profound movie?
Yes, I want to. And there's an idea. But when you start to paint, as it is to get on the screen, all the magic is lost. I still can not grasp how it should be done. But not hitting my head against the wall. So, just not the time. Waiting. And yet - the theater. I like to do, like the new exercises that comes up with Misha. Where did he get them? For example, "Kin-Dza-Dza". There are in fact no matter what text you say. Sometimes, when I play it - see the whole area. Mise en scene, the dynamics of movement. And I understand where a swab to do that you need to add on the situation. It's such a thrill!
< The nearest creative plans.
-In The first place, to bring to mind the spectacle that is already in the repertoire - "C && with on the beach." Thank Anatoly Neelov, Dima Basiyu for what to believe and have given such an opportunity. This is an invaluable experience. Put your version of the play "Honeymoon". He has played in the Cheka, but the girls from the composition together become pregnant. Will now play Ira Gatun, Lena Vahrameeva, Ira Cooper and me. There is still material "Waiting Anton" by Christina Nikolaeva. There will also be involved Vahrameeva Lena, Ira Cooper, Oleg Shushpannikov and, of course, Christine. There is one more performance at work. And it is good that it is. Very serious and interesting work. I really like what they do with Golovanov Kurilko in "Cosmetics of the enemy." Perhaps this is a bit out of the format of the Cheka, but very interesting. When two people make a play on the big stage - it's cool. The audience leaves with questions and answers. So that the "case at the Zoo" - it is from this category. There's work with Nicky Perestyuk.
< -You can compare the internal state, and, pardon the cliche, now and in the fullness of time when you are engaged in real estate?
-I Have had the opportunity to check this condition. Eighteen months ago, when the money is not enough, I gave up - arranged to work commercial director of the factory for the production of foam. Good wages, stability, all that. I tried to do something, but my inner "I" opposed to such an extent that sometimes I did not come to work. I have cut wages. I did everything I could, but it was stronger than me. Basically, I knew for what went there - a company car, money to pay the rent and all - go solution. But long it could not continue. As a result, had to leave this adventure. Now the same money I earn on the set, the conduct of activities in the teaching of children's studio. It's easy money, because they earn with pleasure. There are a lot of grandiose plans. But that's another story. Tug Boat rides right path.