Decided its journey described in more detail in the first person. Maybe someone will be interested.
Essence - the sea together on one moped, no money, no experience, no mind)).
Idea. Madness, delirium, adventure. This brief. But we laughed. We were laughing so that fell from laughing on asphalt and grass. Tantrum overwhelmed us with adrenaline.
In general, it was like: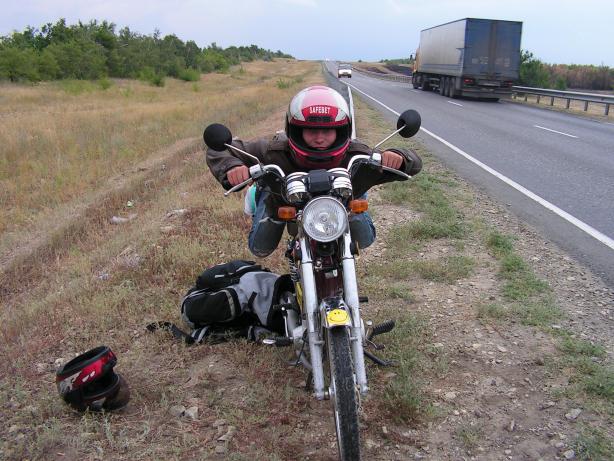 In July, I was a little tired by Dangle dachas, drink and fun celebrating summer. And even a little quarreled with his beloved Renata. Or separated. Well, at least she thought it was so. It's probably too crazy. I move around the city on foot, no car, and then came a brilliant idea - take lots and lots of money and buy a moped. Said - done.
I should add that at this time of my favorite grief umotala one on the south, periodically calling and telling of his adventures. And I myself have recently returned from Anapa there in June, I worked plavrukom-lifeguard at a children's beach.
So. Took the money and went to buy a moped on the car market in Kazan. And never before ridden or on mopeds or motorcycles. In general, I'm afraid of them, because with them you can fall sick, but I basically love the adrenaline, engaged in parachuting, diving. So understood, it will be a real extreme - fall from a moped on the asphalt. And I imagined what I would be cool biker ... if I survive.
And I went to the car market with longtime childhood friend Alina. I asked her, "Are not you afraid to go with me? I did not know how to ride, and he'll kill you and ubyus? "Her answer struck me. She said - I am not afraid. Just. I am not afraid. Why, I do not know, she was not afraid, probably, too crazy. I am surrounded by some crazy, like me, then you will learn more about one that ... but wait, a little later, you will learn everything.
Arrived at the car market and has looked after the model of the moped, which was easier to hang and more powerful than the other models. Bought and started to learn to ride, Alinka at this time watched in horror as I am maneuvering.
After sat alone with her, like I have all turned out well. On the same evening we were safely welled up on the asphalt. But for some reason I do not feel cool biker, just crap one's pants bricks because I was scared for her and her life. We were lucky. We rescued shlemaki.
So I rode 3 days before the famous beer party with a friend Sasha. Here he is our friend. Which is also abnormal.
Generally Sasha interesting type. Well, very interesting. He is a person! It has long been know him, and he was never sad. He can get angry, send someone away, but never sad. So maybe crazy. He has a lot of really funny anecdotes, as he mangled wood in my life, so many adventures came up with (not to be confused with aferizm) that I gave him a little jealous. But that's another story, next time will tell. I even invited him to write his stories on tape, because it will not read in the internet, and he did not invent.
On 26 July. Tuesday
So, I called him to his home to drink beer and do one thing on his work.
Well, we have started to bear any delirium, almost forgot about work and he began to tell their stories. I then hung ears, I also interesting to hear. He said, as they are 18 years of age with a friend found their adventures on the fifth point. Our mutual friend had just passed on the law in 18 years, bought an old penny, broke and rode it a couple of days, they met up with Sasha and decided to go to Moscow to seek work, thought to NERIZINOVSKE few visitors. They seem so smart ones in the capital looking for work. But it is at 18, that says it all - adventure. Friends laughed at them and said - grab a beer around the corner and back. And they returned, and went to Moscow to 7,000 rubles in his pocket on the road all the money spent on fines, since the wheel was a kettle, and for parts. In Moscow, the money ran out and they were starving and 5 day job sought, slept in the car, the janitor began to recognize them in the yard. On the fifth day they came ... where do you think ... at Petrovka 38, they are on TV this address often heard. Well, what do you think they said? Take us home, we want to mom? Figure! Give us a job and help with registration !!! Though simple though fall. Mentovku when they realized that it was not a joke, but they did not immediately understand and Durkee wanted to surrender, then laughed so that the work stopped all department. They say you're crazy or Tartars, or very clever. We catch you here with drugs and weapons, you're taking here, and now you have come to ask for a residence permit and work.
And, oddly enough, a cop still decided to help the boys, because they cheer up. Call someone and invited the boys residence for the money, about 2-3 Tr., But even these guys had no money. So they withdrew from there listlessly, laid the engagement ring and the money to buy gasoline, 2 pies and came to Kazan. Here's a funny story.
Well, I digress. After this story, and we had the idea - and not go if we now go? And on what? The machines we have, when I wanted to return back to Anapa, I could not find friends with free time and the machine.
Then enlightenment - I also have a moped, and let it Makhnev? So we have not laughed, discussing the details of this crazy idea. And somehow imperceptibly began to discuss the details, and then sucked and here we are with foam and saliva vied in a drunken stupor to enjoy the ride, looking forward to the salty sea and medal ... posthumously. In general, agreed, as they say.
And they began to think seriously how to go on a moped, at sea, and not be killed disrupt laurels for so ambiguous heroic act. Thought see Renata, arranging her surprise, firmly stuck in my head. So slowly and fell asleep.
Morning. Oil Painting. Two healthy unemployed man with a hangover remember the babble that carried the night. The room is heard booming laughter. And significant phrase - just leave! Said than done!
Step into the unknown.
On 27 July. Wednesday
The next day, I lit and glowing from the upcoming adventure, began to solve all their business, which was enough, and they were not associated with an insane ride. And I, by the way, that thought scared that if I long to assemble, the fuse will be gone, and I never leave the sea, on a moped. But oddly enough, the spark on the second day so broke that I even have spurred interest in sports - I give up or not. Along the way, I started to think, what to take with me - then I'll post a list of all the things that I dashed off on a sheet on the first day.
List of things.
- Charging of phones
- 2 flashlight
- Gasoline in bottles
- Engine oil
- Mug
- Spoon
- Bowl
- Knife
- Spanners, including 17
- Screwdriver
- First aid kit
- Backpack
- Tent
- Toothbrush
- Toothpaste
- Money
- Sunglasses
- Knee
- Passport, documents on moped
- Stickers on the helmet
- Foam
- Podzhopnik
- Raincoats
- 2 pairs of shoes
- Jeans, sweater, shirt, shorts and socks 2 pairs
- Beanie
- Handkerchief
- Lighter
- Bowler
- Salt
- Ax
- Camera
- 4 pairs of gloves construction
- Scotch
- Bottled Water
- Maps Yandex
- Recorder
- Electrical tape
- Mosquito spray
- Spare batteries on flashlights and camera
- Jock bike
- Toilet paper
- Rope
- Moped
28iyulya. Thursday.
On the second day I went to solve personal affairs, but did something needed for the trip - ask another ax Stepan, soft knee pads. Each, by the way, is engaged in extreme entertainment in Kazan, and I occasionally help him in various activities as a member of the club XREEDOM. Ax he gave the broken, so drove to cook this piece of metal in the service and I almost ate 3 dogs. That's when I found out this part of his life neotemny mopedista. They're all terrible holes in the road. And then we still bready grief because of them.
There was a thought - and not for us to highlight this extraordinary from our point of view the event on the site? Maybe people will be wondering how it is - on a small moped to travel 2000 km with a backpack? With the backpack still unclear why? Yes, because I wanted to take so many things that immediately realized that without their backpacks on our ass is not loaded on.
Stepan called and offered. He still, when I took the ax from him, I realized that I was not kidding. Well, that is, he discouraged and did not believe that I can implement this idea. About the site, he said that if the leave - will write and will not announce in advance, because these idiots have not yet seen the light and are unlikely to see.
July 29th. Friday.
Came the third day fees. Friday. The mood is great. I drove most of the sea that there was my favorite. And I wanted to give her a surprise. I called her and said that I took a moped and going for it on the sea, knowing that she would not believe. She, of course, laughed. What me and I had to because I wanted to prove that I can do it, but it is much nicer to do it all the luck. Well, you know me))? Advance all say they will do anything, no one believes you and bam - and the hero, and then proudly declares - I said - so done! And just in case lazhanetes, you can just laugh it off - well, I'm not serious all this talking.
Renatka certainly guess I can arrange this, we've been with her for 4 years together. I love her. So just in case I start to dissuade. Well, a real woman!
On the third day I went to the car market. Come and speak directly to the seller and the guy Antonio, who brought this moped - I go to the sea, I need to buy spare parts for. Prompt what to take.
Confusion on their face to extradite them, they did not know how to react. It seems like something and send inconvenient and sell anything you want. I convinced them that I have serious intentions. We Shurik so everyone said - we leave, get to Ulyanovsk, but we'll see, will survive if our asses. Do you realize that if we get to Ulyanovsk, the curiosity and the national glory will not let us go back.
Well, in general, at the car laughed too. I wonder how many people we gave great emotion, and yet nowhere left. We must constantly ripped off somewhere or just to warn you - I'm on the south, I'm in America, rollerblading, scooter in Europe, on a log on the river ... and all will be fun and good.
Bought spare parts. On Friday, I have all this stuff together with all the hiking and campfire stuff packed into a backpack. The result was a pretty large amount.
You've probably already started thinking - where's Shura? I did not know where he is. Therefore, and rang the bell. He appeared at the cottage with our friends. It was then that I began to worry a bit for the success of our event, because at his dacha we could play tricks weeks and drink beer. Sasha solemnly promised to return in the evening. In the evening, he did not return. And I had already planned a trip on Saturday morning. Evening Shura solemnly promised to return on Saturday morning, on what and decided to do.
On 30 July. Saturday
Well, you guessed it, Saturday morning Shura did not come because the country, of course, fun. But Shura on the phone explained everything very simple - we have a lot of cars we have moped too, return to testify, I can not, as it is mine, and all leave unattended, I can not. Oh God, I thought, well, what do you do with this razpizdyaystvom. All collected, bought all ... hmm.
I have not touched on a very important issue. The question of money.
The fact that we have, they just were not there when we got together to ride. And I had to merge them with a credit card. Them - a 7000 p. And yet 3000 p. mother left me money, so I went to the cottage and there did anything. Well, I thought - the sea, it's better than cottage))).
A mother, by the way, in the meantime was at Baikal. No, she's not a moped, it went on the train. And even better that it was not in town, she first would have caused me Durkee home.
Overall, I had 10,000, a couple of thousand I spent on parts and on the collection of all things.
Well, then, Shura came on a Saturday morning and I started to think quickly, how to realize our ambitious plans.
After lunch came to the conclusion that if I did not come back, no one there alive not return. The money they have beer at hand, heat, summer ...
I now only if it was clear what actually nonsense we were carrying and what to prepare. Hut he is Morkvashi Forest, 40 km from my house. And I thought that we should still try their hand, otherwise we will not leave. So I said to myself - collect rag and drive! As they say, I'm trembling creature, or have the right? Not the topic, but the topic). Said - done!
I dashed off to this time to 400 km in the city. And 40 km - one-tenth, but out of town - this is different, this danger is the fear of being alone with the problem in a way. So it was a little scary.
But I went. Ridiculous of course, going all the way to the sea, and then to the country 40 km doubted.
Overall, I came to the cottage and I realized that we will not let the light, but really interesting. On the track move was interesting but dangerous. Constantly left me overtook the car at 120 km per hour, I clung to the side and felt a stream of air which then strove to throw me in a ditch, then tightened under the rear wheel trucks.
Shura in the country was held hostage by friends and have a beer. Came to the place to give clear guidance to all who, when and what will leave Shurika persuaded to go with him, and the guys leave in the country on the condition that they leave in a couple of hours when the machine will come after them.
Shura looked around a long time ago, when I was leaving, he was worried about not drunk a beer garden for safety. But the sentence was executed - I brought Shurika in Kazan.
Drove to his home. Sister, who was aware of our jokes, just worried. A father Shura said, because he was sick and could experience himself arrived from Shurika without waiting when he will break on a moped.
After Shurika we went to my home, make a test call to Stepan - we still go on 00, 00 from Victory Park. I unsubscribed in contact all the friends in the hope that at least someone will come to escort us.
And closer to the 12 nights we gathered all loaded on a moped and arrived in Victory Park.
Stepan came and Gulfia, his future wife.
Stepan knows me for a long time, knows that I am able to step into the unknown, so I started with a zeal to dissuade me, even took away the keys. But my powers of persuasion almost forced him to go with me. In general, no one came. Except friend Paul, who thought I was joking, and did not go to see me off. Although already left home, but turned around halfway sober reasoning that I am not an idiot to leave the sea at night.
Well, of course we had a drink with Shurik a bottle of beer to celebrate our speedy return.
Told everyone goodbye, got on a moped and drove off. Simple as that. Boarded - and drove off. On the streets of the city at night. Stepan at the time was driving nearby and dully whinnying. Videoed and whinnying. We laughed too, not knowing what lies ahead, rolled drive us forward, adrenaline was not there, but the ass to seek adventure.
We agreed with Stepan that all the adventures he would write on the site, and I bude to report incidents by phone. We took a camera, and possibly in large cities will upload photos to the site Vkontakte. Looking ahead, we want to say that we are much later read what we wrote about Stepan after departure. And when we read, we are laughing holding his stomach, plunging employees online stores in shock.
Later Stepan wrote on the site
- Ideology of the trip is simple - the guys want the sea, sat down and went. Or rather one wanted, took second and went. Second, of course, ofigel, but, on reflection, decided - "well, Figley?" - Sat on a moped and drove off. By the way, "a moped is not mine, I just put announced»)).
Member of №1:
Yevgeny Frolov - "experienced riverman" philosopher repeatedly with incomplete higher education, parachutist guitarist and just a wonderful person. For many years, but extreme on his fifth point still wants.
photo1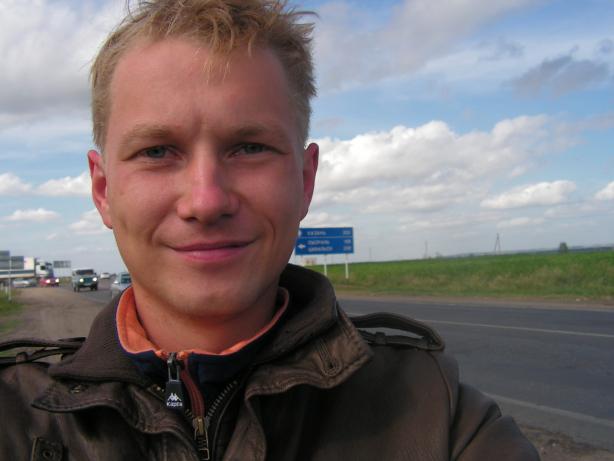 Member of №2:
Alexander Koval - know about it less, but the stories of the same Frolov - he will give him a head start in the very adventurous aferizm and other great human qualities. On a brief personal contact - very positive, cheerful, purposeful look pensive. Drawn into the project by accident, as other persons who have agreed to go to the sea, on a moped, horseradish find.
Conclusion - each other's faces. It's fate. As one friend - then they just got married, 4,000 km in an embrace - and then get pregnant for long, so get a wedding trip to the sea. Sign here
photo2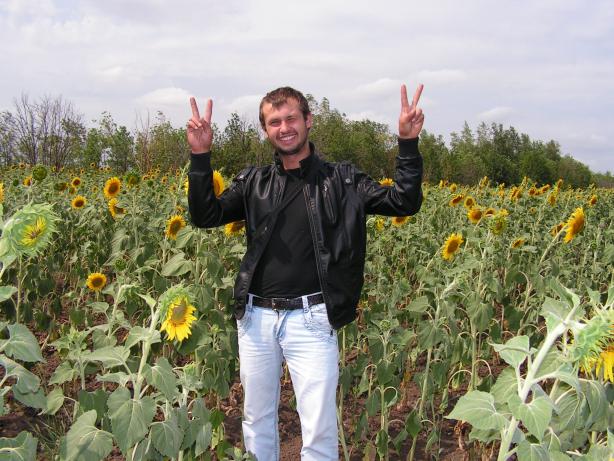 Member of №3:
"Dolphin". Great moped, bought a week before the trip to the nearest car market. It was something he most want to see the sea ...
Power - well, two horses, and maybe even THREE!
Volume of engine - 70 cubes.
Wheels - two.
Special signs - oil eats like Winnie the Pooh.
photo3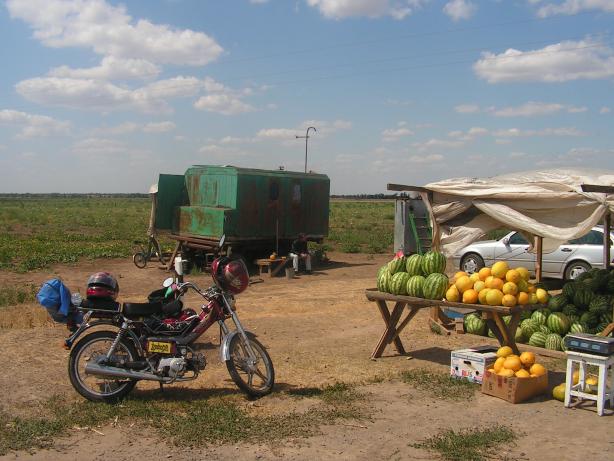 On the issue occurs in the majority answer - "They're coming together on one moped».
Route amazingly simple. And Jack himself wrote this: "I am leaving the sea for dolphins. Казань-Ульяновск-Саратов-Волгоград-Ростов-Сальск-Анапа». Apparently, is not going to come back.
It was night.
Where are you from?
Stop.
Decided.
Yes.