Everyone - his own, as the Latins said. Someone buried in snow, someone - pours rain. Petrina Andrew chose the latter and went to make friends with a macho and gauchos. But even there he does not forget us and continues to share experiences and feelings.
***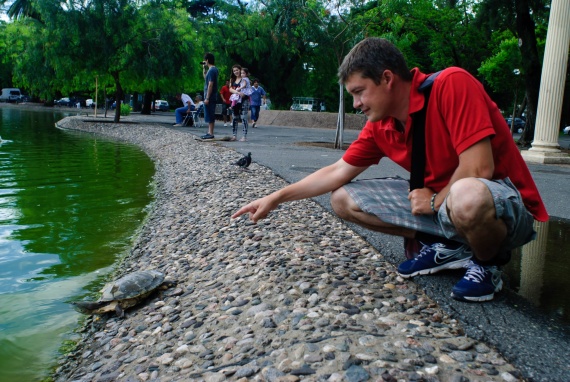 We've got Macondo and incessant rain Markesovsky. Sometimes, usually in the late afternoon, let him go, hours 2. During this time we have time to go for food and visit the neighborhood. Once - Paraná River, another park to the stadium for field hockey.
The stadium was not impressed that on which Argentina became world champions. So, the usual barely working object sports infrastructure. No gates, practicing / playing too. But around full of life - 2 football stadium, the racecourse and a bunch of people running / playing football / engaged in gymnastics.
The park is full of life. Turtles (my weakness), geese / ducks, fish / birds (pigeons, parrots, etc.) tusyat to the full! :-) People come to feed their families and livestock, drinking mate tea, chatting. The impression is that they are just waiting for an excuse to go to the park.
Even in spite of the rain, Rosario - very beautiful and serene million city. It is cozy, old houses are interspersed with glass new buildings, lots of greenery and wide streets. It is very comfortable, but like in Salta (700 km to the north) and Cafayate (20 000 people, but also good). In general, the north of Argentina, we saw - very picturesque and nice. If there was a question where I would like to live, then I probably would have said, in the north and center of Argentina.
By the way, there are a good range of temperatures: Winter + 10 + 15 + 20 + Summer 25.