Ukraine is in a permanent state of emergency. Snowdrifts in the north and west. Storm closed the airport of Simferopol in Crimea. And Andrew Petrina weather all our troubles still give a damn about. He's in Argentina.
***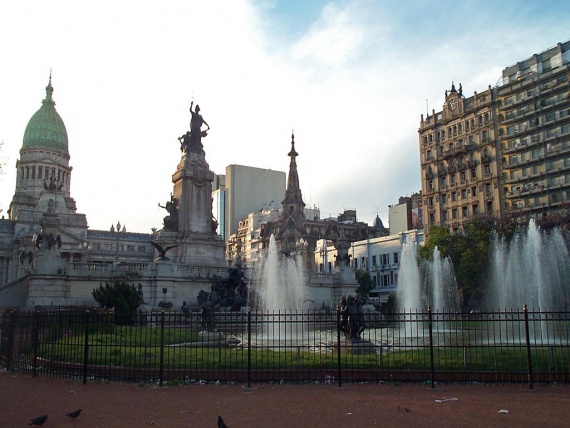 We got to the twelve millionth Buenos Aires. By the way, the full name of "City of the Holy Trinity and Port of Our Lady of Holy Mary of Good Winds". Sense of scale: the Herculean prospectuses (6-7 lanes in one direction), many kilometers of traffic jams, high-rise buildings everywhere and crowds of people. On first impressions - this is a major European city. Tomorrow I'll go for a walk around the city will be a better impression.
Still I can not find a marble veal, even in elite butchers. (it was a job). I tried usual - getting ready for 10 minutes and - gently. Prices - the same as we have in the market: 50-80 UAH / kg, depending on the parts of the carcass. Dressing - beyond praise. If it's for a steak, then leave only the choicest pieces, all "non" to the side. Slice and cut whatever you say and only condition. Service simply pipets. We still have to grow and grow. And our huckster it would be like to get higher education - to learn a similar attitude to customers.
Real estate prices are the same as ours. Only here they earn on average more than the Ukrainians. It is clear that can not be compared - at all of us in the shadows, they have - in the shadow of the just. But judging by the prices of food, alcohol, travel, and the entire scope of services that they live better because earn more. Condominium in the center of Rosario within 100 km m - 60-70 thousand dollars. With views of the river - 100 000. All apartments open balcony / terrace, where there is a garden and a barbecue / asado. I understand that the apartments are not sold without the grill.
House - a separate issue. On average - 1500 per square. Very neat, surrounded by greenery, lots of open space. The fact that closed - in the glass. Can make the house completely open space with the wind / rain etc. This is understandable. They do not have central heating / hot water. All in each house individually. Because of this, I think, and the price is not high.
By the way. The whole country on a motorcycle! :-) And the part that does not go on the bikes, that goes to the runabout. BMW and Audi with Merce caught my eye only on holidays. Basically - the average US and Japan cars.
People here are very, very sociable and present something. Other people relate to each other better than we have relatives. We are ready to help and give themselves caused. While the cases are not isolated, and permanent. Nicely. Rough and evil has not seen. It is clear that they are there, but somehow it has not yet met.