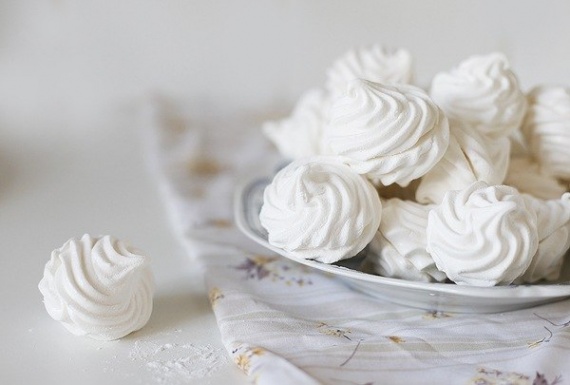 Ingredients:
250g apple sauce (4 apples)
250g sugar
1 protein
1 sachet of vanilla sugar
Syrup:
475g sugar
160g water
8g agar (4 tsp no slides)
So, first of all soak in agar specified in the recipe amount of water. Apples bake. It is possible and in the microwave: cut in half, remove the seeds, place cut down on the plate, the baking time, in minutes, equal to the number of apples in pieces.
Now you can with a spoon to scrape out the pulp from skins baked. The easiest way to obtain a smooth puree use a blender or rub puree through a sieve. Now a warm puree, add sugar and vanilla sugar and let sit for an hour or until cool.
Soaked agar put on fire and bring almost to a boil to dissolve the agar. Stir in the sugar. Stir well, bring to a boil while stirring, and cook over medium heat for 5 minutes until the temperature of the syrup will not 110C.
Spatula raised syrup, drags along a thin thread. Set aside the syrup until it lightly cooled.
Add the cooled puree and beat until polbelka lightening, add the remaining protein and beat until fluffy dough.
Begin to pour a thin stream of cooled slightly, but still hot syrup. Do not stop beating!
After adding the syrup whisk for a few minutes, the mass must be like for a lot of meringue. Take a large bowl, the mass increases in volume !!!
Transfer weight quickly in a prepared kornetik with a nozzle and transplant zefirinki on baking paper. There will be about 60 pieces, so prepare a lot of space!
Remember that the product has already frozen agar at 40 ° C, so do not expect a paste is deposited! Leave for a day on the table in a fairly warm place. During this time, stabilized and marshmallows on it a thin sugar crust. Sprinkle with powdered.
Connect zefirinki pairs. Base their sticky, so they will stick together without problems