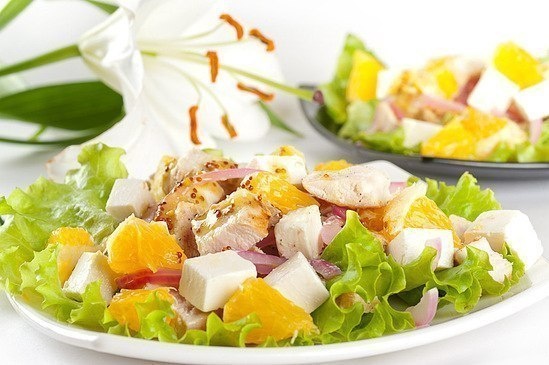 We will need (for 3-4 servings):
chicken breast fillets (whole of two halves)
200g feta cheese
1 orange
1 medium red onion
lettuce
white wine vinegar
boiling water salt and freshly ground black pepper
For the filling:
3 tbsp olive oil
1 tbsp white wine vinegar
2 cloves garlic
1 tsp with slide grainy mustard
In the first place we bow, because for this salad is very tasty onions lightly pomarinovat. To do this, finely chop the onion into half rings. We put in a deep dish, add 1-2 tbsp. l. wine vinegar (you can use apple) and fill with boiling water bow so that it was completely covered with liquid.
Leave pickled onions, and take the chicken. It can be prepared by any acceptable way for you, I prefer to fry it in a pan grill, a prior rubbed with salt and black pepper and sprinkle with oil. Ready breasts cut into cubes.
Next, you need to clear the orange and orange slices on the skin, it can be done 2mya ways: Clear orange knife, cutting off the peel and all the white layer, then cut each slice of the "pocket" shell.
I peel apelchin usual way, by hand. Divides it into slices, and then, with the aid of scissors, incised shell of each lobule and rented it. (But maybe I'm the only one pervert :))))
Can cut orange slices into 3-4 pieces.
Fet can cut into cubes. Then it came time to drain the marinade from the bow.
In the a la carte dishes hands tear lettuce. Top with chicken, marinated onions, feta and orange.
For the filling mix the olive oil, vinegar, mustard and garlic squeezed. Polem each serving of salad dressing.