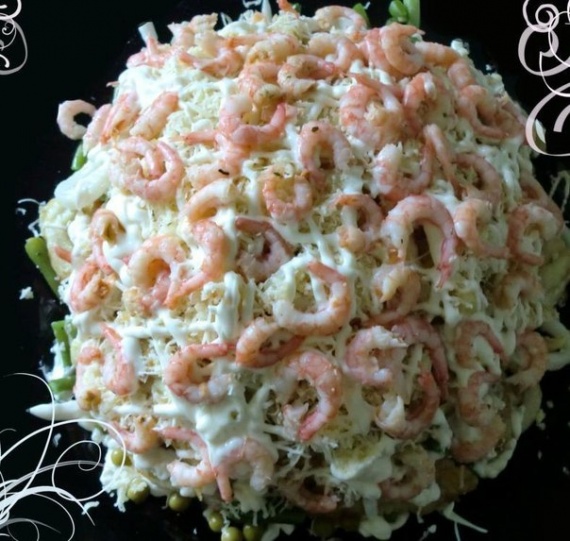 Ingredients:
Shrimp - 700 g
Kalmar - 500 g
Green peas (canned) - 1 ban.
Beans (beans) - 300 g
Cheese (solid) - 250 g
Mayonez - 250 g
Egg - 1 pc
Flour
Vegetable oil
Preparation:
Boil the green beans in salted water, cool, half put in a salad bowl. Sprinkle a little cheese, grated on a fine grater and pour a little mayonnaise.
Second layer: half a tin of peas without liquid, cheese, mayonnaise.
Squid cleaned and cut into rings. From the egg, flour, salt and a small amount of water to prepare the batter. Squid rings dipped in batter and fry in vegetable oil on both sides. Half squid in batter put the third layer, sprinkle with cheese, mayonnaise.
The next layer, half boiled and peeled shrimp, cheese, mayonnaise. Repeat all the layers, decorate as desired.
Green beans and you can put a little more, it's an amateur, but even those who do not like beans, eat salad with great pleasure. Because in combination with other components very, very tasty ...