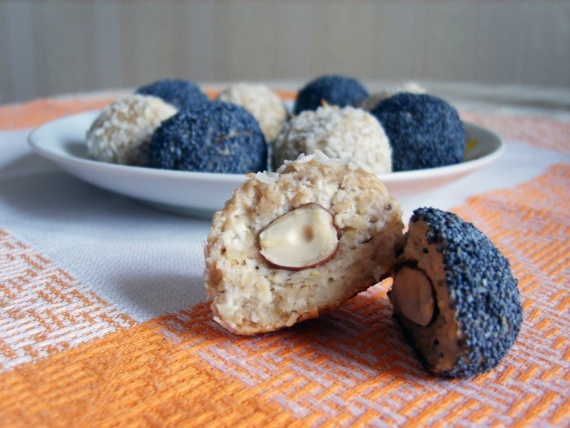 Ingredients:
200 gr. cottage cheese (not watery)
80 gr. ground oats / oatmeal coarsely milled
1 ripe banana
Poppy / coconut / grated chocolate / ground nuts (for sprinkling)
Preparation
1.Tvorog with banana blender grind / hand into a homogeneous puree.
2.Add oatmeal, knead the dough.
3.Ubrat in the refrigerator for about an hour.
4.Sformirovat balls, roll them in the poppy / nuts / chips, slightly priplyuschit and put on a baking sheet, the laid paper baking / greased with oil / margarine.
5.Vypekat at 180 degrees for 12-15 minutes.
Note:
If desired, the dough can add sugar and butter and banana replace apple / pumpkin / carrot. And in the middle of each cookie to put nut / prunes / figs / apricots / piece of chocolate, and so on.