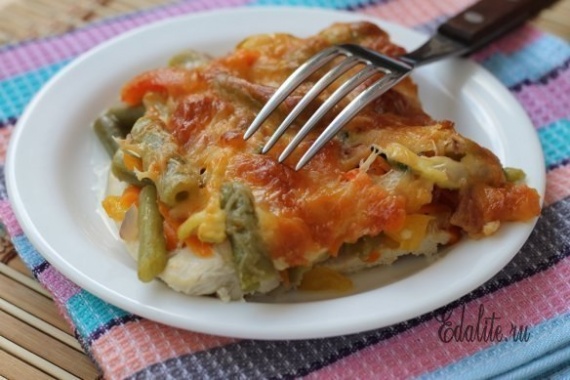 You will need:
Chicken fillet - 2 pieces (500g);
Carrots - 1 piece (small or half) (50-60g);
Sweet pepper - half (50g);
Onions - half (50g);
Zucchini or zucchini - half (100g);
Beans - 80-100g;
Cherry tomatoes - 5-6sht (100g);
Mozzarella cheese - 100-150g;
Garlic - 2 cloves (5g);
Salt and pepper to taste.
Preparation:
Preheat the oven to 200C gradusov.Kurinoe my fillet and cut lengthwise into 4 steaks. The resulting steaks repel the kitchen hammers, salt and pepper. Then, squeezing through the spadefoot garlic and rub on both sides. We spread the steaks in formu.Prestupaem to vegetables. Here there is a certain proportion of vegetables, add more of those who love. I pointed out the approximate weight of each ingredient, but to taste. Carrots are clean and rub on a medium grater. Finely chop the onion. Pepper cut into small rectangles. Zucchini cut into thin stripes. Cherry tomatoes cut into quarters. You can use ordinary pomidory.Vse chopped ingredients are mixed. Add the green beans to them. I use frozen before adding wash it under cold water. Vegetables a little salt, mix well and spread on chicken file.Posypaem all with grated cheese and add a little water on the edge. Put in preheated oven to 200C degrees and bake 40 minutes or until tender. Bon Appetite!