A great option quick to prepare and delicious vegetable dishes — steak cauliflower with an amazing spicy tomato sauce homemade.
In diet (although the dish already contains a minimum of calories) option, you can boil cabbage in small amount of salted water.  
Ingredients: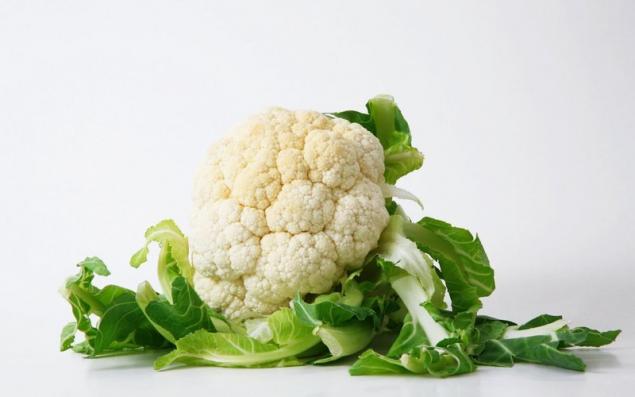 Cauliflower — 1 piece
Garlic — 2 PCs
Tomatoes — 3 PCs
Tomato paste — 1 tbsp
Sugar — to taste
Fresh chilli — 1 piece
Fresh Basil — 1 bunch
Salt, pepper — to taste
Method of preparation:
1. Kachan cauliflower wash. Cut lengthwise into two parts. Then one of the parties to cut thick (about 2 cm thick) piece of cabbage. You should get a steak of cauliflower in the section. 2. In thick-walled skorovoda heat the oil, throw the crushed garlic and fry it until Golden brown. Then remove and place steak cauliflower. Fry on both sides until Golden brown. Each side fry for about 5 — 7 minutes.
3. Prepare homemade tomato sauce:
peel and finely chop the fresh chilli and garlic. Reheat in a deep frying pan blanched and finely chopped (or broken in blender) tomatoes. Stir and bring to a boil, add sugar, water and tomato paste, stirring to boil down. Add the finely chopped Basil, salt, black pepper, stir, bring to boil and remove from heat. Let rest for 10 minutes.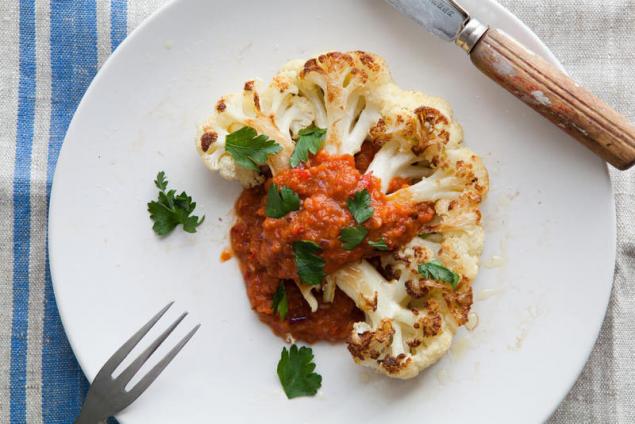 4. On heated plate to put the ready fried steak cauliflower. Sprinkle spicy tomato sauce, serve with a sprig of fresh Basil and serve immediately! published Cooking with love ! Bon appetit!    
Also delicious: Cauliflower sauce with cashews and raisins 5 dishes, after which You will fall in love with cauliflower
P. S. And remember, only by changing their consumption — together we change the world! ©
Source: www.jv.ru/eda/show/steyk-iz-tsvetnoy-kapusti-s-ostrim-tomatnim-sousom