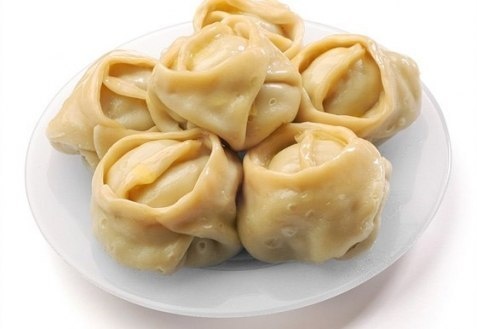 Ingredient
To test
- Flour - 4 cup
- Cold water - 1 cup
- Salt - 1 tsp
For the filling
- Potatoes - 2-3 pcs.
- Fungi (mushrooms) - 200-300 g
- Onions - 1 pc.
Method of preparation
1. The liquid was poured into the flour, add salt and knead the dough. Knead it well, at least 20 minutes. The dough should have a sufficiently steep and elastic. When the dough is already well promeshano, give him some rest. At this time, can be put on the lower part of the fire mantovarki filled with water.
2. Prepare the filling. Potatoes (raw) cut into small cubes. Onions and mushrooms peel and finely chop. Mix all ingredients, add salt and mix well.
3. Roll out the dough into a large reservoir, mode it into squares, lay on top of the filling, combine the edge, first crosswise and then the sides. Mantovarki grease pans with vegetable oil, spread our dumplings and cook them for 30 minutes. (You can in a double boiler).