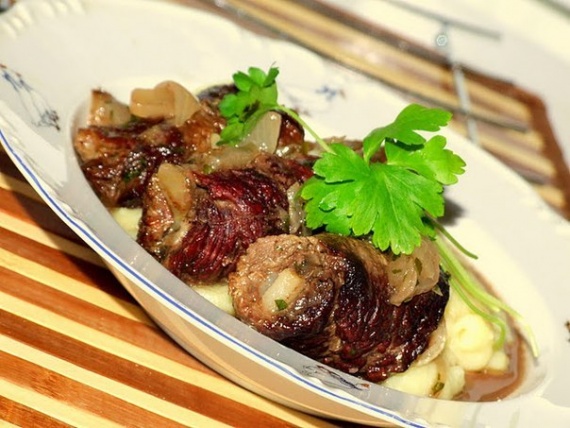 Ingredients:
Beef - 600g
Onion - 200g
fat - 30g
bacon - 60-70g
pickled cucumbers - 80g
Meat (beef) cut into thin slices wide, fight them off, salt, sprinkle with pepper. Lay them slice of bacon, slices of onion (ideally more and salty slice peeled cucumber)
Wrap the slices of meat loaf that was not developed, it is possible to tie a thick thread.
Then fry the finely chopped onion and put in a saucepan or layer on a baking sheet. Top lay zrazy.
Pour broth or water and simmer until tender. For 15minutes until you are ready sprinkle with herbs.
Threads remove (or do it just before serving).
For garnish you can submit a boiled potato, pasta, rice, mashed potatoes, add sauce, stewed in which zrazy.
Enjoy your meal.