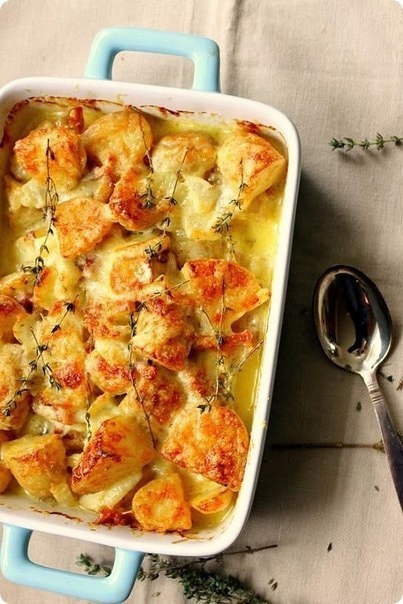 Ingredients:
Olive Oil - 50 ml
Onion, finely chopped
Bacon, narezannay thin strips - 100 g
Dry white wine - 125 ml
6 potatoes, diced
Cream - 100 ml
Pickled cheese (eg, Reblochon) - 250 g
Thyme (optional), to decorate
Preparation:
1.Duhovku heat up to 180 ° C. In a large skillet heat the oil and fry the onion and bacon over low heat (5-10 minutes). Pour in the wine and while it is not absorbed as much as possible (2-3 minutes) does not lay out the potatoes. Once added to the potatoes in the pan, cook it for 10-15 minutes until soft state, add spices to taste. Pour in the cream, hold still for a minute and remove the pan from the heat.
2. Put half roasted potatoes in a baking dish, lay a layer of grated cheese (exactly half) and again potato-cheese. Bake until golden brown, until the cheese is bubbling nasnet and potatoes propechetsya (30-45 minutes). Serve hot.