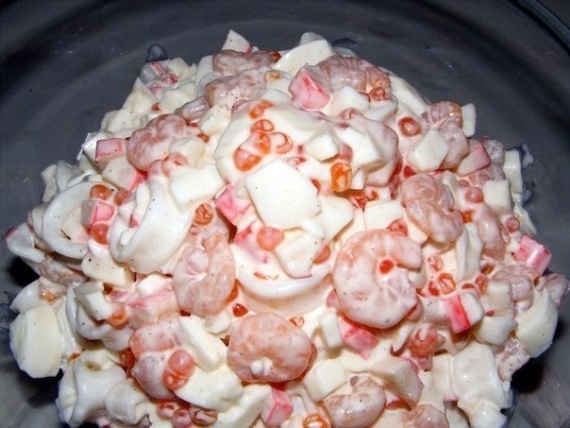 Ingredients:
-krevetki-300g
-kalmary-300g
-krabovye-sticks 200g
-5 Eggs
-130 Gr. red caviar
-mayonez
Preparation:
1. Boil eggs, cool, separate the white from the yolk, cut into protein. Yolk can be left for decoration.
2. Cook the shrimp in lightly salted water.
3. Then throw in boiling water, pre-cut into rings, squid. Most importantly, do not digest them, otherwise turn out rubber!
4. Cut crab sticks.
5. Now add a couple of tablespoons of mayonnaise, stir, and then add the red caviar (not burst).
6. Salt-pepper to taste, but I advise you to salt after mixing just because eggs and mayonnaise can provide enough salt.