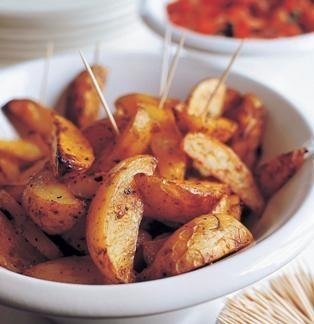 Ingredients:
1 kg of potatoes
2 tablespoons vegetable oil
2 tablespoons chili sauce
1 tsp cane sugar
¼ tsp Caen pepper
1 tsp salt
¼ tsp ground black pepper
3 tomatoes
50 ml of crushed basil
300 ml of sauce "Salsa" medium spicy
Preparation:
Rinse the potatoes and peel cut into pdolki.
In high capacity pour vegetable oil, chili sauce and other spices. Add potato slices. Cover the container with a plate and carefully shake to evenly mixed spices soaked potatoes.
Then put potato wedges on a baking sheet with parchment paper ready made and bake at 225 degrees for about 30 minutes.
Meanwhile, prepare the sauce "Salsa" with tomatoes. To do this, mix the diced tomatoes, chopped basil and prepared sauce "Salsa". Serve the sauce to the table with hot potatoes.