Fragrant "the kitchen" of plants in your garden is a harmonious unity of good and beauty. Herbs look very decorative, with most of them almost maintenance free.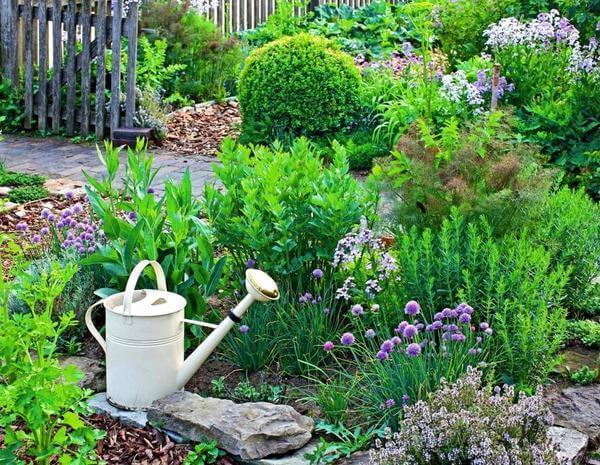 If in the garden, grow herbs, walk in the green realm turns into a session of aromatherapy, which can compete with the procedure in an expensive salon. Especially on hot days when the air is filled with the healing aromas of lavender, thyme, sage and rosemary. What is possible with these characters open up to create culinary masterpieces! Because the taste of the same food can magically change depending on what kind of spice you want in it. Finally, we must pay tribute to the beauty — here, the fragrant Pets are able to give odds to many ornamental plants. The world of herbs is incredibly diverse, and the design options area these representatives of the flora of great variety.  
In aromacare addition!
Our grandparents traditionally grown fragrant herbs in the beds, alternating rows of parsley and chives with lettuce and cabbage. And now in the garden another fashion fad — floral. Increasingly aromatic plants such as fennel and borage, can be seen in flower beds, where they go perfectly with a floral herbaceous perennials, annuals or even roses. So is it any wonder if some spicy species of flora, such as mnogokolesny (Agastache) or bee balm (Monarda), are grown as ornamental plants?
Mnogokolesny (Agastache) with purple and white blossoms — a bright accent in a fragrant garden. From the leaves to make tea.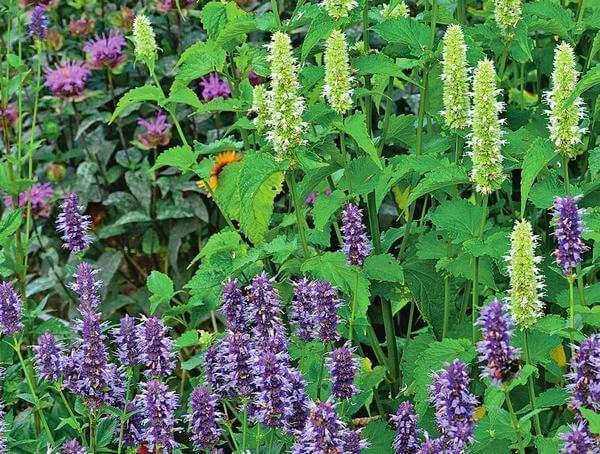 For this purpose perfect bee balm (Monarda).
Classic balcony plant — pelargonium — year period, the company will be herbs. Red flowers beauty especially look good against the dark leaves of thyme.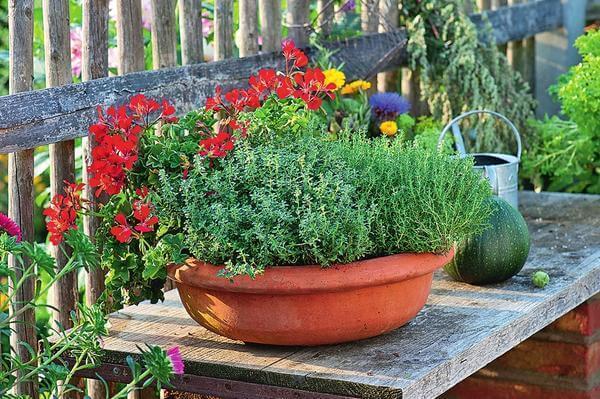 On the long, narrow garden look spectacular planted rows of herbs of different heights. For example, in the background — marigolds in front of them — red Perilla (Perilla), which smoothly replaces the parsley.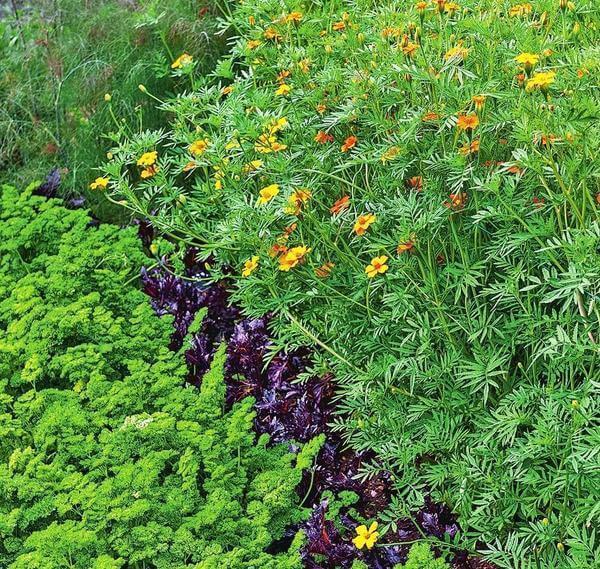 Have gardens with herbs there is high patron — Saint Hildegard von bingen (1098-1179). The abbess was a distinguished expert on medicinal plants, her knowledge, are still used in medicine.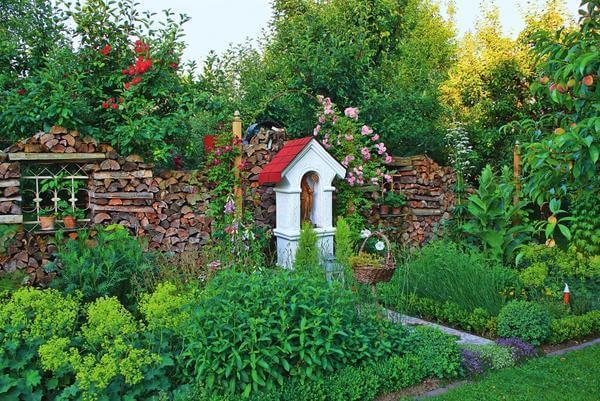 A marked opposite trend: floral plants, which until recently was considered only for decorative purposes, declared edible! But subject to environmental friendliness. So, horned violets, daylilies, daisies and roses can decorate any salad. Tip: if you don't want to run around the garden in search of the right ingredient, break near the kitchen (always Sunny!) flower garden with ornamental and fragrant plants.
Most herbs grow well in pots and balcony boxes. These plants are perfectly combined with their long blooming tub brothers, for example, geranium and calibrachoa. But do not forget: in the warm season, this fragrant, colorful company, usually need to be watered every day.
1. Old crate turned into a vintage container for growing santolina, sage and lavender. Tip: to protect the wood from moisture, line a rimmed the inside of the box film.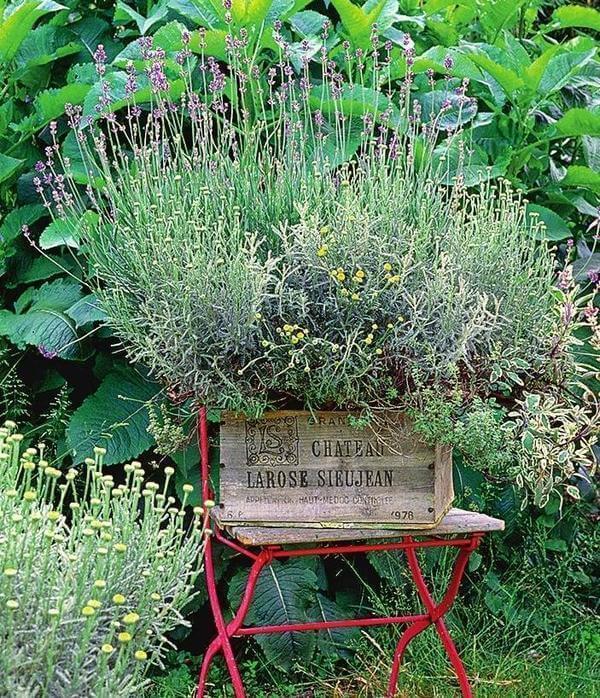 2. Smelling of dark chocolate cosmos flowers blood-red float over the Basil. In the foreground are lavender fields in bloom, and the background is a delicate fennel.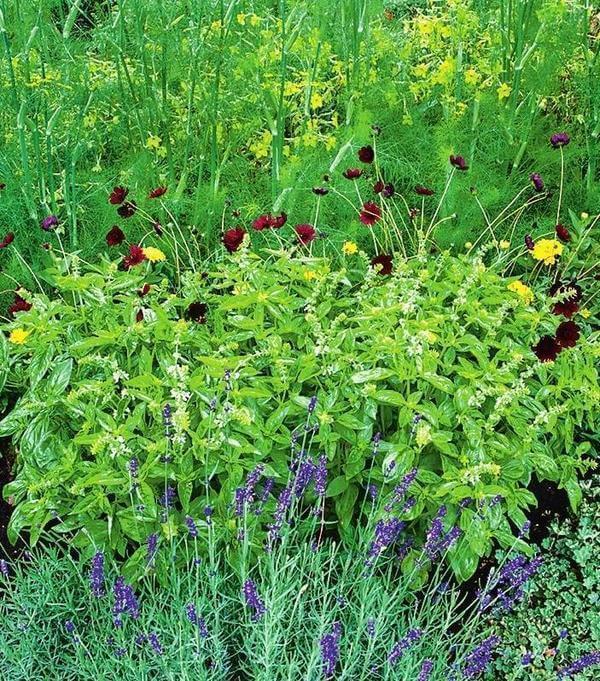 Tip: to create a beautiful composition, it is not necessary to plant in a container, a few plants. As an option, put, for example, sun-loving species, such as lavender, oregano, thyme and Basil in terracotta pots of different sizes, put them in a group and enjoy the ensemble in a Mediterranean style!  
3. Mediterranean charm features a composition of potted plants, placed around a vertical support. The ensemble complement the bougainvillea and hydrangea.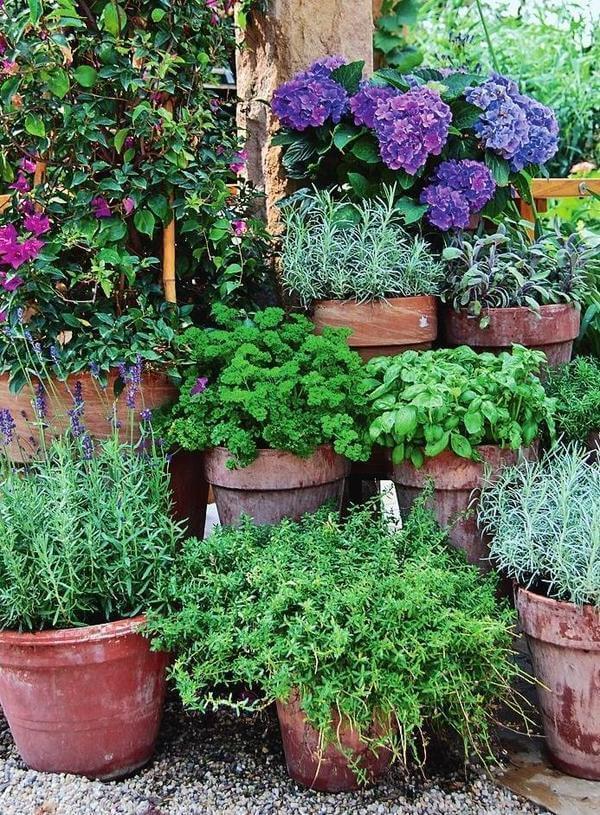 4. A raised flower bed in full sun is ideal for most herbs. Among the thyme, lemon balm, sage and chives flowering viola cornuta.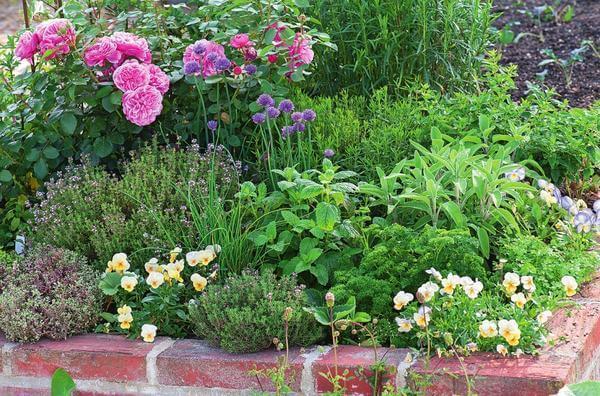 5. A lush bouquet of calendula, borage, mallow blossoms and decorative bow — the friendly smile of the summer. Instead of vases used enamel bucket. A charming ensemble in rustic style!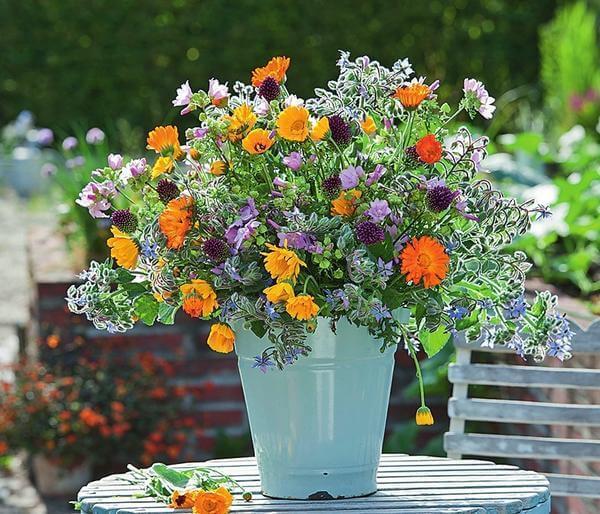 Thyme is the herb
you Want seductive aroma was felt even on the concrete garden path? Drop between the plates of low-growing herbs! But note that for this purpose you need to choose only those Pets that are hard to grow, even if you regularly stroll. For planting in the seams ideal intensively smelling creeping species, such as creeping thyme (Thymus serpyllum) or the herbaceous thyme (Thymus herba-barona).
1. A large root ball, divide the hand into several pieces of such size that they easily fit in the seams.
2. Distribute plants at a distance of about 20 cm from each other.
3. Dig a small hole, put them out of thyme and slightly press them into the soil.
4. In conclusion, liberally pour "settlers". So the grass is well rooted, in the first few weeks after planting, regular watering her. Later fragrant "Mat" are content with a small amount of water. published
P. S. And remember, only by changing their consumption — together we change the world! © Join us at Facebook , Vkontakte, Odnoklassniki
Source: 7dach.ru/MoySad/pryanye-travy-v-vashem-sadu-idei-oformleniya-posadka-i-uhod-41618.html