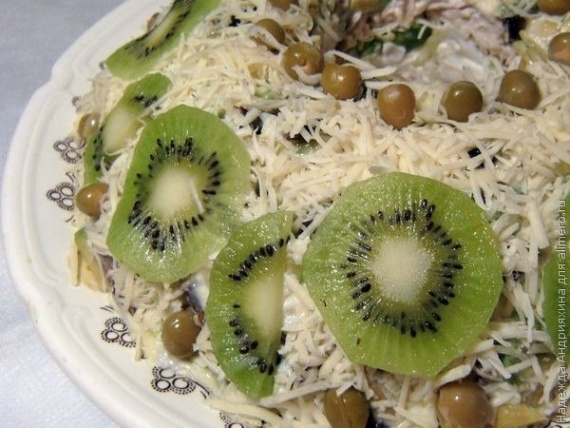 Ingredients: 1 chicken breast (500 g), 250 g mushrooms, 1 avocado, 2 eggs, 50 grams of cheese, 50 grams of prunes, 1 tsp. Lemon juice, 1-2 kiwi, sour cream.
Preparation time: 1:00.
We make preparatory steps: Boil and cool chicken, mushrooms can cut slices and fry, eggs cooked and cool, the rest will be done in the cooking process.
On a flat dish in the center put a glass or wine glass, the layers will be laid around the ring and lightly compacted. All the ingredients are divided in half so that you can repeat layers twice.
The first layer is chopped chicken, sour cream smeared.
The second layer - fried mushrooms and sour cream.
The third layer - grated egg plus sour cream.
To take the fourth layer of avocado, cut the it in half, pull out the bone and the flesh from the skin liberate.
We shall cut small cubes of avocado, immediately sprinkle with lemon juice, or avocado darken and will be unattractive.
Put a layer of avocado, sour cream and smazhem. When this layer will repeat on, then add chopped prunes to make sweetish notes.
Repeat all layers from the beginning. Top and sprinkle with grated cheese swarf. It remains to draw circles salad and slices of kiwi green and other Circuits, for example, green peas and any greens. Finally, take out a wine glass, and get a very beautiful ring.
Salad should stand for a while, you can soak and enjoy a completely new taste of the salad.