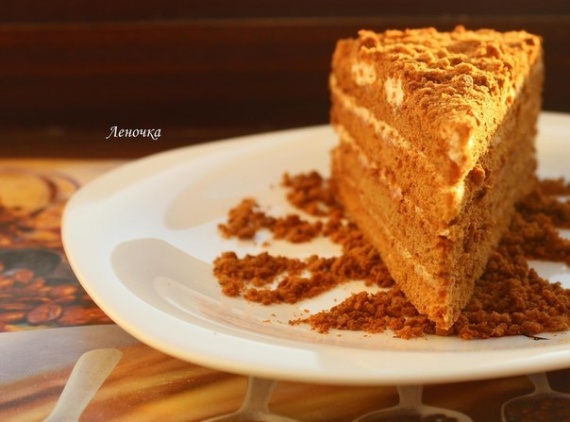 For the dough:
butter 100 gr.
egg 1 pcs.
100 grams of sugar.
honey 2 tablespoons
sour cream 3 tablespoons
soda 5/1 tsp
flour 350-370 g.
Cream: cream 400g
½ cup sugar
vanillin optional
½ banana
cup red currant berries or other sour
Mix everything except the flour, the ingredients for the dough and put in a water bath for 20 minutes, stirring periodically, weight should be slightly dark. Let cool and then add a warm flour, knead, the dough should not stick to your hands and at the same time, do not do it very cool, this process is controlled by the amount of flour. Harvesting in the cold for 15 minutes. Then, divide into 4 pieces and roll out the cake thickness of about 4 mm 3, and the remains of pruning useful for dusting. Cakes prick with a fork and bake for 5-8 minutes at 180 ° C, carefully, so as not to dry up.
For the cream, beat cream with sugar. Currants triturated through a sieve.
All cakes coat with a little berry puree, then a cream cake on the second extra thin slices put a banana. From scraps do in a blender and sprinkle crumb top and sides of cake. If the cakes are cooked correctly, a couple of hours already soaked cake and eat it can be.
Enjoy your meal!